The first road trip part 01: from Denmark to Tuscany, Italy
This journey took us from Denmark to Italy for two weeks of remote work, going through Germany, Switzerland and France, done in spring 2022.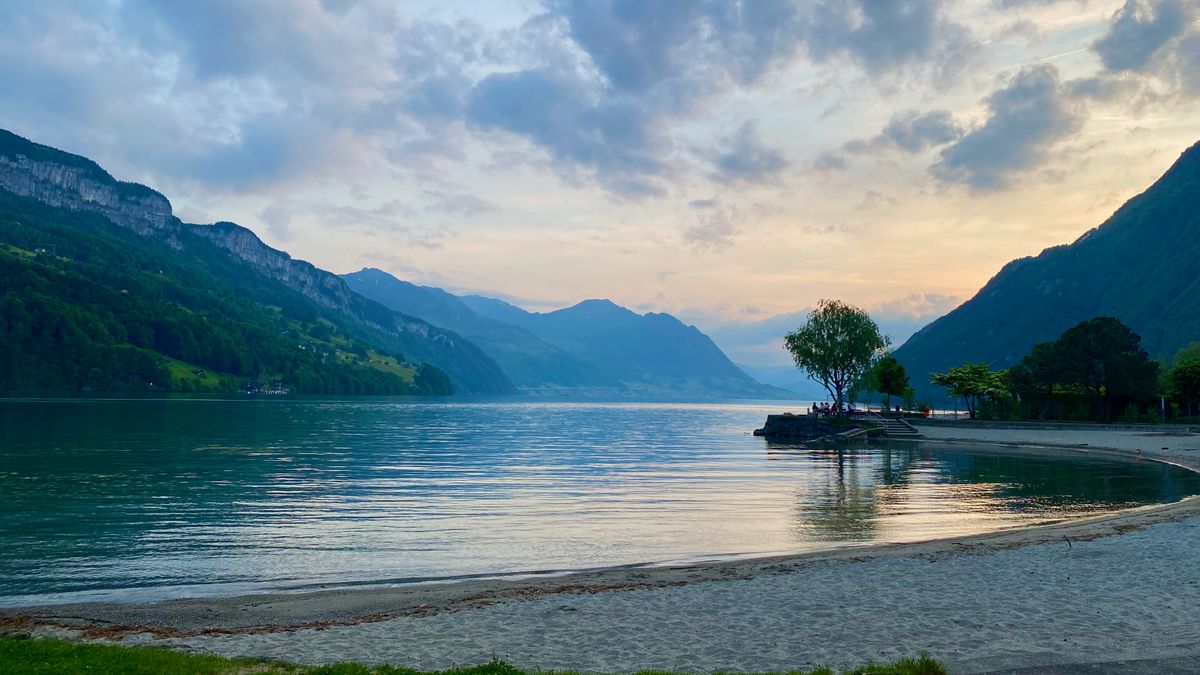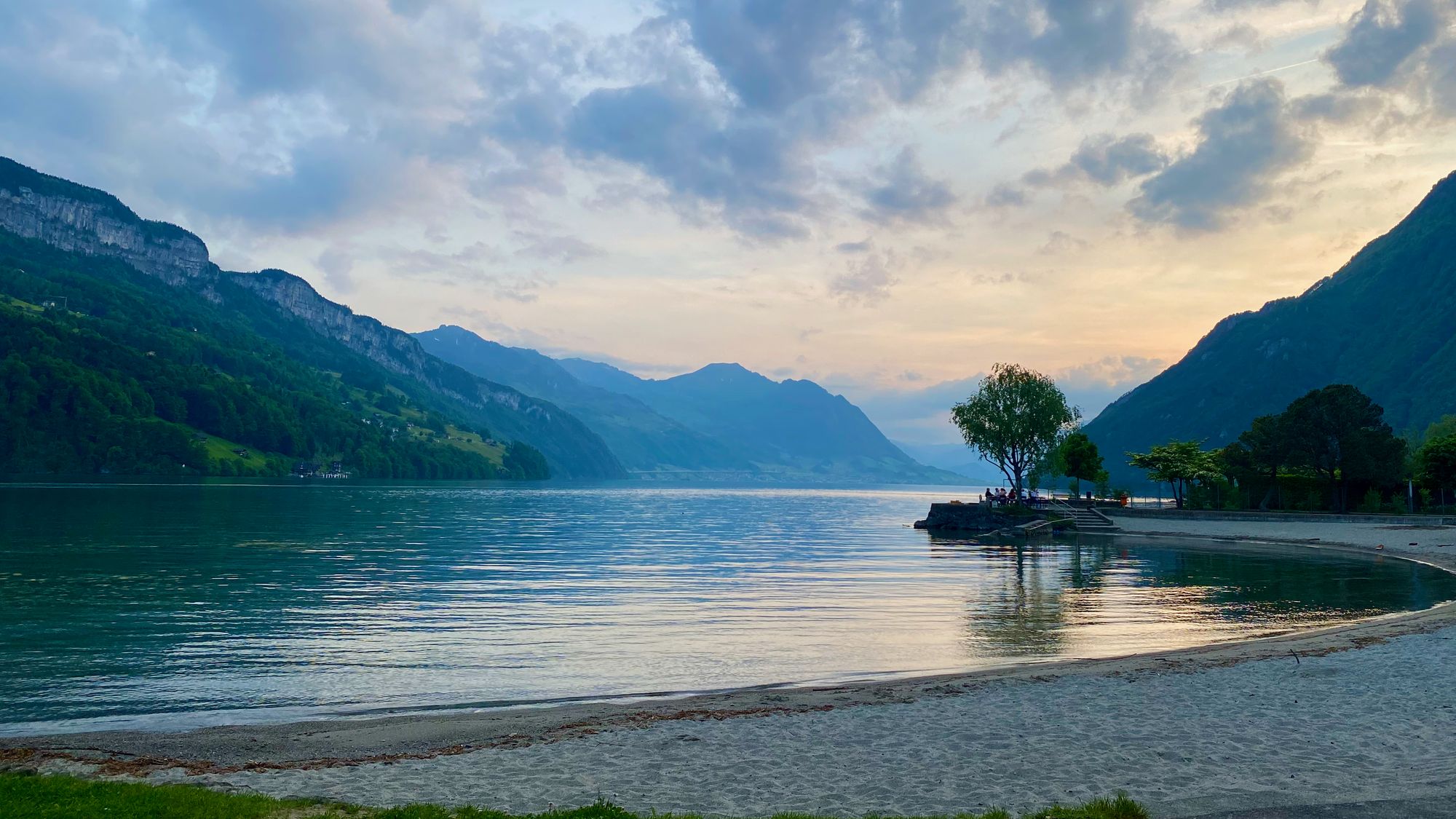 Greetings,
My name is Adrian and together with my wife we embarked in four road trips around Europe during 2022, one in each season.
Two of them where done for remote working and two entirely as a vacation.
Being the first time we had access to a car we got to experience a sense of freedom we never knew before, creating unforgettable memories we otherwise would had missed.
In this series of blogs I will talk about our journey, what went well & what didn't, with the hope of helping and inspiring others to explore Europe by car.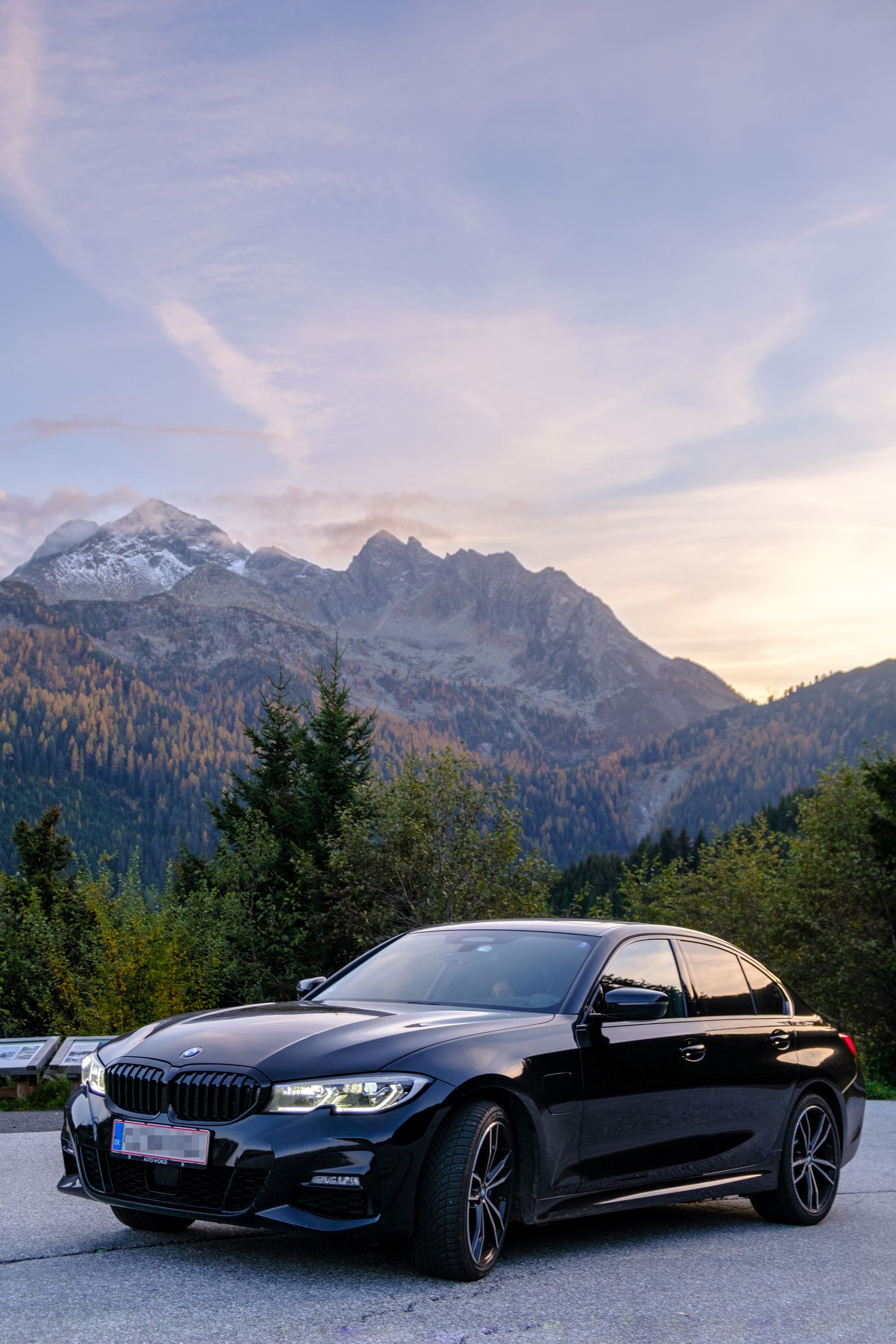 ---
Introduction
This post is about getting to Tuscany by car, crossing Germany and Switzerland, and sharing what we experienced along the way.
Table of content: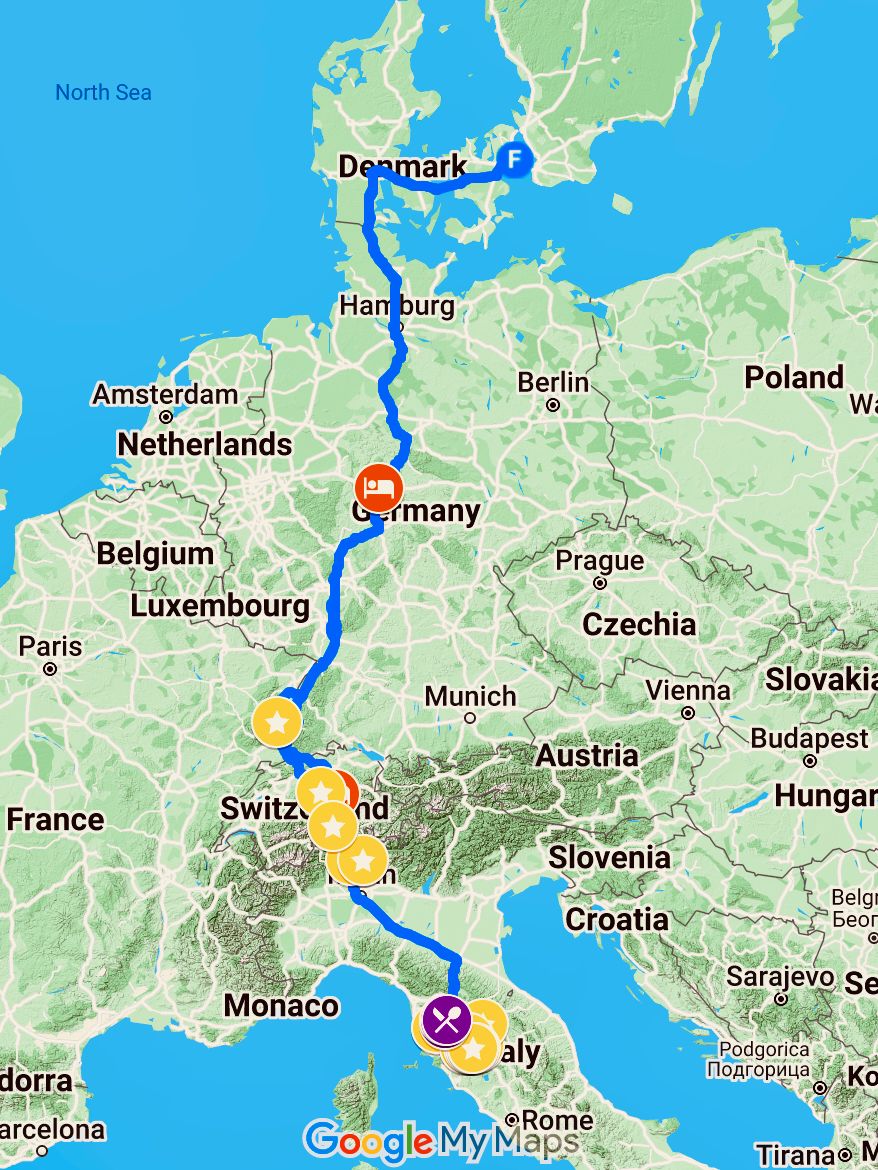 ---
👉 Read part 02 here if you are interested in our itinerary in Tuscany while working remote. After hours we explored the many hilltop towns in Val d'Elsa and Val d'Orcia while also enjoying some of the best local produce the area has to offer.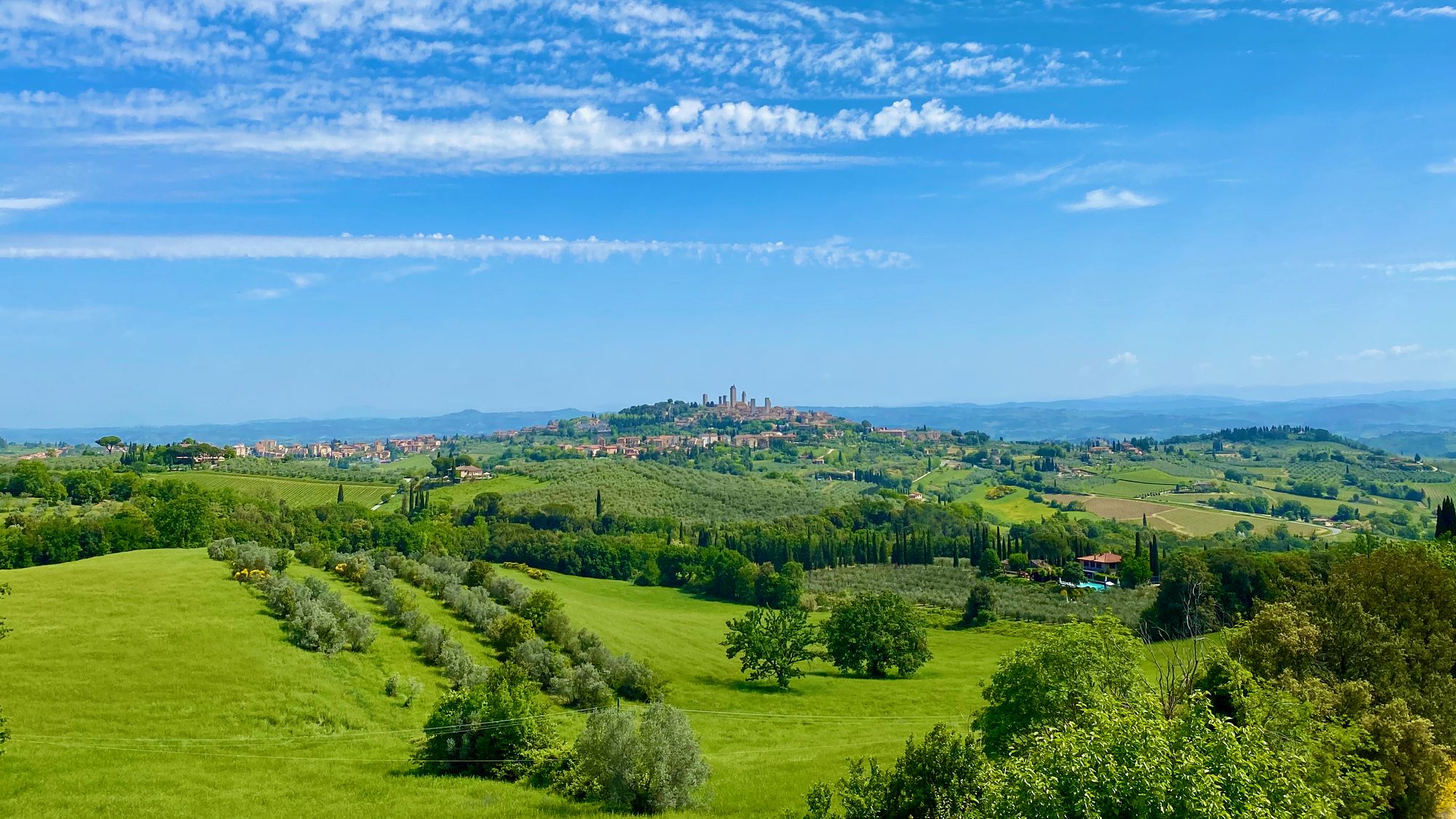 👉 Read part 03 here if you are interested in what we did to make the return journey an exciting mini-vacation on its own. Plus we couldn't leave Italy without visiting one of our favorite places in the world: Lake Como.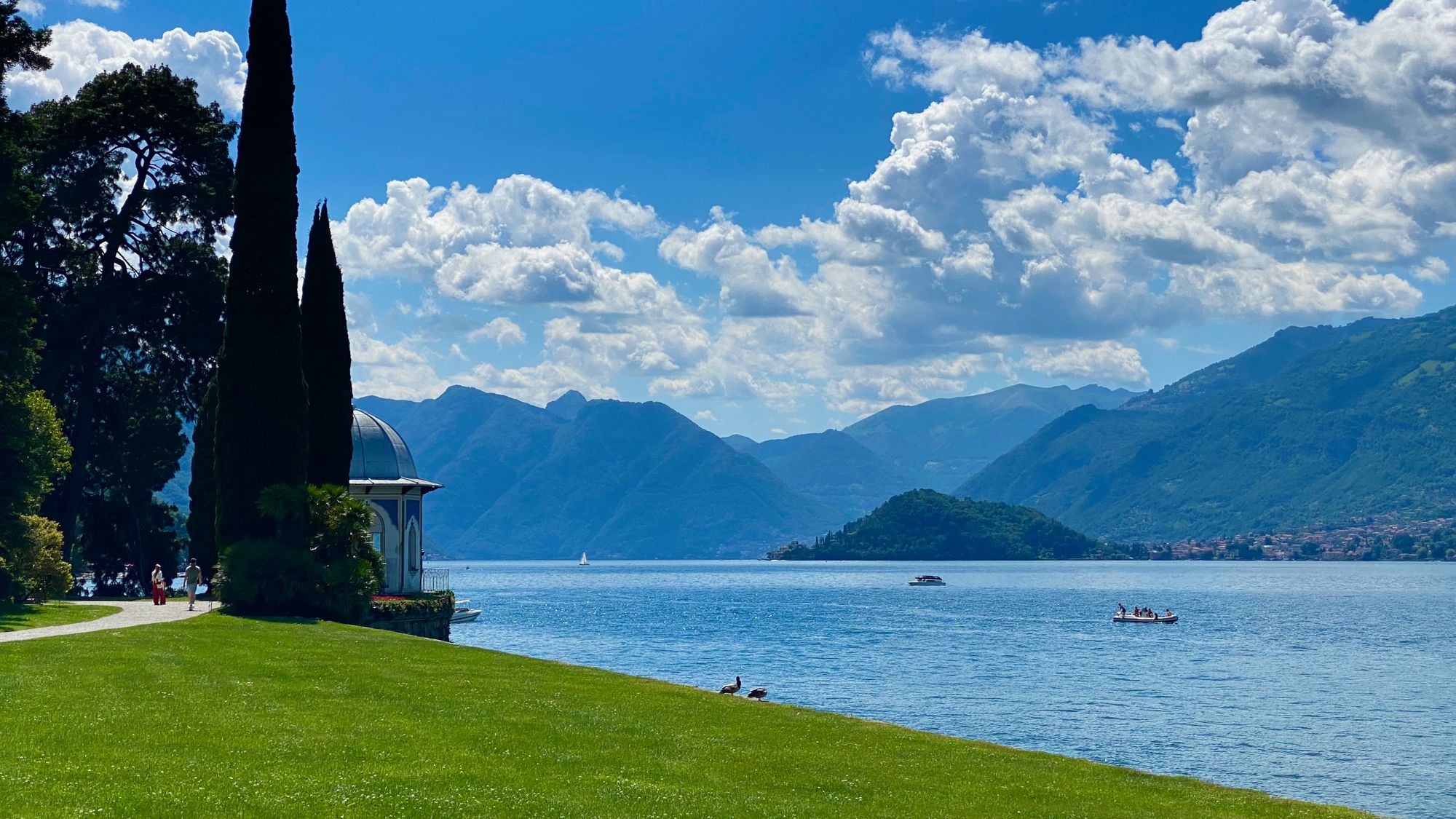 ---
The Beginning
Six months before embarking in our first European road trip I was waiting nervously my turn at the driving exam, trying to fend off emotions by dreaming about all the countries that we're going to explore once I feel more comfortable behind the steering wheel.
It was the end of February 2022 when my driver license finally arrived and our thinking was that it will probably take 3 years of practice, maybe 2 at best before we would be ready to for a long distance road trip.
However, after driving from Copenhagen to Hamburg in Germany and back for a long weekend break at the end of March - about 5 hours one way, the idea that we could do this sooner than expected started to form in our minds.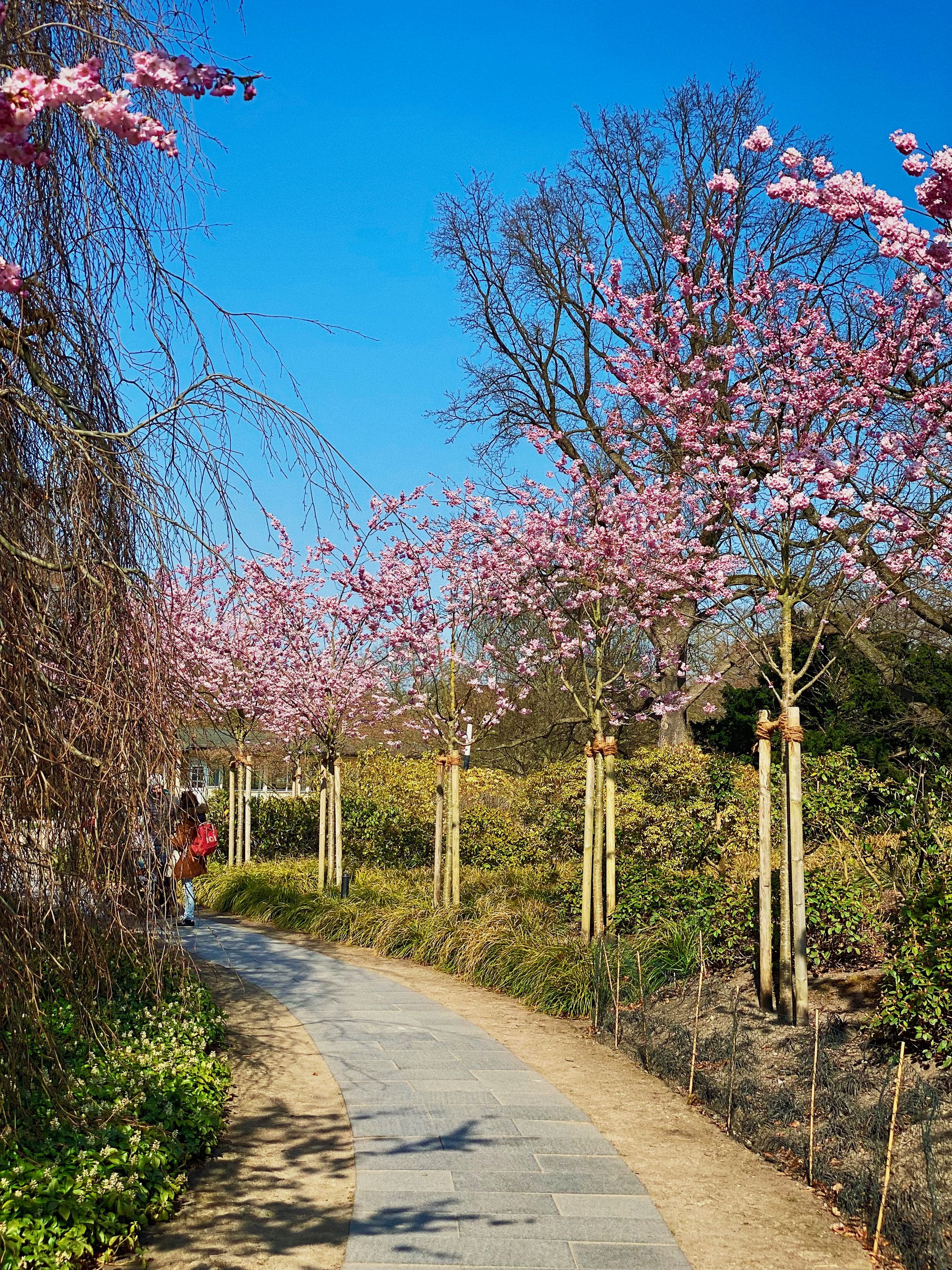 ---
When and where
We already had flights and hotels booked for the Easter break at the beginning of April and at the same time we were running low on vacation days.
This meant that May was the earliest time possible when we can travel and also that it cannot be a proper vacation, but instead we had to work remotely - something that in the last few years became more mainstream.
Lastly, we wanted to stay in a place that wasn't easily accessible by plane, so that we wouldn't "waste" this road trip going somewhere that we could have just flown to.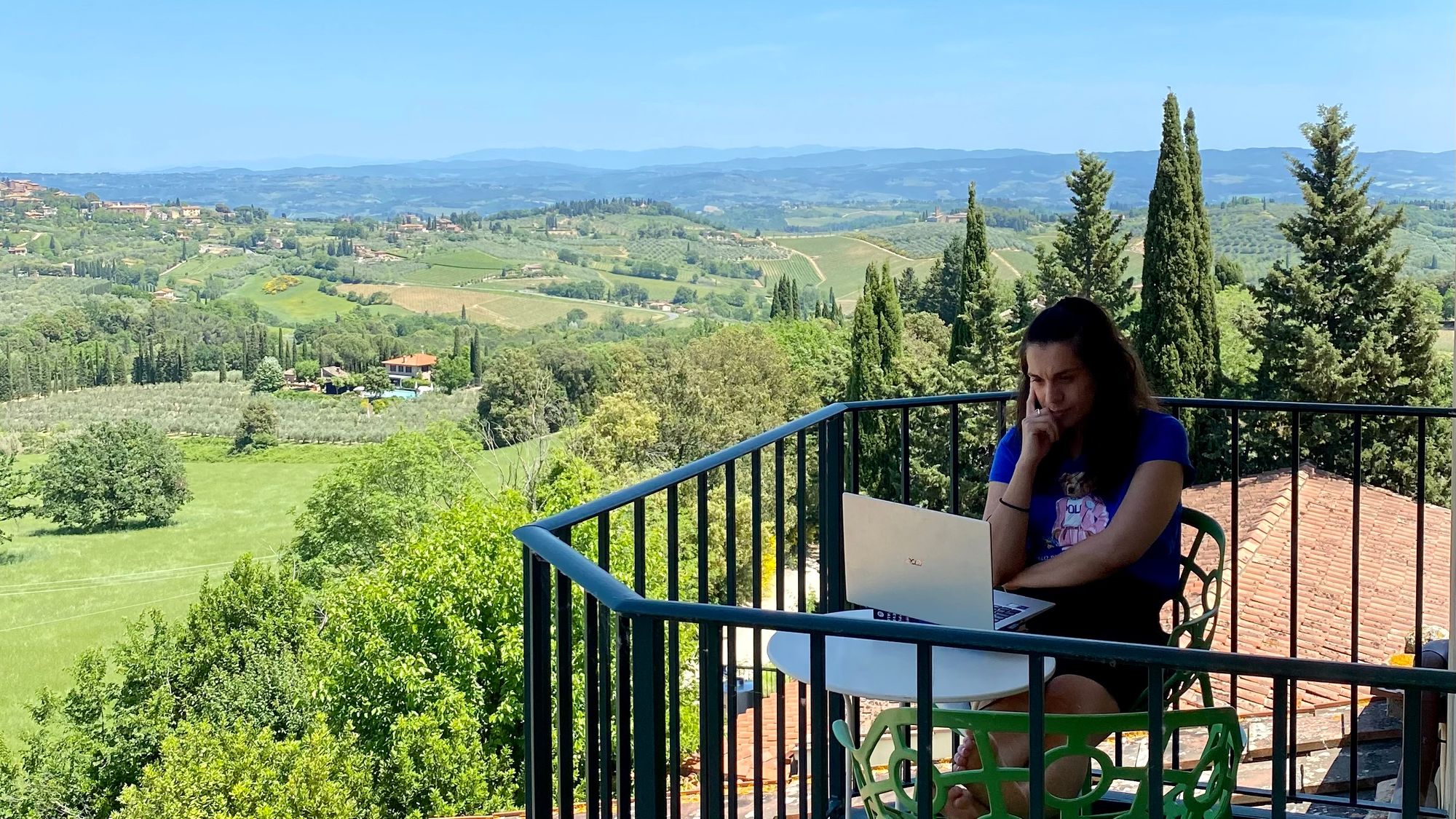 Having these in mind, we set the following guidelines:
with only a few vacation days left we knew the place had to be reachable in 3 days at most.
working remotely meant that we will have to spend quite a bit of time at the hotel so we wanted something cozy that also has some options to work outside the room, and of course good Wi-Fi.
and because we could only explore the area after work and in the weekends, it shouldn't be a hotel that was too remote - it needed to have interesting places reachable with a close drive.
to make the drive worth we had to spend at least two weeks there, so it needed to be a place that wouldn't bankrupt us.
most importantly we desperately needed some sun & warmth so that we could recharge our batteries after yet another harsh Scandinavian winter.
And so, we started looking at the map.
The dreadful winter was lingering on - dark, cold & wet so there was only one direction we were interested in: the south!
We had France, Spain and Italy to choose from.
🥖 Between the three France is the one that we explored the least - with Paris the only city visited.
The Provence area or the Riviera where very tempting, however our French is minimal and English is not widely spoken outside the big cities (which we wanted to avoid), the country is more expensive than the other two and the weather in May is still pretty unstable, so we had to pass it this time.
🚙
We ended up visiting both the Provence area and the French riviera in our 2nd road trip during the summer. It was quite an adventure and I can't wait to tell more about it soon.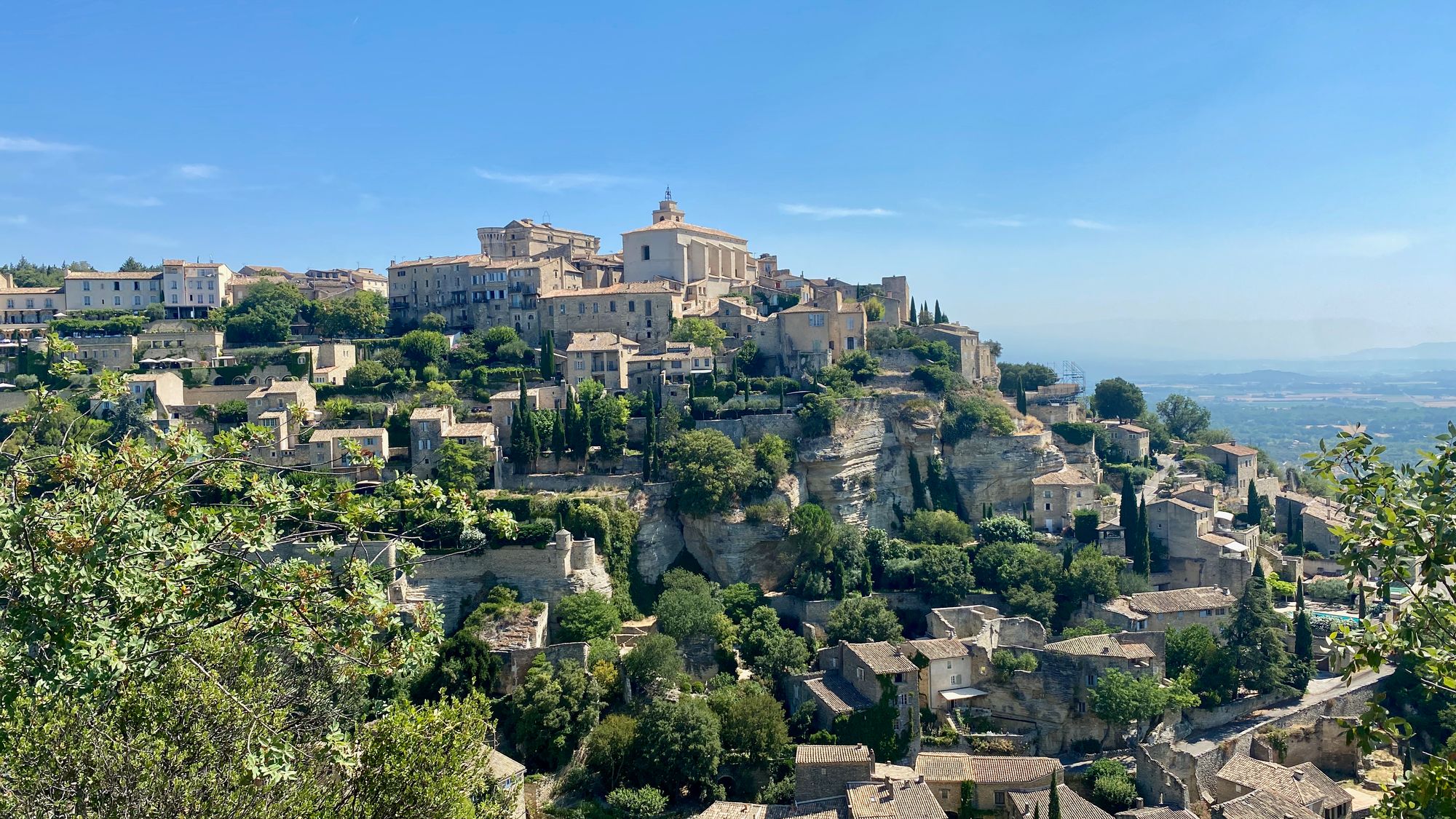 🥘 The southern Spanish coast is our choice for quick winter getaway so we knew that good weather and good food where guaranteed. But it was at least 4 days away which meant that even with driving in the weekend we had to take 2 days off for one way. It also felt too much of a stretch for only one beginner driver so we decided to leave Spain for another time.
🍕 Which brings us to Italy. The country holds a special place in our hearts, with its gorgeous cities and landscape, delicious food, outdoor lifestyle and a language that we can understand and even speak a bit - we always enjoy being there.
Tuscany was on our radar for a long time, however with the exception of Florence it is a part of Italy difficult to reach and explore without a car.
In the summer of 2021 we took an organized day tour from Florence to a few sites in Tuscany, including the San Gimignano area.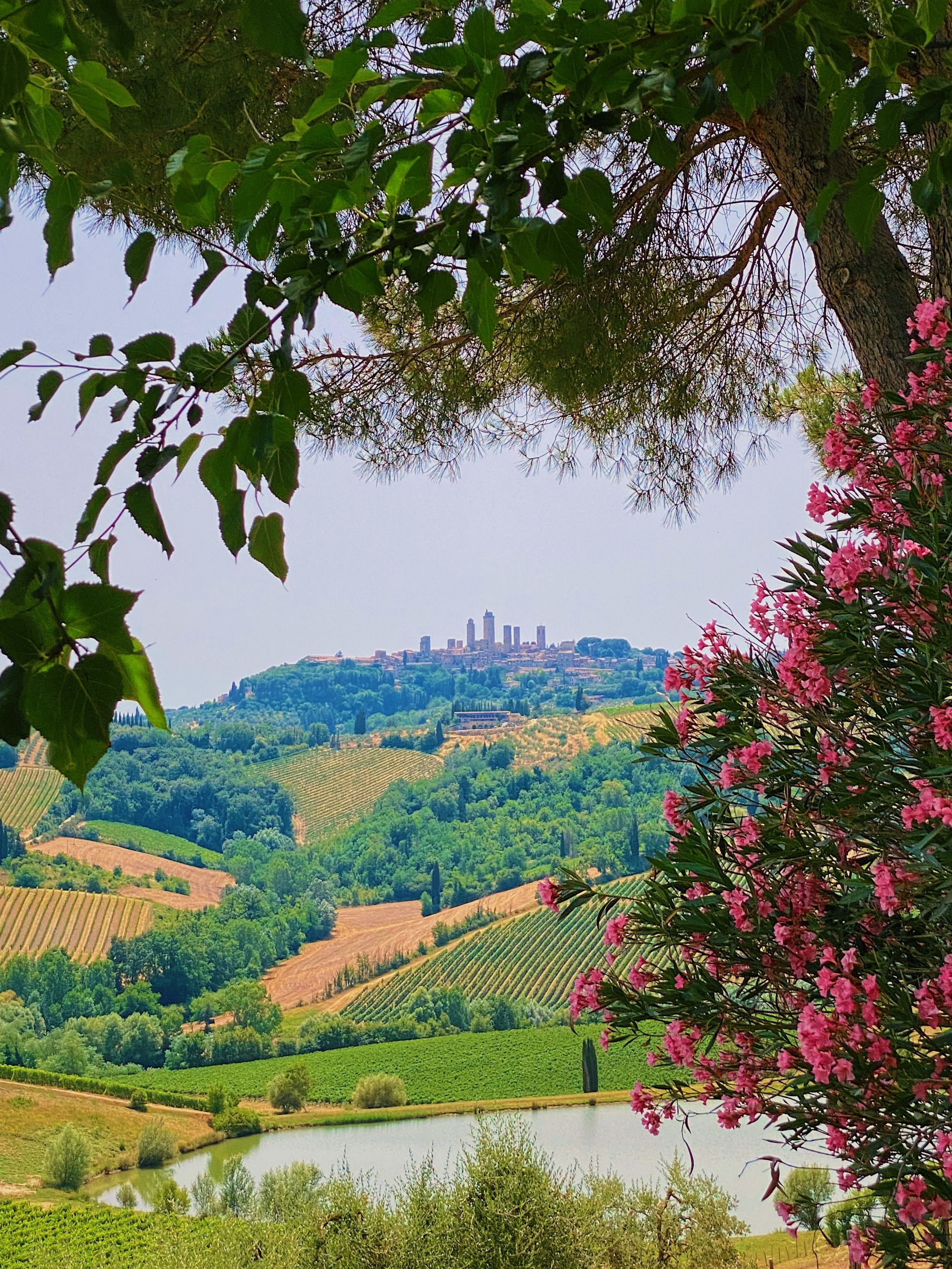 It was great but short, with no time to explore at your own pace. Little did we knew that in less than a year we will drive from home to Tuscany and spend 2 weeks in that gorgeous area.
Back to the beginning of 2022 and we already planned to visit Italy during the Easter break using the train as transportation between different parts: ✈️ to Milano 🚂 to Lake Como 🚂 to Venice 🚂 to Lucca and finally 🚂 to Rome then ✈️ back home.
Moving around by train has its advantages (and it's a great train network that they have!) but it's much harder to reach smaller villages.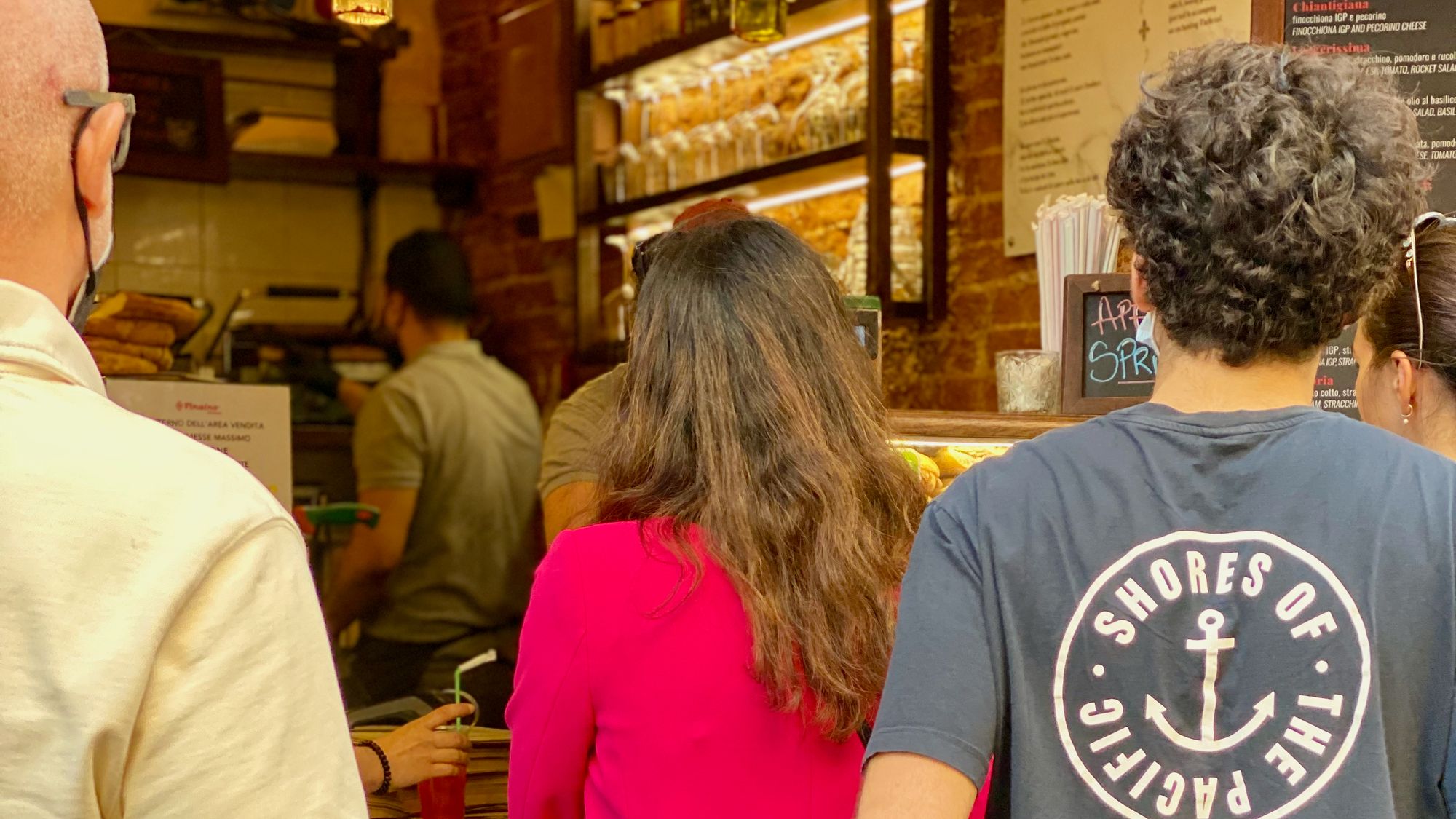 The more we thought of Tuscany as our first road trip / remote work destination, the more it made sense. It would mean that we would return to the same country in less than a month, but then again, il bel paese is a pretty good destination to return to so that was fine, especially since we would visit a new area of Italy.
From a remote work perspective, the many agriturismos seemed very fitting.
They have large outdoor spaces that we can work from so we won't need to stay in one room for 8 hours. Most are far from main roads and surrounded by greenery so they are quiet and relaxing.
And some have a tennis court or similar area where you can have a bit of physical activity, complemented by hiking in the vicinity.
As a (partial) vacation destination, the many scattered villages, wineries and olive oil factories where very appealing, as well as the winding roads through the Tuscan hills.
I'm jumping ahead, but once we got there, we realized that many Tuscan roads where closer in width, twists and turns to what would you would find on a mountain - the soft rolling hills are an illusion, but that only made the experience more memorable!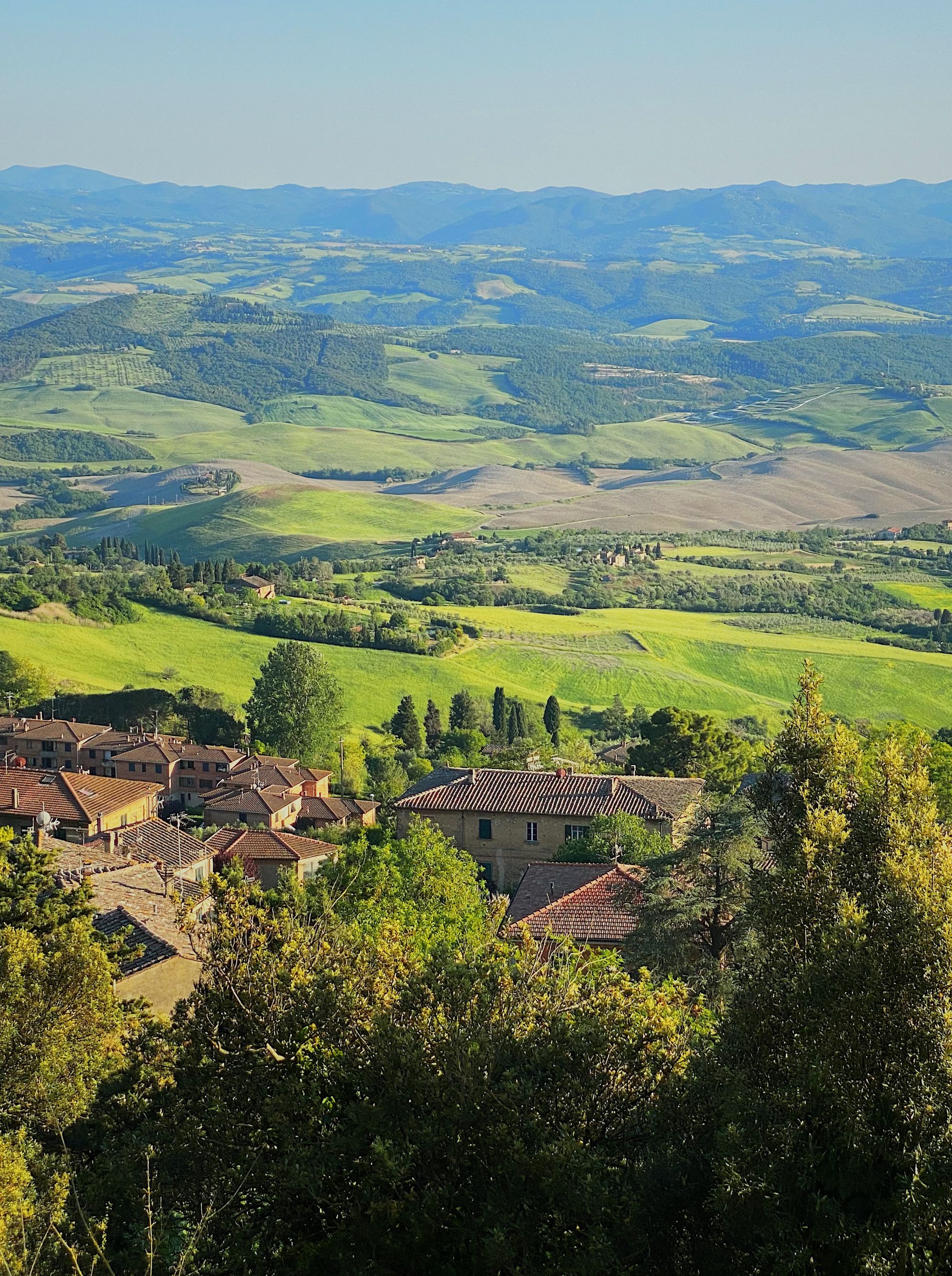 ---
Can we do this?
The other thing on our minds was if we can do this.
Although we're both late in our 30s we still jump head first once in a while, that is to say, we have the habit (on occasions) to do stuff without considering the risk too much - somehow we will figure it out and all will end well. It's something I very much like about us and something that I hope will never change.
Our friends where quite reluctant that we can pull this off, or that it was a good idea in the first place - we were warned that it's dangerous, boring and expensive.
Still, our short road trip to Hamburg left us wanting for more and so we weren't too discouraged.
But... we just recently bought our first car and in about 3 months time we are supposed to drive about 2000 km (1250 mi) to Italy, a place famous for the driving style, in our first road trip ever.
And I mean ever, neither of us grew up with cars - my parents never owned one and my wife parents had a car ages ago, and only for a couple of years.
Objectively thinking, this was a terrible idea, however getting out of our comfort zone and embarking on this road trip was a challenge that we could not refuse - Tuscany in May it is!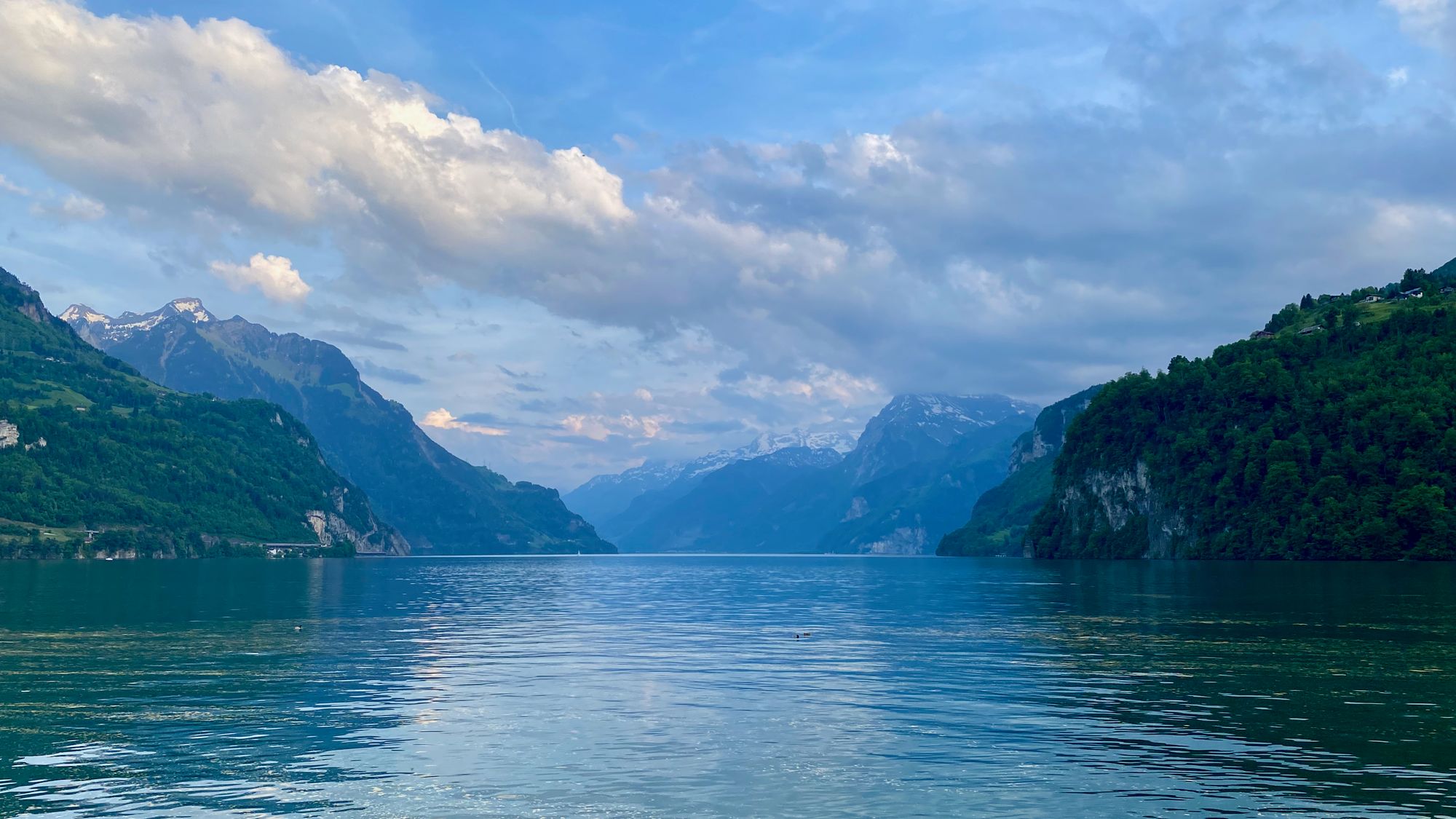 ---
Planning
I need to start with a confession: I LOVE PLANNING!
Once we decided to go on this road trip I went to my favorite vacation planning tools: Google Maps, Instagram, Booking and Google Sheets.
Google Maps needs no introduction. Being the sole driver I had keep the driving time to an acceptable amount, especially since I had little practice and I didn't really knew my limit. My goal was to drive around 8h the first day, a bit less on the second day and even less in the last one, thinking that I will become more and more tired.
Since we are spending 3 days on the road, one way, I looked to drive through more interesting areas (even if most was on highway) and also to find potential smaller places to stop for a quick visit.
The shortest path to Tuscany was the ferry crossing to Germany, then Austria and then Italy. However this had a few problems: 1 - I felt that the ferry was an extra complication to an already pretty risky journey, 2 - Austria still had entry restrictions due to the bug and 3 - I always wanted to visit Switzerland.
So I decided that we're going to cross into Germany from Jutland, the Danish peninsula, the same way we went to Hamburg in March, then into Switzerland and finally arriving in Italy.
🚙
We did our autumn road trip in Austria and it was an unforgettable experience with some of the most amazing vistas.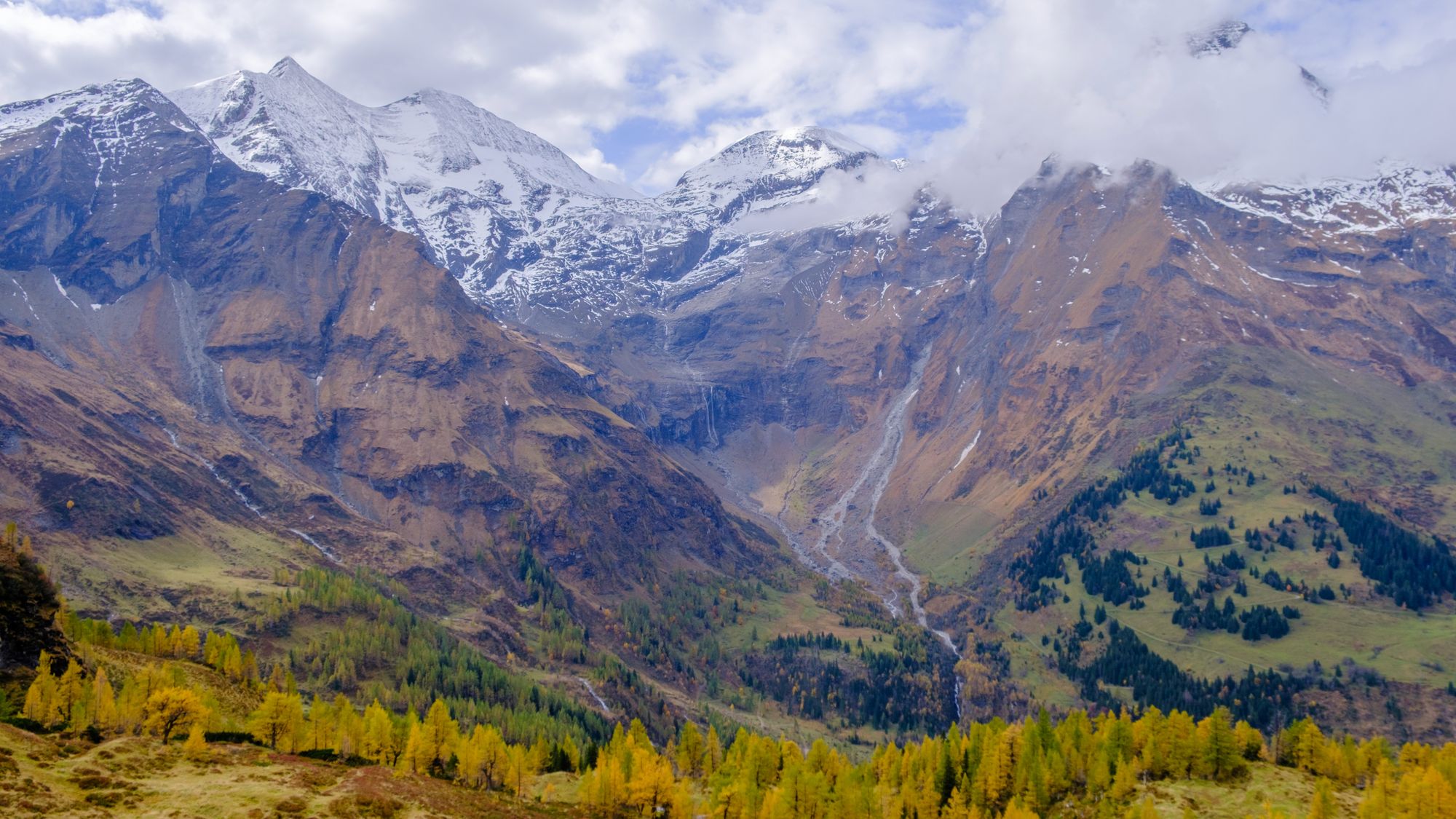 Instagram, also not needing any introduction, is something I only recently started to use for planning vacations.
Yes, going off the beaten path is great and it is something we always enjoy doing but once in a while you need some help finding hidden treasures, especially when covering large distances.
Instagram allows you to see what people are photographing in a given area - granted, mostly it's themselves but if you get past that, there are some really nice areas to be discovered.
Google Maps Explore tab at the bottom of the page has a similar feature which I have used in the past, but I don't think it's being updated often nowadays.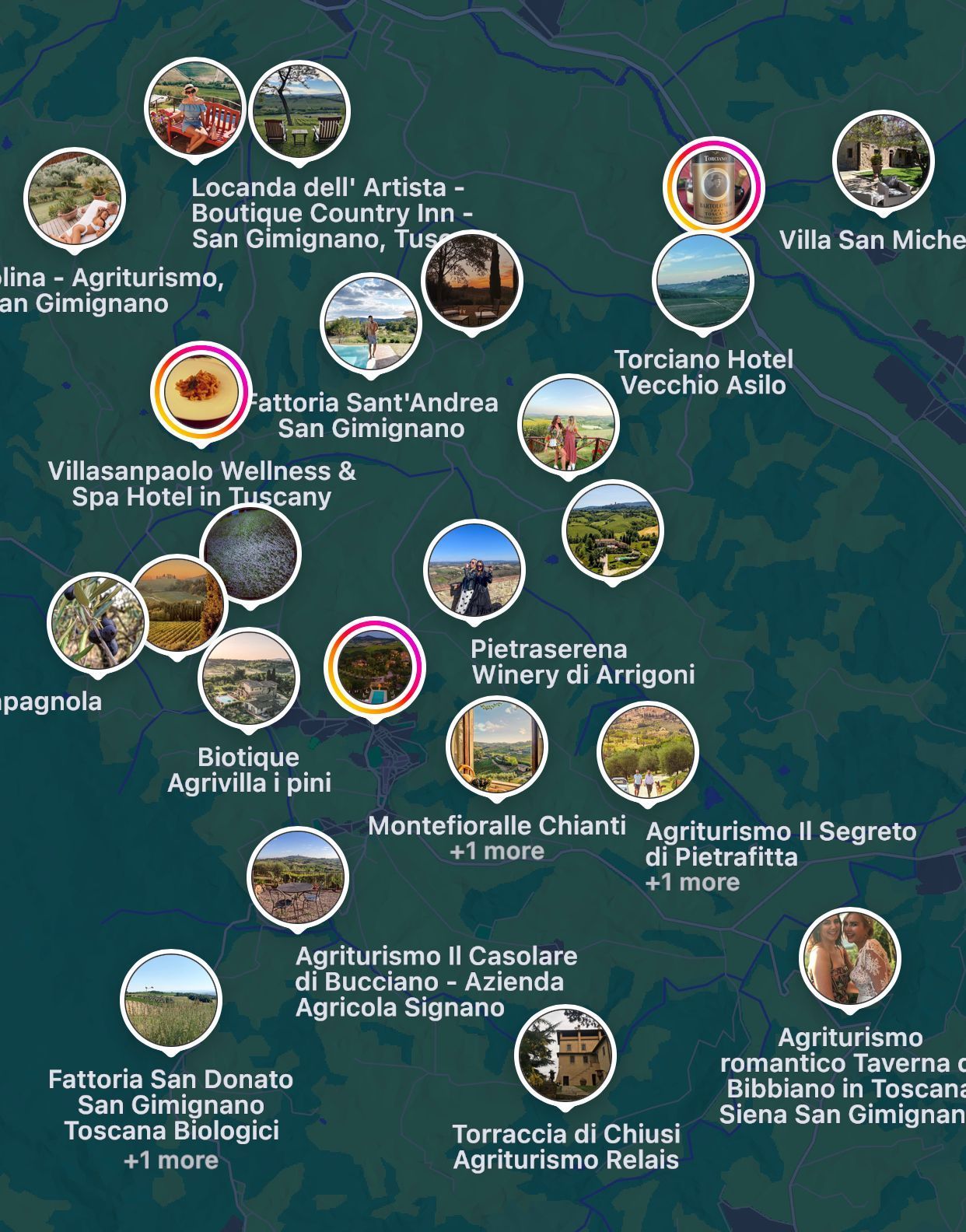 Booking.com (not a sponsor) is an accommodation website that we've been using almost exclusively since we started to travel.
For the hotels on the way there and back I wanted to avoid anything near highways - I would rather drive a bit longer in order to see more of the countries we are crossing. I also didn't wanted to stay in big cities to avoid heavy traffic and difficult parking conditions.
This is where Booking.com map view comes in handy as you can see where the hotels are located. You can also see what kind of environment is around the hotel - we always prefer something green.
For filters we usually go 8+ rating and it should have private parking & free cancellation.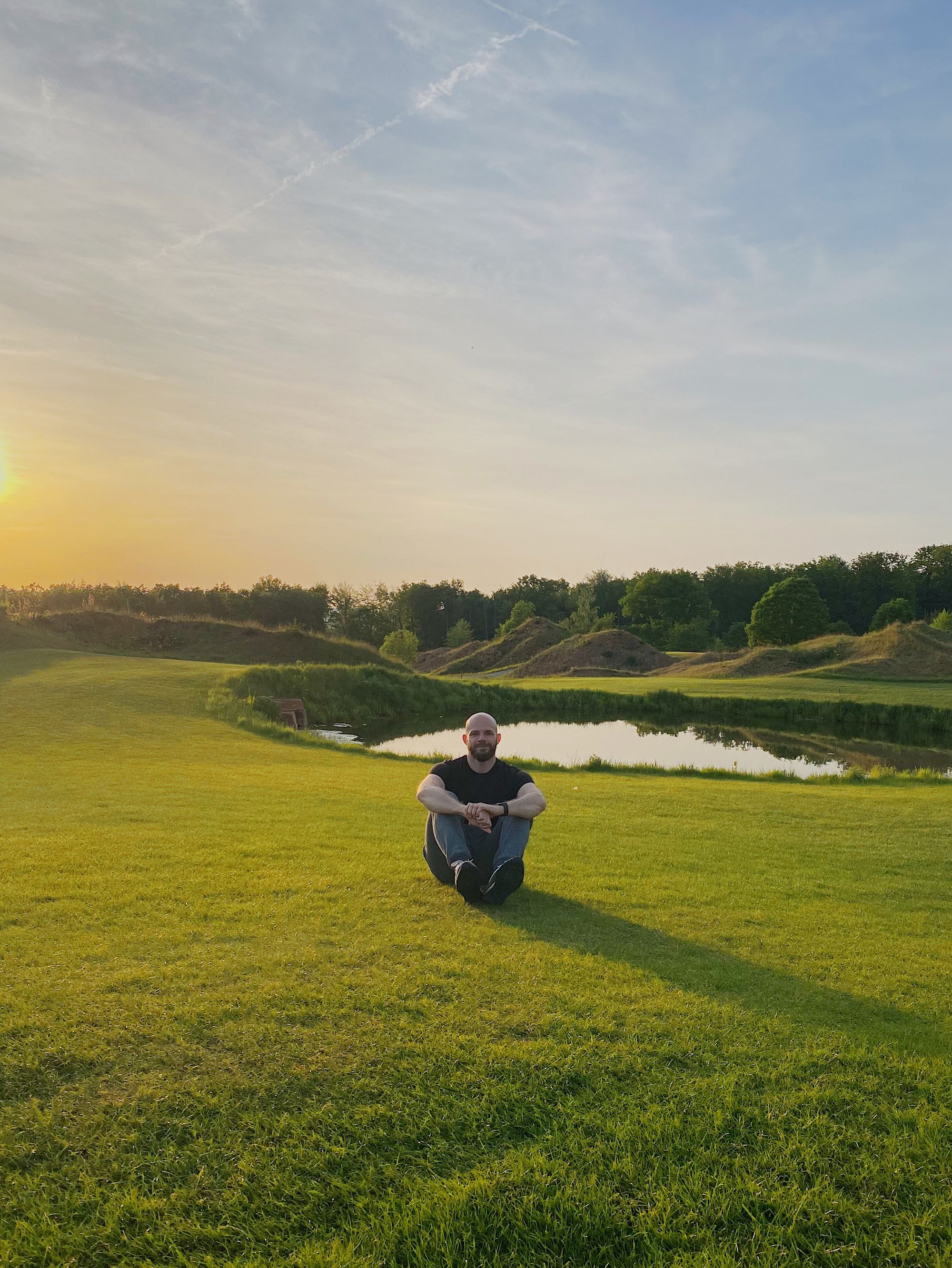 For Tuscany specifically, one concern was having a stable internet connectivity, which in rural Italy is still a hit & miss. Booking.com has a nice feature where you can see how visitors rate different facilities, Wi-Fi being one of them, and this played a big role for choosing the right accommodation.
Google Sheet is the place where everything comes together. It makes it easy to keep the plan updated and to share it with others.
Now all we need to do is wait for the departure day to arrive.

---
Day 01: Denmark to Germany
Dressed in comfortable clothes and full of excitement (and luggage) we left home on a grey rainy day towards our first stop, a hotel somewhere near Kassel, Germany.
If you'll end up driving in Denmark you should know that the roads are well maintained and that there is no vignette and no tolls - we pay through our very high taxes.
There are however two pretty expensive bridges with tolls, the Great Belt Bridge linking Zealand (the island Copenhagen is on) to Fyn and the Øresund Bridge linking Denmark to Sweden.
Driving in Denmark is very predictable but the one thing you'll have to be aware of are cyclists, especially in big cities.
Crossing into Germany is fast and smooth as both countries are part of the Schengen area so there is no passport control.
We stopped every two hours or so to stretch and refuel as our hybrid car has a fairly small tank.
The infrastructure is fantastic, gas stations and resting stops very well placed, clean and well maintained roads, really nothing to complain - Germany surely knows how to build highways!
Did I mentioned that there are not tolls or vignettes? The only thing you need to worry about are the ones going with insane speed on the unrestricted portions, so overtake quickly but with care, otherwise you might receive a few angry flashes from behind.
Other than this I found people in Germany driving in a responsible manner and generally it's a pleasure to be on the road there.
As the journey progressed the weather got better and the landscape more interesting.
The day continued uneventful and in the evening we got close to our accommodation, far from the highway, in a nice green area.
Only problem, the navigation system got us into a bit of trouble by taking us on a very narrow path that in hindsight should have been obvious that it cannot be the entrance to the hotel.
After backtracking we found the right road and finally made it to our accommodation: Hotel & Golf Restaurant Gut Wissmannshof.
We couldn't have chosen a better place - the green outdoor area was perfect to stroll around and relax after so many hours of sitting in the car.
After eating a surprisingly good burger at the restaurant we called in the day - and we felt asleep instantly. Day 01 done!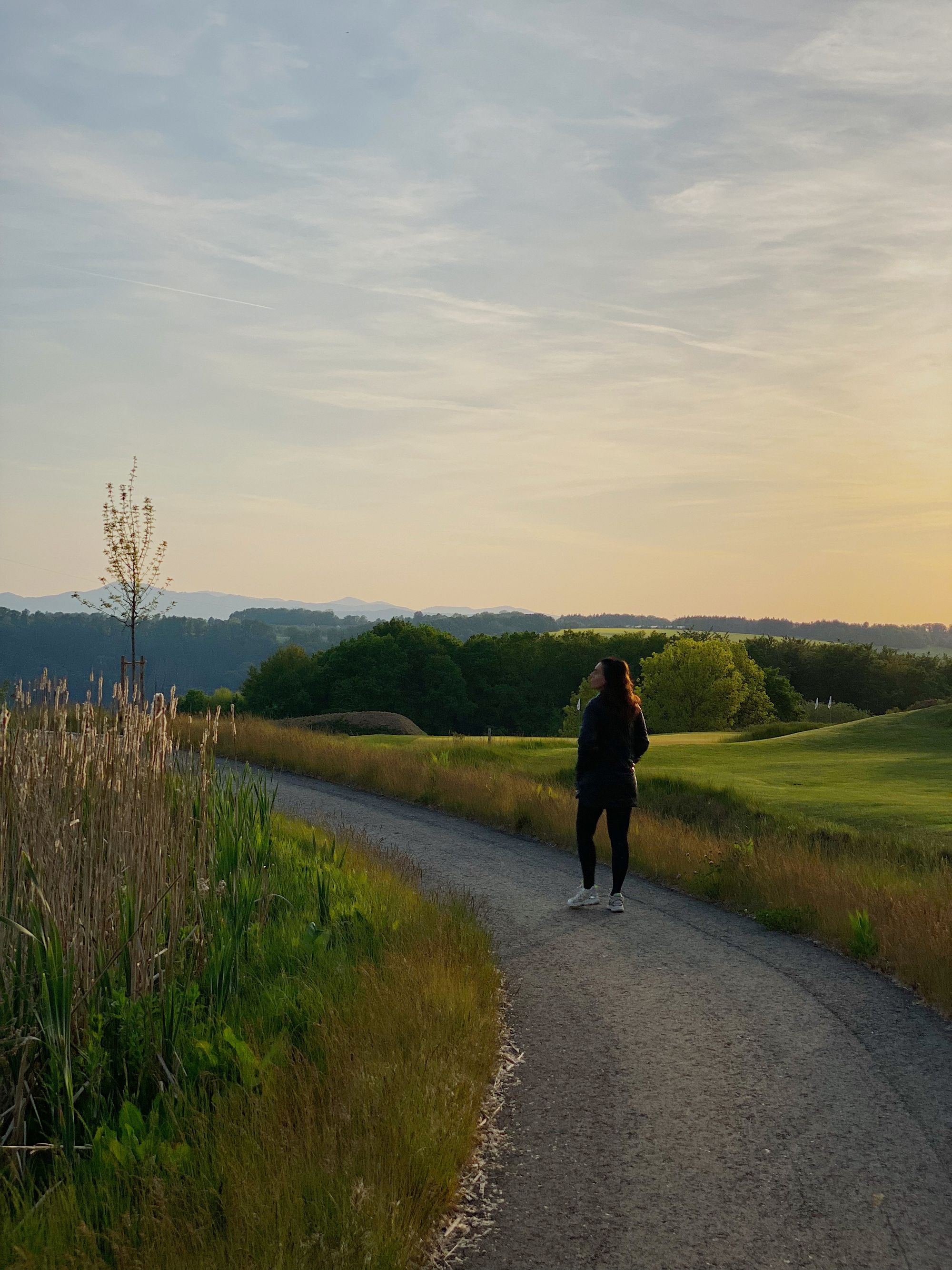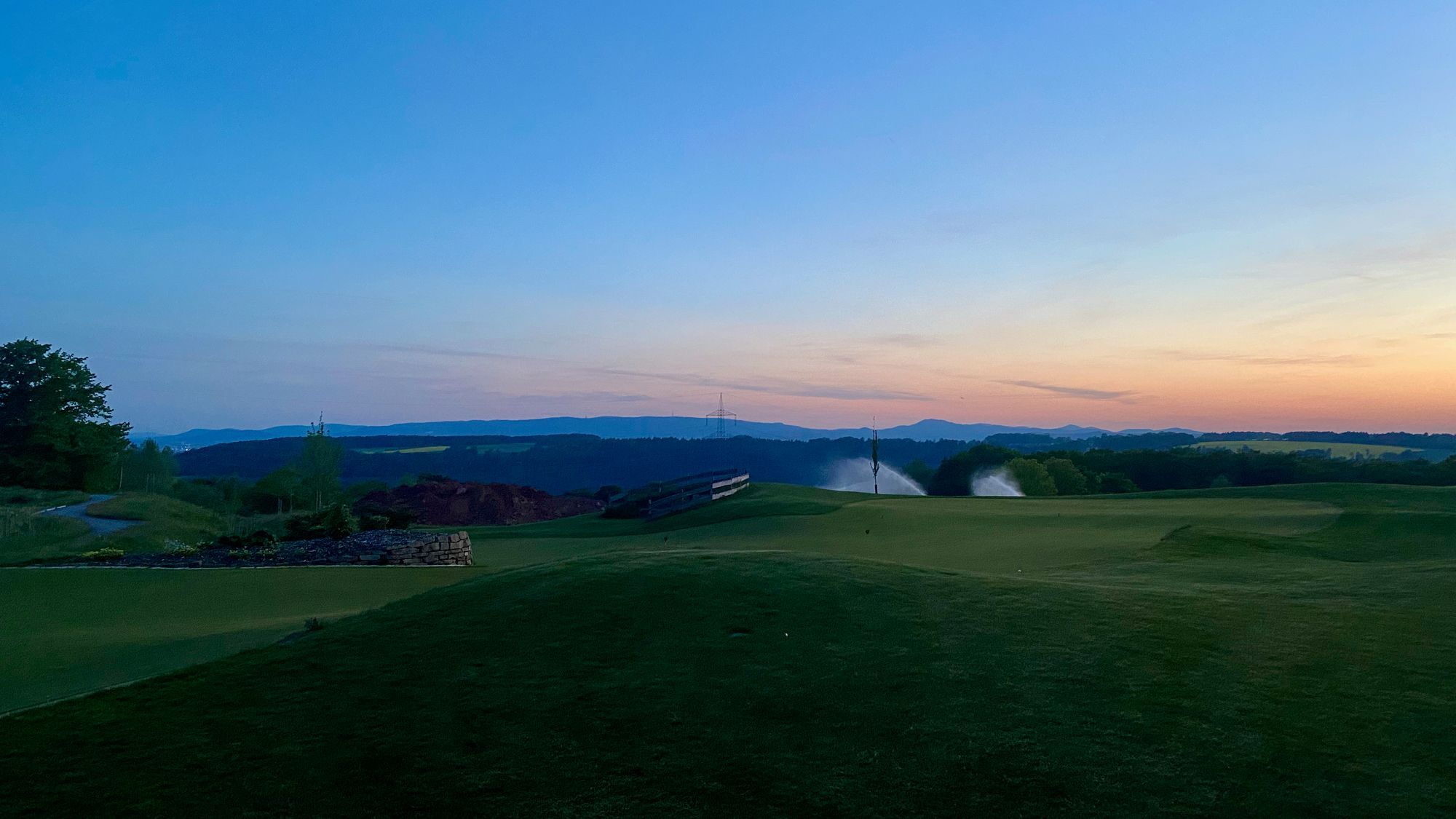 ---
Day 02: Germany to Switzerland
The next day we woke up early, had a quick breakfast then got everything ready to go at around 07:00.
Destination: Switzerland. As someone who loves mountains I couldn't wait to get there.
For lunch we decided to find an alternative to fast food so we ended up going to a REWE supermarket in the little town of Achern, not far from the A5 highway that we were traveling on, to see what healthier option we can find there.
Turns out that this chain of supermarkets has a very diverse mix your own salad bar with lots of tasty options. Perfect 😋
Visiting a REWE became a tradition that we've kept in every road trip going into Germany.
The weather was fantastic, sunny and warm, feeling like summer at +18 Celsius and so we had a long stop to eat, stretch out and take some vitamin D.
Such a difference from just a day before!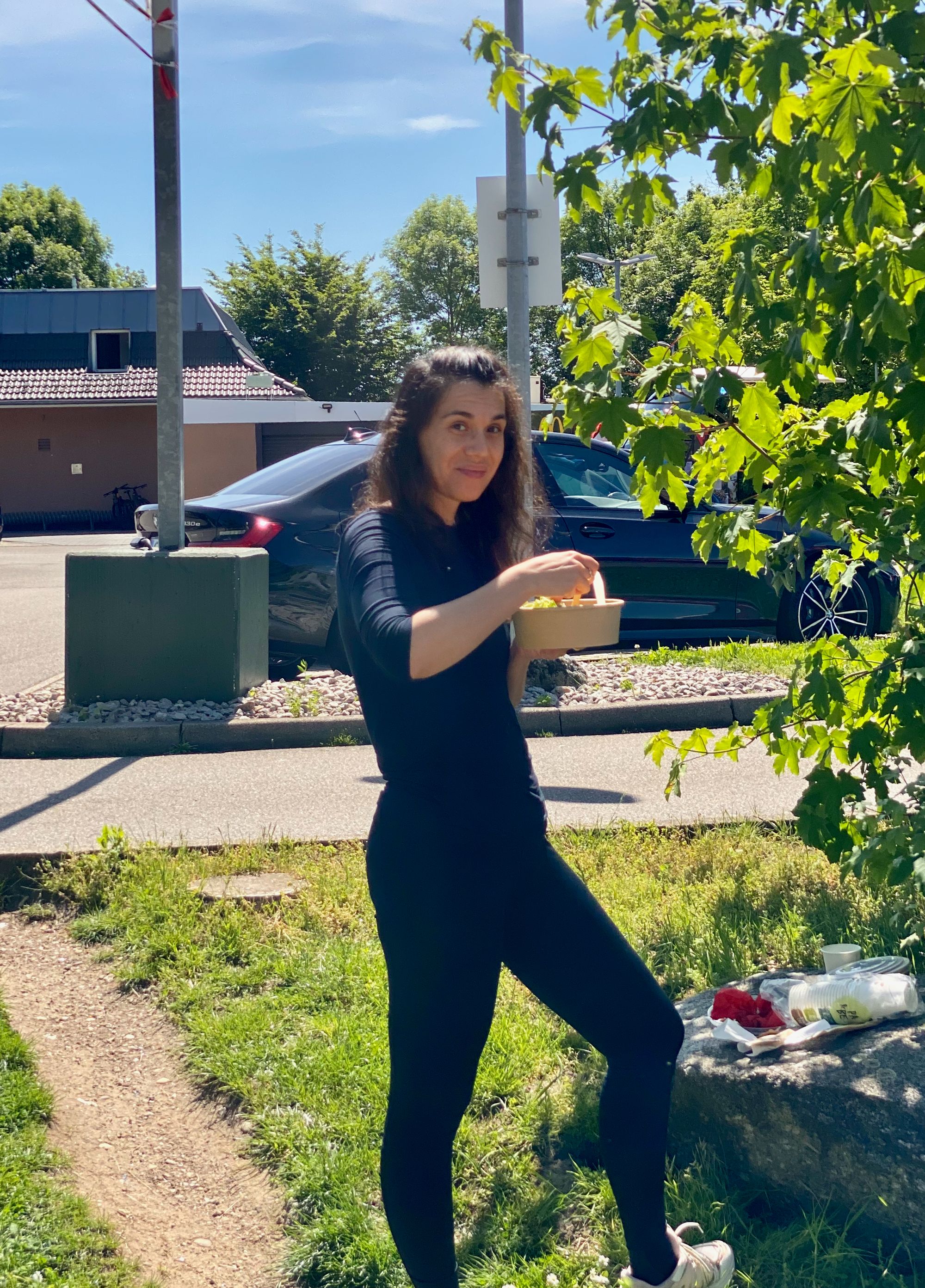 We reached the Swiss border at a bit over 16:00 where we got our vignette in a matter of minutes - except this, no other checks whatsoever, smooth and fast!
Our first time in Switzerland! 🎉
There are no tolls as the not so cheap vignette covers everything, and at 40 Euro it better.
You can purchase only a yearly physical vignette, valid from 1st of December 2021 until the end of the 2022. The inflexibility is a bit ridiculous seeing that most other countries offer digital vignettes for different duration.
The good news is that this will change sometimes in 2023 when an e-vignette will be introduced.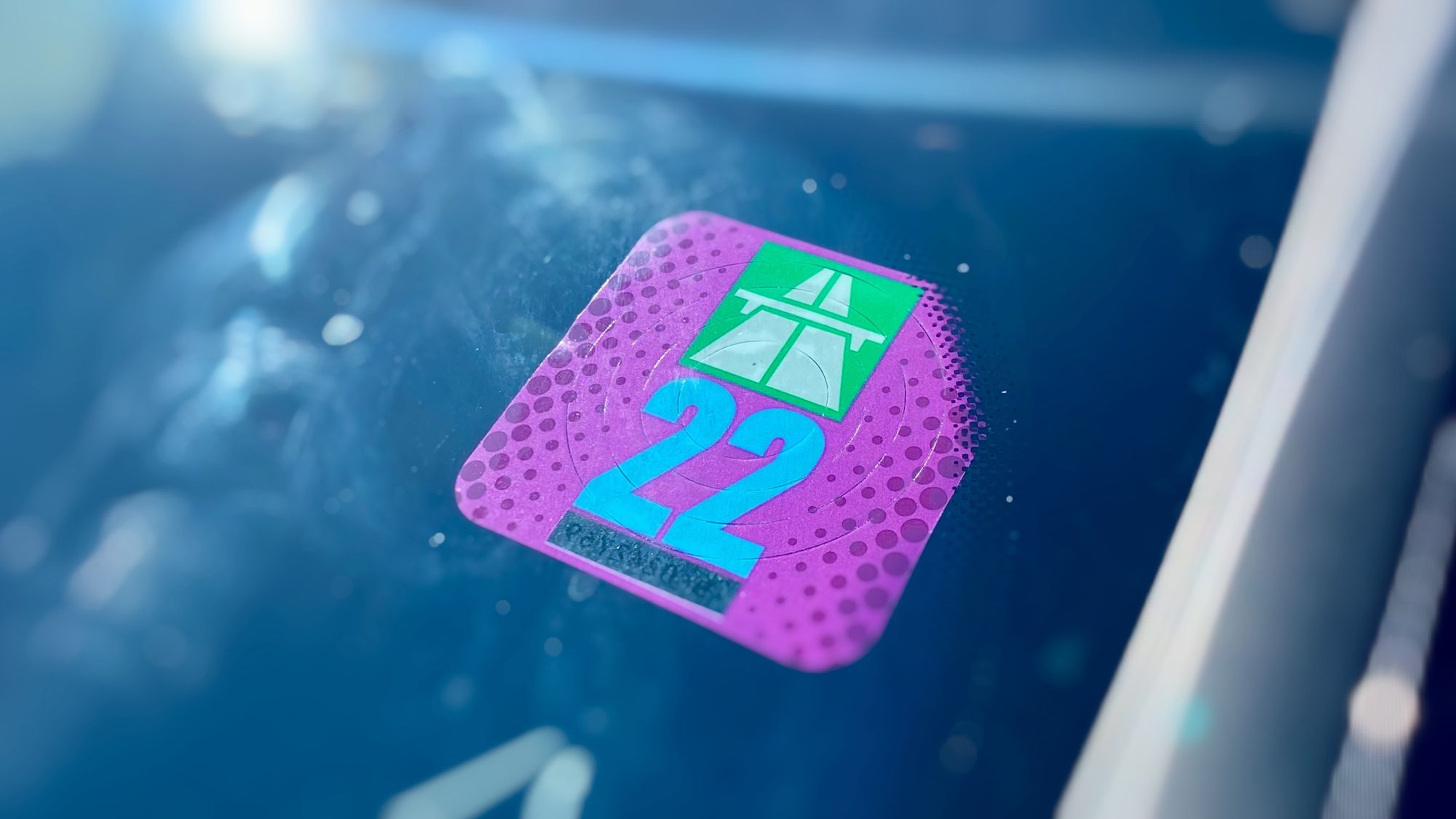 Roads and tunnels are very well maintained and people generally drive in a predictable manner.
Due to the mountainous landscape some bends on the highway are tighter than the norm so be careful. Then are the tunnels, so many tunnels, long, short all shapes and sizes.
Getting past Basel was a bit stressful as I didn't anticipated such a complex and busy highway network (with constructions on top), where we missed the right exit and ended up in a traffic jam close to Zurich.
This too passed and no long after the scenery turned into what one traditionally associates the country with: mountains, chalets and grazing cows.
Brunnen
The destination we chose for our second day was again a bit of a detour from the main travel direction, somewhere on the shore of lake Lucerne, in a city called Brunnen.
We stayed at the City Hotel which was alright though a bit outdated in design. Nothing spectacular to remember the hotel for but since we arrived in the evening and we're departing early in the morning it didn't made sense to pick a more expensive accommodation.
The city is small and on the quiet side (at least off season) - no complaints there.
The main attraction for us though was the fantastic view of lake Lucerne.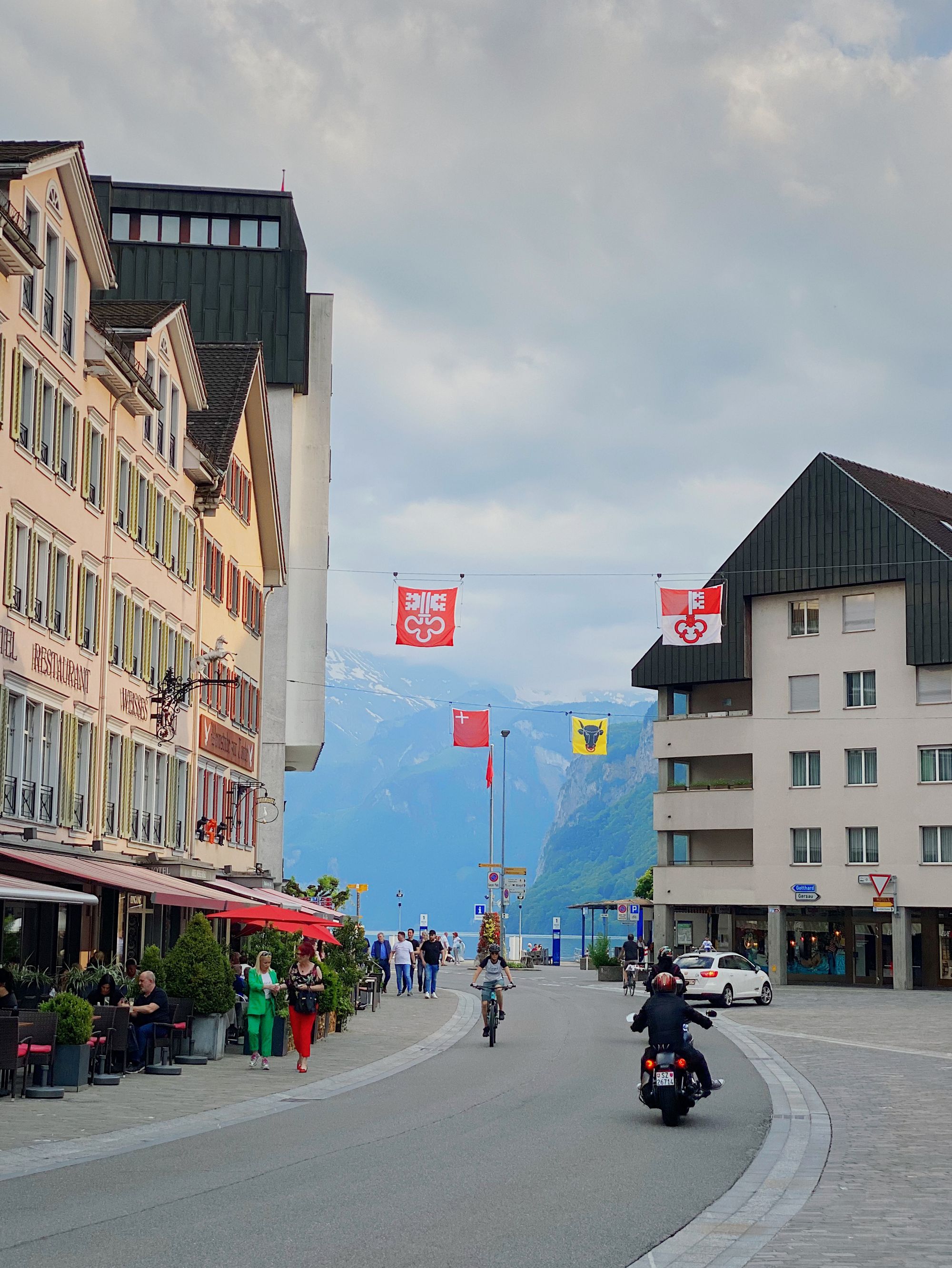 As we were walking around we stumbled across a restaurant with a terrace by the beach.
We had a glass of wine and watched the sun setting over the water - what a great way to end day 02!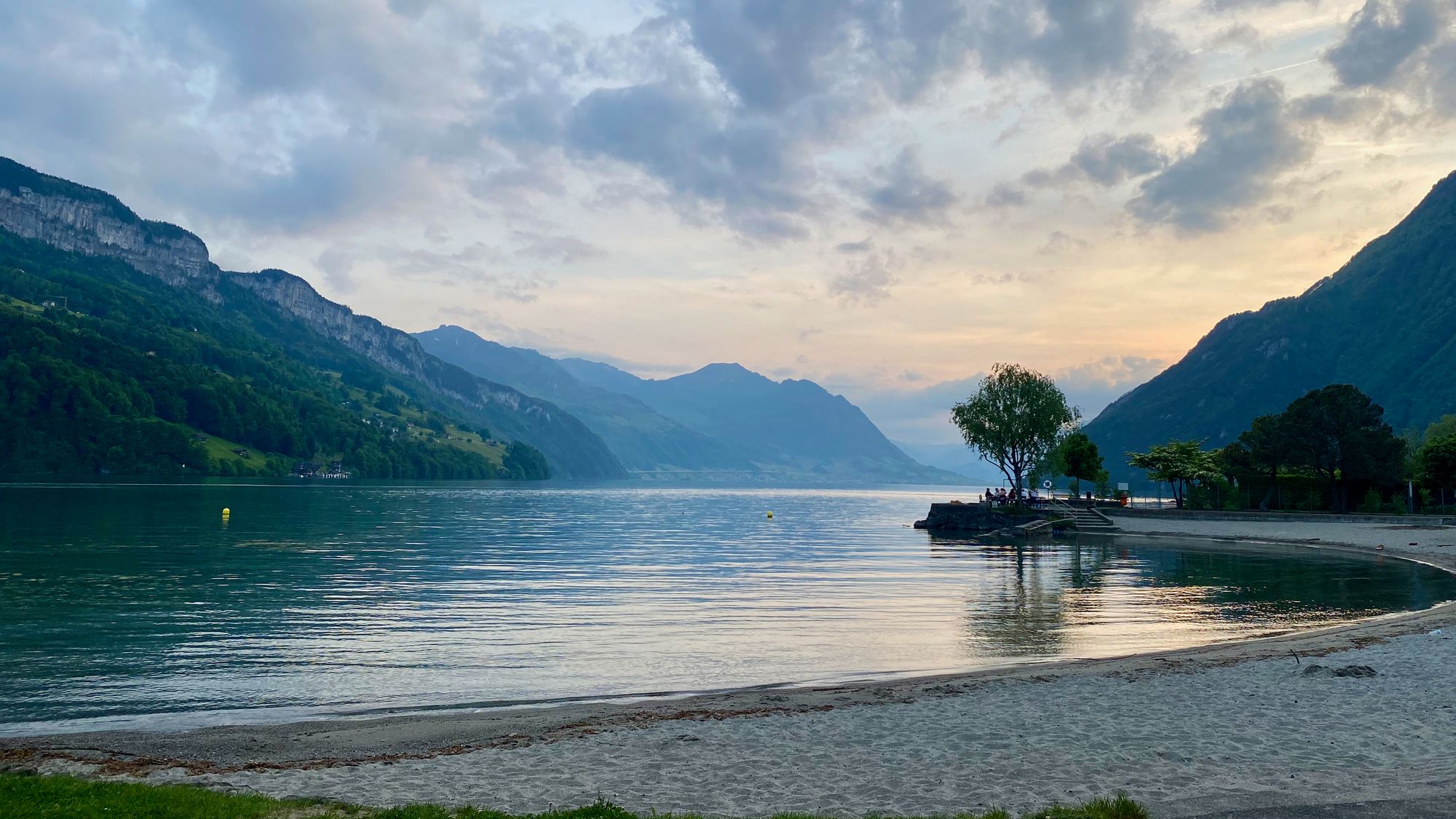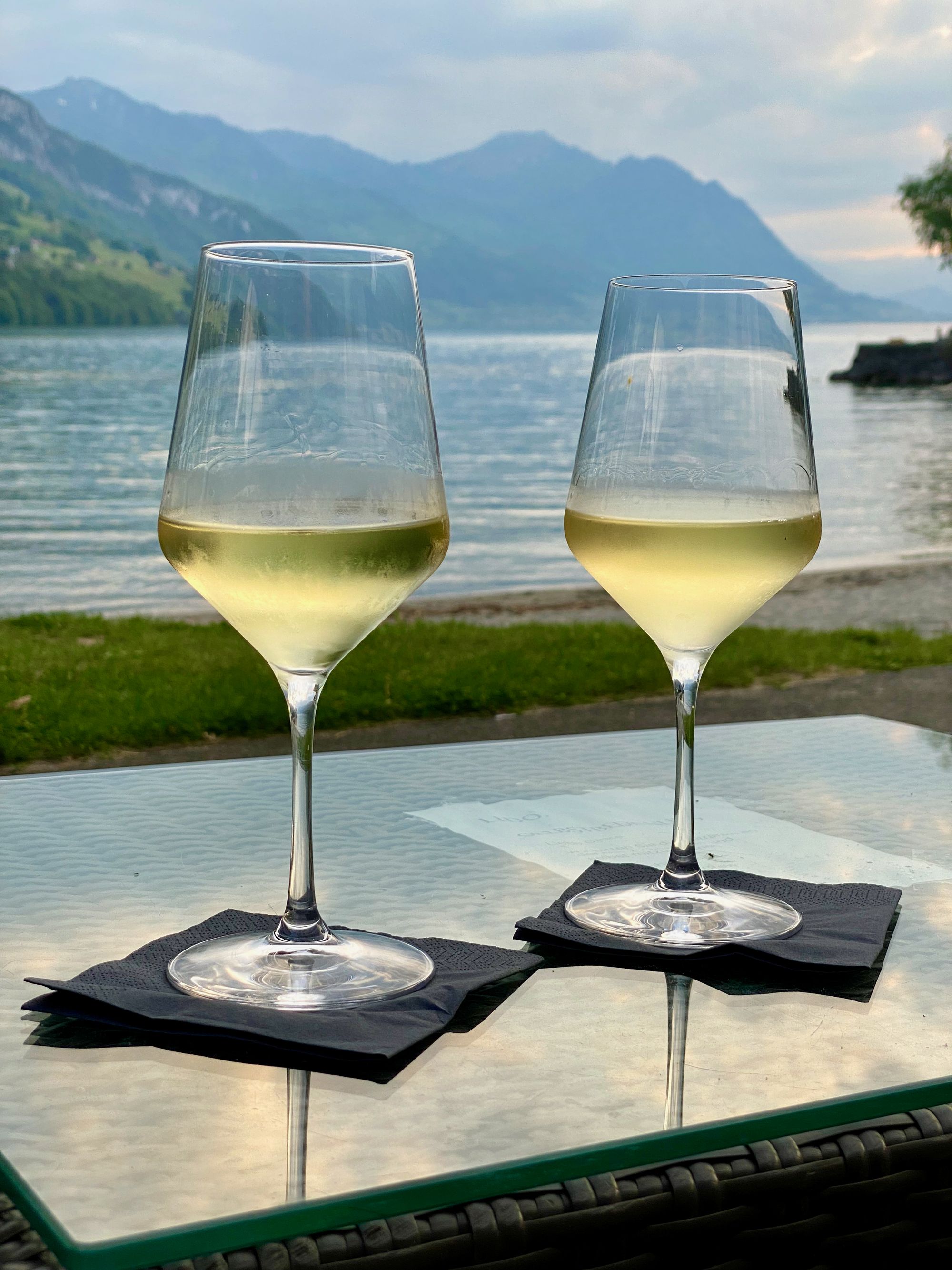 ---
Day 03: Switzerland to Italy
Last day on the road. We again woke up quite early and left Brunnen at around 07:30.
The drive time to our final destination was a bit over 6 hours and the weather was on our side, sunny and warm.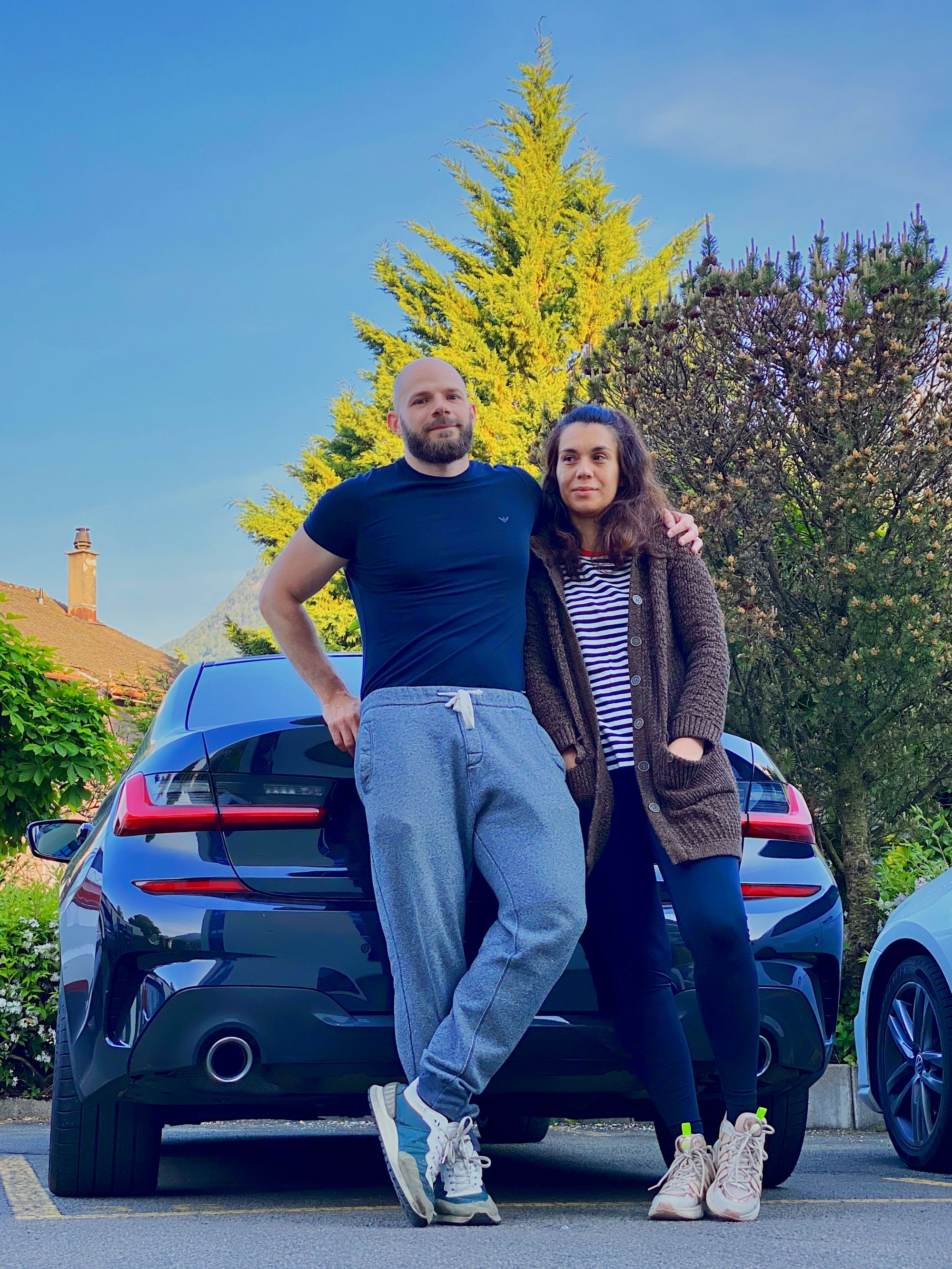 I was feeling more tired than in the previous days but luckily the scenery was energizing.
And how can it not be? Many times it felt like we were in a Need For Speed game, driving on winding roads and tunnels cut through the mountains.
Now to be fair, as gorgeous as the landscape was, driving for the first time on winding roads was definitely out of my comfort zone. But with a bit of care everything went fine.
When I was planning our way towards Italy I saw that we are passing close to Lugano, another Swiss city set on a lake in the canton of Ticino.
Back then I wasn't sure if a detour was a good idea or too much of a risk but being so close we couldn't resist the temptation.
Before departure I've read many horror stories about people having their cars broke-in during vacation so we always planned for private, covered parking.
Another thing I worried about was getting to Tuscany at night so we couldn't stay more than a couple of hours.
We arrived in Lugano at around 09:30, taking the 16 Km (9.9 Mi) long San Gotthard road tunnel to cross the Alps.
The mountain pass was still closed at that time of the year and to be honest I'm not sure I had the courage to try it anyway (I did on the way back though!).
It was Sunday and everyone was out enjoying the sun by the promenade.
We had a fantastic time there, strolling on the shore and getting ready for the final stretch in the car.
It felt like proper summer and we were so happy that we decided to stop in this italian speaking Swiss city.
Unless you live in the norden part of the world it is hard to understand the lack of sun and warmth we have to deal with over the long winters. It does take a toll both on your mental and physical state.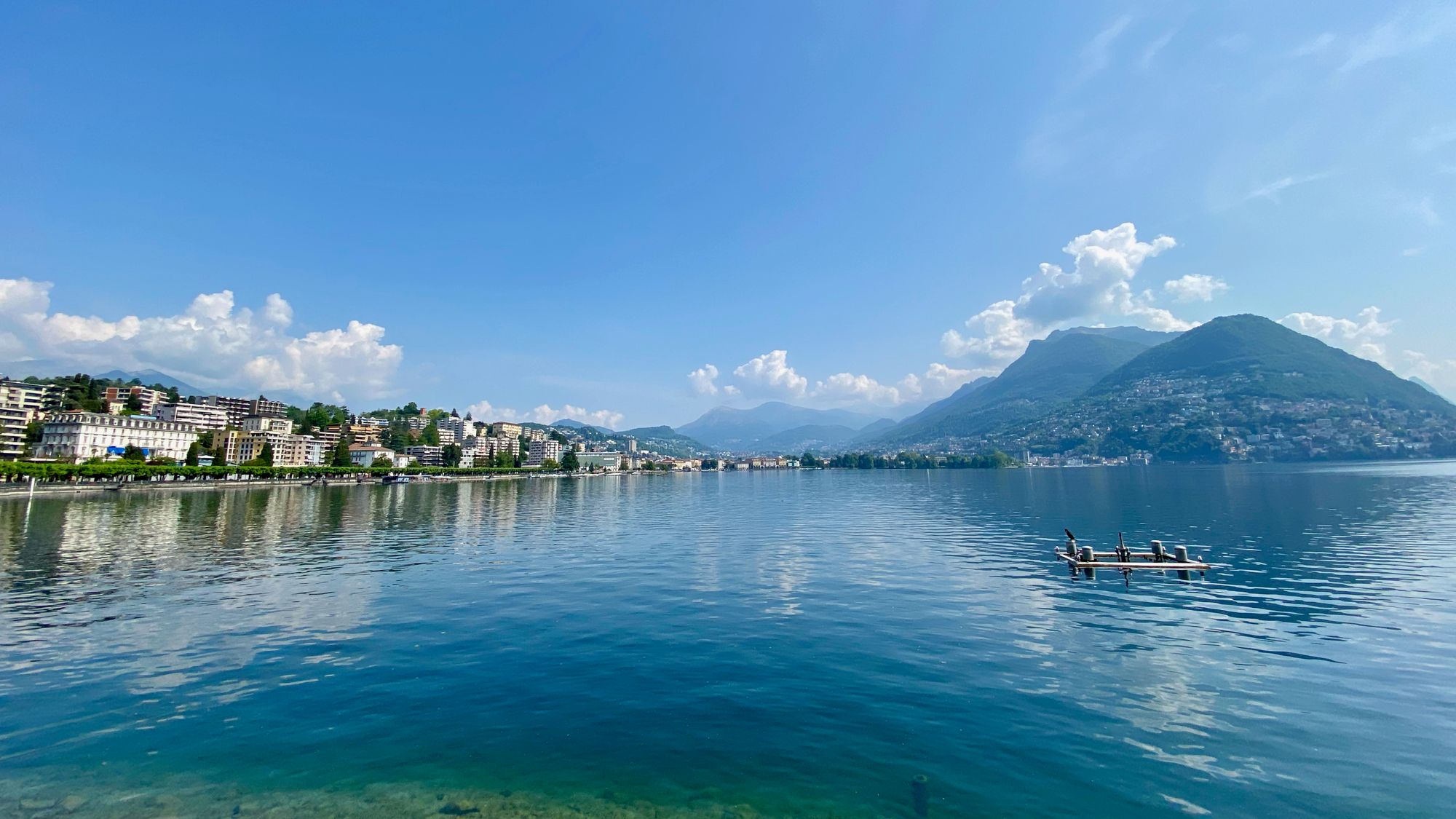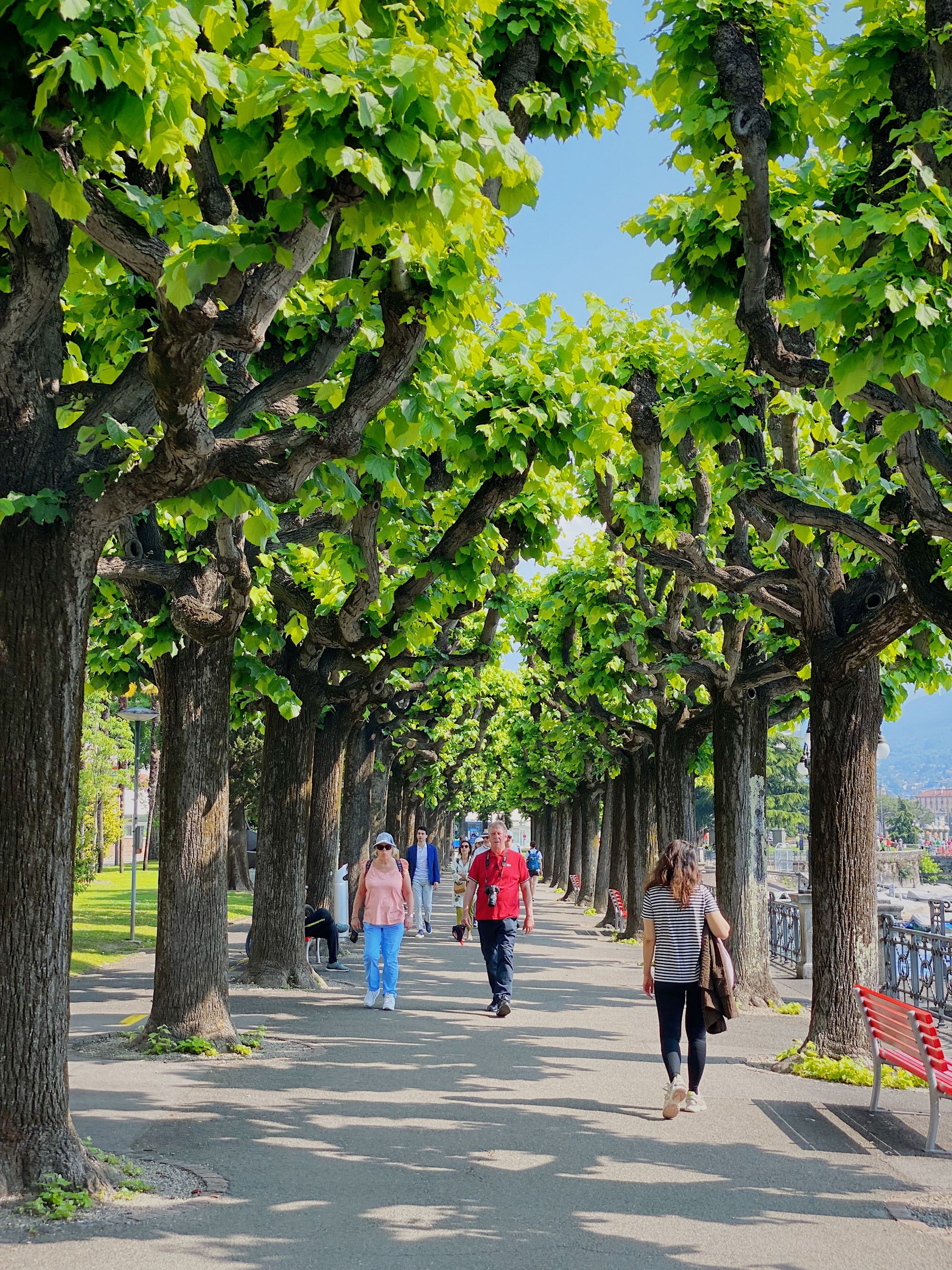 Before leaving we enjoyed some of the best gelato ever (and we eat a lot of it!) at a place called -9 Gelato Italiano, highly recommended.
At 12:30 we left Lugano and headed towards the Italian border.
One word of caution - coming from Denmark it is rare to find more expensive places but Switzerland is definitely one of them, so have this in mind when budgeting.
We crossed into Italy at around 13:00, leaving Switzerland and the Alps behind (for now, as we returned in a few months to explore more of this amazing place).
There is no vignette but you do pay for using most of the highways. Sometimes you get a ticket that you will use when you exit to pay, otherwise you'll have to insert your card when entering, then again at the exit.
There are many rest stops along the way and the highways are well maintained. The other roads are also pretty good although it can happen to hit a pothole once in a while. The tunnels on the other hand... most of them looked in dire need of repairs.
As we progressed further into the country the driving style clearly changed.
Getting passed Milan was a bit of a mayhem but we managed to take all the right exits.
Going from the (mostly) predictable driving style of northern Europe to the (somewhat) unpredictable driving style of Italy took some used to but I found it an interesting experience and good practice.
The highway stretch between Milan and Bologna was the first boring part of the journey, with a flat and uninteresting landscape but as we got close to Tuscany the scenery changed for the good.
On the other hand the exhaustion started to take its toll on me and for the first time I felt proper stress while driving, especially during (the many) parts when the road was narrow due to constructions closing lanes.
This too passed without incidents and by the evening we were in proper Tuscan landscape.
We arrived at Hotel Pescille at a little over 19:00, just as the sun was setting over the hills. And although both of us were physically exhausted, travelling all the way to Italy by car was a dream come true that brought us many unique experiences.
This will be our home for the next 10 days and what a great home turned out to be!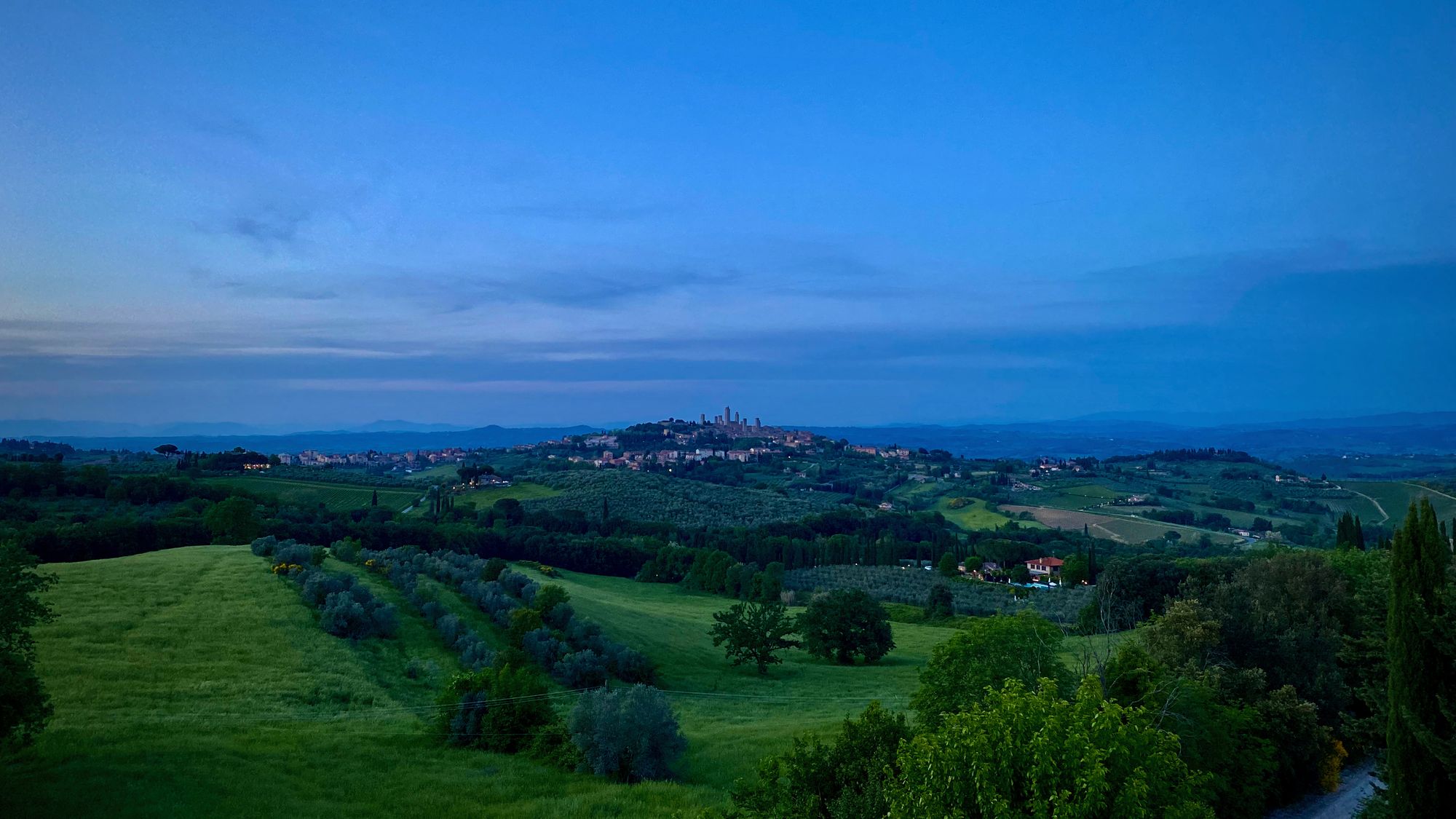 ---
Conclusion
As this post is getting way longer than anticipated I will end part 01 here. In the next part I will talk about exploring Tuscany and working remotely from the area.
I started writing this blog during on of the wettest January we ever had here in Denmark and remembering all the nice experiences we had during this road trip helped me overcome the winter blues.
I hope it will also help or at least inspire you to plan your next road trip to Europe. Traveling by car allows you to see an unique side that you often miss otherwise and you will form some everlasting memories.
👍 What was good: the experience of crossing multiple countries by car, seeing how the landscape, language and people change.
👎 What was not so good: starting this journey just as gas prices exploded in Europe.
🤩 Most memorable moment: watching the sunset over lake Lucerne in Switzerland with a glass of wine in our hands.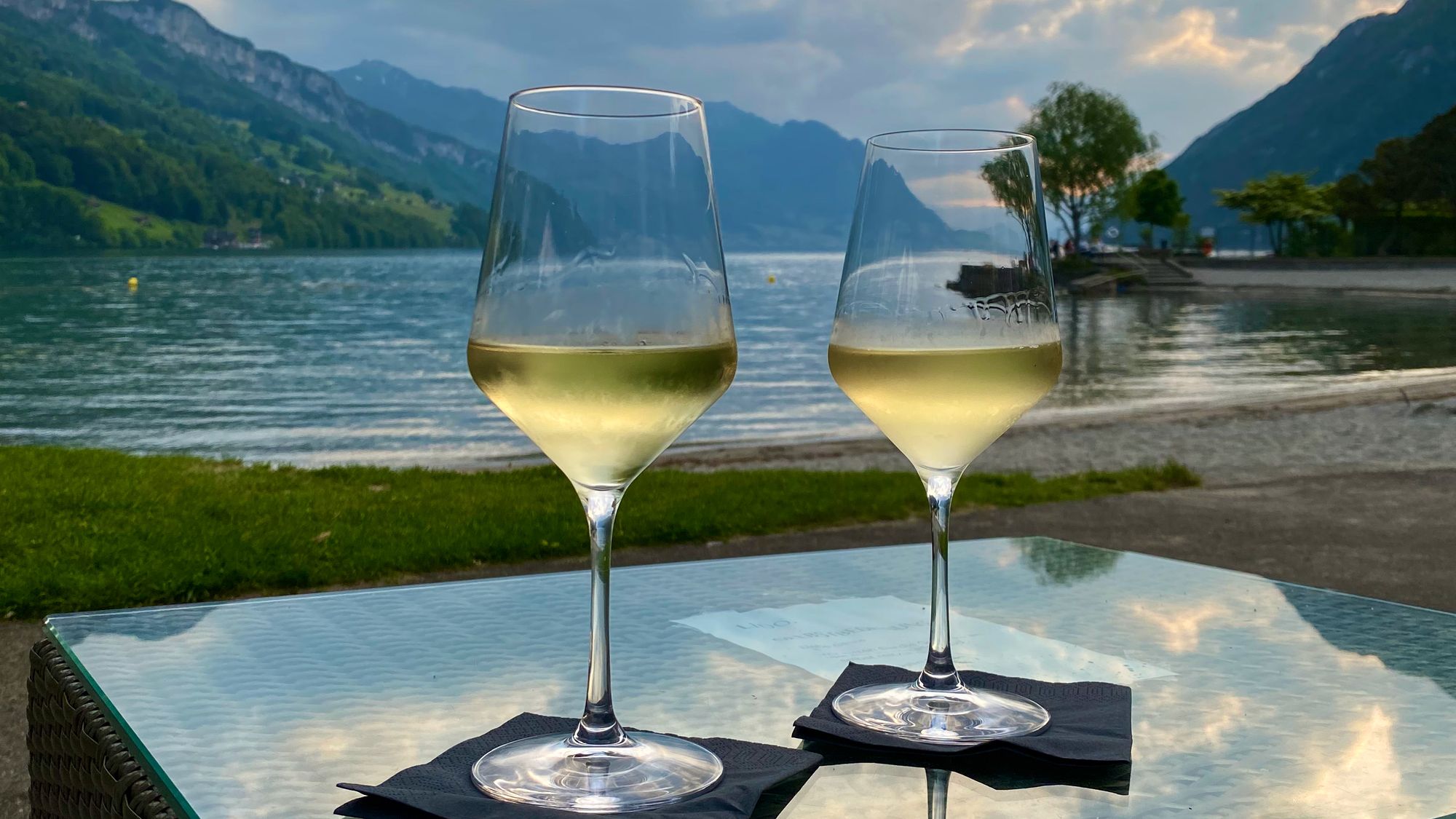 Thanks for reading,
-Adrian
💖
If you enjoyed reading this consider
subscribing
to my blog so you get notified when I write new articles.
---
Entire Trip Summary
From Denmark to Italy and back, 13 May 2022 - 29 May 2022.
🚗 Distance driven:
5093 Km / 3164 Mi
🌍 Countries crossed:
Denmark, Germany, Switzerland, Italy & France.
🍹 Standout cities visited: ‌‌
🌄 Standout areas visited:
Saint Gotthard mountain pass in Switzerland & many parts of the Tuscan countryside.
🏨 Hotels we stayed: ‌‌
---
Itinerary Map
🌍 Below you will find an interactive map with the directions taken, the places we stayed and the ones we visited for the entire trip.