The first road trip part 02: our itinerary in Tuscany while working remote
In this blog post I'm sharing the most memorable places we visited in the Italian countryside and what we did to find the right work life balance while working remote.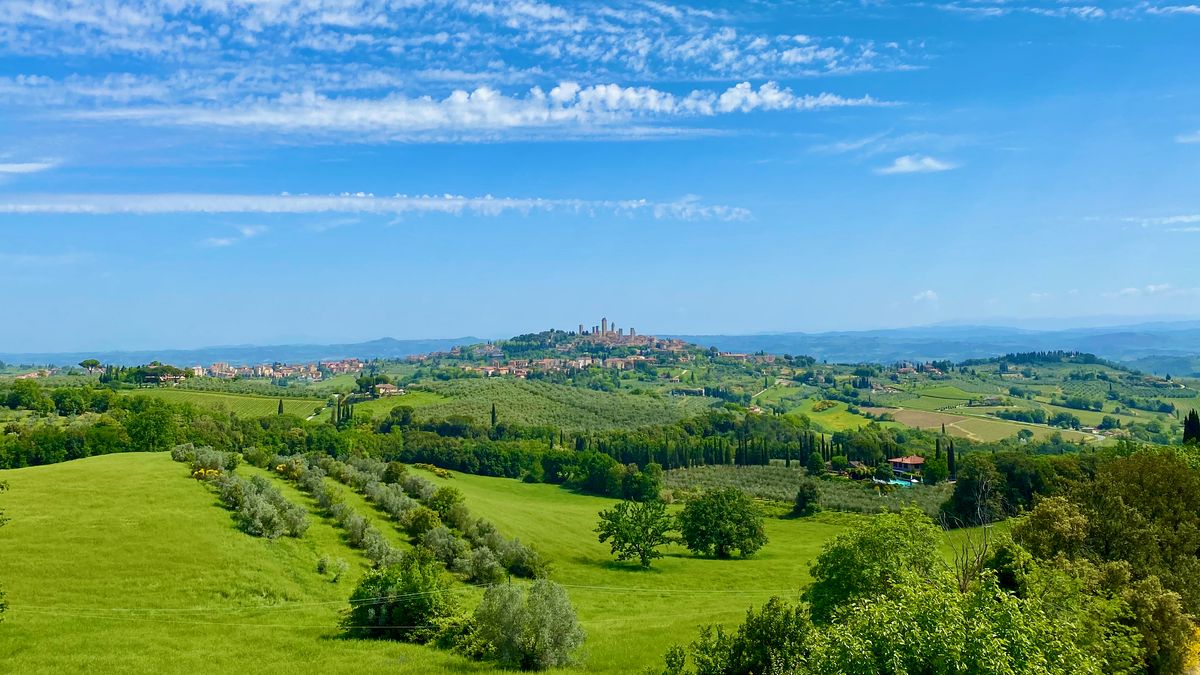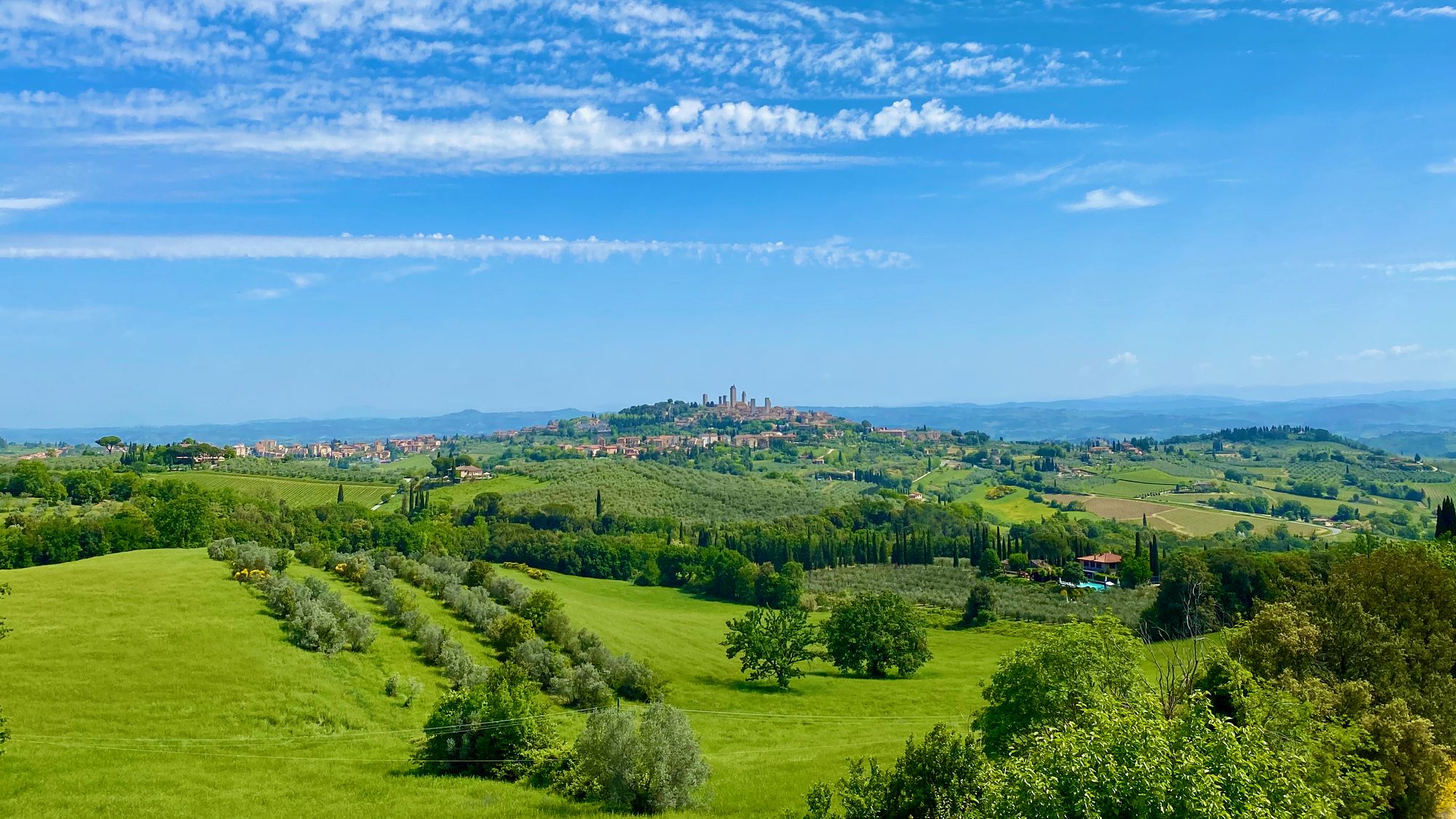 Greetings,
My name is Adrian and together with my wife we embarked in four road trips around Europe during 2022, one in each season.
Two of them where done for remote working and two entirely as a vacation.
Being the first time we had access to a car we got to experience a sense of freedom we never knew before, creating unforgettable memories we otherwise would had missed.
In this series of blogs I will talk about our journey, what went well & what didn't, with the hope of helping and inspiring others to explore Europe by car.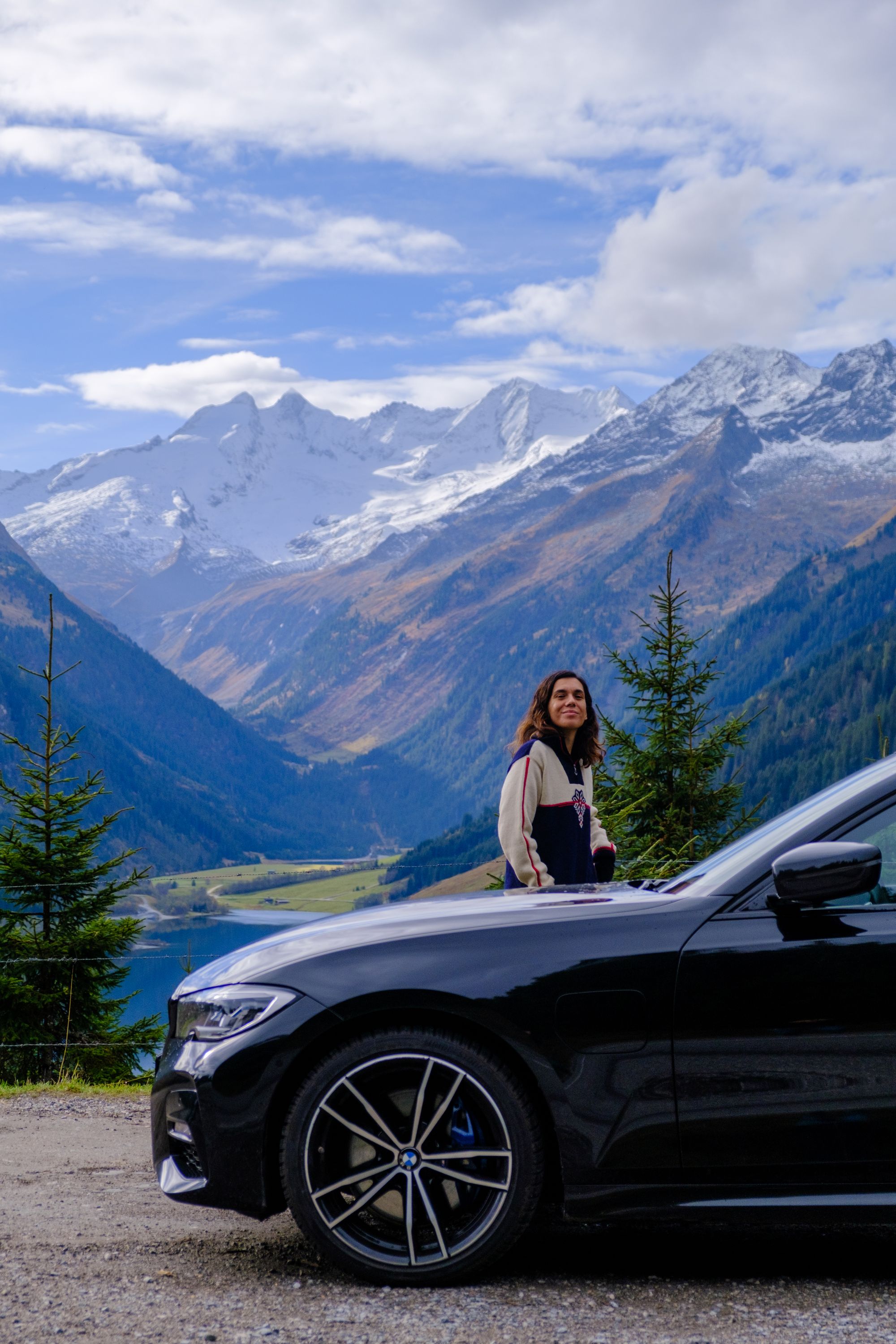 ---
Introduction
This blog post is part 02 of our spring road trip from Denmark to Italy, describing the itinerary we made to explore Tuscany while working remote.
Table of content: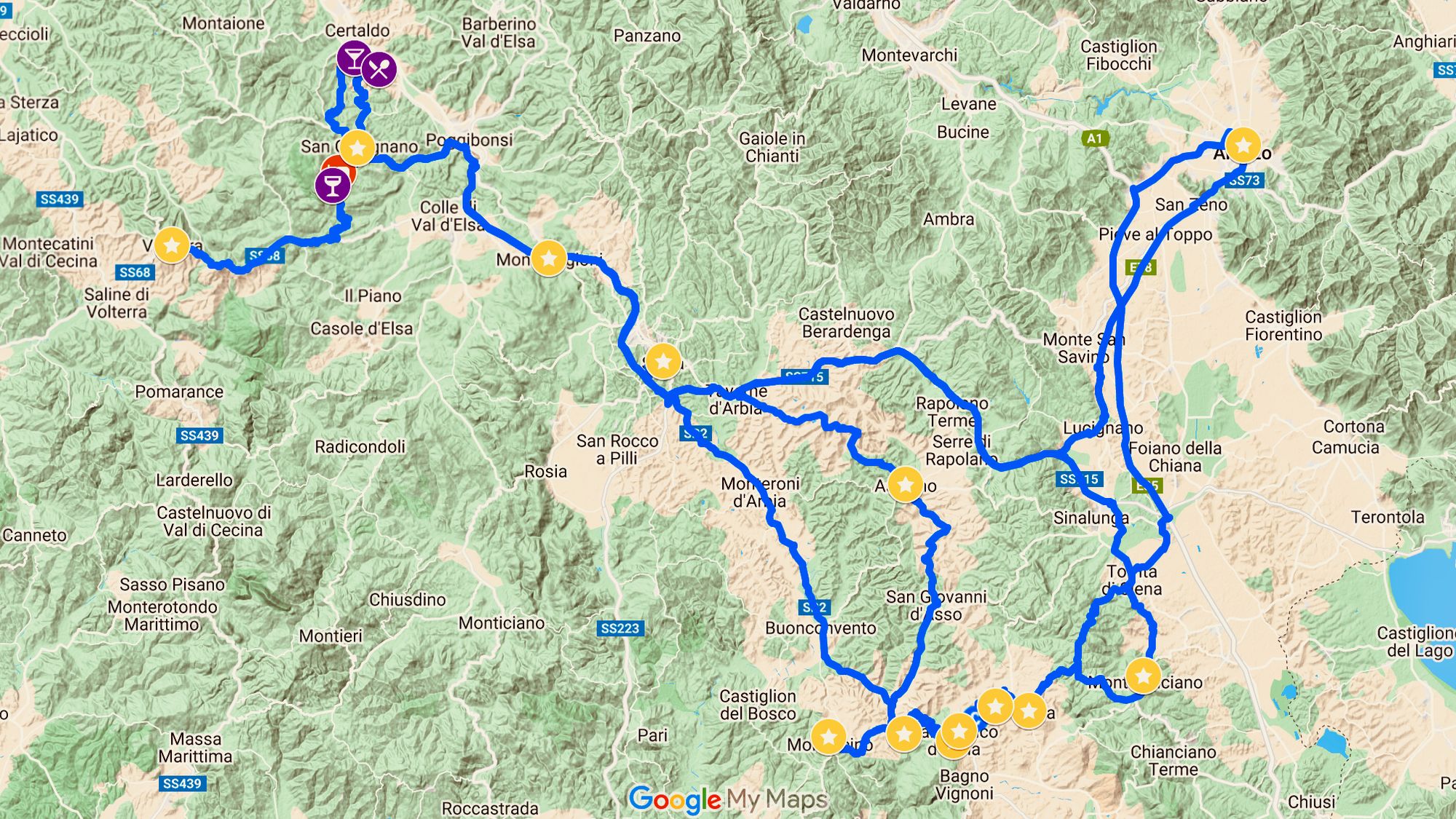 ---
👉 Read part 01 here if you are interested in the 3 day journey of driving to Tuscany, crossing Germany and Switzerland.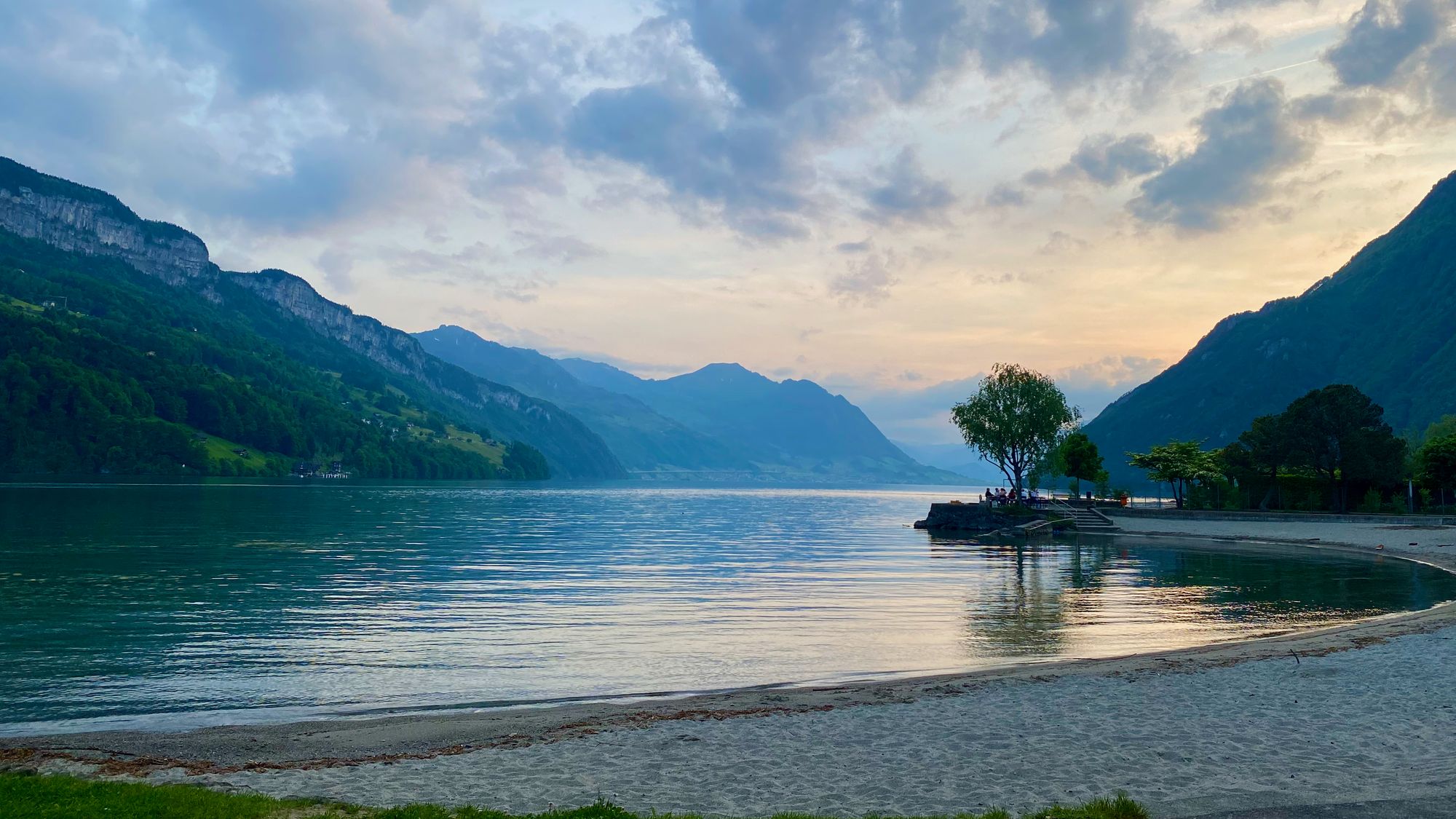 👉 Read part 03 here if you are interested in what we did to make the return journey an exciting mini-vacation on its own. Plus we couldn't leave Italy without visiting one of our favorite places in the world: Lake Como.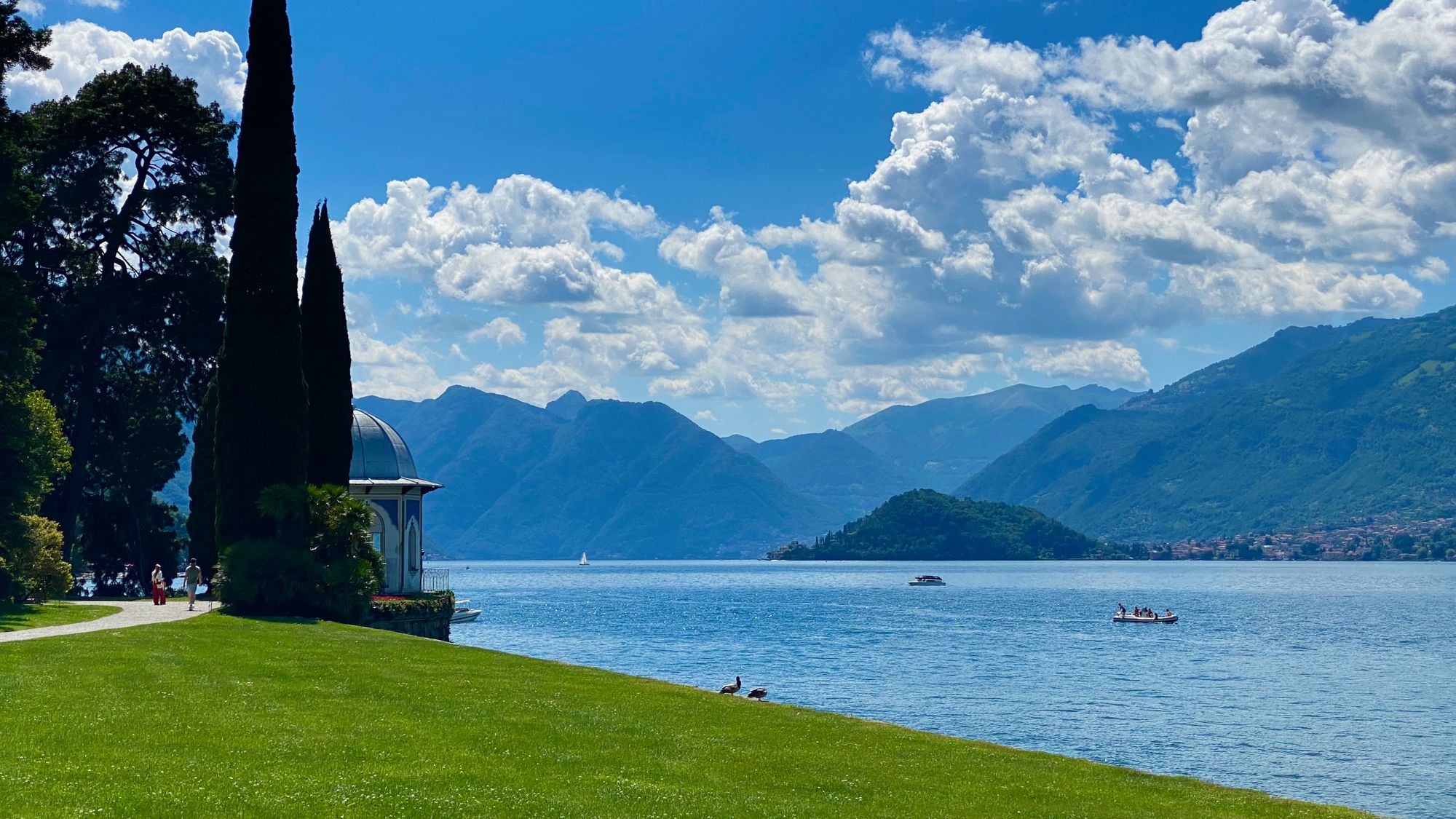 ---
Where to set base in Tuscany
First, let me start by saying that Tuscany is a pretty big area, split into multiple regions. For us - and I assume for most tourists, only 3 are relevant:
Chianti, stretching between Florence and Siena, known for their wine and olive oil production.
Val D'Orcia, south of Siena famous for the cypress tree roads, rolling hills, small medieval towns and... The Gladiator.
Val d'Elsa, west of Chianti, a less known region compared to the two above.
After doing a bit of research, taking a look at the map, accommodations and things to do, we picked to set base camp in Val d'Elsa.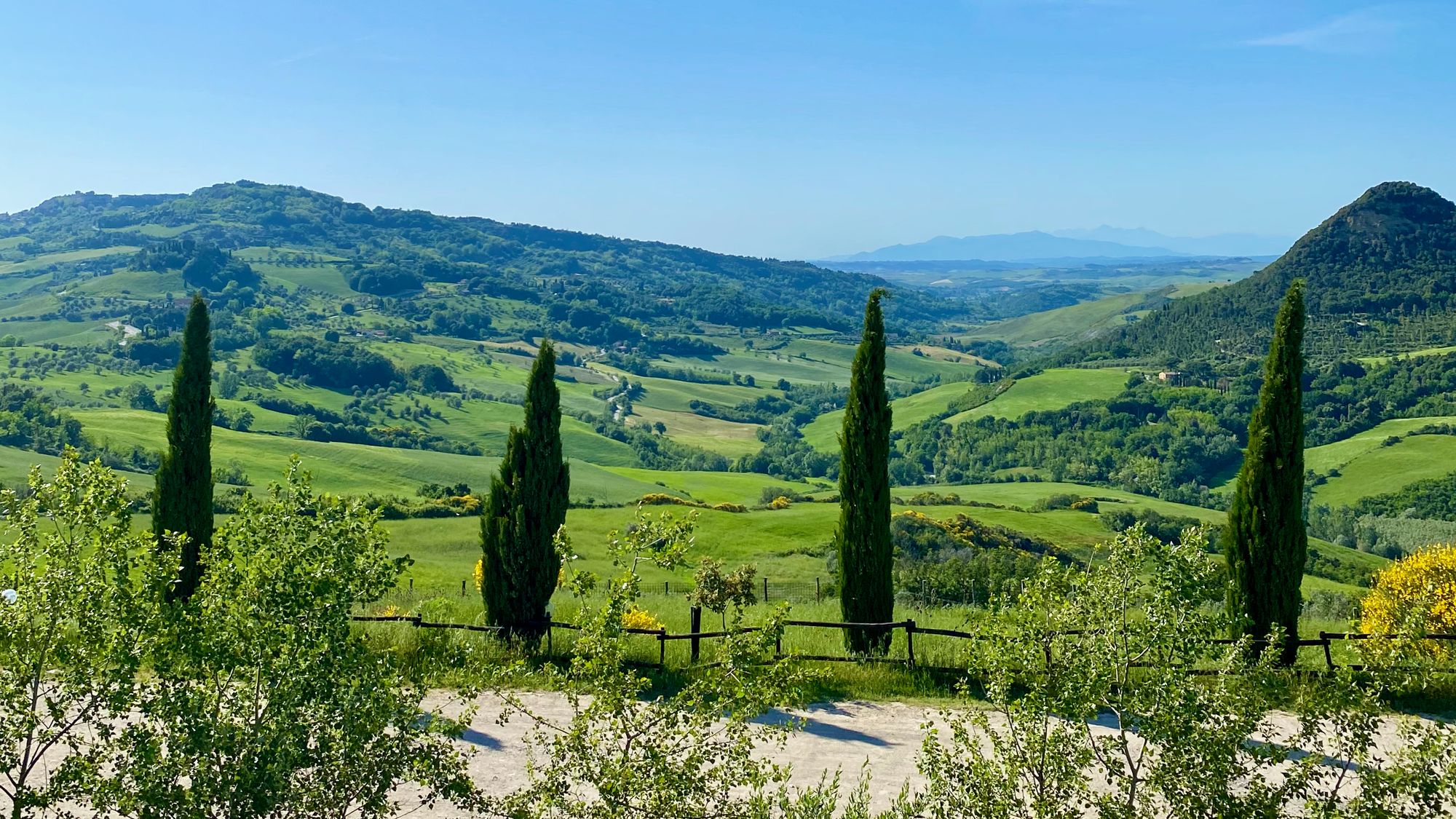 It has a good mix of everything, great local producers, rollings hills and quite a few interesting cities such as San Gimignano, Volterra and Monteriggioni. It's also not that far from the other two, 2h drive to Val d'Orcia taking the scenic route for example.
More specifically, we picked the area of San Gimignano, set halfway between Florence and Siena and looking back it was a great decision. As we're planning our next adventure in Tuscany for spring 2023 we're going to stay in the same region.
---
Hotel Pescille
Placed next to the town of San Gimignano, we arrived at Hotel Pescille on a beautiful Sunday evening just as the sun was setting over the hills. It was love at first sight.
To be clear, this is not an extravagant luxury hotel - it is rated as a 3 star accommodation but what it lacks in extravagant amenities it more than compensates with the quiet location, the view it offers over San Gimignano and the warmth that the people working there have.
Don't get me wrong, the hotel - a former farmhouse - offers everything you need for a comfortable stay and beyond. It might not be the Reschio Estate but it doesn't cost a small fortune either - we found the price / quality ratio to be very good.
And btw, this is not a sponsored post, in case you were wondering.
We booked a triple room since we'll be spending 10 days working remotely from there and we needed more space to move around. We hoped for good weather (and we got it) but we also wanted to be cozy inside in case of rain, which at that time of the year it can still happen.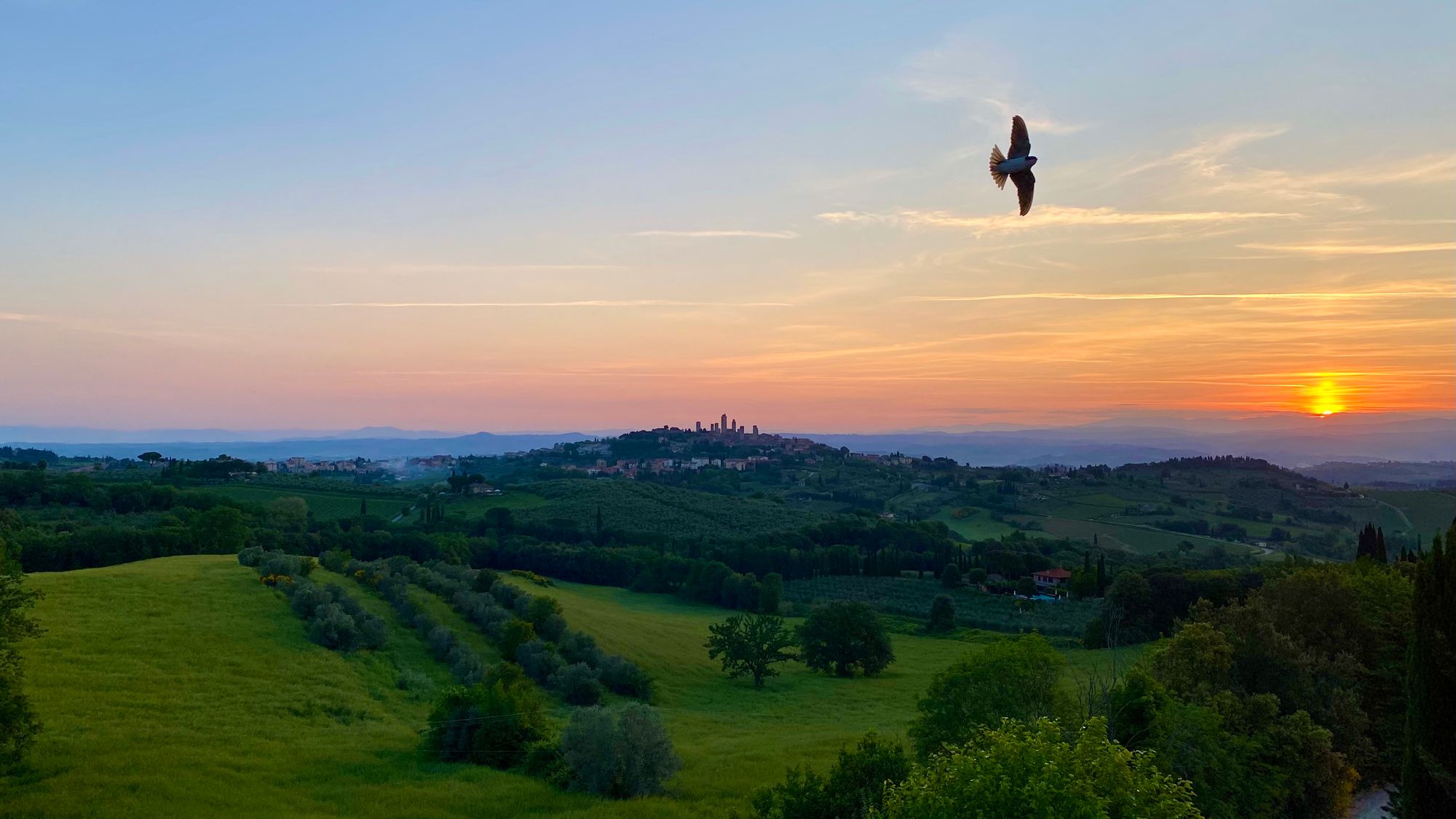 Although it was a bit more expensive compared to a standard double room we never felt too cramped so it was the right decision.
It also came with two balconies so we didn't had to fight over the view.
The room décor was simple but tasteful, while the the hotel common spaces were decorated beautifully with a variety of old agricultural tools, looking almost like a museum.
One of the few accommodations in the area to offer breakfast, it is served on an outdoor terrace surrounded by greenery - a perfect way to begin the day.
Again, nothing fancy but it had enough variety so you don't get sick of it after a few days.
What's more important, we didn't had to worry about preparing something every morning before starting the work day.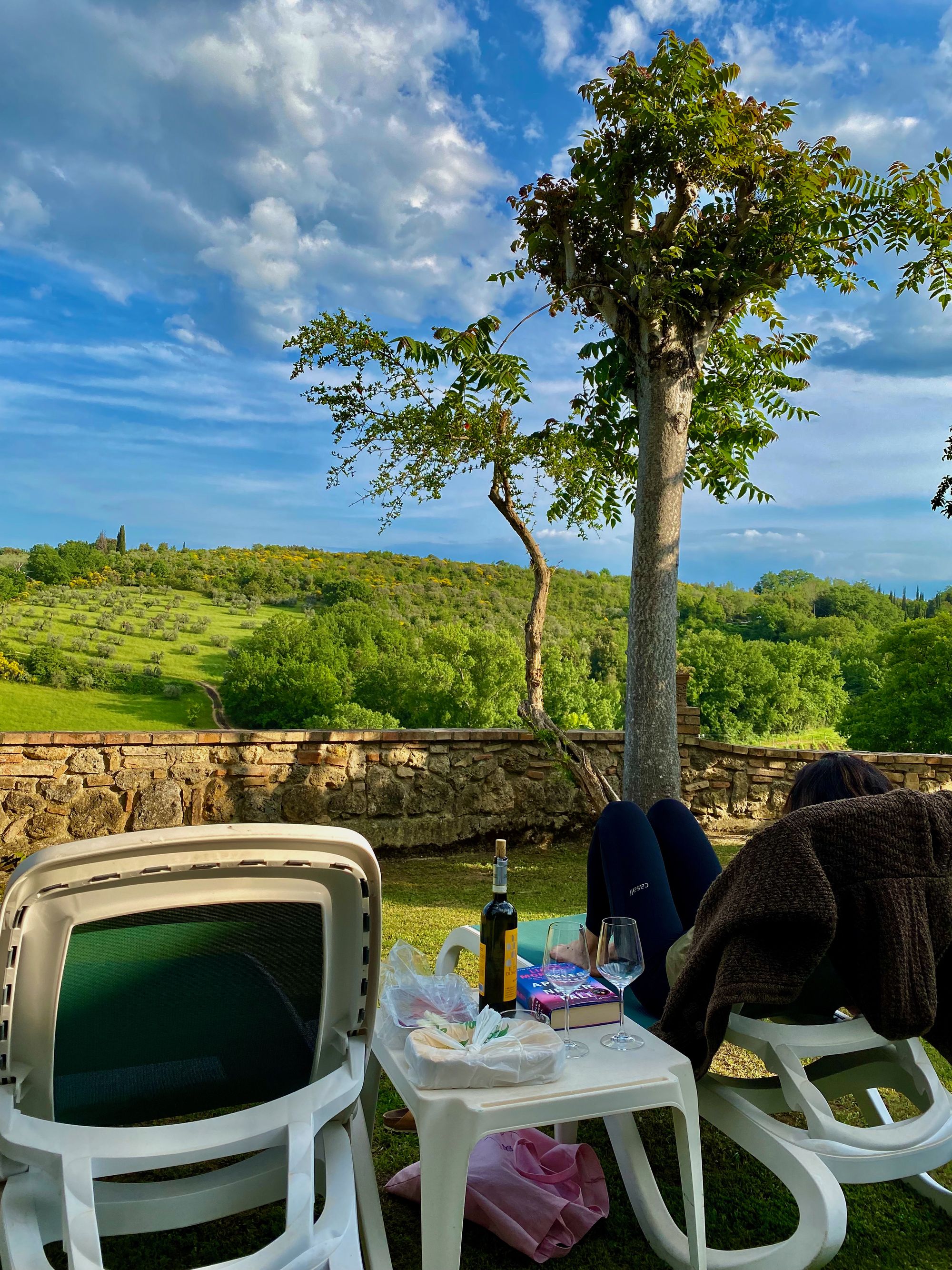 There is no restaurant on location but they have a small shop with local wines. There are however some options to eat nearby: there's the city of San Gimignano five minutes away by car and there's Restaurant Zafferano in walking distance, part of a nearby hotel where we had our last dinner in Tuscany, and it was delicious.
The hotel has a swimming pool but we never got to use it, preferring instead to either visit a nearby town or to relax in the garden when we had time to spare. There's a tennis court and plenty of outdoor space to go for a walk.
Access by car is easy, with only 100 meters or so on gravel road until you reach asphalt and a main road. This made using the car daily smooth and fast.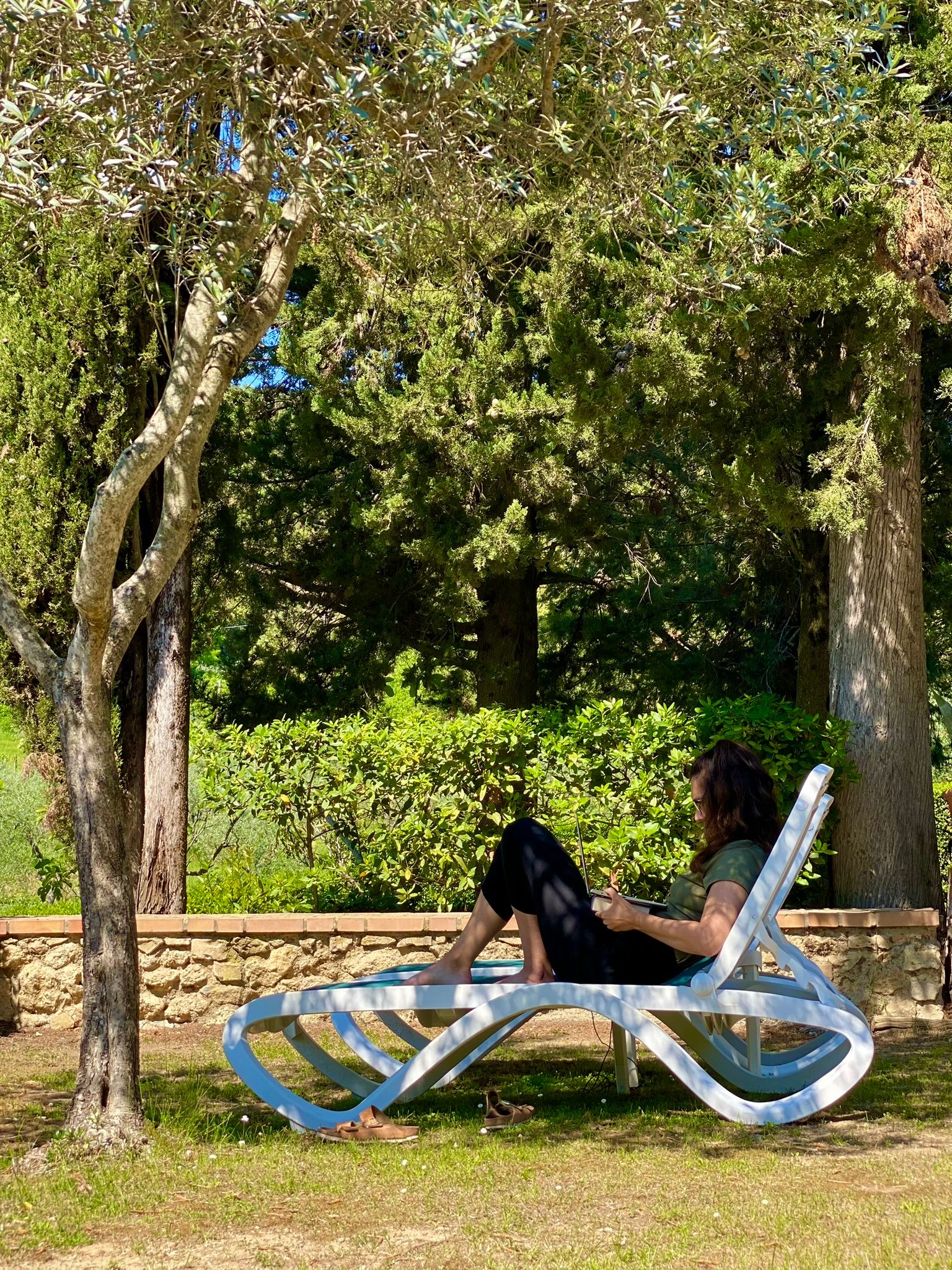 So that's Hotel Pescille in a nutshell.
Although not a farm house anymore, it still has that countryside vibe that we really wanted, a place where we can relax, disconnect after work and recharge our vitamin D.
---
Our Tuscan Itinerary
We spent 10 days in the San Gimignano area, arriving in mid May.
May is a great month to visit Tuscany, if not the best. The weather is getting warmer while not too hot - during our time there the temperature fluctuated between 20 C and 30 C (68 F to 86 F).
It also rains a lot less, we had only a day with some light showers that lasted for 30 minutes or so (although we've been told that the previous week it rained constantly so I guess it can happen).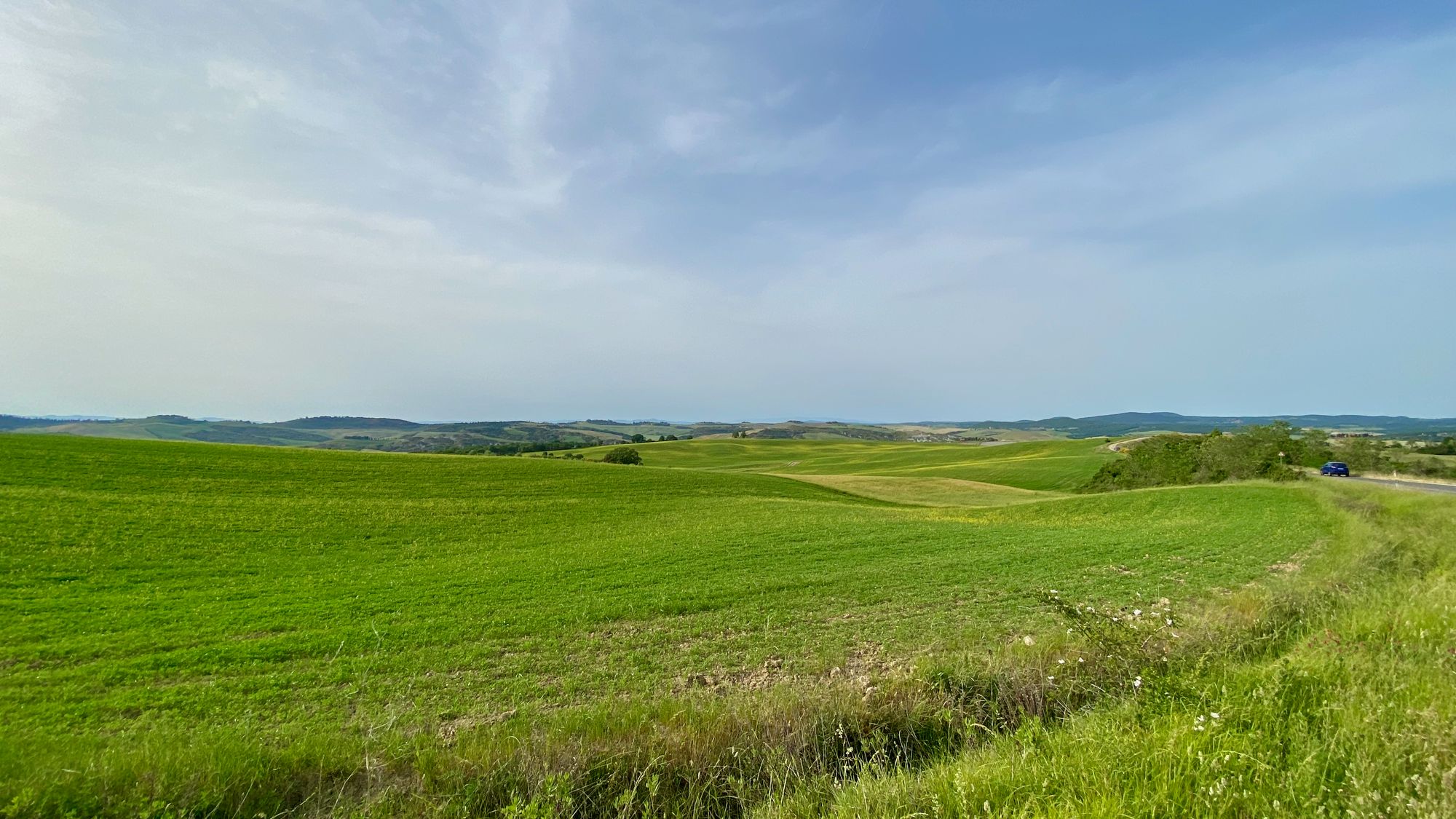 Peak season is from July to August so in May the area is crowded just enough to feel alive while also still being possible to get around.
And the fields are green, very green actually. If you're expecting to find the yellow dry hills from The Gladiator, May is not the month, try August.
For us the main goal of working remote is to break the routine by changing the scenery, ideally with something as different as possible. We set to create an itinerary revolving around our standard 9 to 5 working hours that would still allow us some time to visit this part of the Italian countryside in a relaxed pace.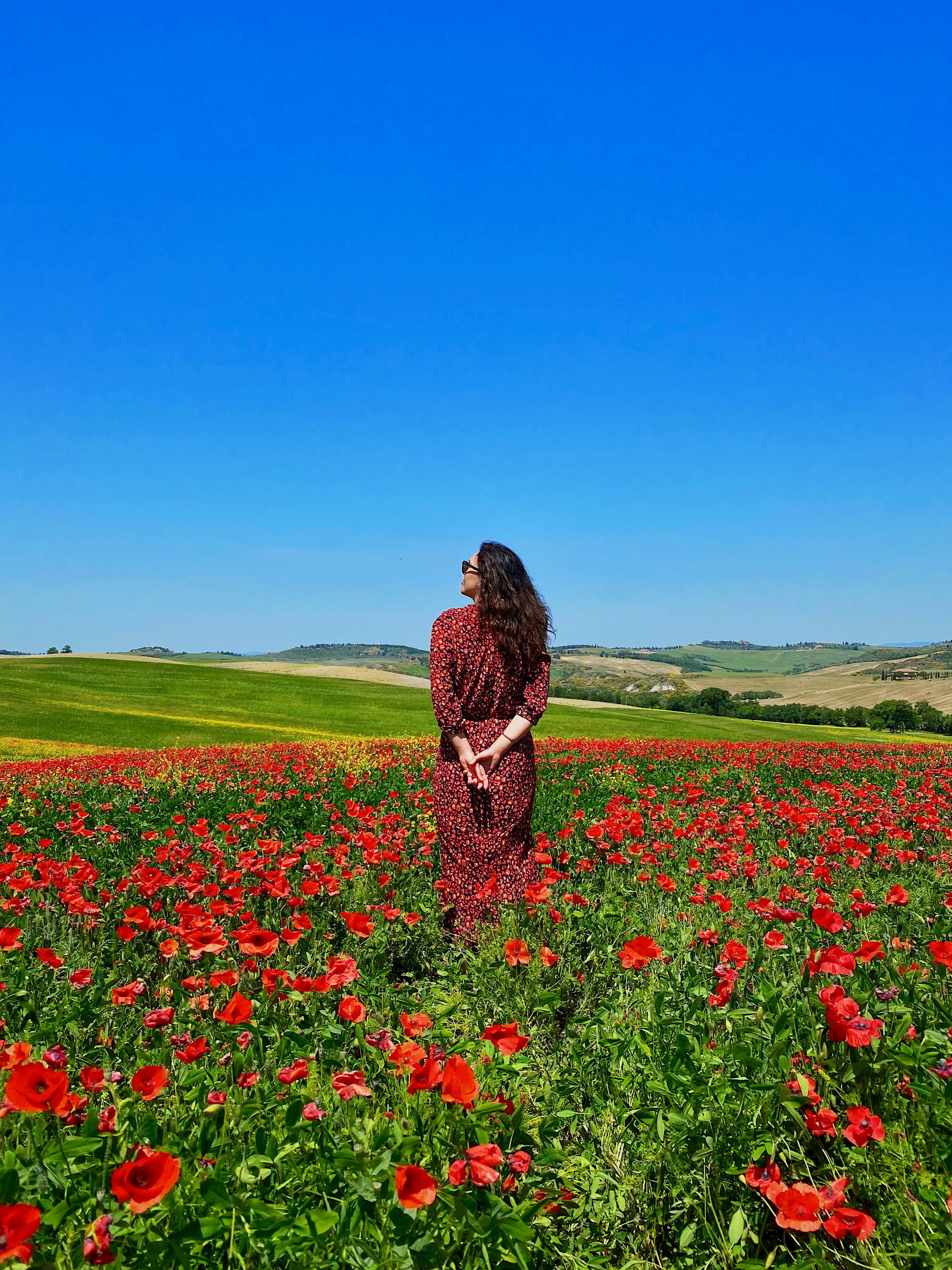 As I mentioned earlier, Tuscany is a pretty big place so we knew from the beginning that we won't be able to visit everything the area has to offer.
We split the exploration into 2 parts: during the working week we visited the places in close proximity, mainly in Val d'Elsa while in the 2 weekend days we visited cities & areas further away, more specifically in Val d'Orcia.
💡
At the end of this article you will find an interactive google map marking all the locations we visited. You can jump directly to it by pressing
here
.
Here's what we found most interesting in our exploration.
---
Val d'Elsa
🏘️ San Gimignano set only a few minutes away by car is a town renowned for its skyline of medieval towers and has the city center part of the UNESCO World Heritage Site.
It is the hub of the area and we ended up visiting the city on multiple occasions.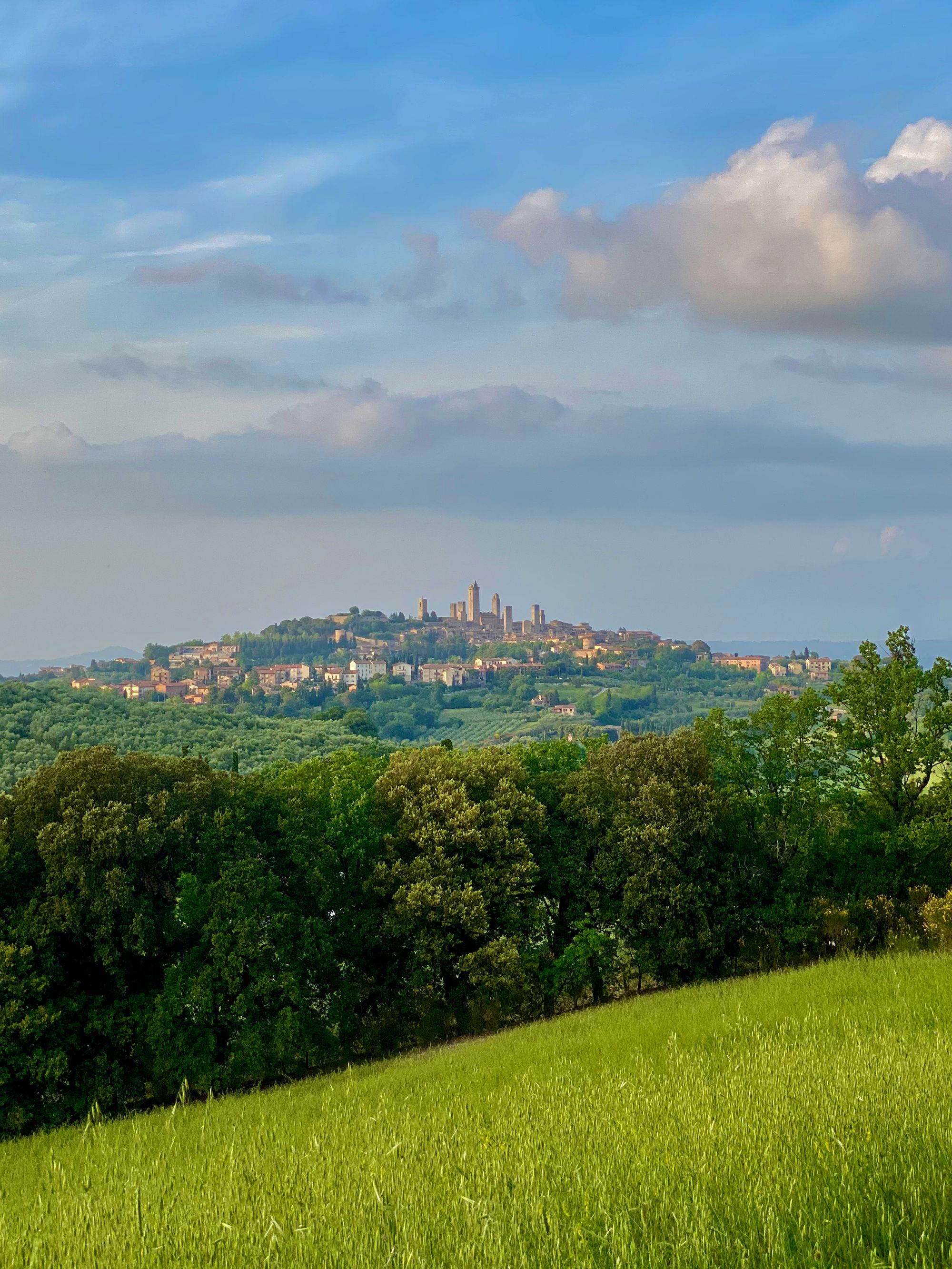 We've been told that you can also reach it by foot but half of the way you'll have to walk by the edge of a (fairly narrow) road and there's quite a bit of climbing to do, so we always drove there.
It is a good small town to have nearby: charming streets to stroll around, interesting shops (many with local products), a good selection of restaurants and a COOP supermarket just before the ZTL starts.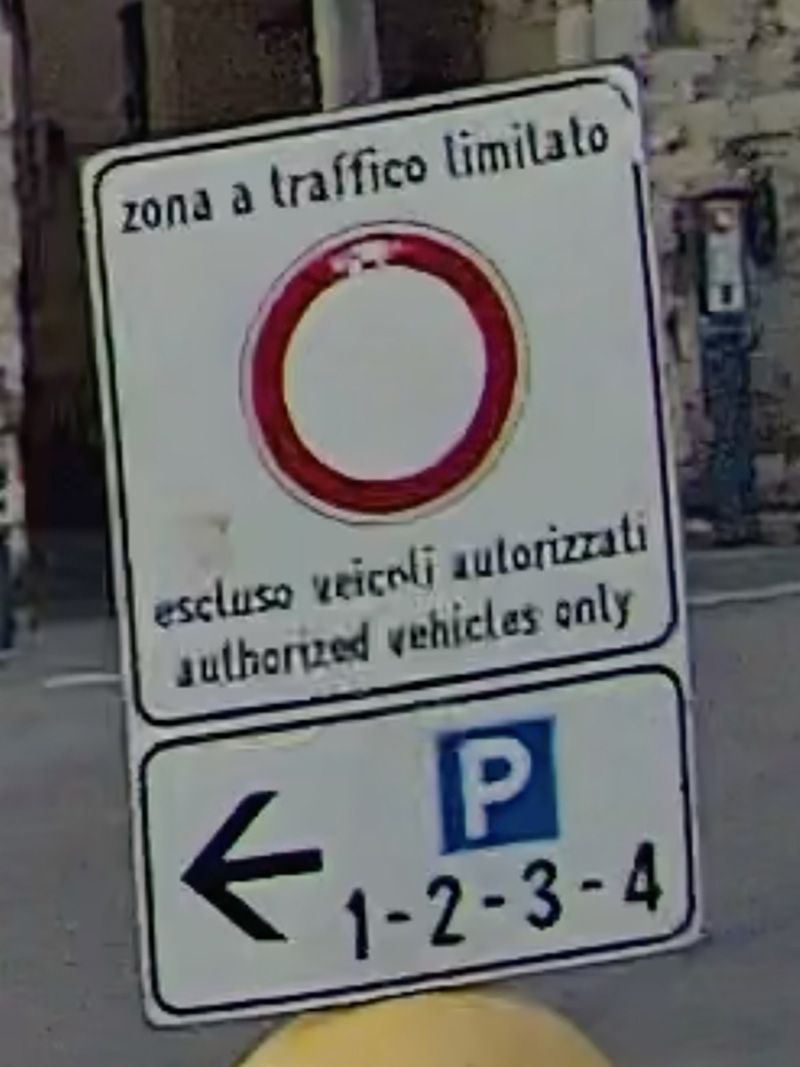 🚙
If you don't know what ZTL is, it stands for Zona Traffico Limitato - meaning area with restricted traffic where only local resident and registered vehicles are permitted. Usually you'll find them in the city centers and are well signaled. Be careful not to enter these areas during the restricted hours.
Oh and did I mentioned is has a delicious gelateria? Of course it does!
On the practical side, San Gimignano has several parking lots with P2 being the closest to the city center but it's not that big. However, with one exception we always found a parking space there.
You can actually check the status of the parking spaces online here which I imagine being very useful during the high season.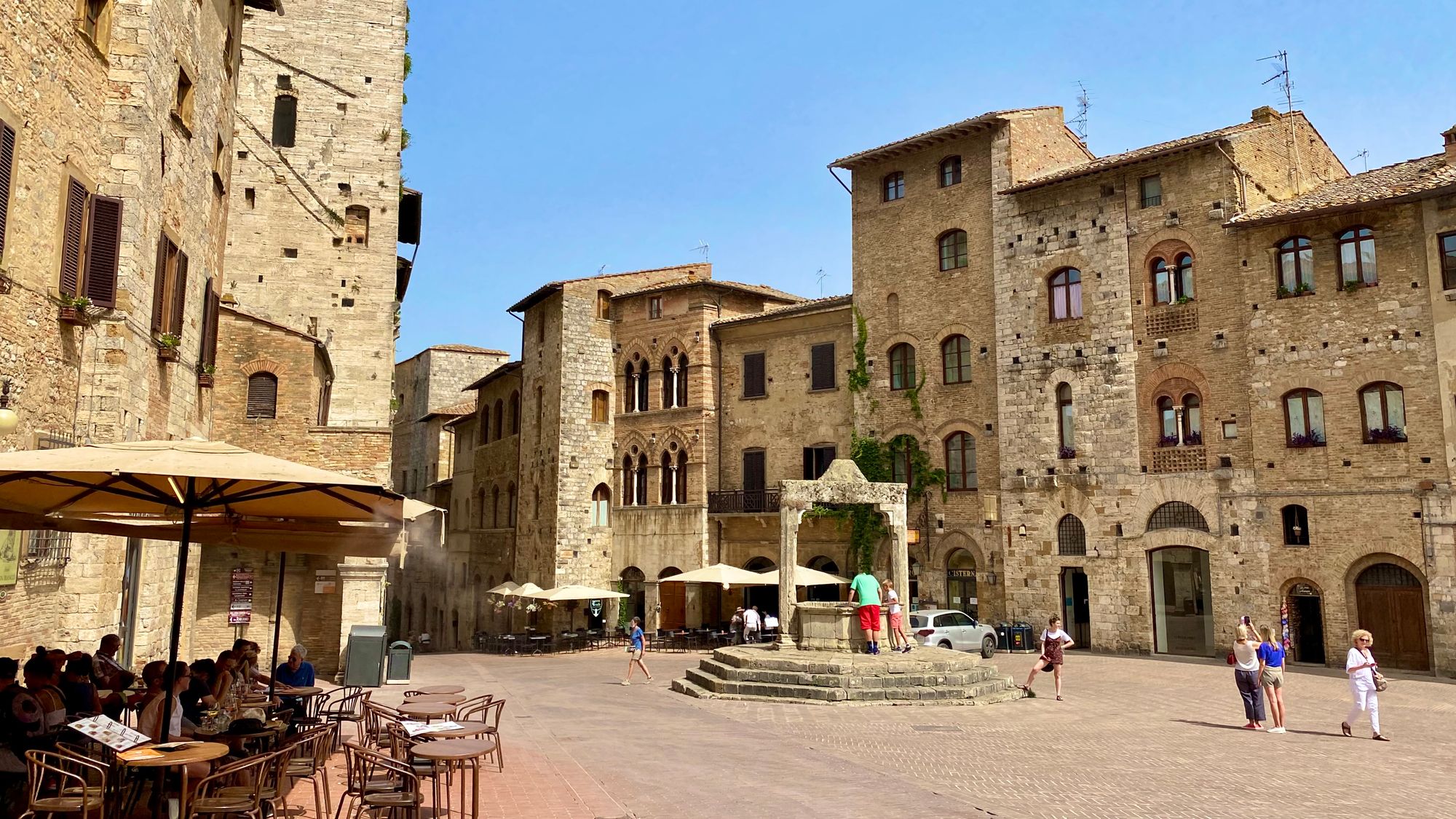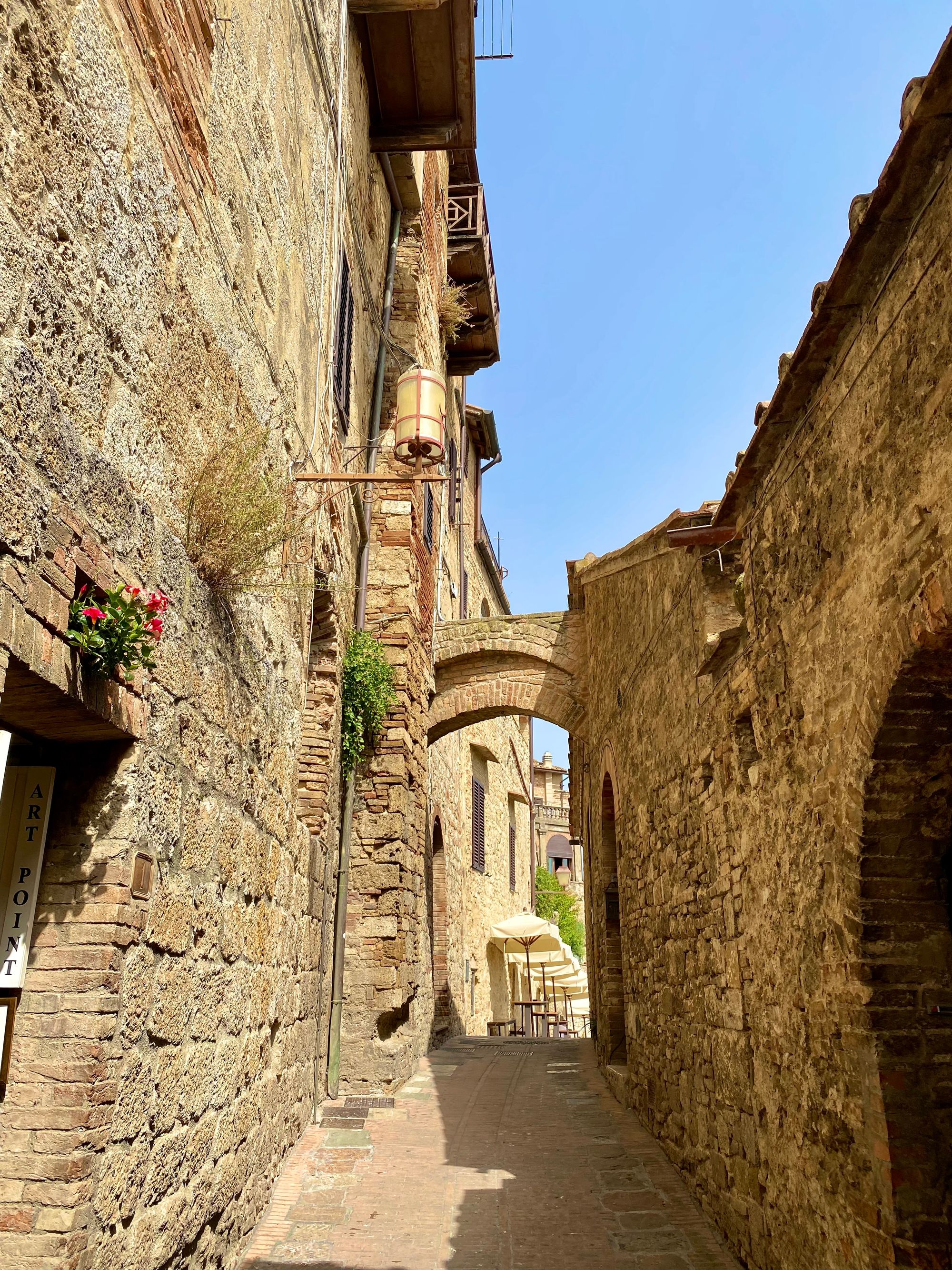 ---
🍷 Fattoria San Donato is a winery (and hotel) located about 1 Km from our accommodation in the hamlet with the same name, San Donato.
For more than 2500 years, San Donato has been an area known for its vineyards and olive gardens. From the time of the Etruscans, the inhabitants of this region have had a deep appreciation for and skill in producing wine.
This tradition has endured to the present day, with countless vineyards thriving in the area for thousands of years.
We did a short visit after working hours to buy a few bottles of wine, one of which we opened just days ago, a delicious chianti - highly recommended.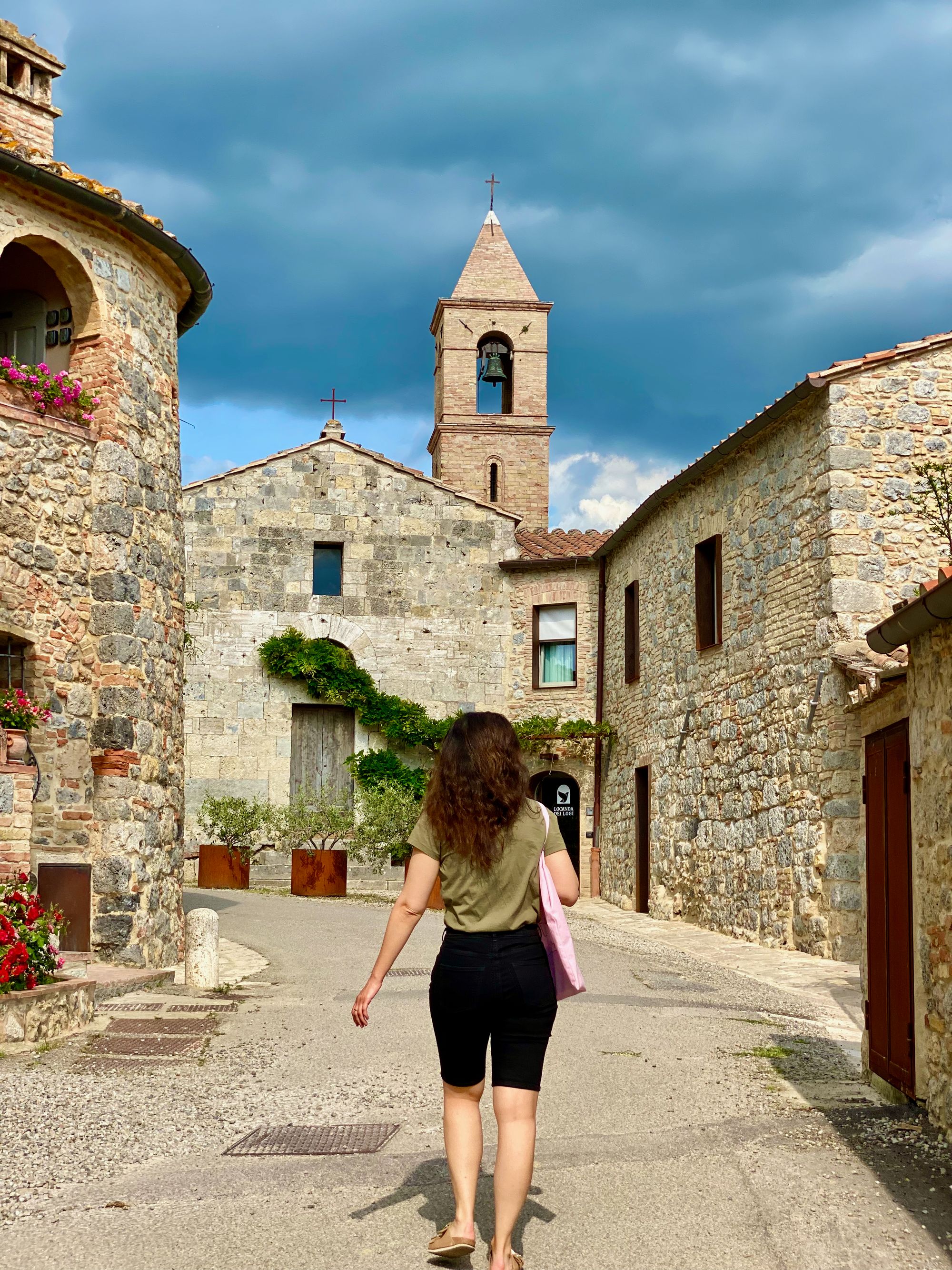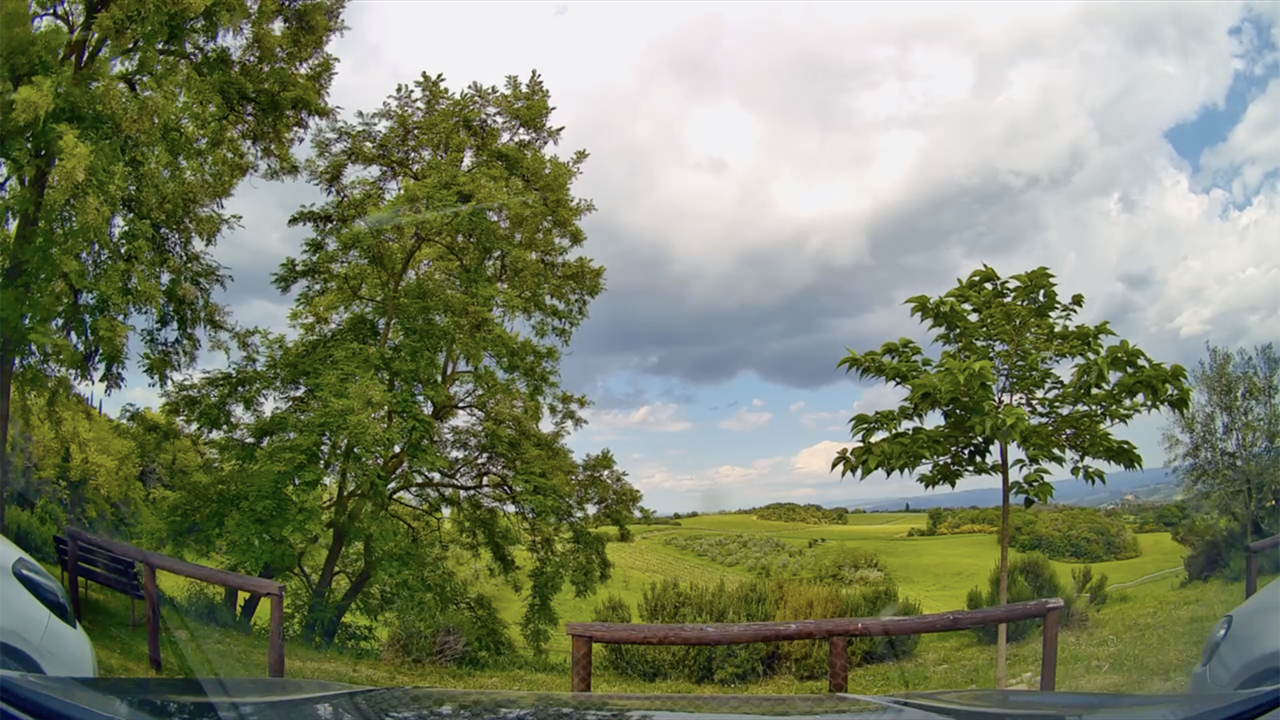 We didn't stayed long because we wanted to reach another place before closing time, an olive oil producer located on the opposite of San Gimignano, that we found having great reviews on Google Maps.
---
🫒 Frantoio Cooperativo Valdelsano S.C.A. doesn't look like much from the outside, just a non descriptive, square-ish building set in an industrial area. A bit reluctant to go in but we gave it a try as we were already there.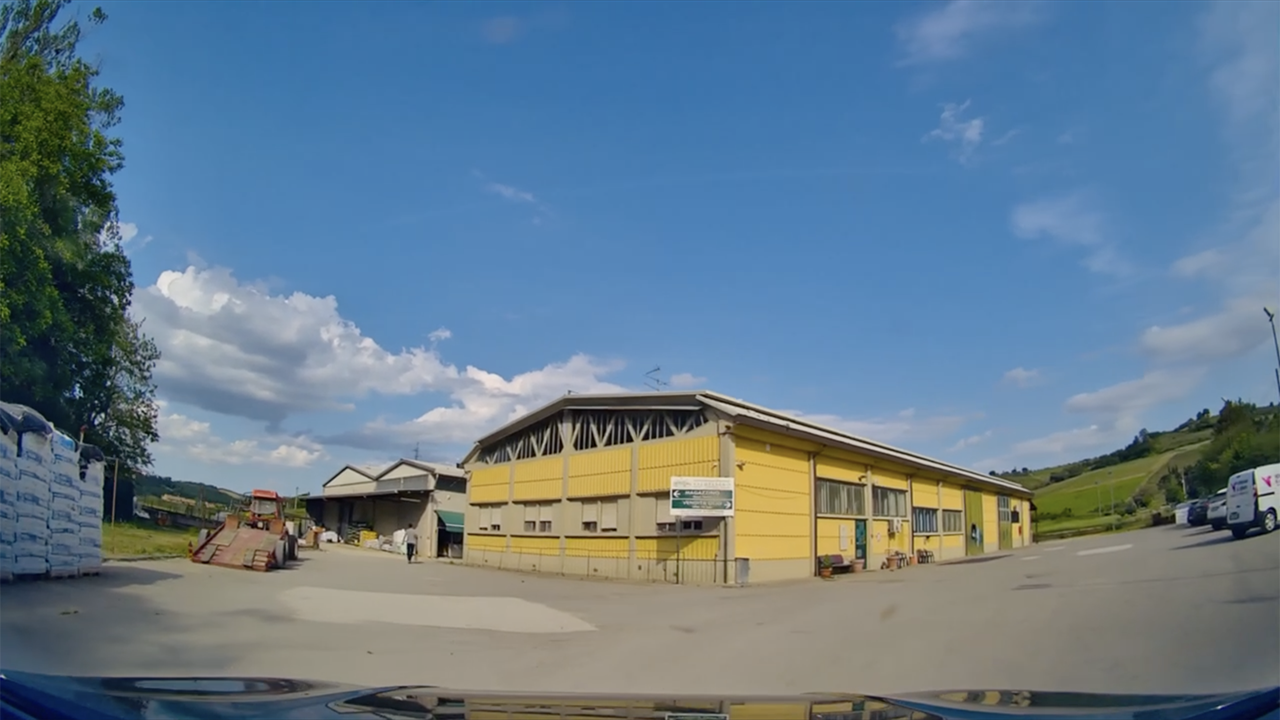 It is a cooperative representing 126 producers in Val d'Elsa, an area that makes olive oil for thousands of years.
After receiving a detailed explanation of the production process and where the different olives are sourced from we got to the tasting part.
And I got to say that this place has the best olive oil we ever tasted and it doesn't even come close - how's that say about not judging a book by its cover?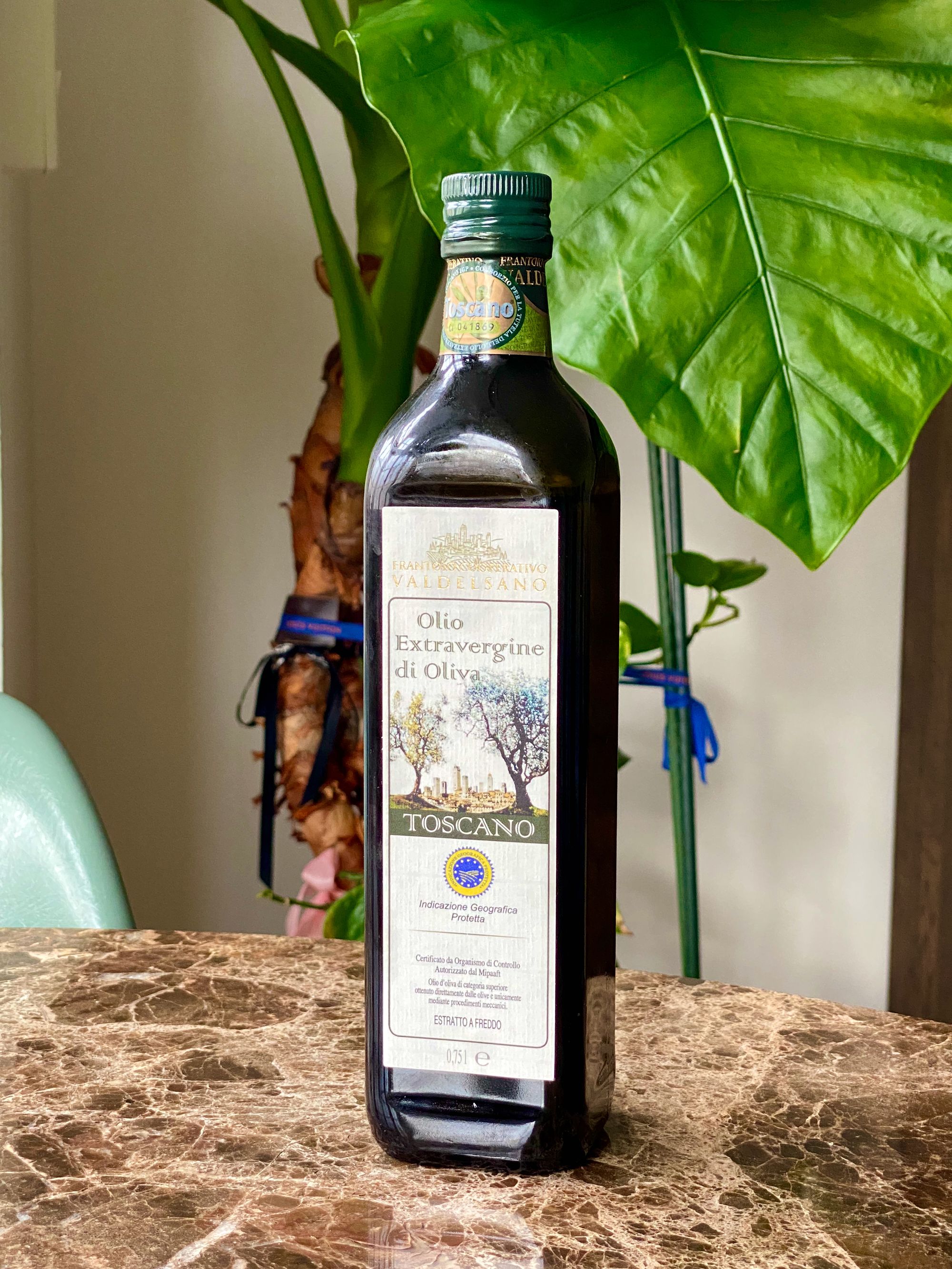 Our only regret is that we purchased only 3 bottles but we'll definitely visit the place again next time we're in Tuscany.
Along the way we stopped once in a while to take in the beautiful scenery. I love driving in Tuscany! It can be narrow, it can be twisted but it is always so beautiful.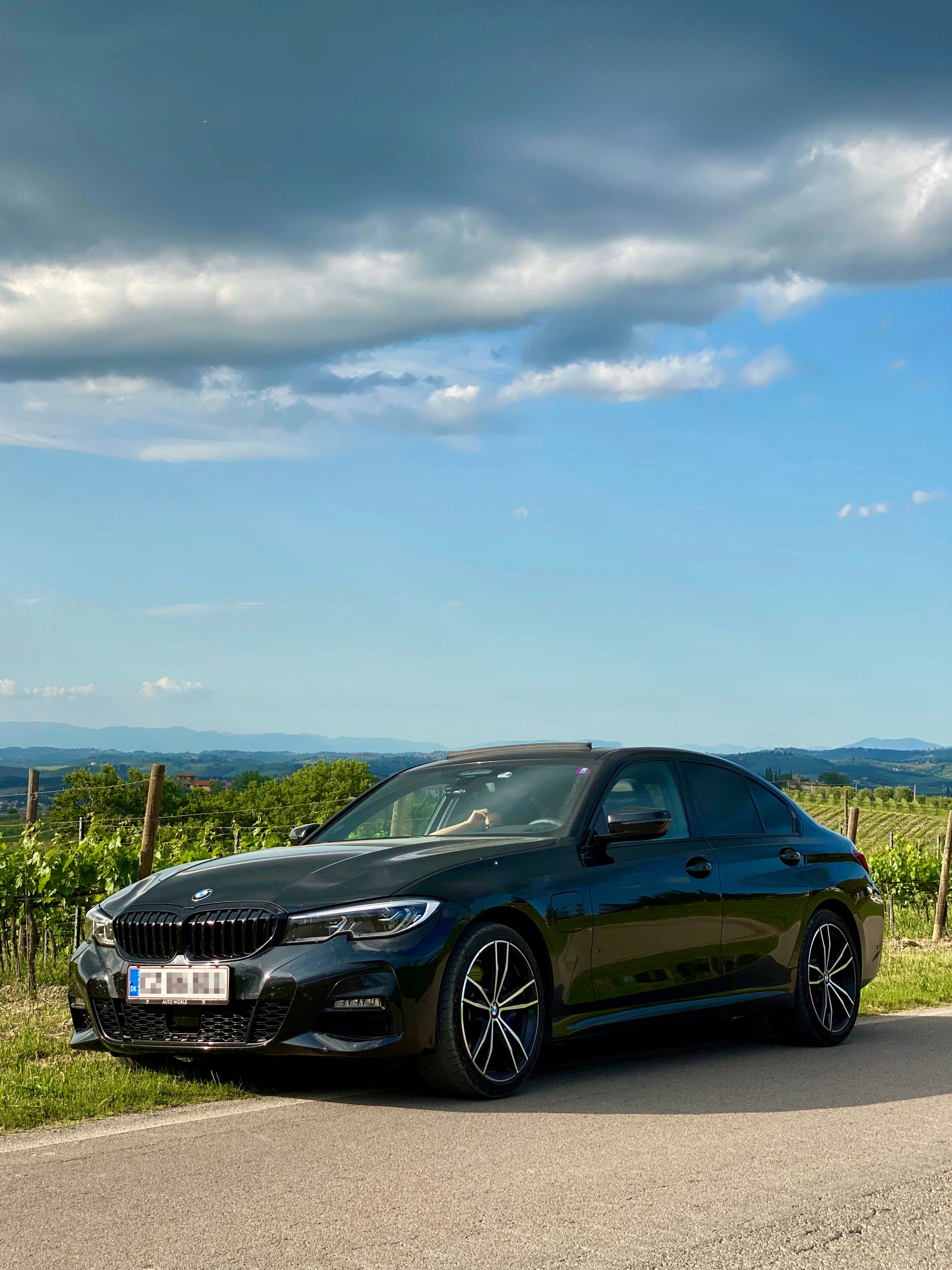 ---
🍷 Fontaleoni is a winery going back 3 generations that we visited for lunch. The GPS got us lost a couple of times but in the end we managed to reach the place, and I'm very happy we did.
We had a fantastic wine tasting menu, big, diverse and so so tasty. The staff was nice enough not to charge us for two full menus as I wasn't able to drink much. I'm really puzzled how people reach remote places like these without a car?
Of course we couldn't have left without purchasing a few bottles of wine. A visit to Fontaleoni is also something we look forward doing again.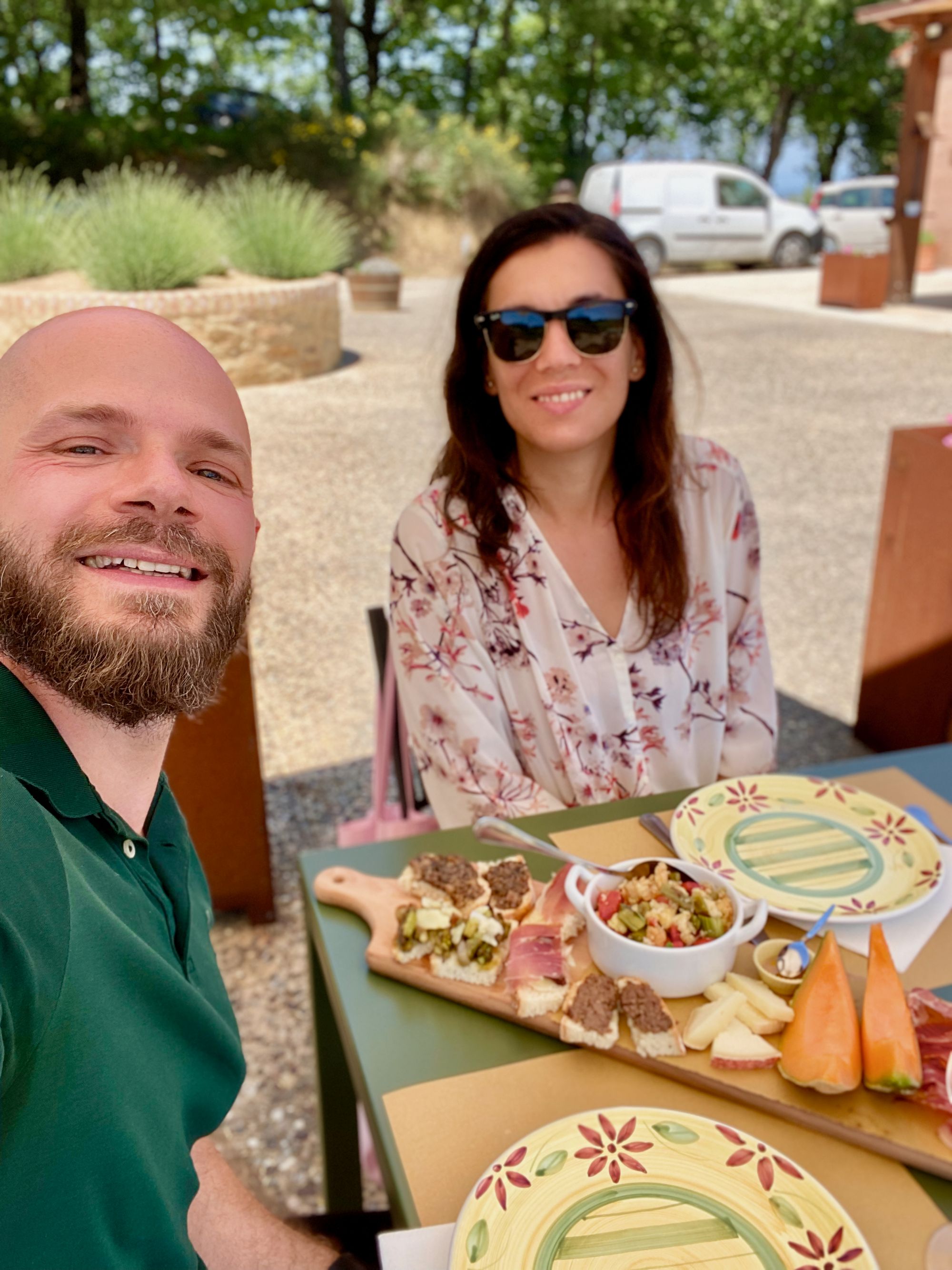 ---
🏘️ Volterra is a beautiful medieval town, about 30 min drive from San Gimignano, set high on a hill that offers some of the best views over the Tuscan countryside.
The drive from San Gimignano to Volterra is one of the most scenic we did in Italy.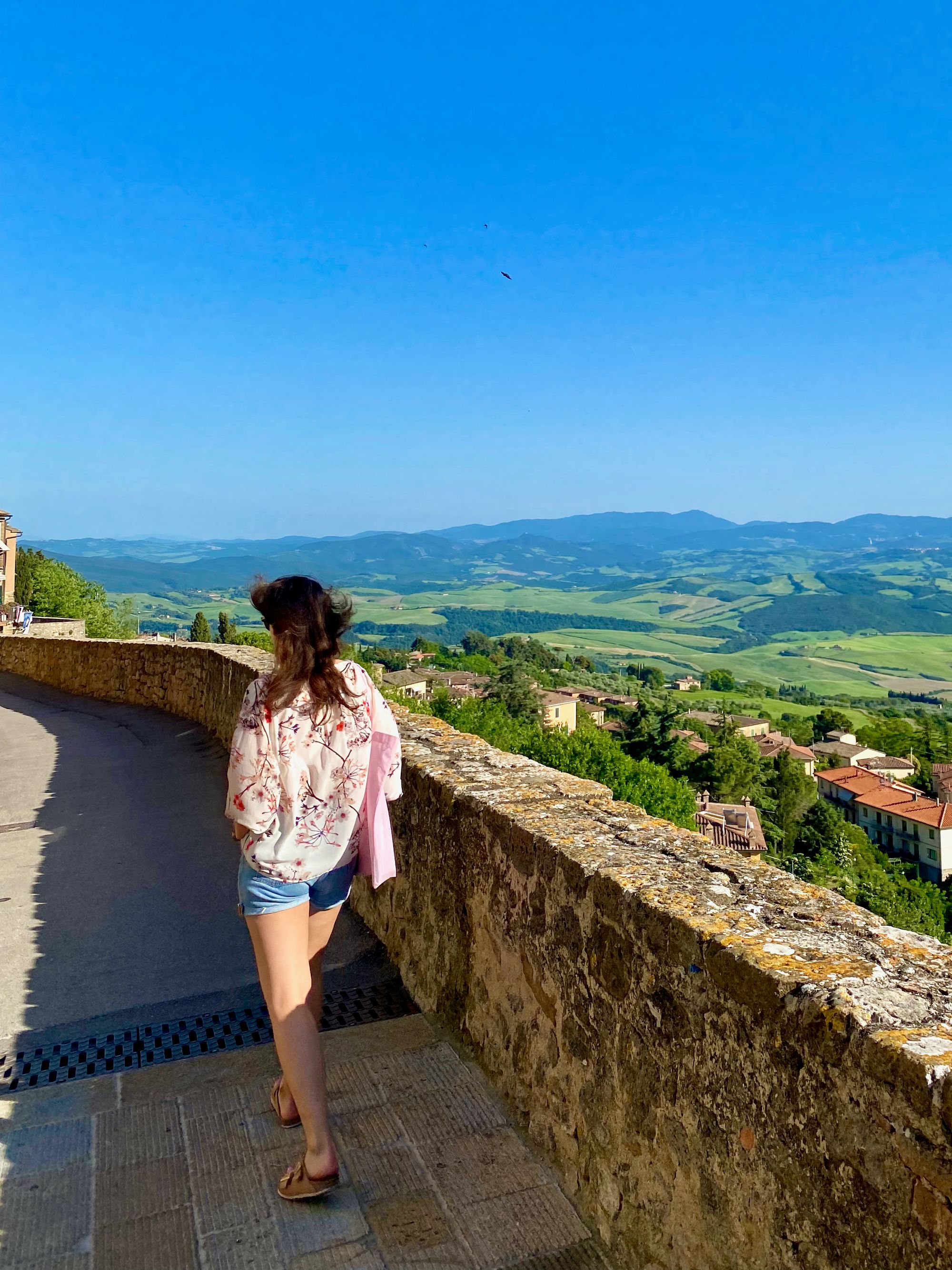 The origins of its history can be traced back to the 8th century BC, and it boasts significant architectural landmarks from the Etruscan, Roman, and Medieval eras.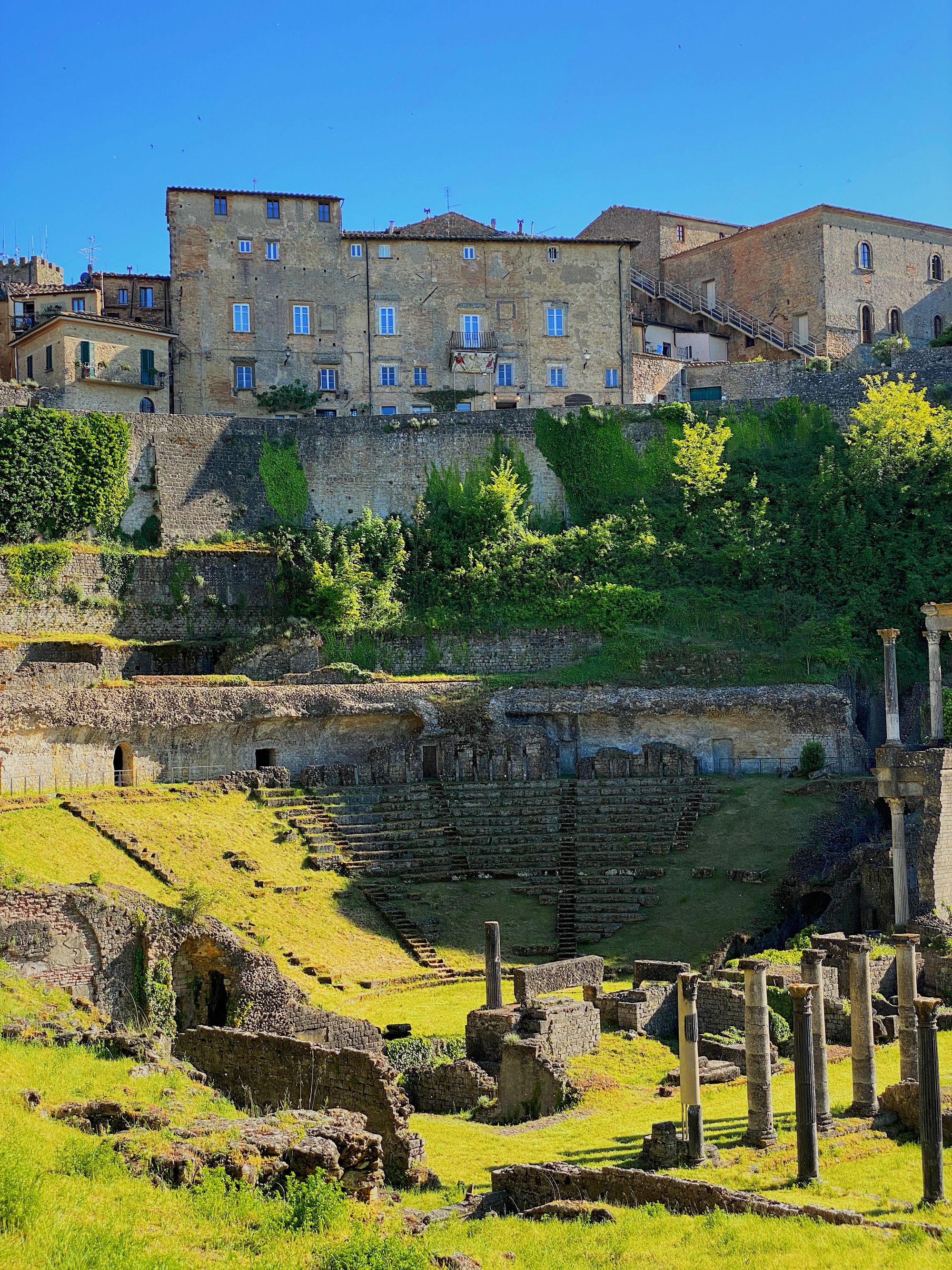 We greatly enjoyed our time in Volterra with the different architectural mix making a joy to stroll though.
The city had a honey festival organized during that time and we couldn't resist buying some locally produced honey.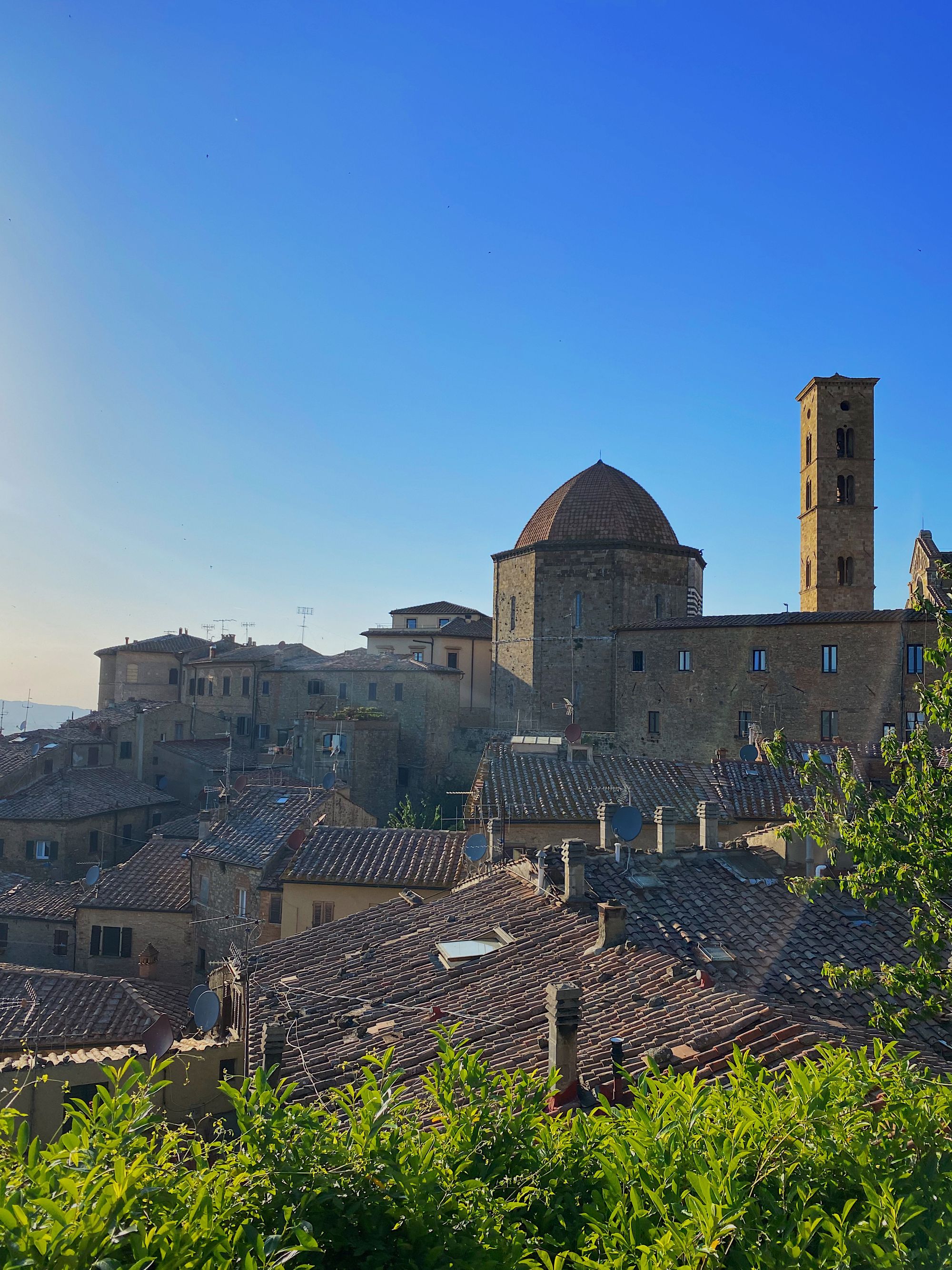 Parking is easy in a large underground lot just at the entrance of the city center.
---
Val d'Orcia
Saturday was one of the two full days we spent exploring Val d'Orcia.
Our intention was to visit Arezzo for its Antique Fair with some stops along the way. The shortest path was the main road linking Florence to Siena, however we opted for a slower but more scenic route, mainly the SR2 - about 3h drive depending on how often you stop.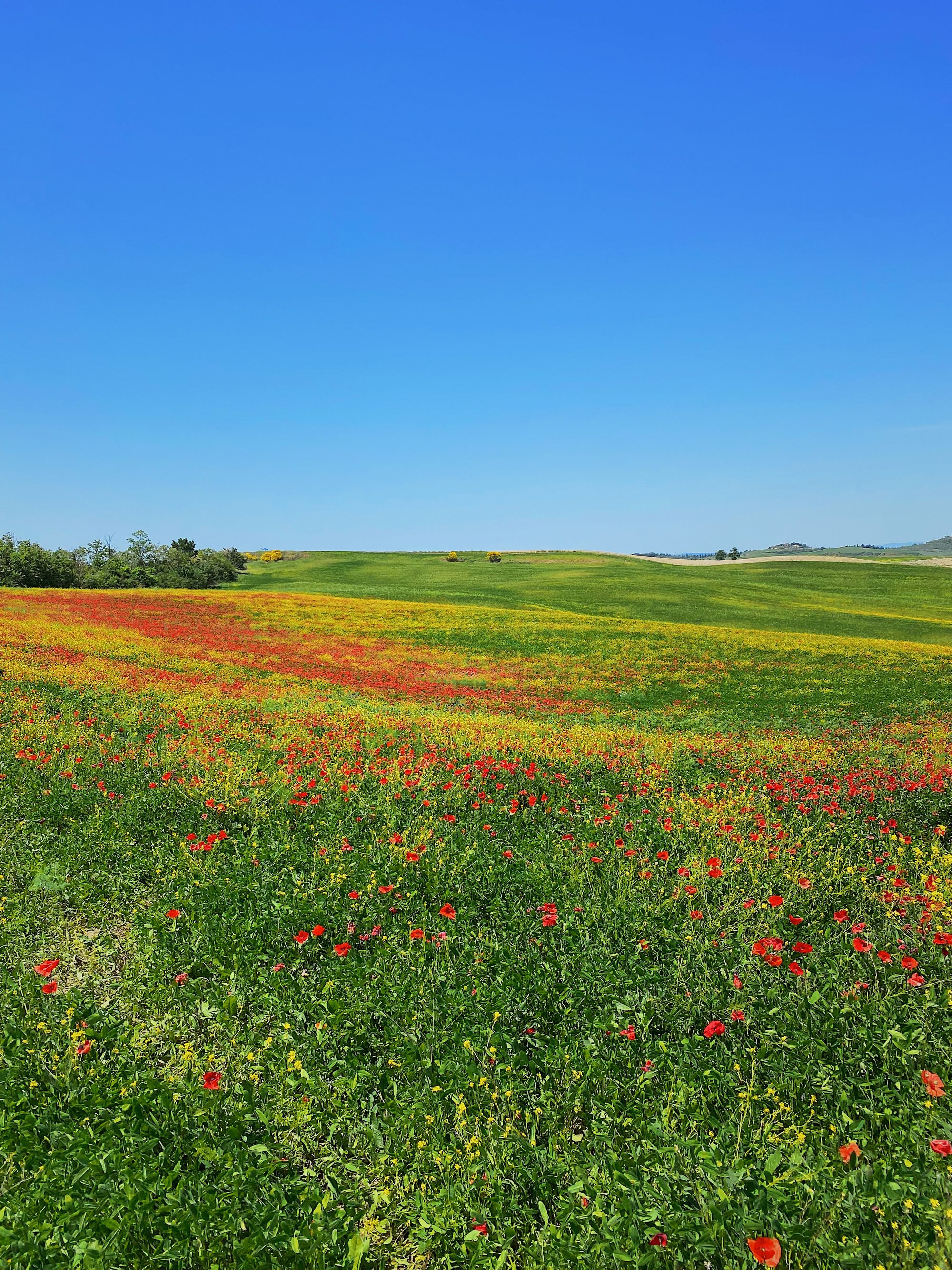 As idyllic as these pictures look, we were far from being the only ones there, so arm yourself with some patience.
Another thing that you'll need to have patience for are the cyclists, the many, many cyclists you'll encounter of the roads. Drive carefully behind, don't rush, overtake with care and all will be good.
Barring these small annoyances the vast majority of the drive was really enjoyable, scenic and relaxing.
Occasionally the navigation system would reroute us on even smaller and remote roads - I never knew what to expect and that made it even more enjoyable. Many times we were the only ones on these secondary roads.
Once we arrived in Arezzo we realized that we mixed the dates as there was no antique market that day. On the contrary, the city was on the quiet side, maybe a bit too quiet for our liking.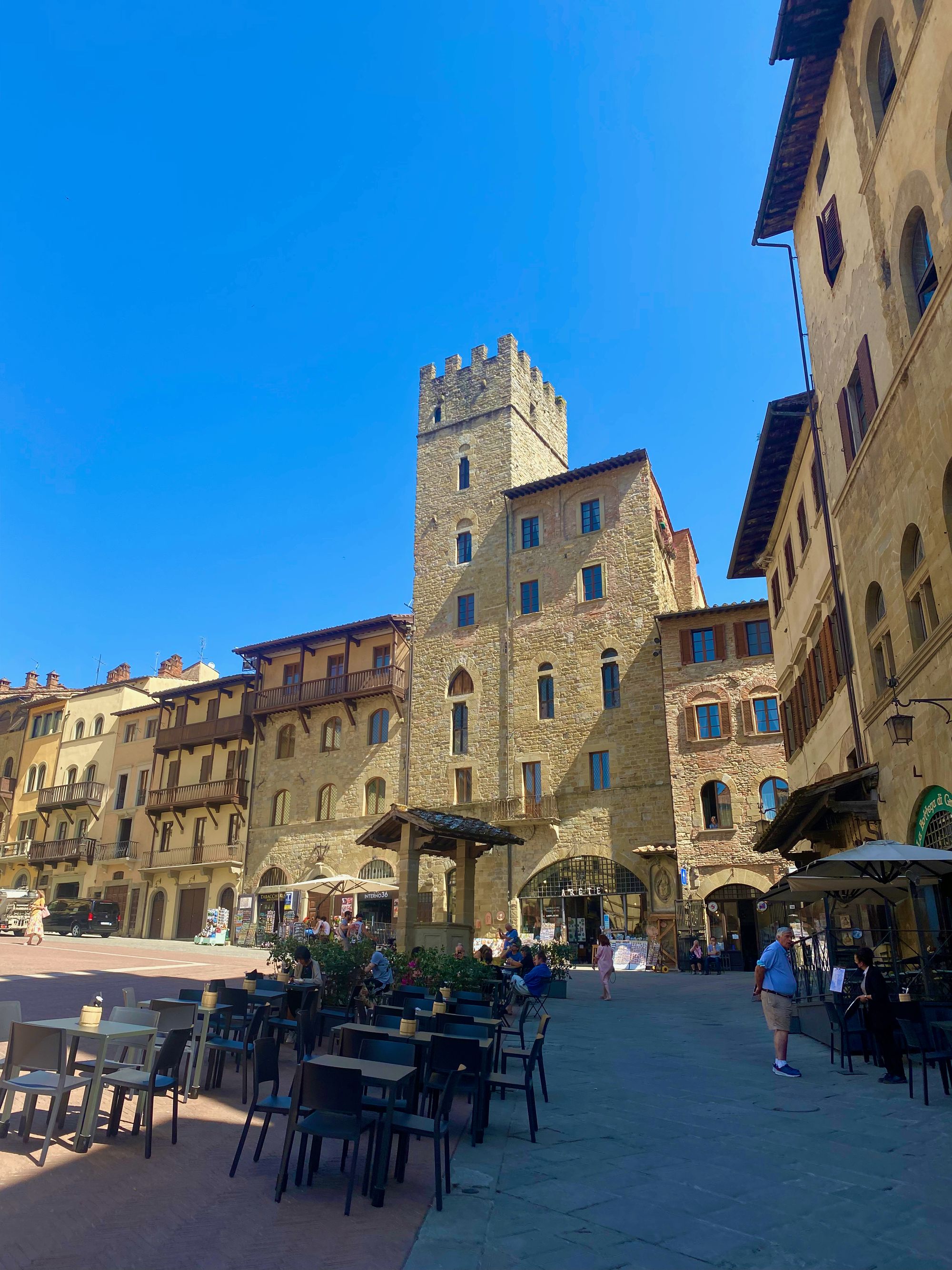 Over lunch we decided to change plans and drive to Siena in order to spend the rest of the day there. We've been to Siena the previous year as part of an organized bus tour from Florence so we knew we're going to like it.
Of all the cities we visited during our trip, Siena was the only one with somewhat difficult parking.
We parked at Il Campo because it's just outside la ZTL area, in short walking distance to the city. The parking space itself is fine, but the access road is incredible narrow, with only centimeters to spare on the sides - I guess these medieval town weren't built for cars.
We had a great evening in Siena, doing people watching in Piazza del Campo and walking the old streets. Unfortunately, as we arrived quite late we had to leave after a couple of hours so we catch some light on the way back.
Looking back we should have made Siena our main destination for that Saturday, oh well, now we know.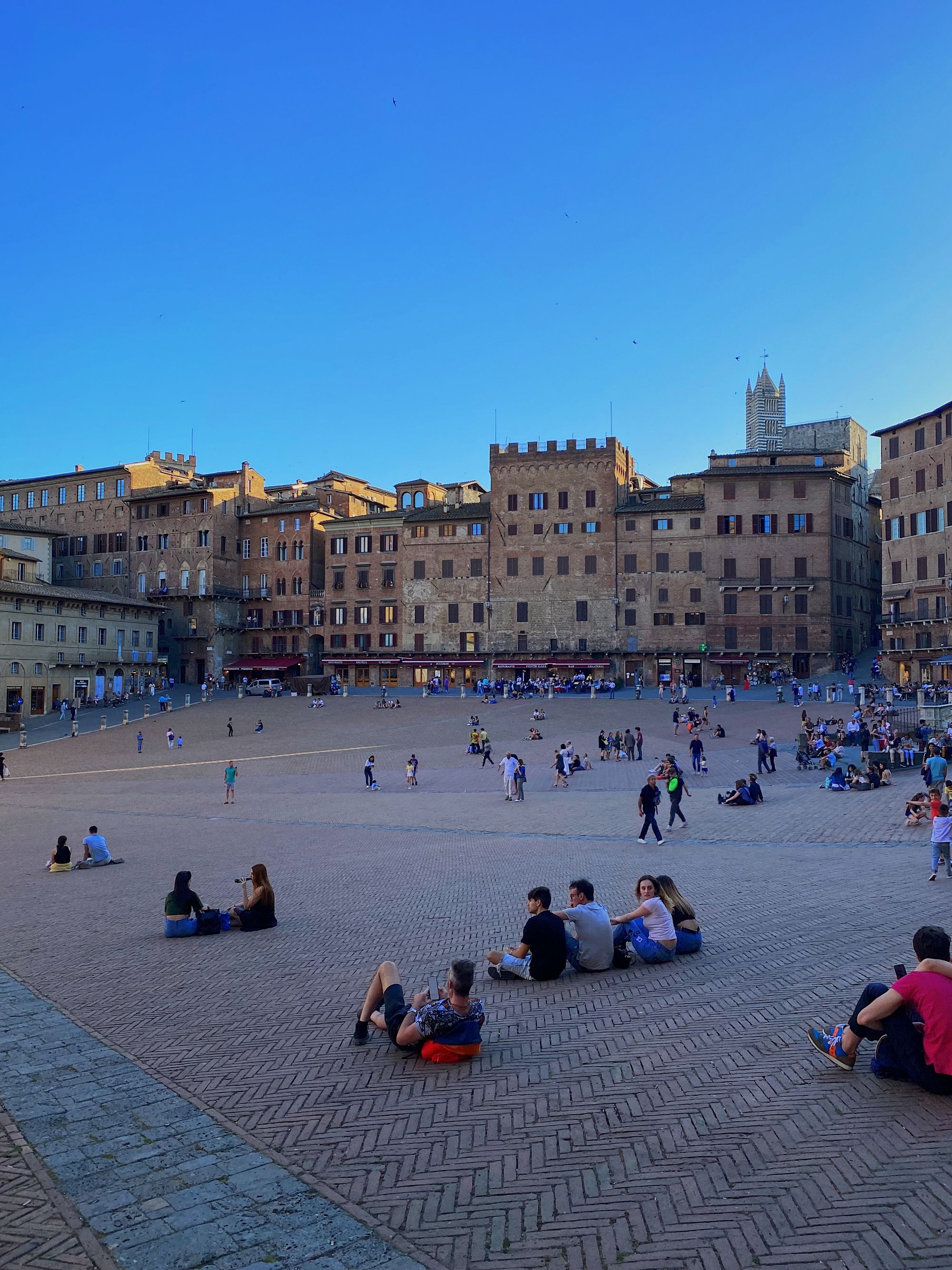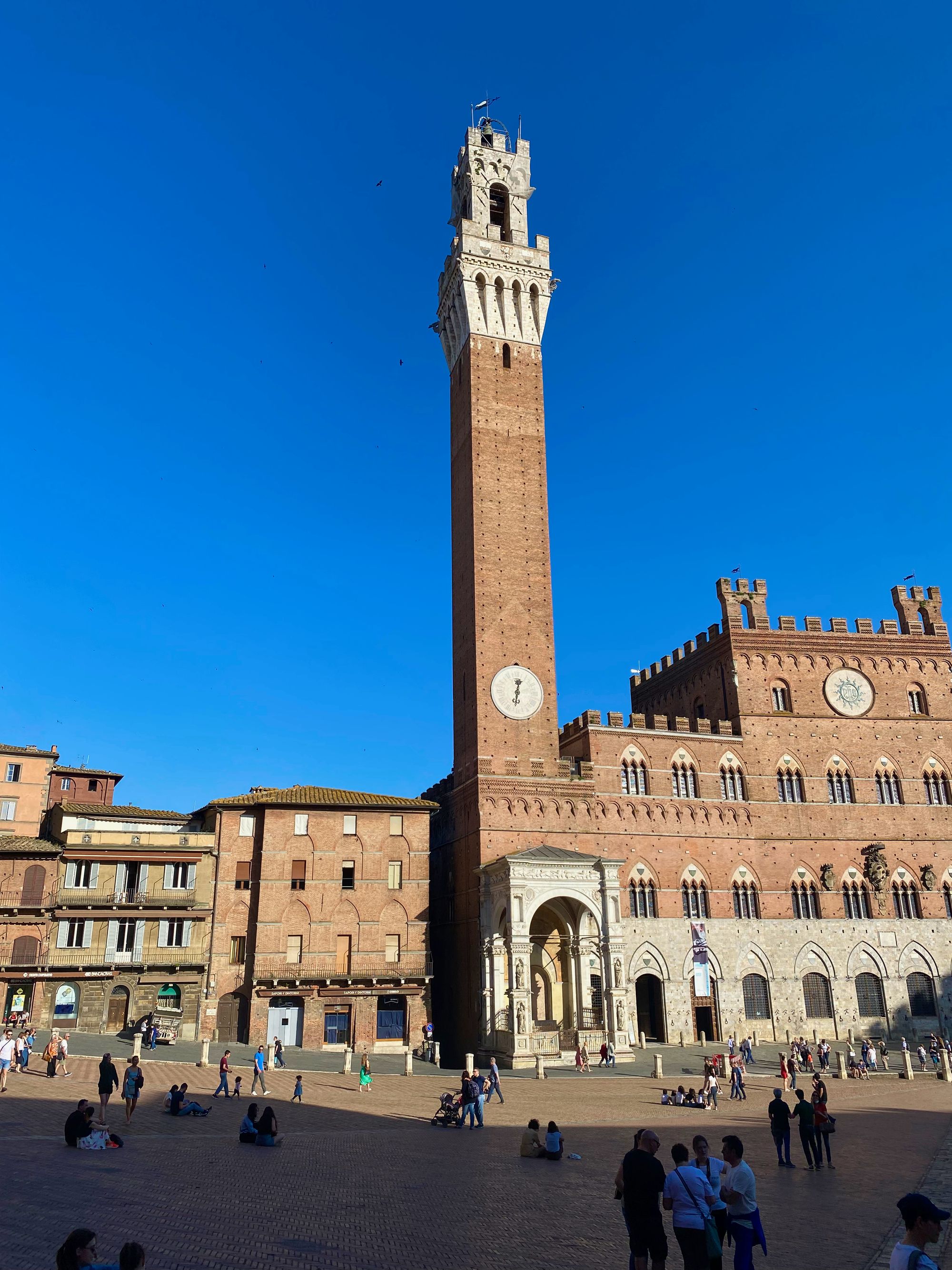 ---
For Sunday we planned another incursion in Val d'Orcia.
But rather than going to large cities like Arezzo or Siena, we wanted to visit as many of the small hill top towns as possible.
We started with Monteriggioni, still in Val d'Elsa, a charming medieval town surrounded by a wall that you can (partially) walk on.
It is pretty as it is small so we spent about 40 minutes browsing the local shops and walking on the wall before buying a few bottles of vernaccia wine from Fattoria Castello Di Monteriggioni, after which we departed for our next destination.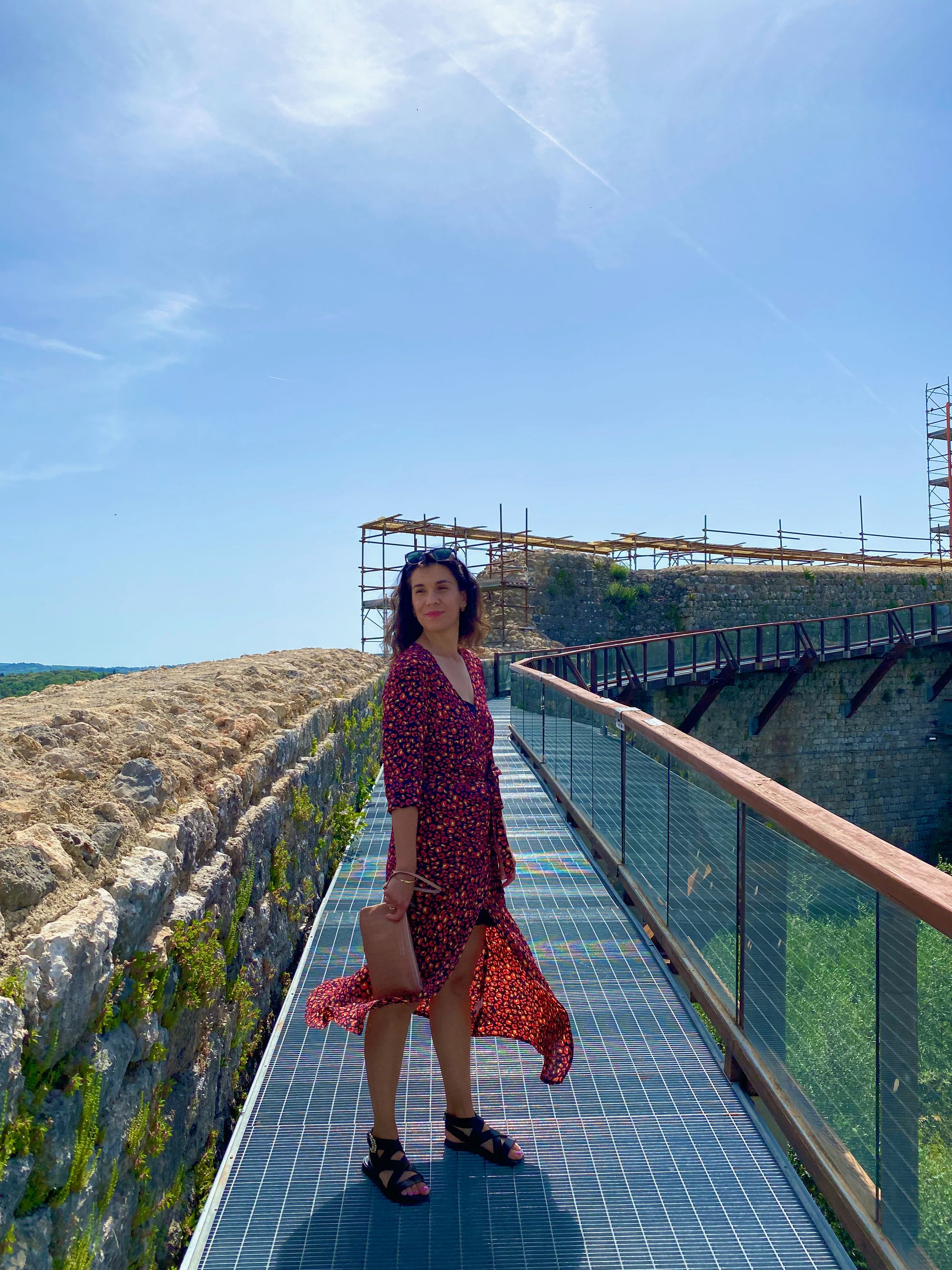 We arrived in Asciano at around 14:00, past our usual lunch time so pretty hungry.
The town is quiet and very small so we were afraid we might not find a fit place to eat. Luckily, we stumbled upon a restaurant called La Mencia, that served us a delicious lunch consisting of bruschetta, pasta and a salad to share in a cozy, authentic atmosphere.
If you're already in the area, then Asciano might be worth a visit, otherwise in my opinion you should use the time for other locations.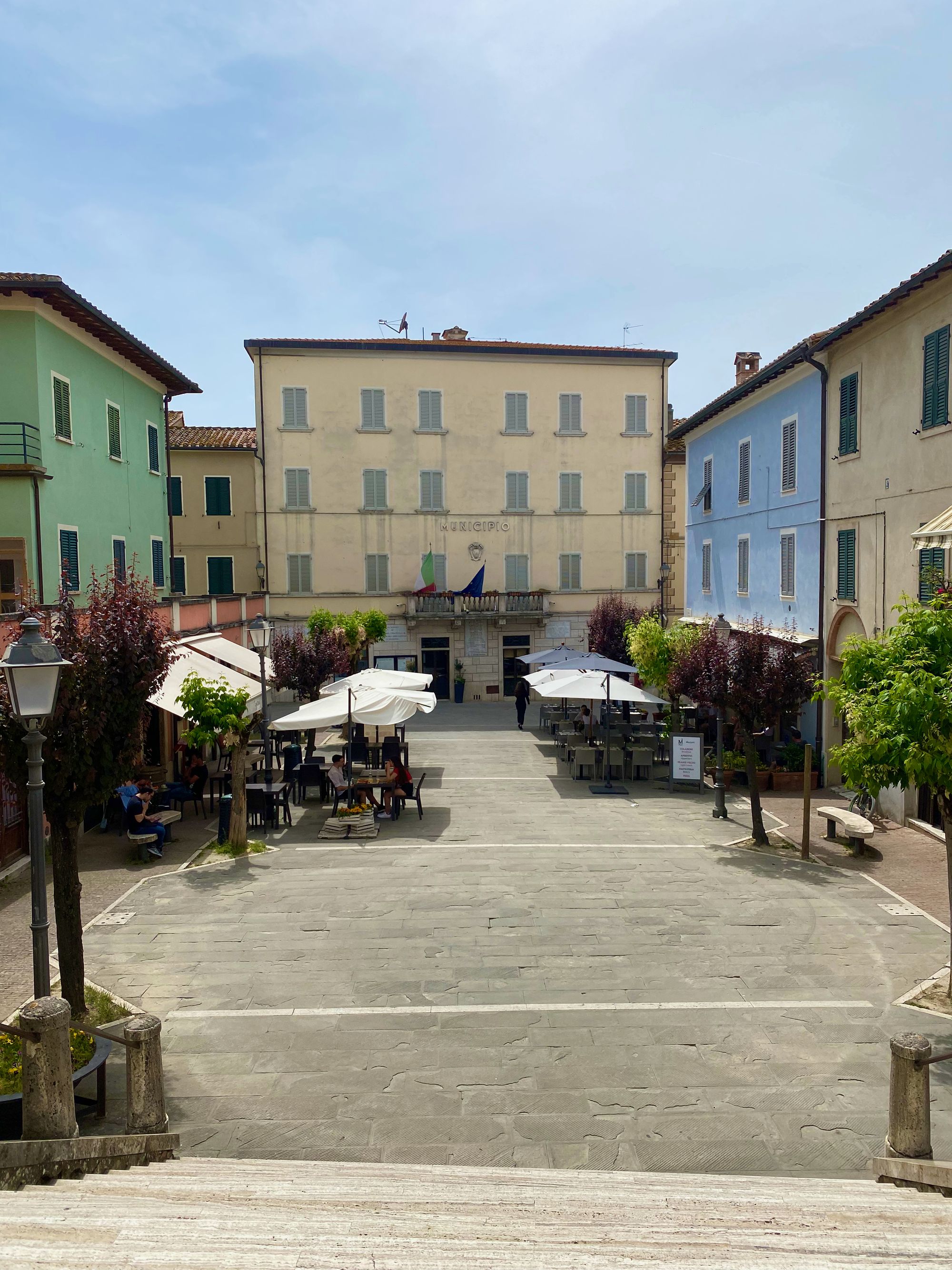 After walking the town its length we left for our next destination.
The drive between these towns is beautiful and offers a very pleasant driving experience, with the opportunity to stop once in a while for taking in the scenery.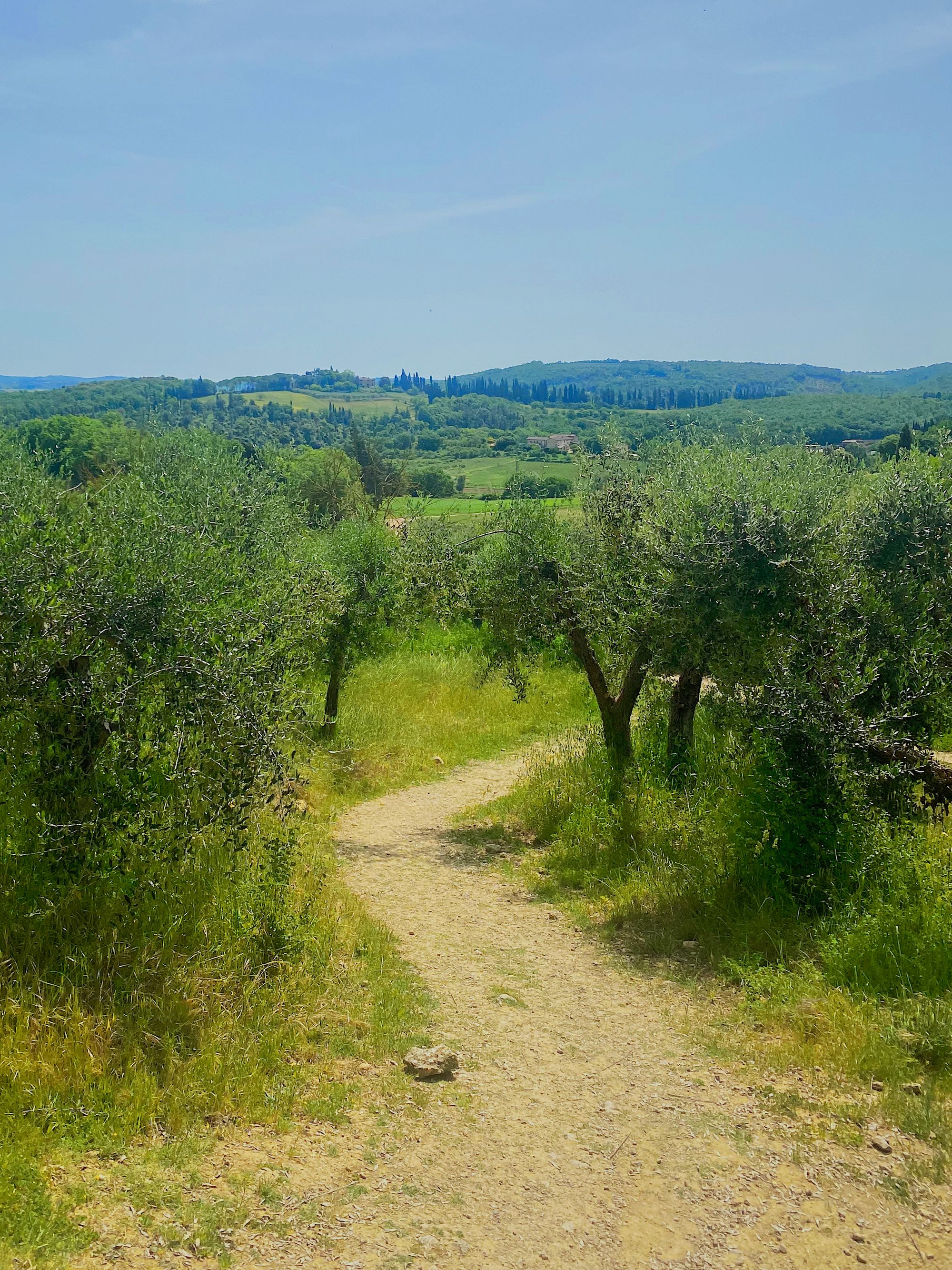 Personally I found Val d'Elsa a bit more scenic having more diverse vegetation and landscape, but both regions are different enough to make it worth visiting each.
Our drive to the next location was stopped to give way to a bicycle race - can the day get more Italian?
Not long after resuming our journey we arrived in Montalcino and guess what: the town was the finish line for the bicycle race we just witnessed 😀
It had a festive atmosphere and it was a very nice experience overall.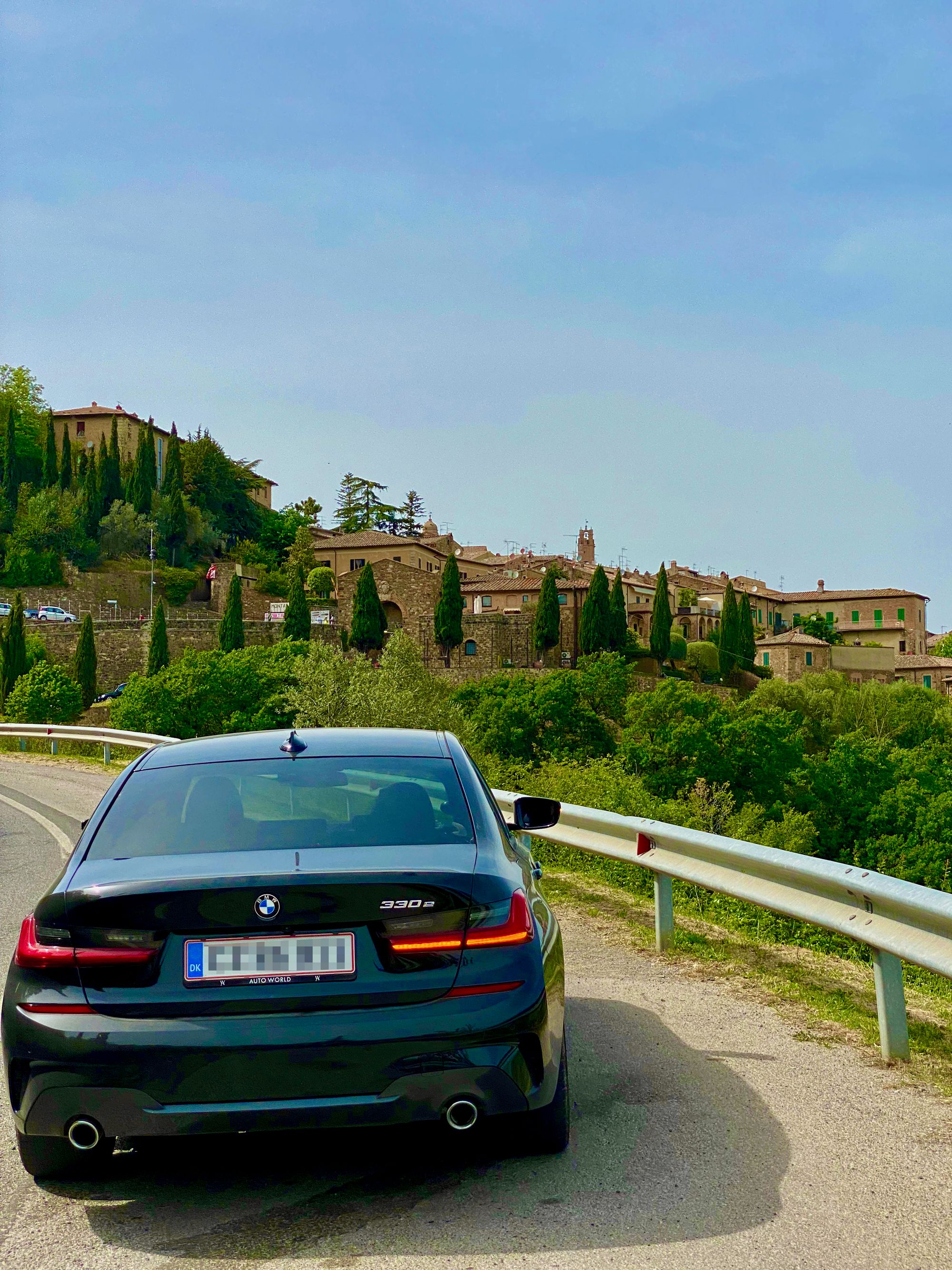 Next stop, San Quirico d'Orcia - by now you know the story, another cute, small hilltop town in Tuscany.
Although they are similar, each has its own characteristics, making them a good break to stroll around.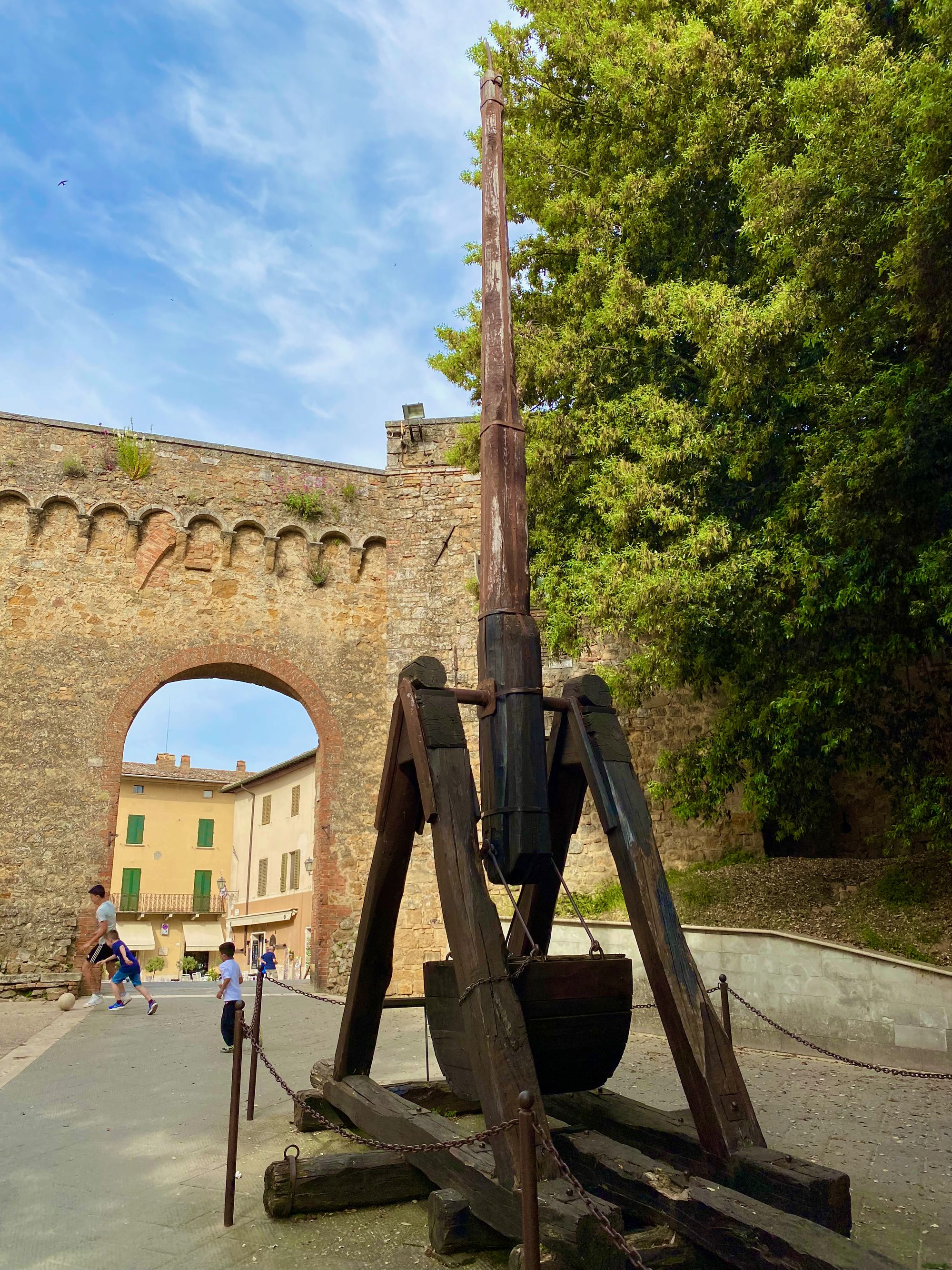 The area around San Quirico d'Orcia is also very pretty, dominated by the soft rolling hills that the Tuscan countryside is known for.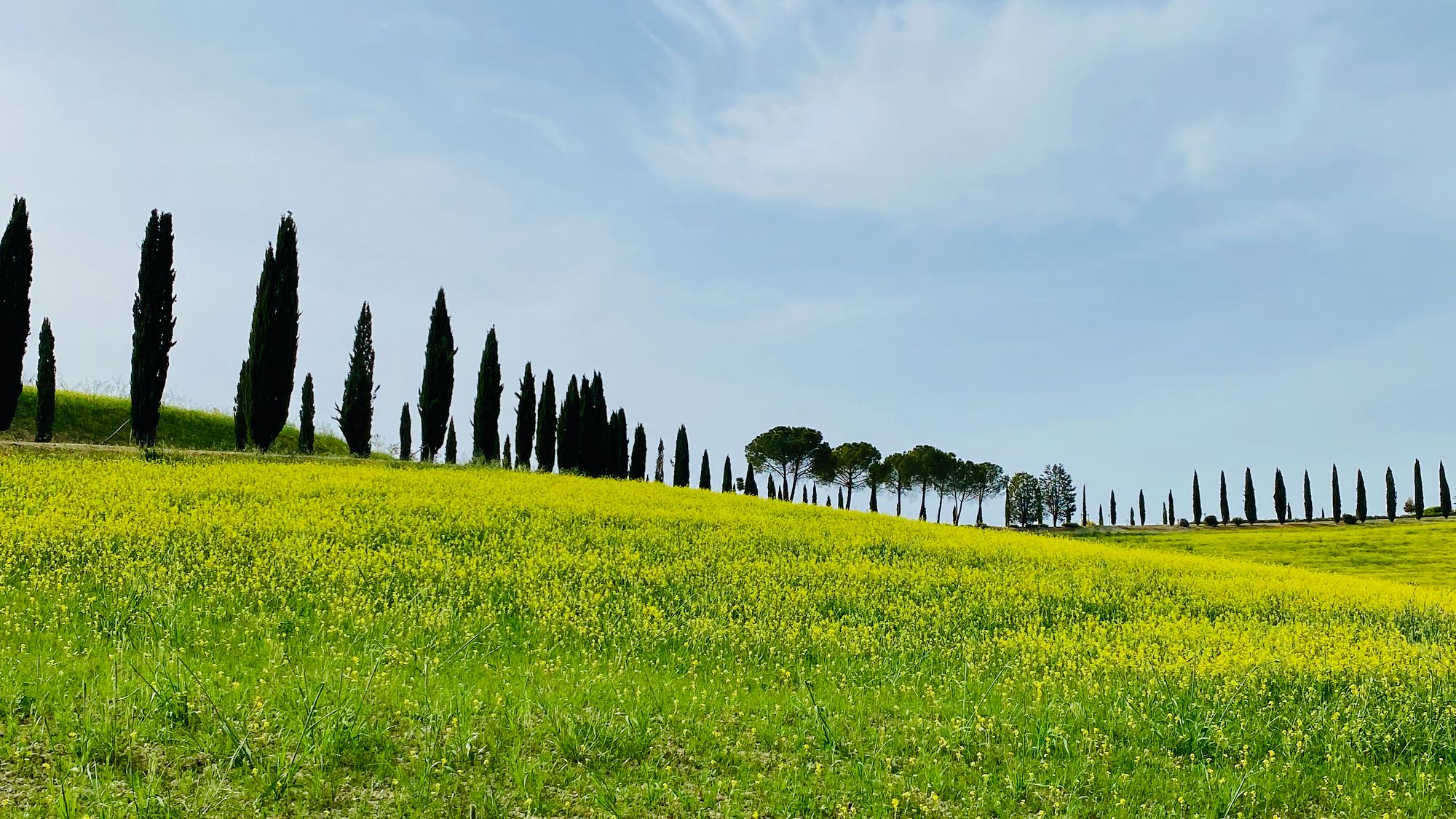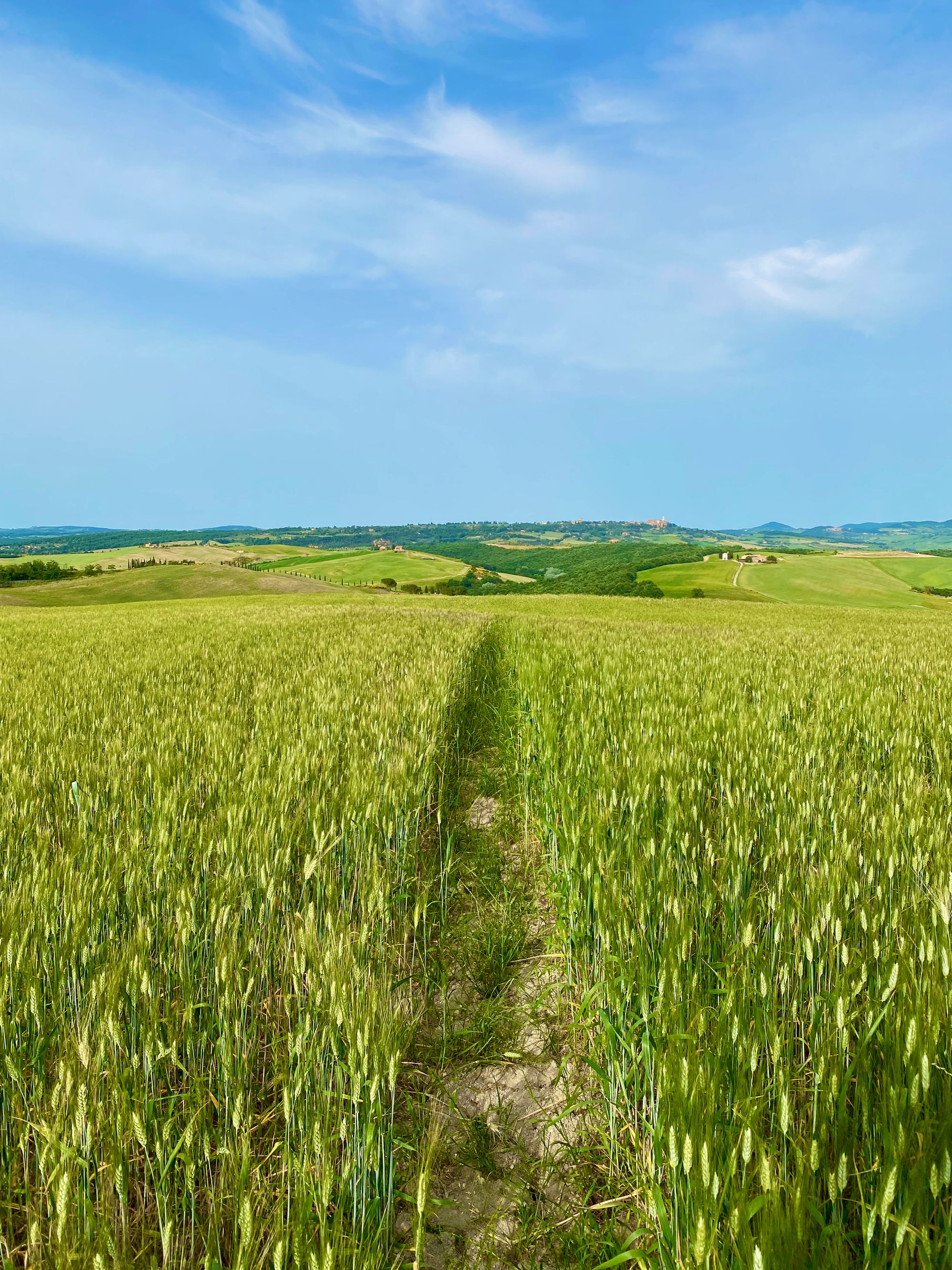 We reached our next destination, Pienza a little after 18:00. The long days means that there's still plenty of light until late in the evening.
Similar to many other towns in the area it is dominated by a main street with secondary smaller streets that beg to be explored.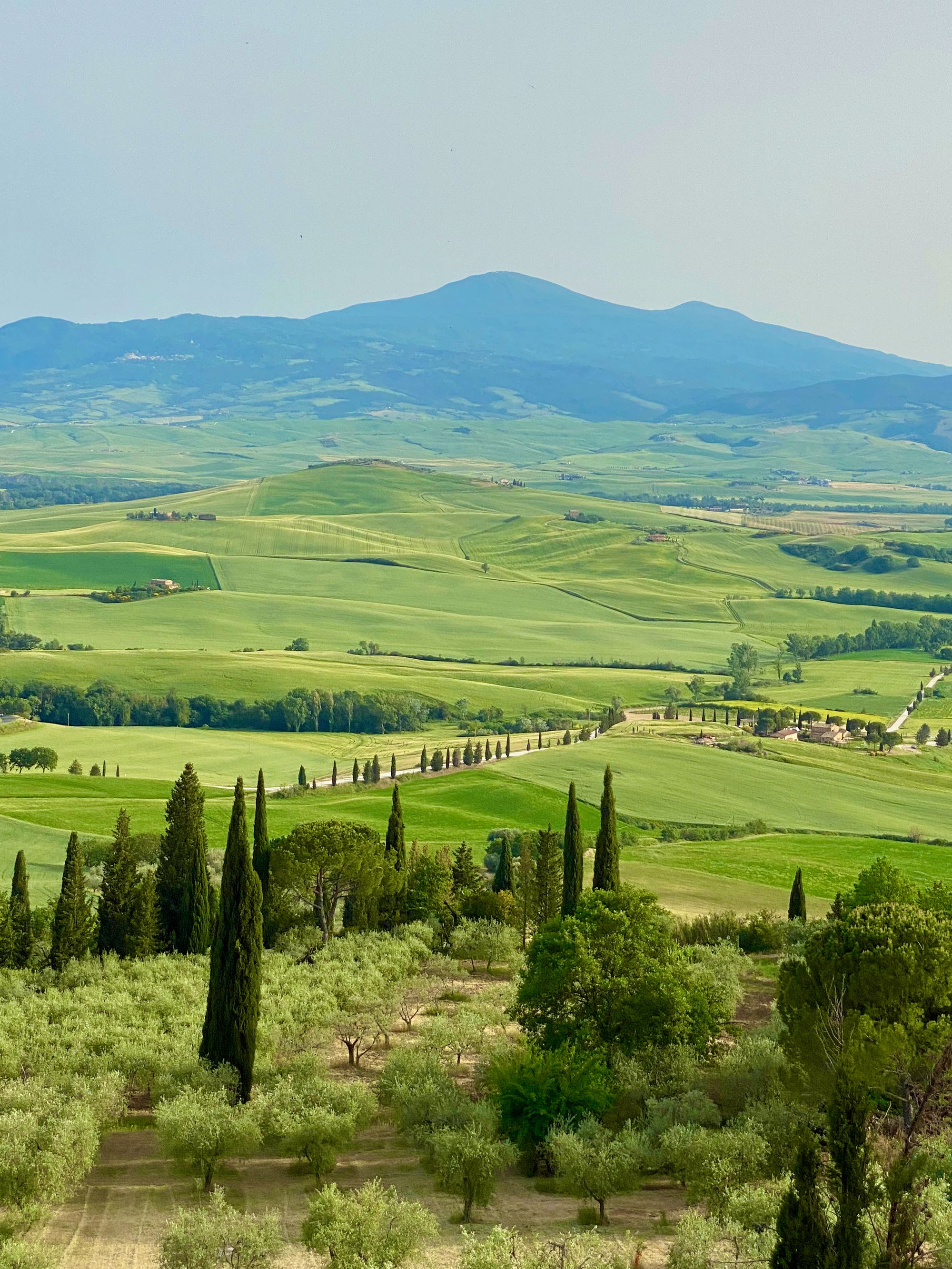 Make sure you reach the city edge because it offers some of the best views over the countryside we saw. Pienza is one of our favorite towns visited in this road trip.
We wanted to squeeze in one more location before getting dark, Montepulciano, where we arrived at around 19:30 in the evening. The town looked interesting (and very vertical) and we'll most likely stay longer next time we are visiting Tuscany.
As we were already feeling quite exhausted, we only stayed for about 30 minutes or so before heading to our lodging located close to San Gimignano.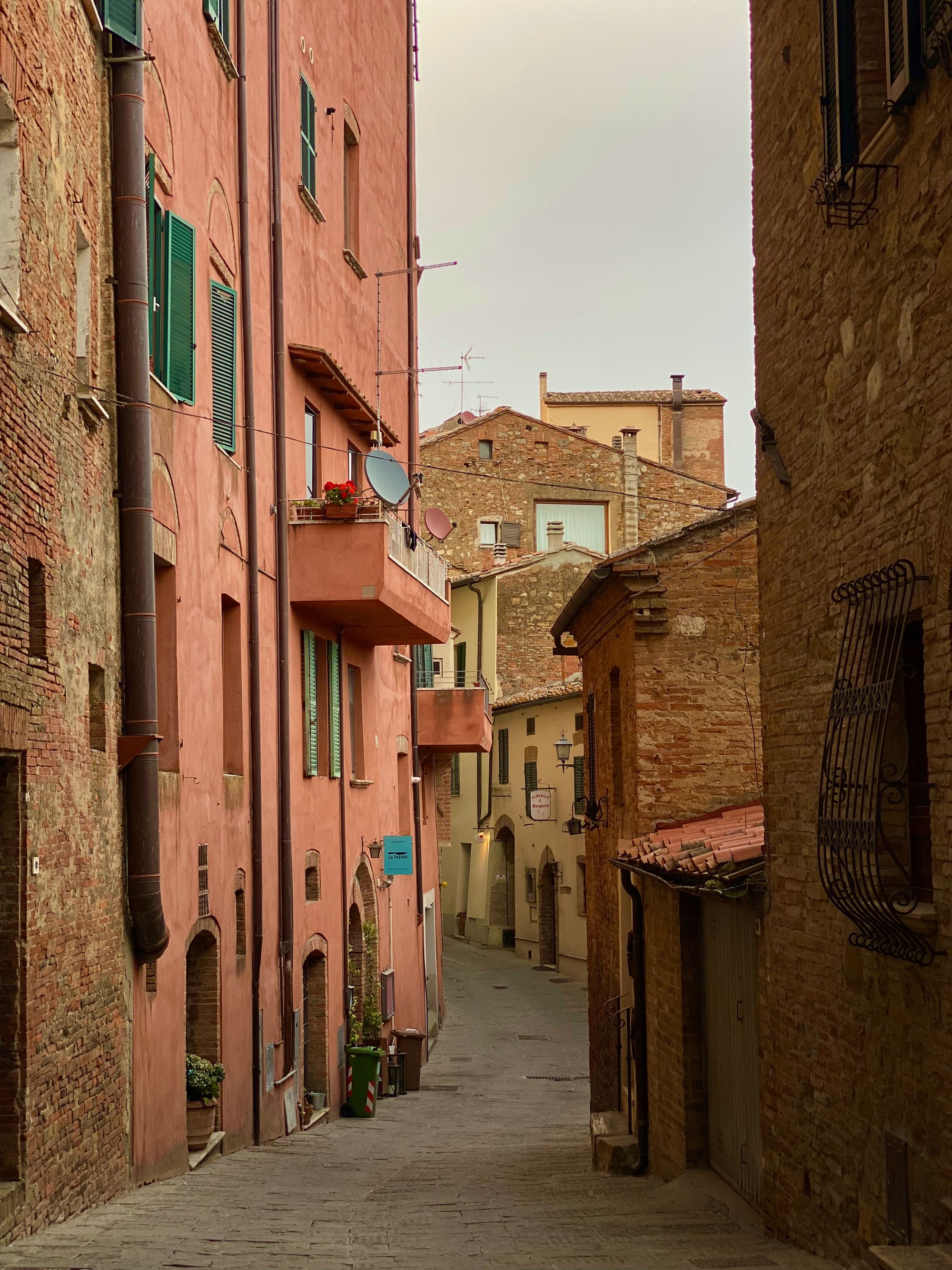 Putting our itinerary in writing I realize it can sound too rushed or too stressful but it really wasn't.
We decided from the beginning that we'll visit as many cities as we can in our own pace, without any rush - when we think we saw enough of one city we'll move to the next and if you don't get to see all that we planned that would be alright.
Of course you can't really get to know a place just by spending a couple of hours there, on the other hand seeing a bit of different town gave us a good experience of the Val d'Orcia area in general.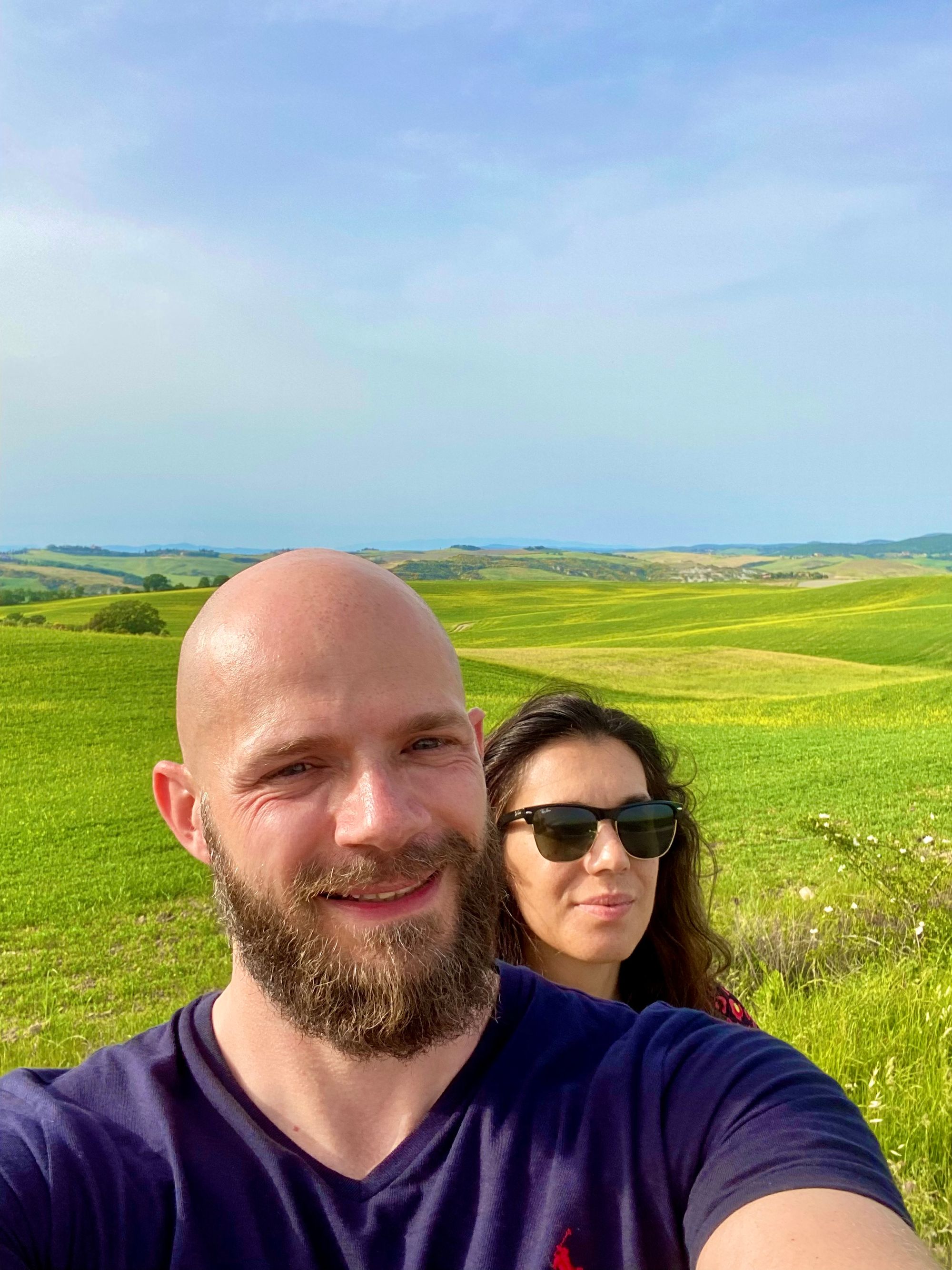 ---
A Scary Story
⚠️
I want to tell a short story to keep in mind when looking for a parking space in Tuscany.
Before leaving in this road trip I've read about car break-ins happening once in a while, both at gas stations or rest stops along the way and also in Tuscany in general.
Being our first trip with the car we were extra paranoid so we did two things: one, we always carried the backpack containing our laptops with us, even if we left the car alone for only 5 minutes.
And two, we actually tied our luggage in the trunk with a bike chain - paranoid I know, but better safe than sorry.
Fortunately nothing happened along the way, but when we arrived at the hotel, we saw a car with German plates parked outside, having some cardboard over the right back window and the right tire was replaced with a spare one.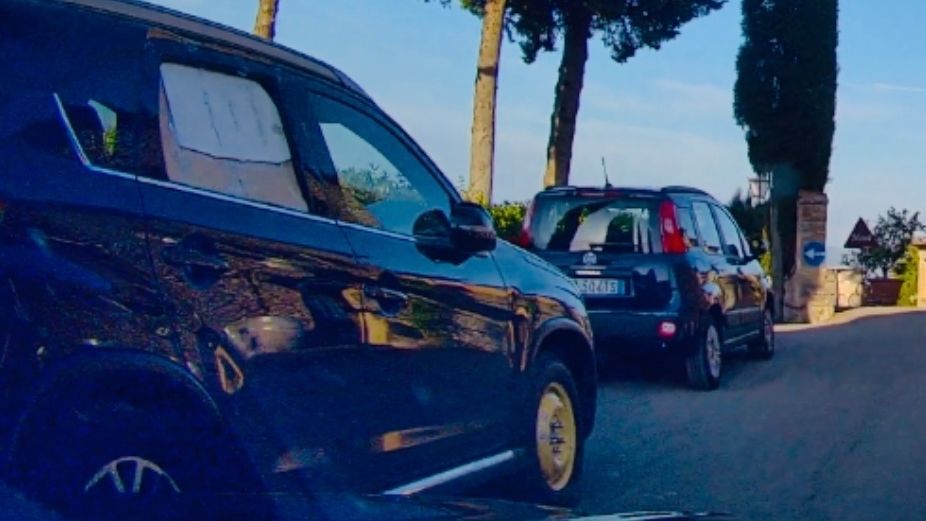 That raised an eyebrow and after a couple of days I had the chance to ask the owners of the car what happened. Turns out that they came from Munich and soon after entering Tuscany they stopped for lunch, parking their car in a public space outside, 5 min walk from the restaurant.
You can guess what happened next. When they got back after just one hour the thieves broke into the car stealing everything. As that wasn't enough they also slashed the front tire - what absolute disgusting human beings 🤬
The poor couple was left with only the clothes they had on them, losing everything else, including camera and laptop. Luckily they had their wallets and documents with them. They decided to continue their vacation and I applaud them for this decision.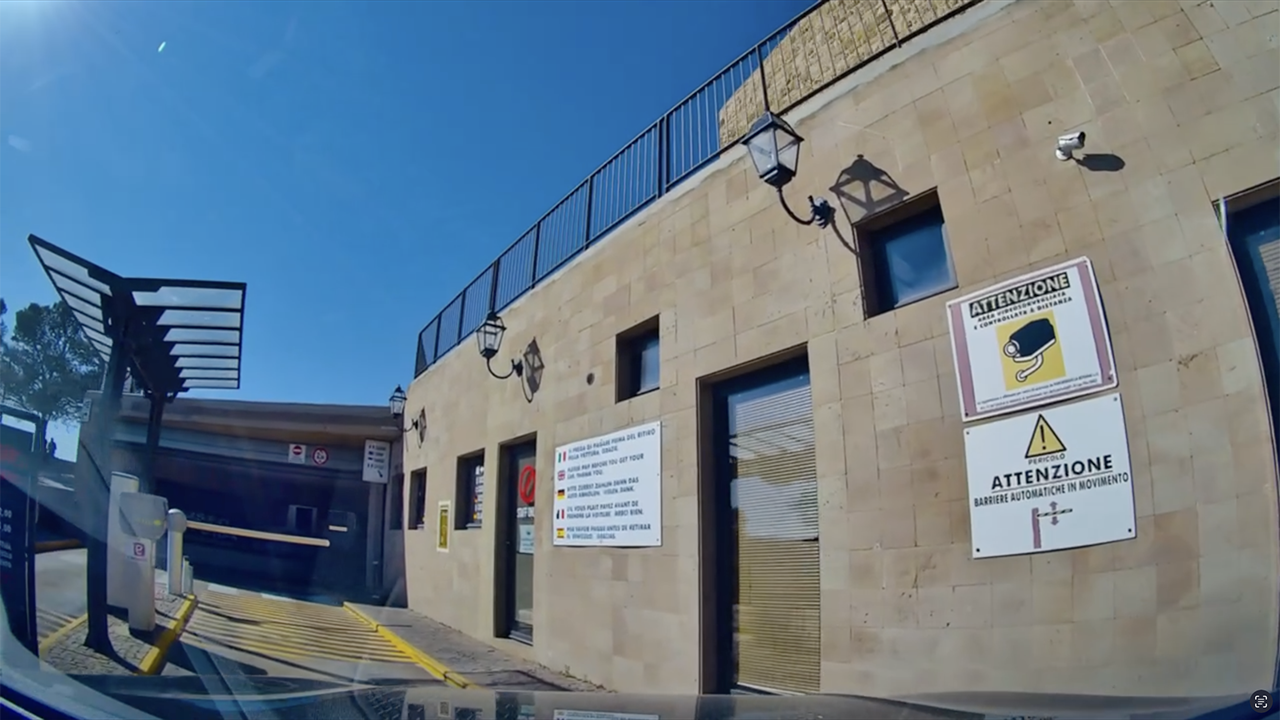 Anyway, hearing their terrible experience made me even more weary of parking in public spaces so I always looked for paid parking spots under surveillance.
Yes, it costs money, but not as much as having to replace your window or tire. With one exception in Arezzo we always managed for find paid parking that was under surveillance.
I'm not saying it can't happen to have your car broke in there, but I think it lowers the chances and that makes us feel more relaxed.
---
Remote Work From Tuscany
If there's one positive aspect of the bug situation we had to deal with over the past few years is that remote work became more accepted.
We decided to make use of the opportunity and try working remotely for the first time. The team I'm part of is already pretty distributed and on her side, my wife has a few colleagues working from other parts of Europe so we didn't had an issue getting approved by our managers.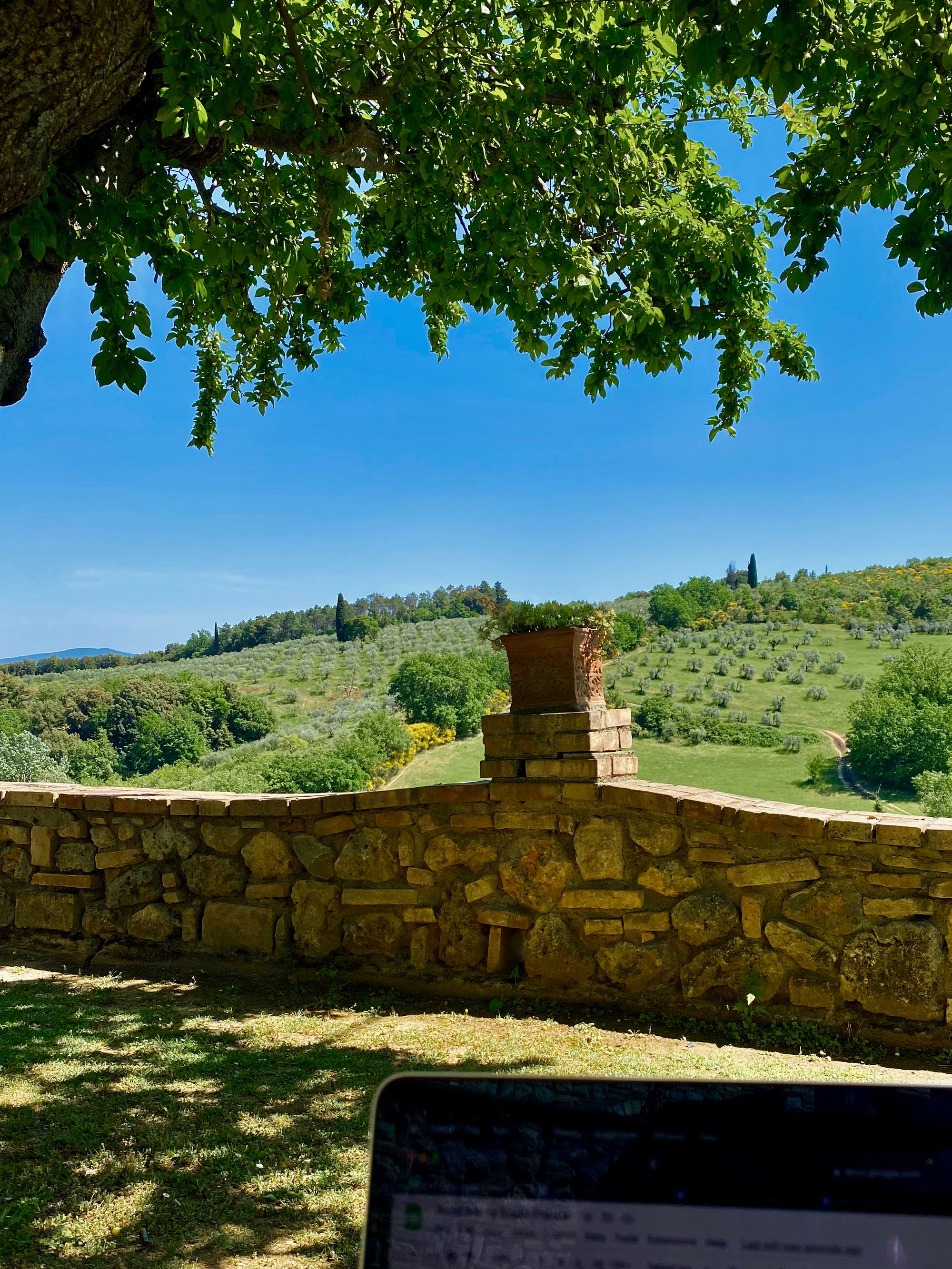 As for equipment, it's really just the standard stuff, 3 laptops (1 personal), 2 mice (+ a spare one), 2 ethernet cables (in case Wi-Fi was weak - we didn't needed those), and a power plug extension (this turned out to be very useful, next time I will get two).
As I mentioned in A Scary Story, on our way to Tuscany and back we always took the backpack containing the laptops with us, never leaving it in the car. For quick stops that was ok, but for example when we stopped in Colmar, France for a few hours on our way back home, carrying that heavy backpack wasn't fun.
The days went smooth and fast. We had breakfast at around 08:30, and work started as usual at 09:00.
For lunch (with some exceptions) we had a quick bite consisting either of sandwiches that we made earlier or some yogurt, nuts and fruit.
Also during the lunch break we took 30 minutes or so to play badminton in the backyard. At home we exercise regularly so we tried to stay active, especially after we spent 3 days in the car. It was also a great way to take a break from looking at the screen.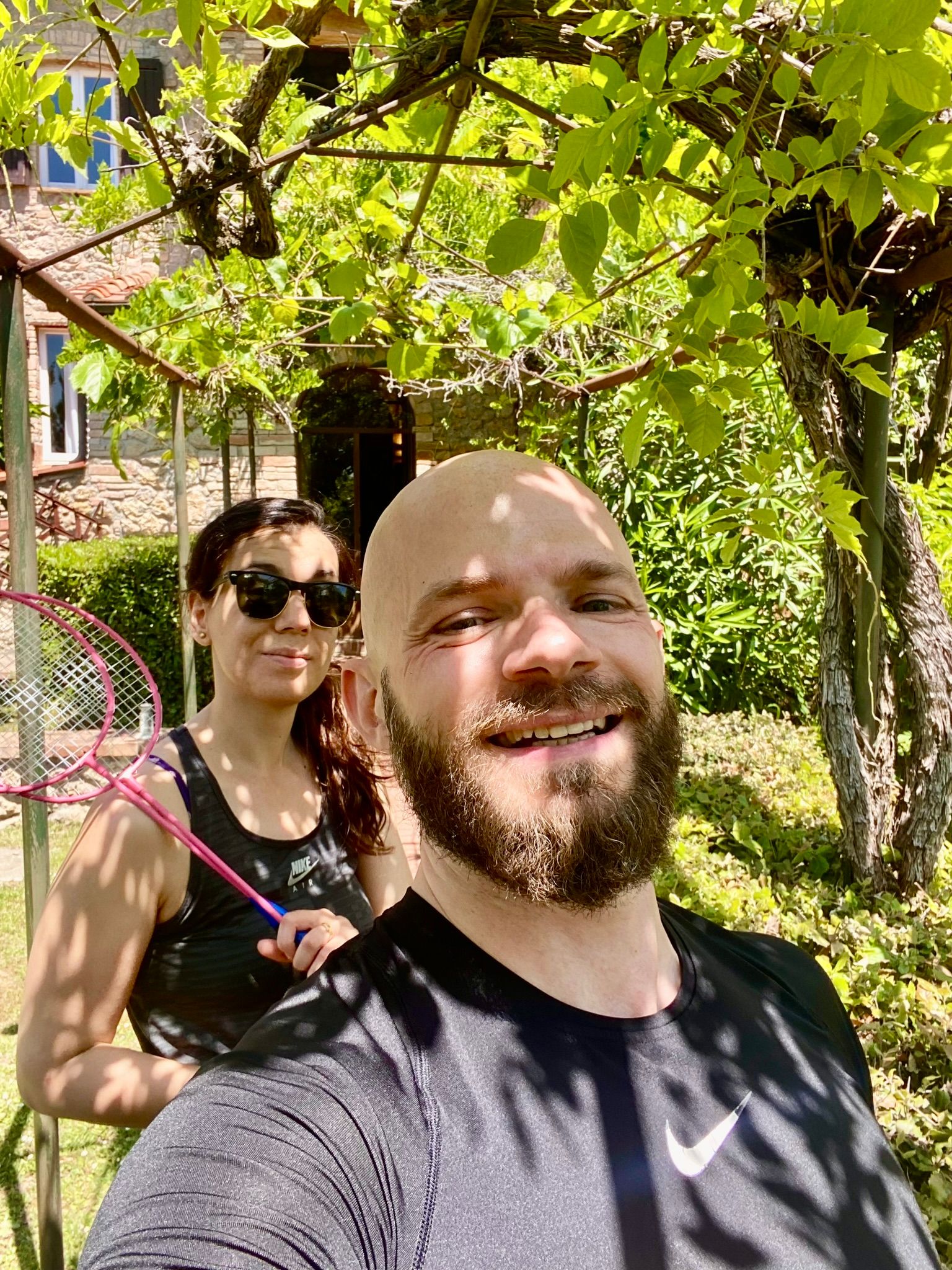 One concern we had before trying to work remotely was if we could focus on work or we would be too distracted by the location.
It turned out we can focus just fine. The view from the balconies over the town was fantastic and when the sun came over we moved in the backyard, looking at the vineyards.
There was really no rush in ending work quickly - we worked from a cozy location and the daylight was long enough to offer plenty of hours to explore the surroundings after the work day ended.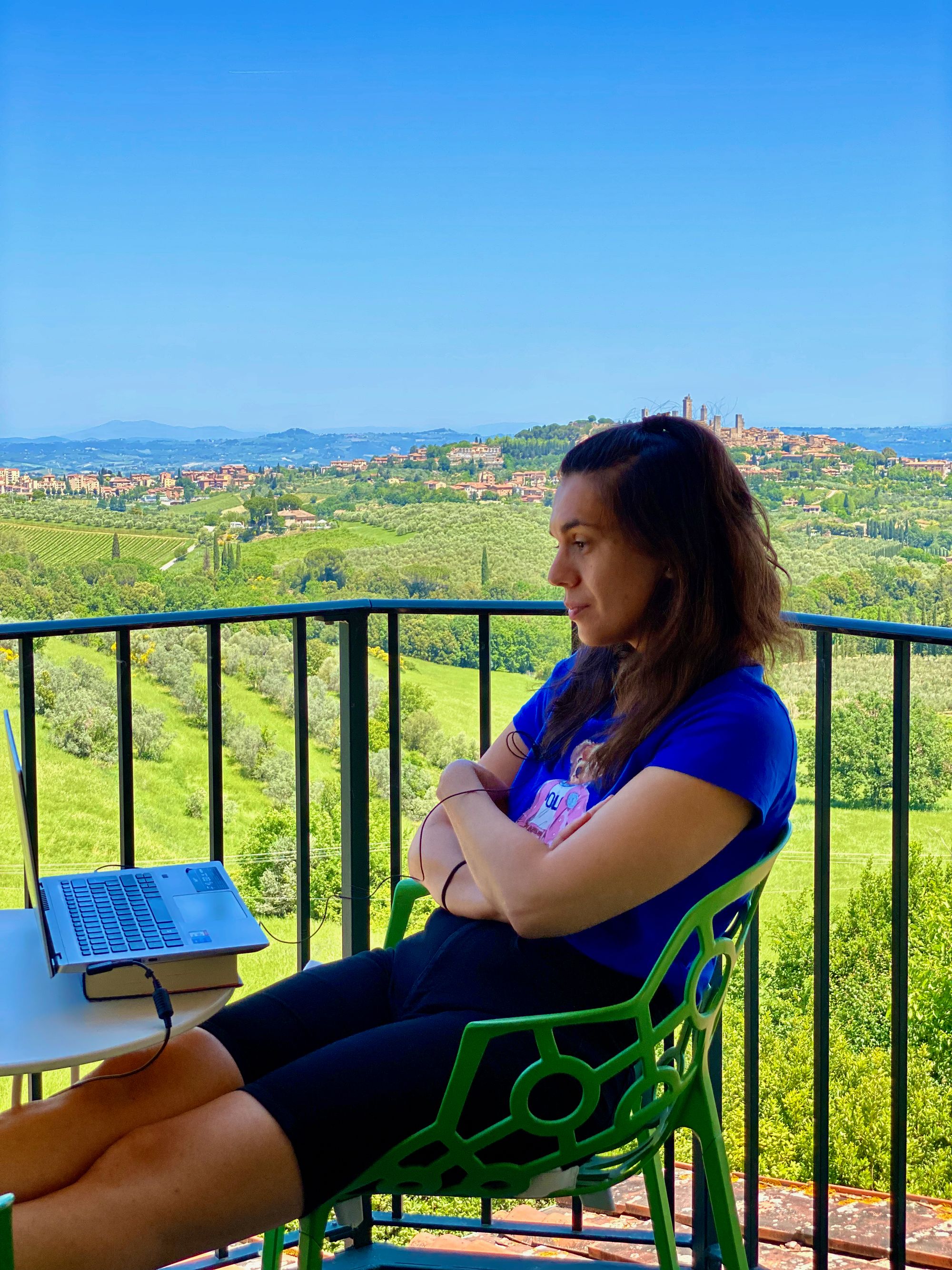 The only issue we had was the internet speed which varied a lot, from good enough to terrible, especially in the backyard and especially when the hotel had more guests. We hoped for better but it could have been much worse.
Luckily neither of us had to use remote desktop for extended periods and when needed we could make use of 4G (back then our mobile plans offered 60Gb of free roaming data).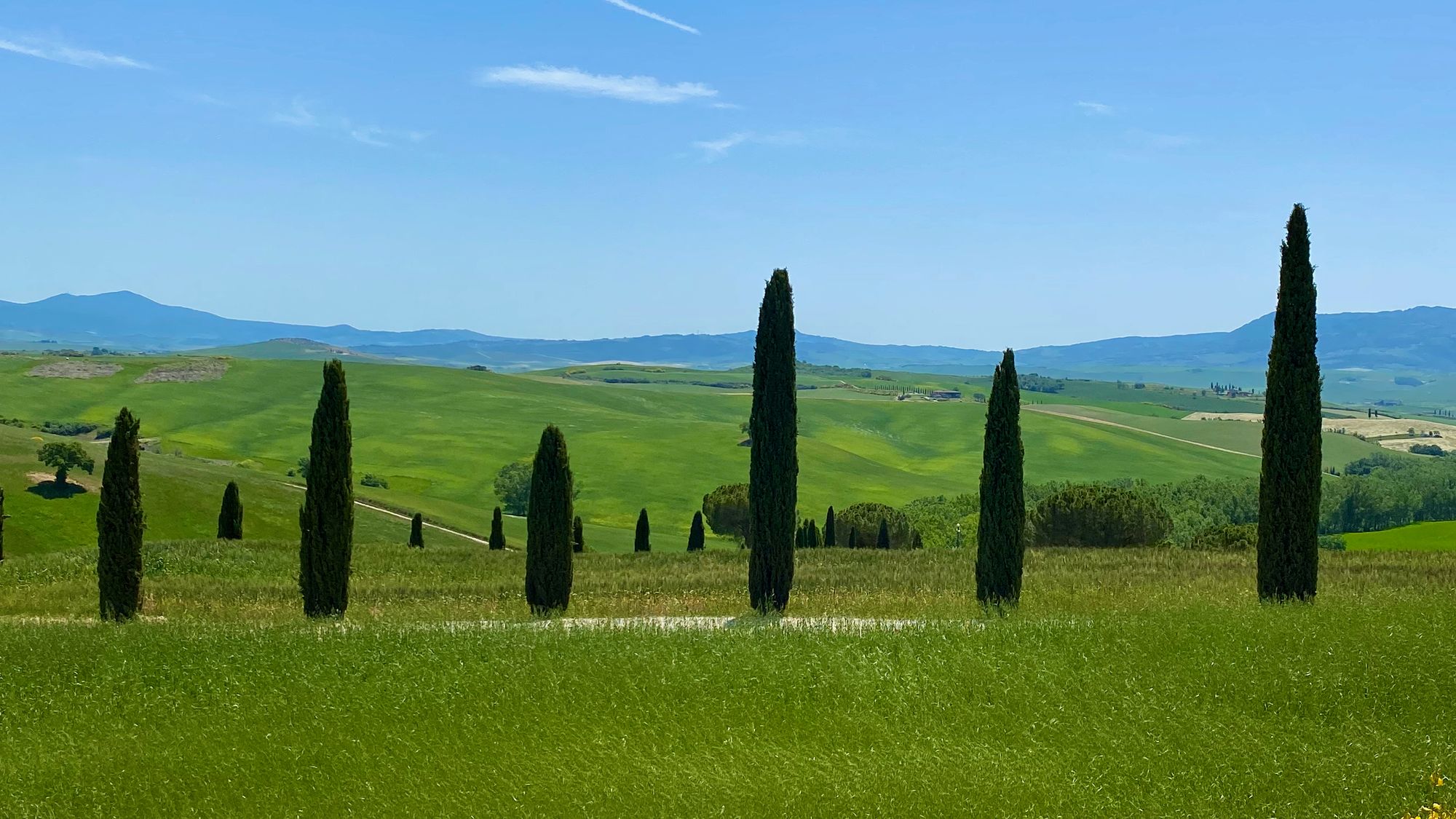 Beside the occasional internet break down we found working remotely from the Italian countryside quite wonderful, offering a nice work-life balance in a beautiful and relaxing location.
After 10 days spent in Tuscany we begun our return trip to Denmark, starting with a day off in one of our favorite place in Italy, Lake Como. But more about this in the next part.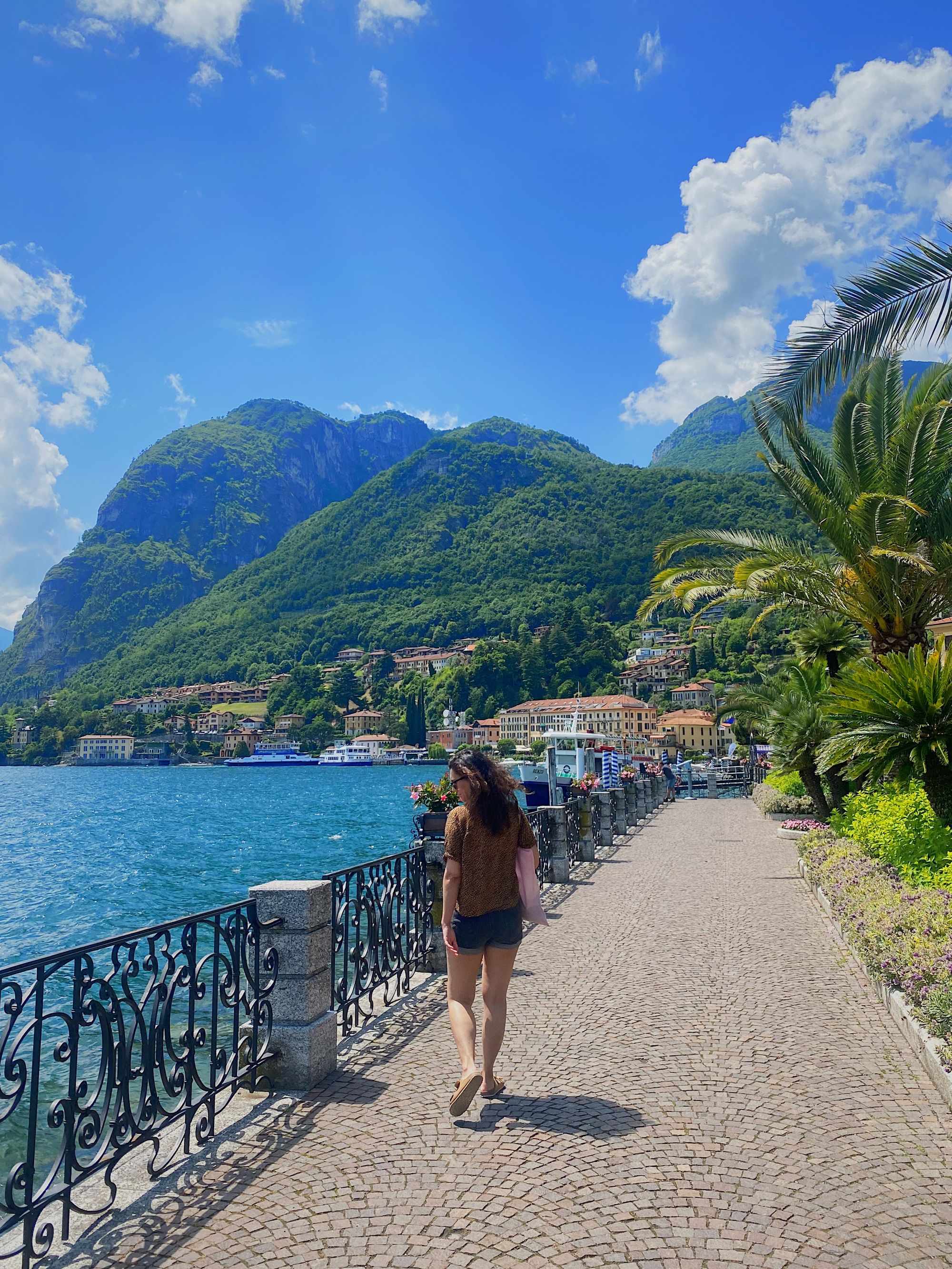 ---
Conclusion
In the end we managed to achieve our two main goals: taking a break from the routine while recharging our energy after a depressing Scandinavian winter by swapping the city apartment with a (former) farm house in the open Italian countryside.
It was a fantastic experience, one that we hope will turn into a yearly tradition.
👍 What was good: driving through the rolling hills of Tuscany while searching for local shops to buy delicious products.
👎 What was not so good: staying with the fear of having your car broke in, especially after hearing what happened to the other hotel guests.
🤩 Most memorable moment: the view over San Gimignano from our balconies in Hotel Pescille.
Thanks for reading,
-Adrian
💖
If you enjoyed reading this consider
subscribing
to my blog so you get notified when I write new articles.
---
Entire Trip Summary
From Denmark to Italy and back, 13 May 2022 - 29 May 2022.
🚗 Distance driven:
5093 Km / 3164 Mi
🌍 Countries crossed:
Denmark, Germany, Switzerland, Italy & France.
🍹 Standout cities visited: ‌‌
🌄 Standout areas visited:
Saint Gotthard mountain pass in Switzerland & many parts of the Tuscan countryside.
🏨 Hotels we stayed: ‌‌
---
Itinerary Map
🌍 Below you will find an interactive map with the directions taken, the places we stayed and the ones we visited for the entire trip.