Second Road Trip Part 01: Our 5 Day Itinerary in Switzerland
In this blog post I'm sharing our itinerary in Switzerland: hiking the impressive alps, visiting picturesque towns and lakes, and driving over some fantastic mountain passes to see the many sides that this diverse country has to offer.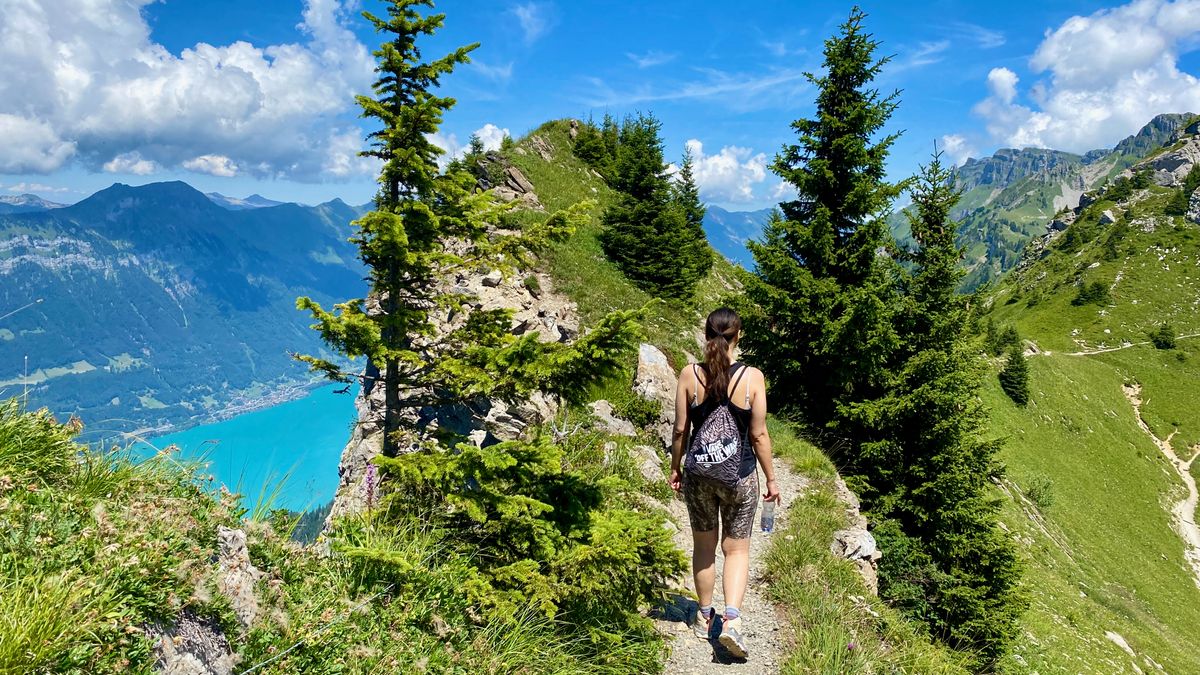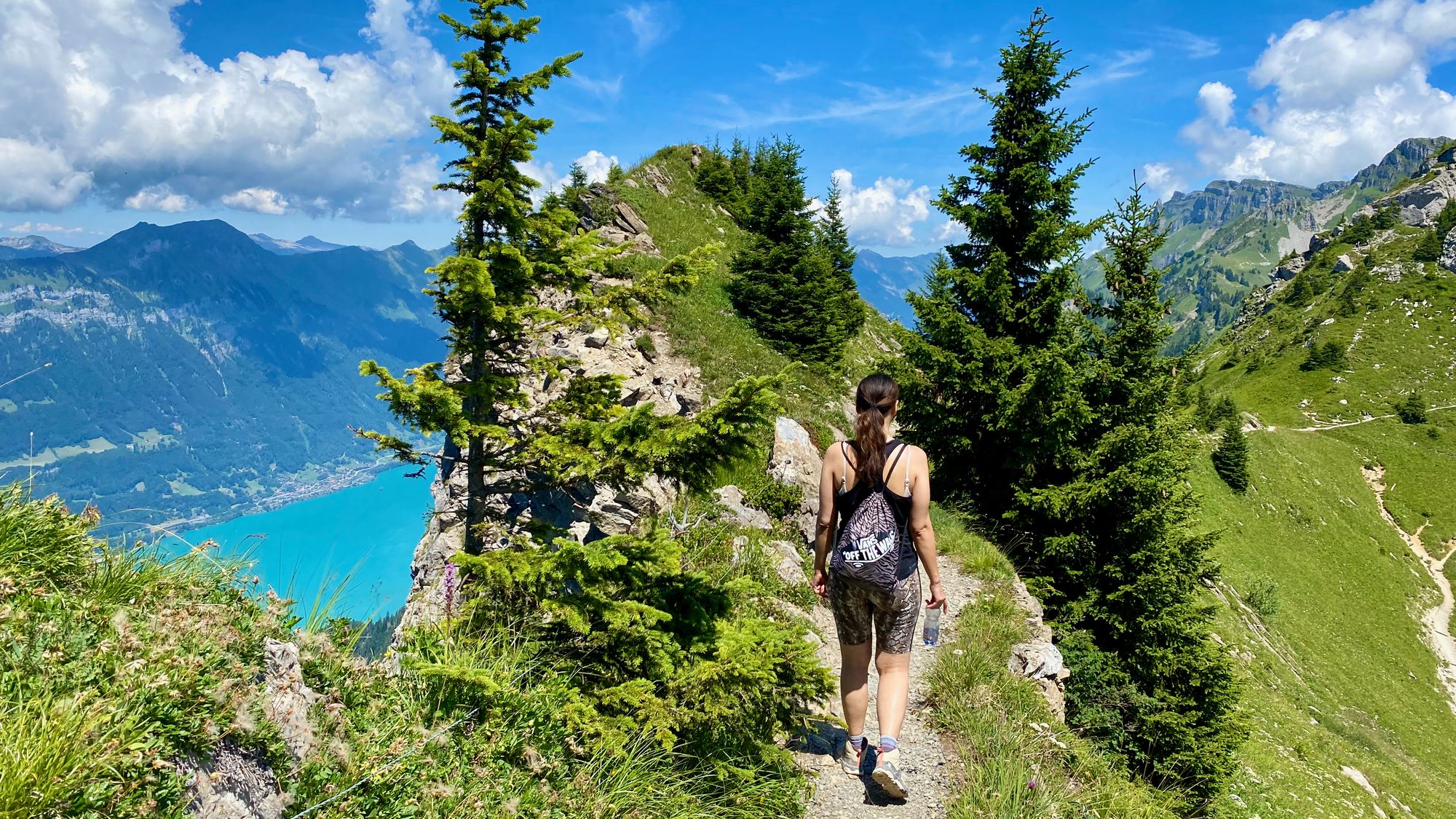 Greetings,
My name is Adrian and together with my wife we embarked in four road trips around Europe during 2022, one in each season.
Two of them where done for remote work and two entirely as a vacation.
Being the first time we had access to a car we got to experience a sense of freedom we never knew before, creating unforgettable memories we otherwise would had missed.
In this series of blog posts I will talk about our journey, what went well & what didn't, with the hope of helping and inspiring others to explore Europe by car.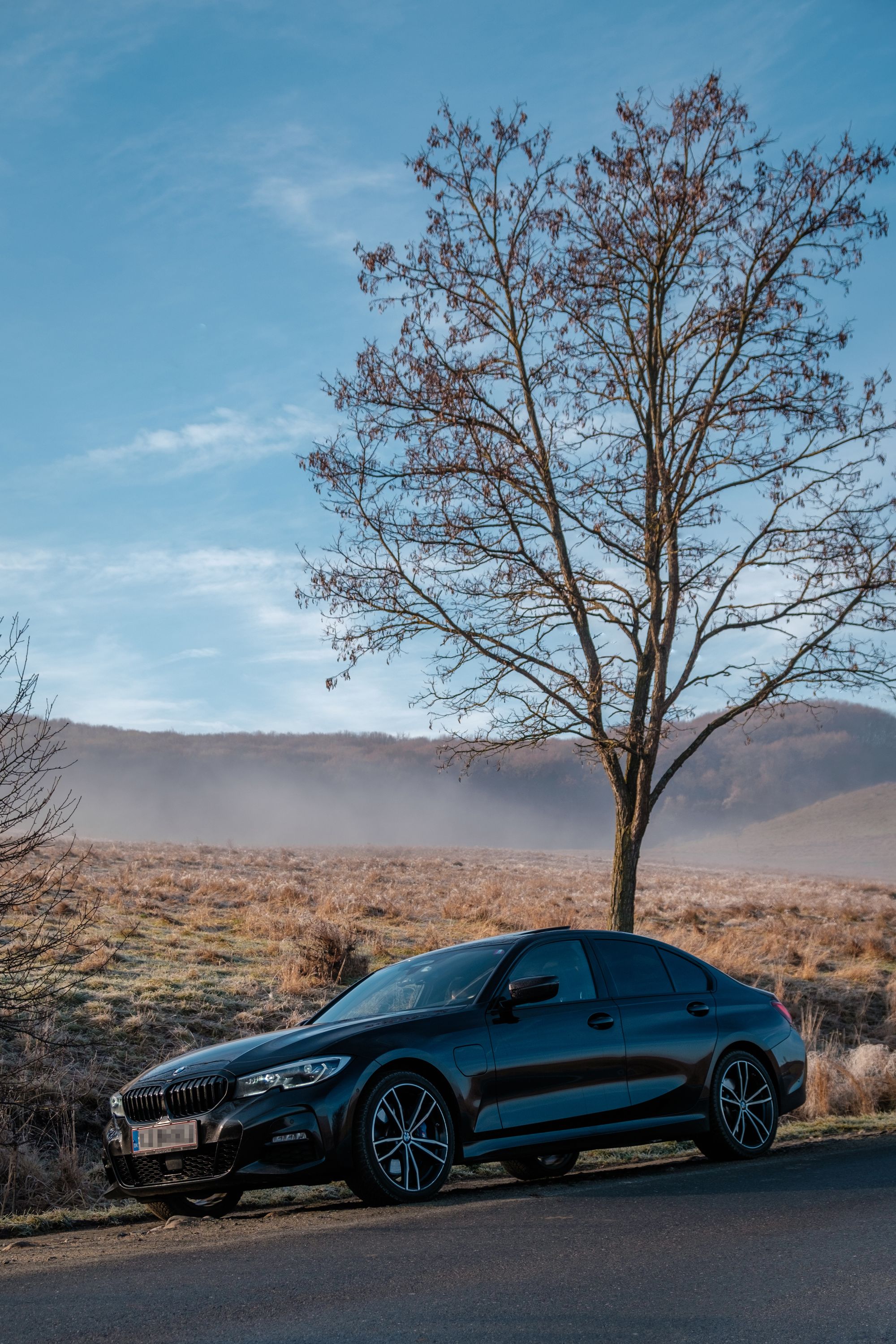 ---
Introduction
Dear reader, this is part 01 of our Summer road trip that took us from Denmark to Switzerland and France.
We spent 18 wonderful days exploring the impressive swiss Alps, the charming villages of the Luberon area and the bustling cities of the French Riviera before returning home to Denmark with some unforgettable memories.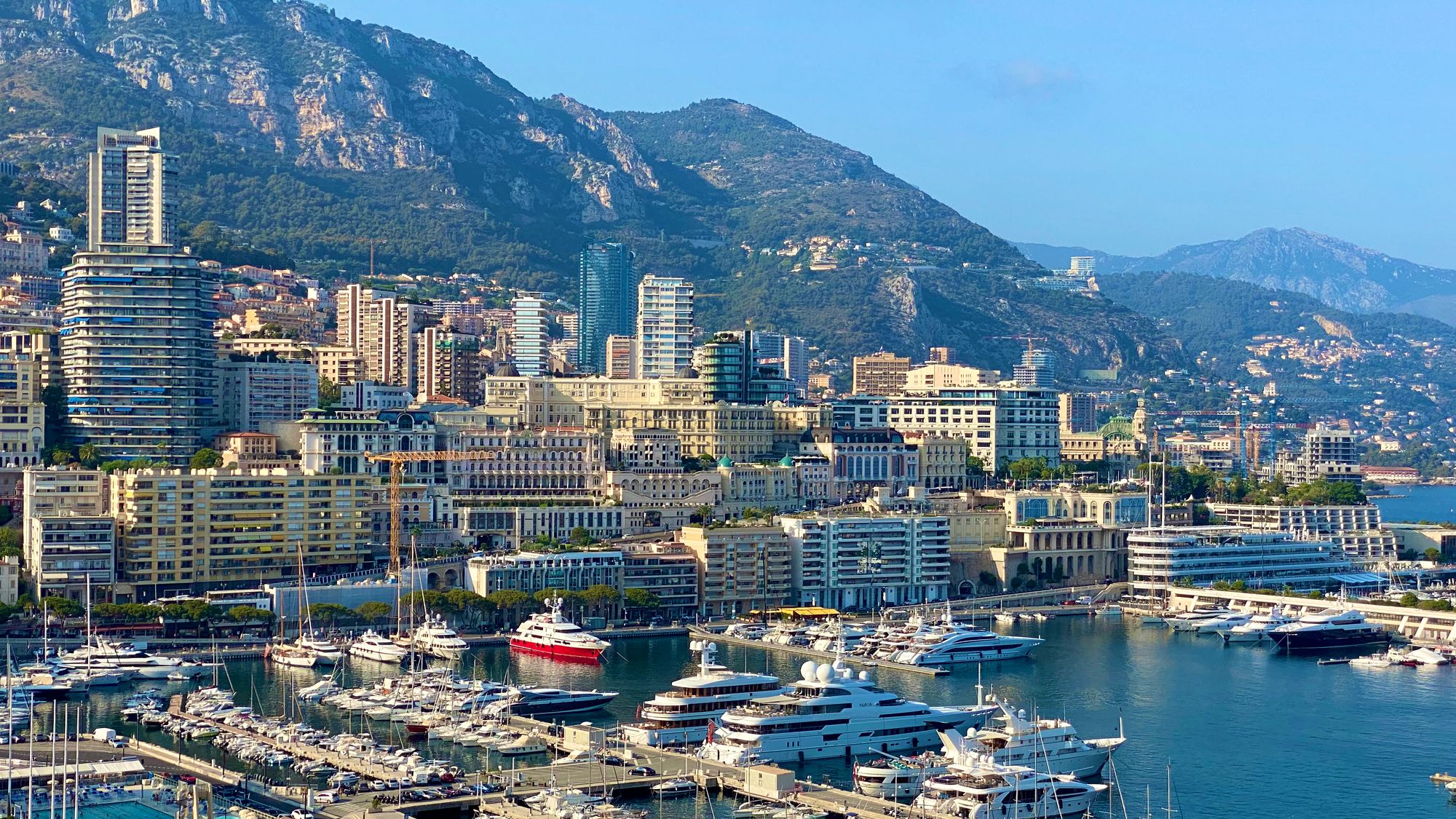 In this first part I will briefly talk about driving to Switzerland, crossing Denmark and Germany, followed by a detailed recounting of the 5 days itinerary in Switzerland.
We set base at Interlaken, in the German speaking part of the country and we visited both the Italian and the French side. Among other things we crossed 4 mountain passes which offered some intense driving experience and we did 2 hikes that offered the quintessential swiss views over lakes, valleys and hills with scattered farm houses.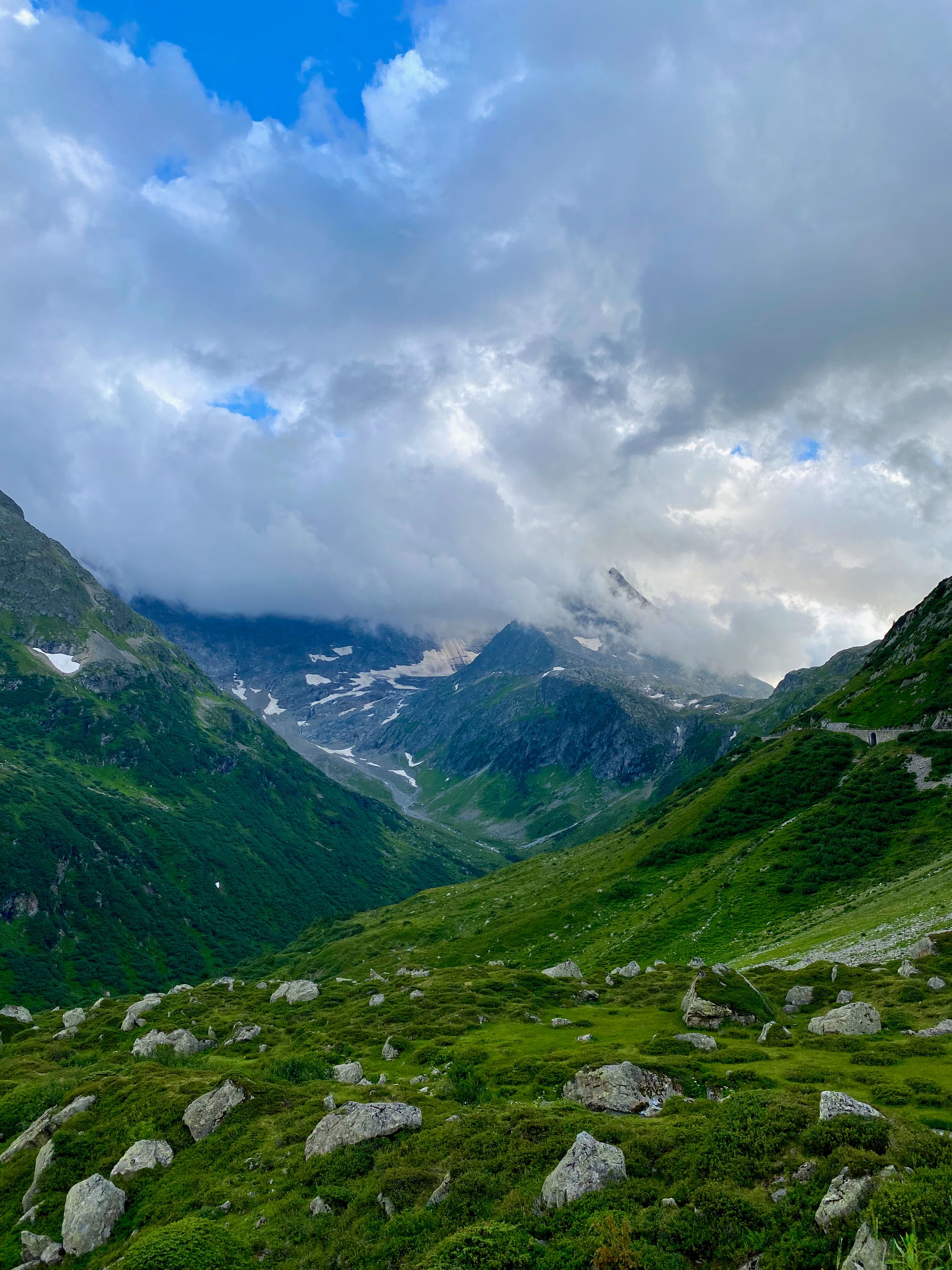 👉 Read part 02 here if you are interested in our french adventure: exploring Provence for 8 days, split between the Luberon area and the French Riviera.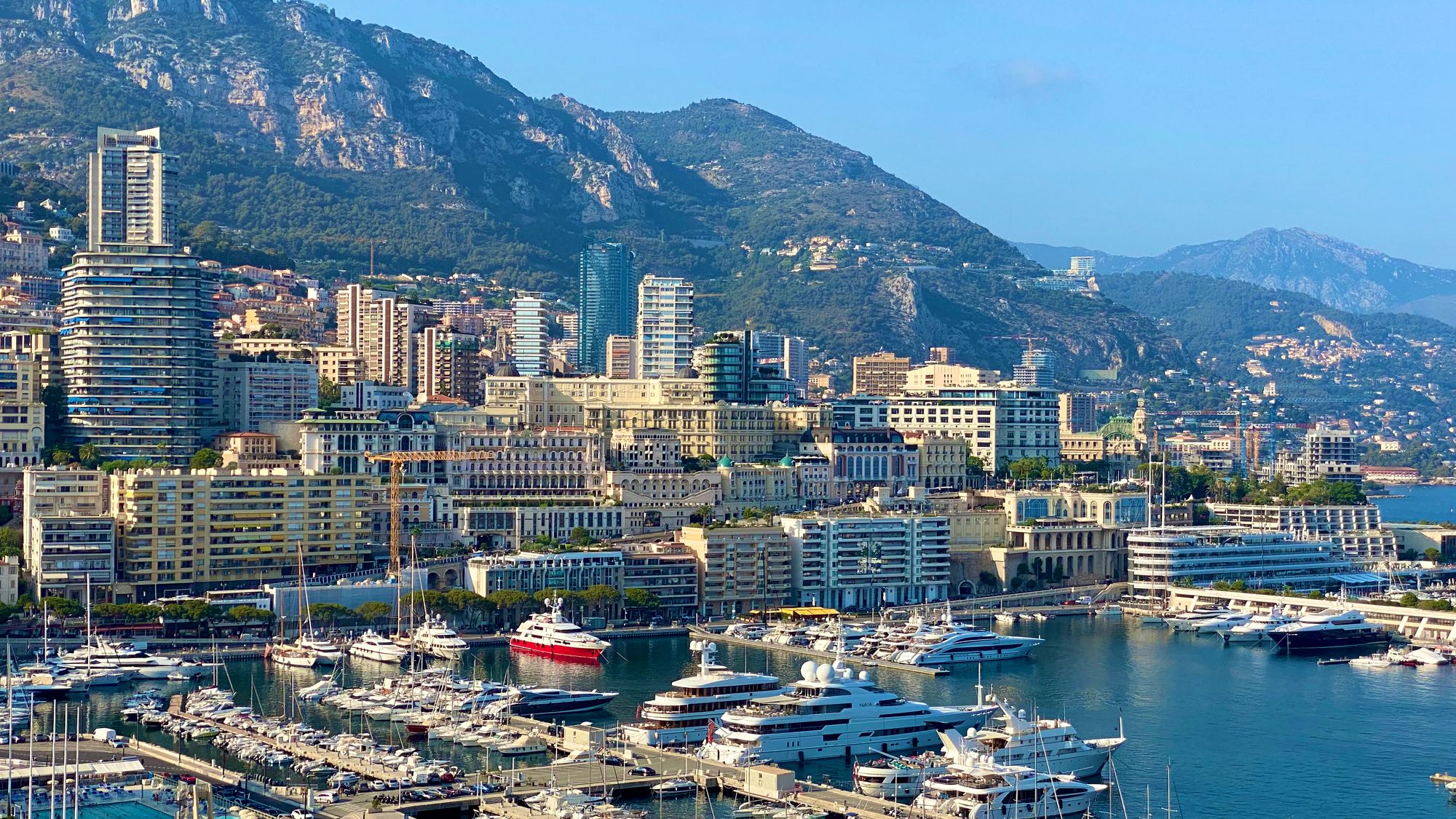 Table of content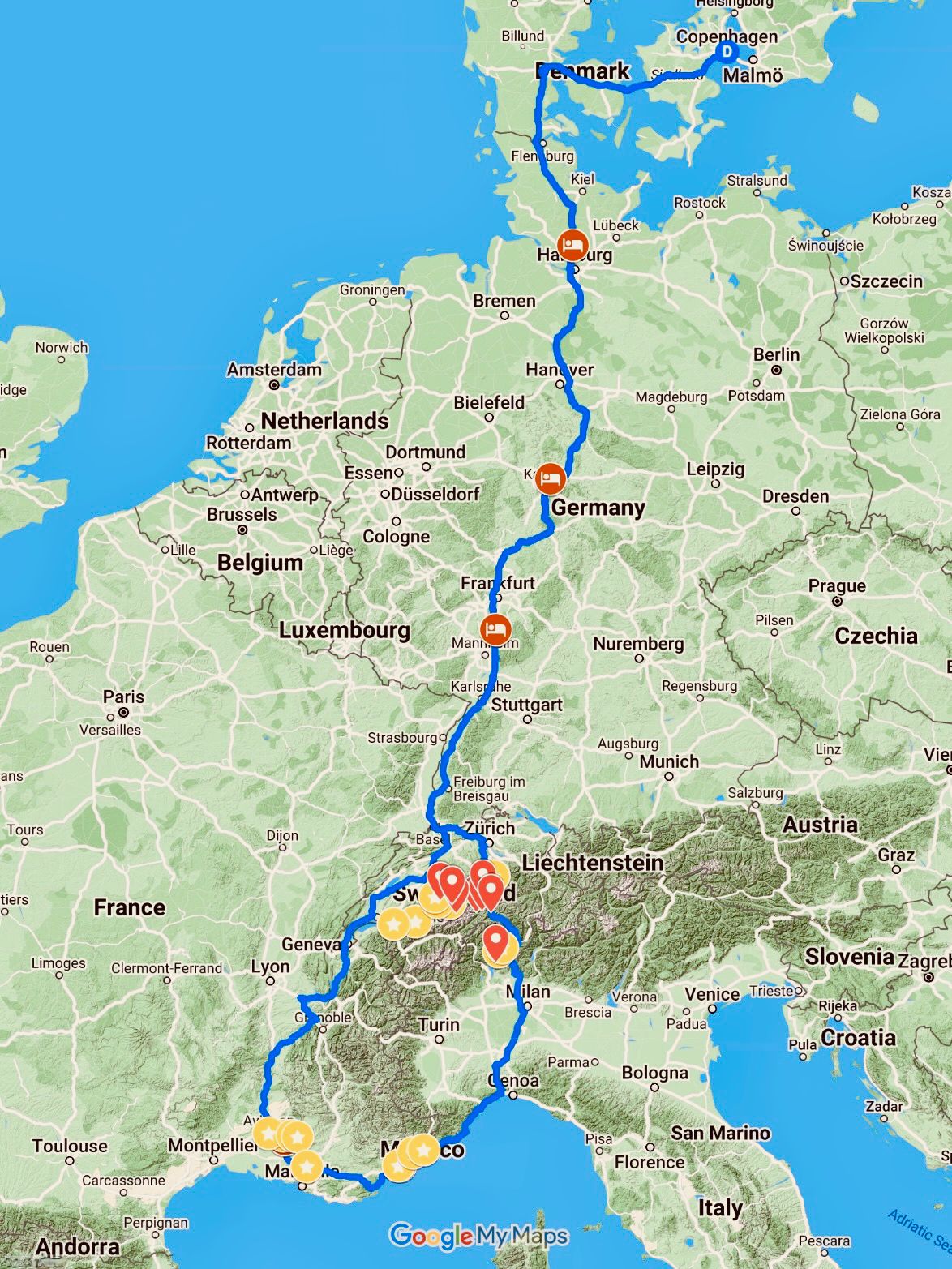 ---
The beginning
As soon as we finished our first road trip to Italy in the spring of 2022 we knew that more will follow.
We absolutely loved the new freedom that travelling by car brought and the unique experiences we gathered being able to explore Tuscany and other places on the way there and back.
Personally I really enjoy driving, both on the highways and also on small roads through villages and mountains. Luckily my wife also very much enjoys the open road, keeping herself busy reading or simply relaxing.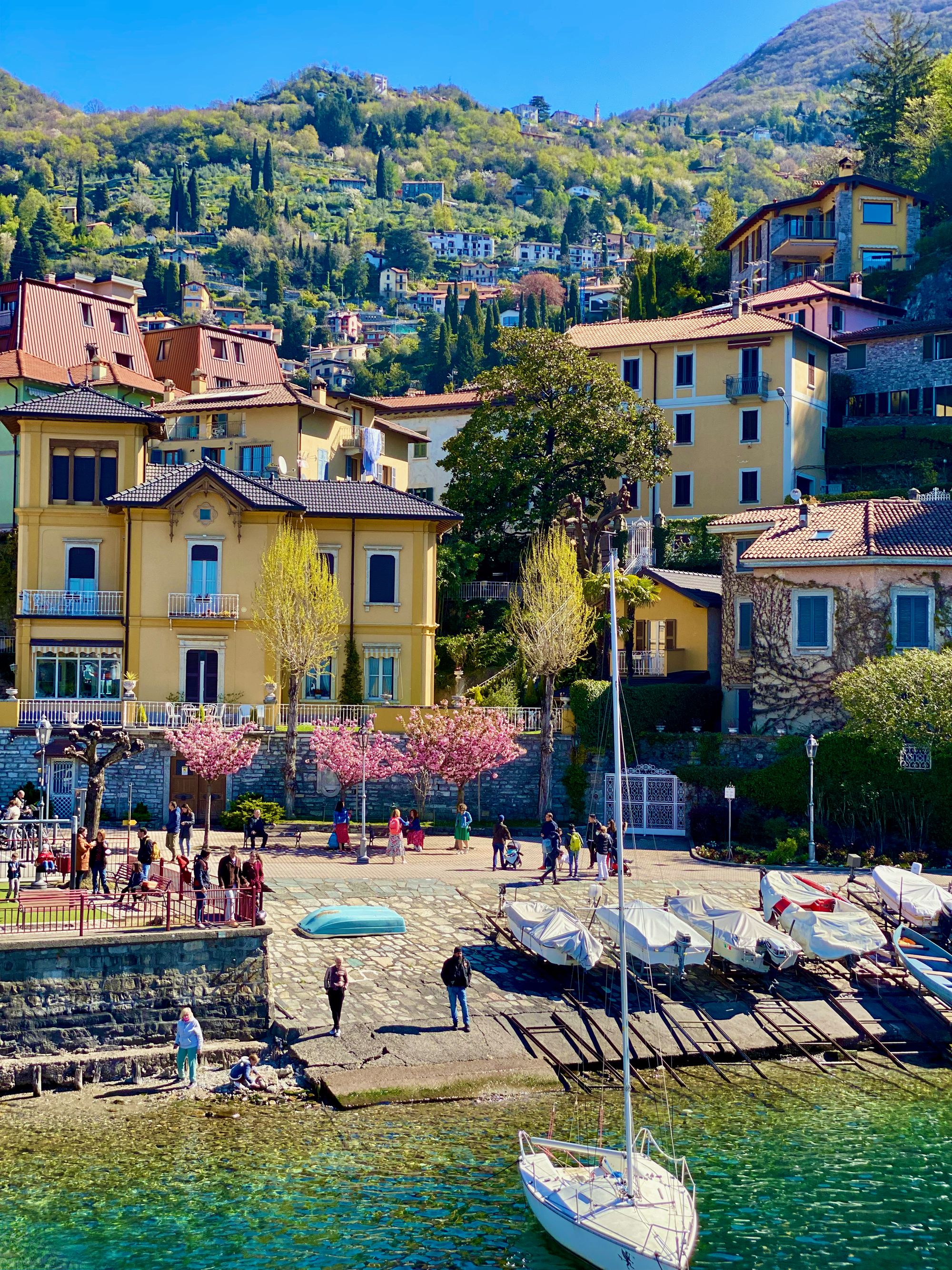 With no hesitation we decided that our summer vacation will be a road trip in Europe, again 😄
Unfortunately it had to be in July, peak travel season in Europe when schools are closed as my wife's workplace is shutting down for two weeks over the summer forcing everyone to take vacation at the same time.
Not ideal but ok, we'll get to experience the peak of tourism and looking back, it was a nice contrast with traveling off season during spring.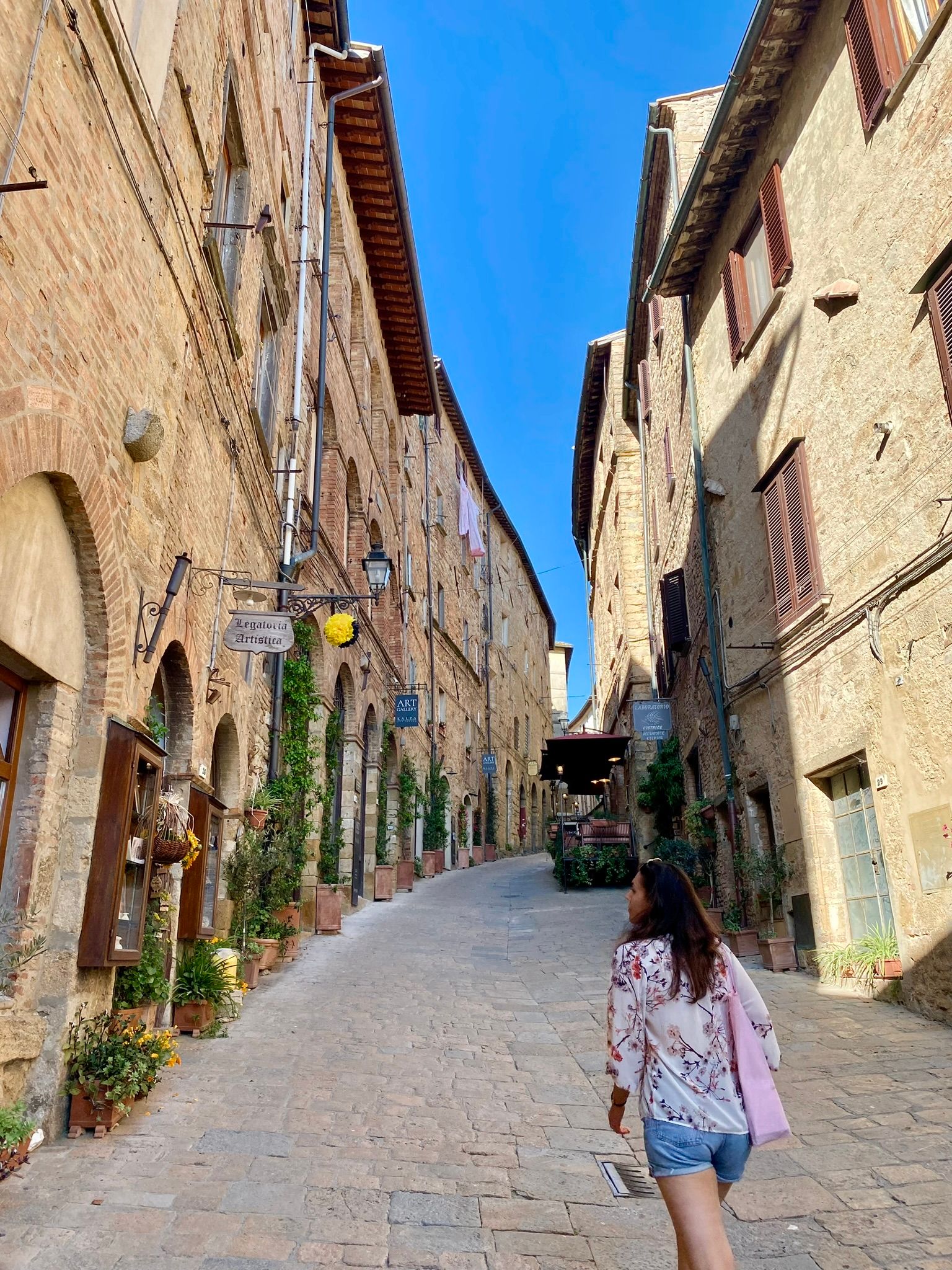 We knew that Switzerland will be one of the destinations as we fell in love with the country during the spring remote-work trip.
For this we picked the (fairly) central Interlaken as our base and noted down a few activities that we can do depending on the weather, alternating activities on foot with short road trips.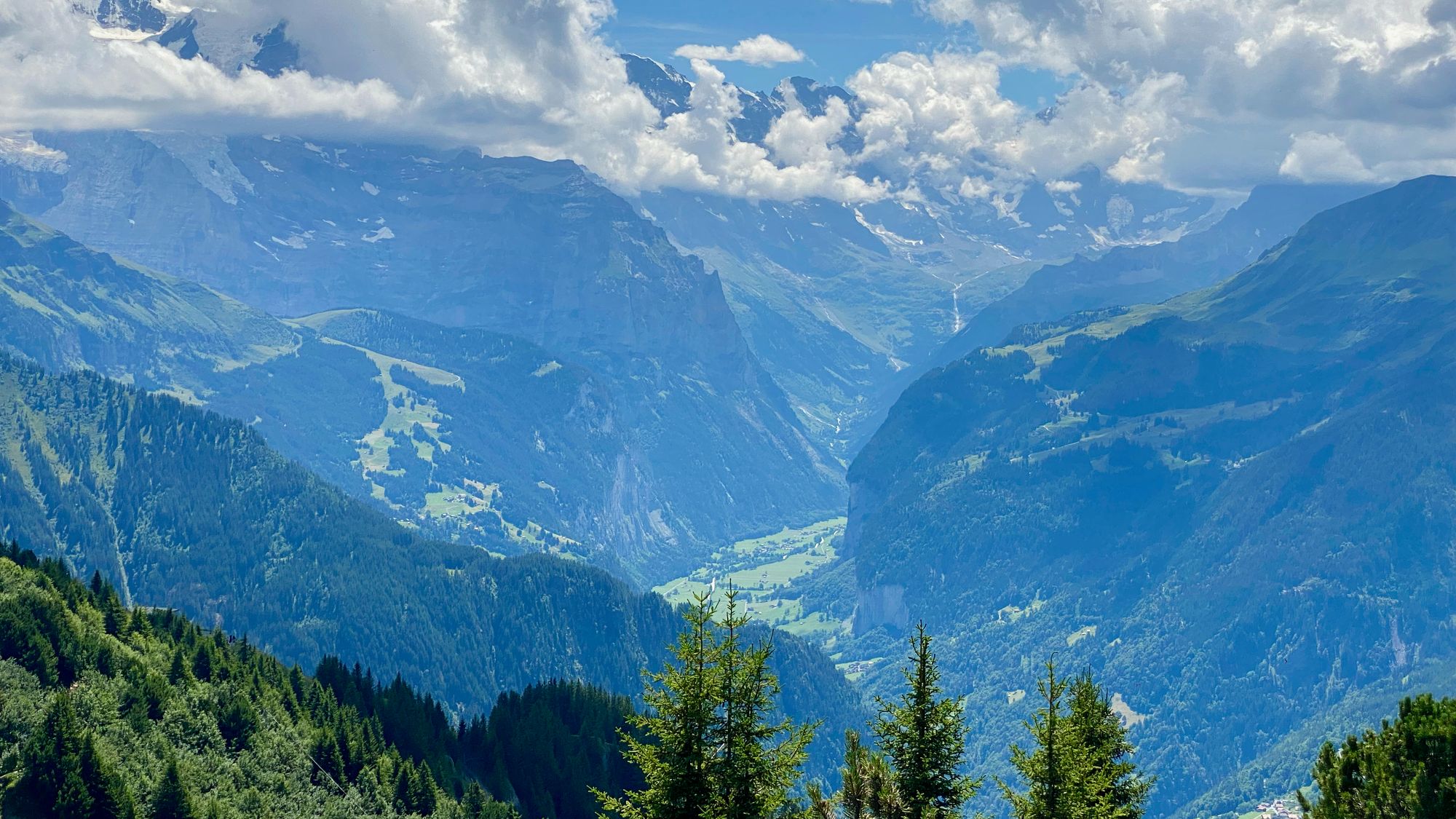 It made sense to combine the mountains with the sea so we looked at the French Riviera, long time on our top list, although looking back it maybe shouldn't have been, but I'm getting ahead of myself.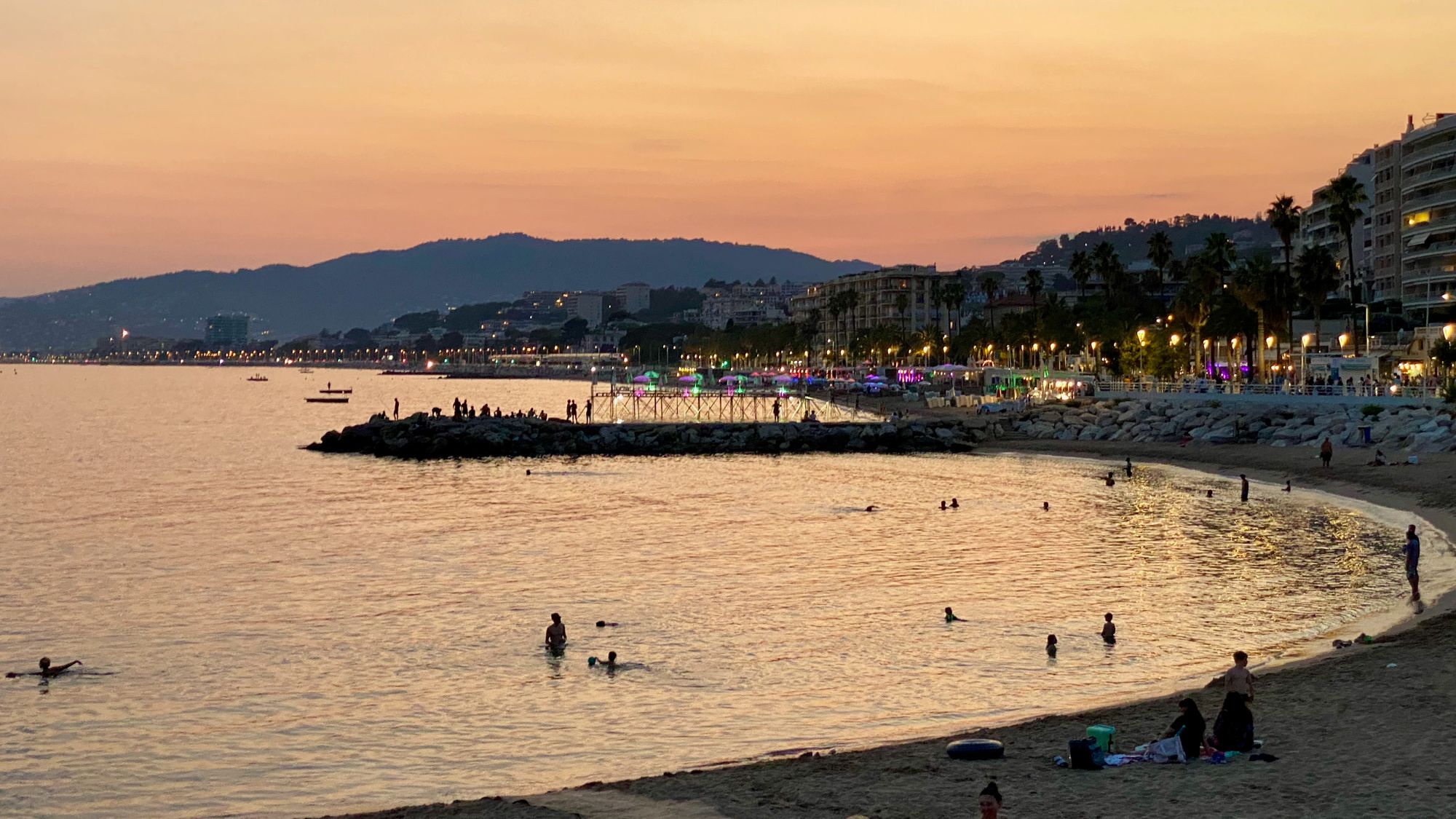 And since we need to drive through Provence on the way to the coast, why not experience the French countryside as well, with its many gorgeous towns and lavender fields.
It is an area that we didn't knew much about before we started to plan this trip but one that offered many everlasting memories.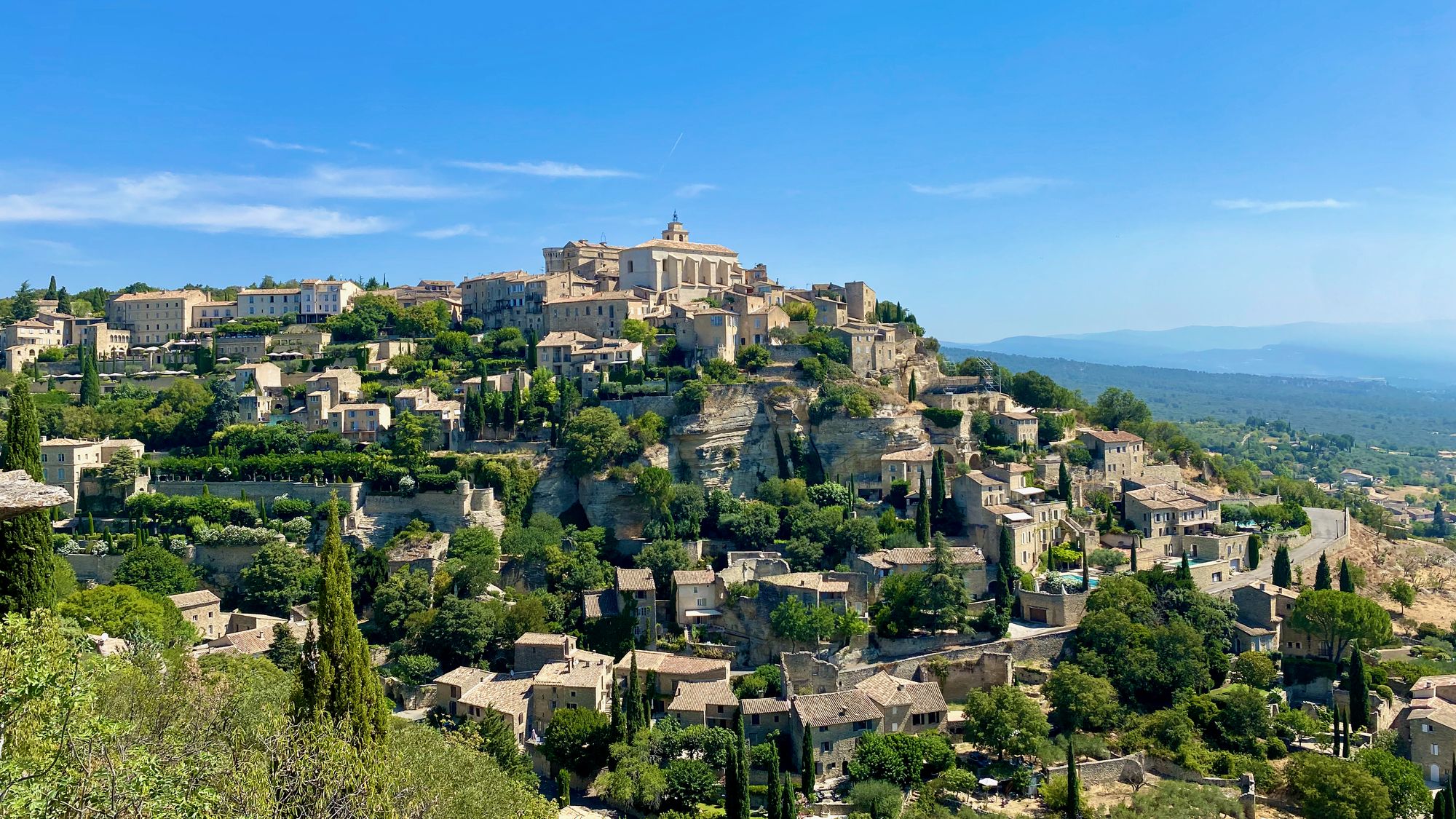 With the help of Google Maps, Instagram, Booking.com and Google Sheets I started planning the road trip - you can find more info about how I use these in the planning section of the first road trip so I'm not going to repeat the same info here.
The plan in short:
Reach Switzerland in 2 days.
Spend 5 days in Switzerland and adjust the activities depending on the weather - having a car meant that we could easily drive to other parts of the country.
Leave the swiss alps and drive to the Luberon area in Provence, France to cook in the summer sun for 4 days and explore the many tows the area has.
Drive to the French Riviera and stay there for 5 days visiting some of the coastal towns.
Lastly drive back to Denmark over the course of 3 days.

---
From Denmark to Switzerland through Germany
👉
Click here
if you want to go directly to our itinerary in Switzerland.
Reaching Switzerland can be done faster than 2.5 days but there are two issues: one, I'm the only driver and two, and more importantly, we wanted to avoid driving too much in a single day, opting instead for having some time to decompress.
When it comes to hotels on the way, we try to pick accommodations that are not necessarily the closest to our route but instead we are looking for places where we can relax outdoors or have facilities that we can enjoy like a sauna or pool.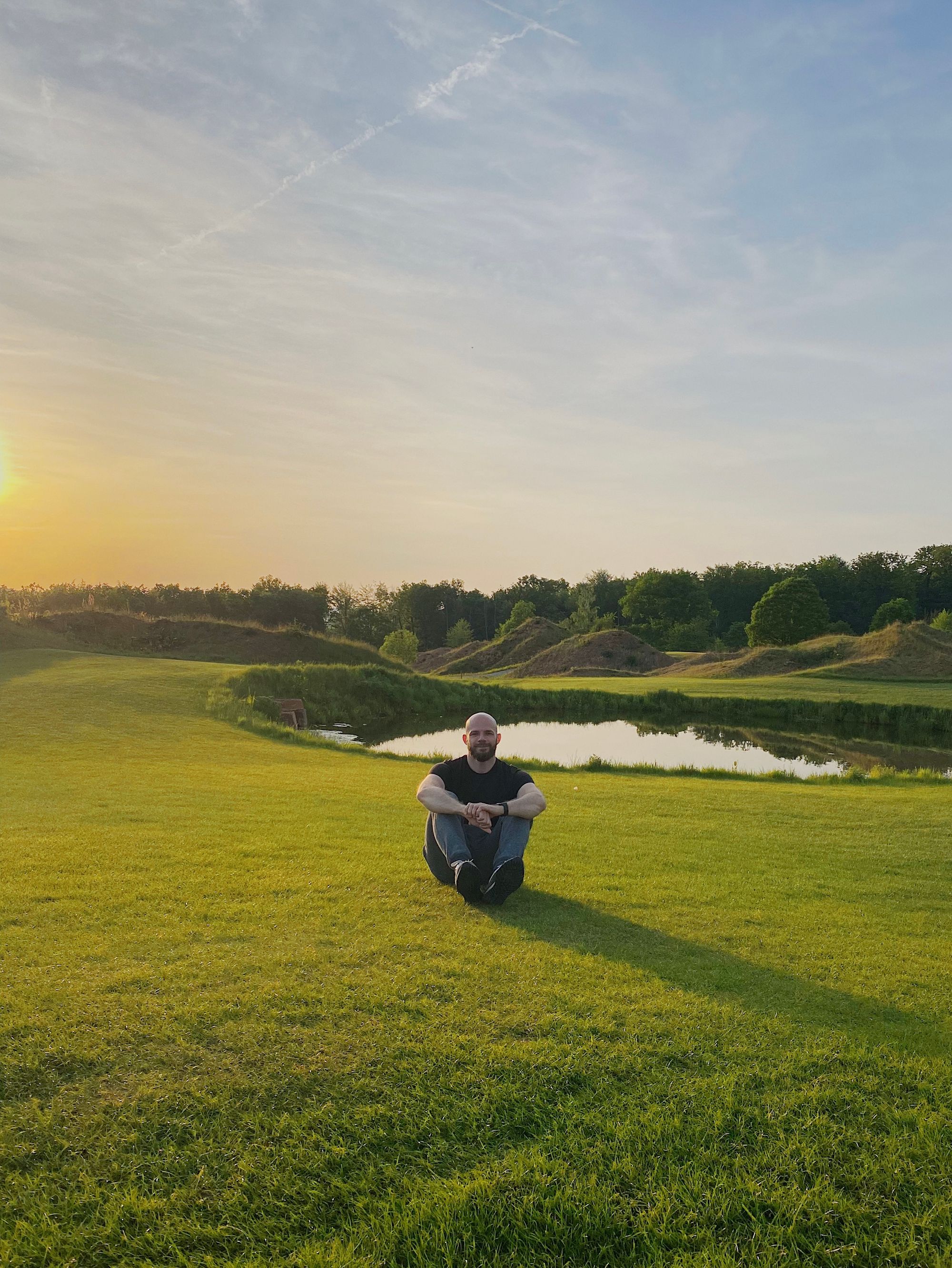 Travel day 01: Denmark to Germany
We departed after work with the first stop for the day being about 5 hours away, somewhere close to Hamburg, a golf resort called Hotel & Gästehaus Gut Kaden.
We don't play golf (yet 😛) but we stayed at another golf resort in Germany during the spring road trip and we really enjoyed it.
Far from the highway, the hotel is located in a quiet area, surrounded by greenery, perfect for relaxing after 8 hours at the desk + 5 on the road. Parking is very easy, with a huge outdoor parking space.
Unfortunately it was raining when we arrived so we only took a quick stroll around before having dinner and hitting the bed. Day 01 on the road done!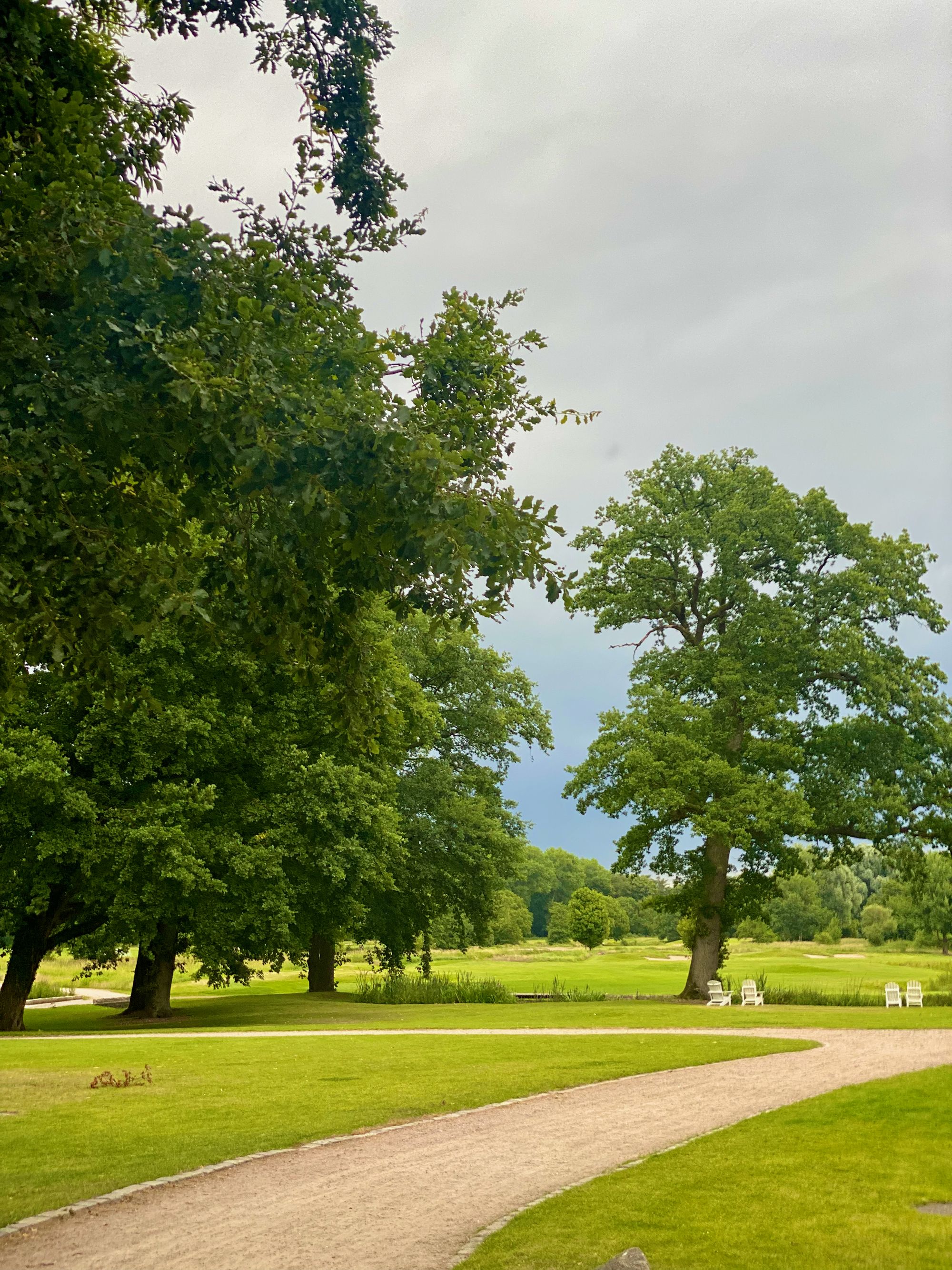 ---
Travel day 02: Crossing Germany
The next morning we left early, having to cross a big chunk of the country, about 560 Km / 350 Mi, to somewhere after Frankfurt. Drive time to our hotel was around 6.5 hours + stops every 2h or so.
The sky was still cloudy with light showers, perfect for having a cozy drive on the Autobahn, listening to jazz.

We chose to stay at the Lufthansa Seeheim, a huge conference hotel, located a bit more remote than we expected, having to climb onto some narrow roads (but short) completed with a couple of hairpin turns. But it was worth it!
We checked in and went straight into the pool, which we had only for ourselves. Either this or the sauna are our favorite ways of ending a day on the road. It's not always possible, but when it is, it's great 😁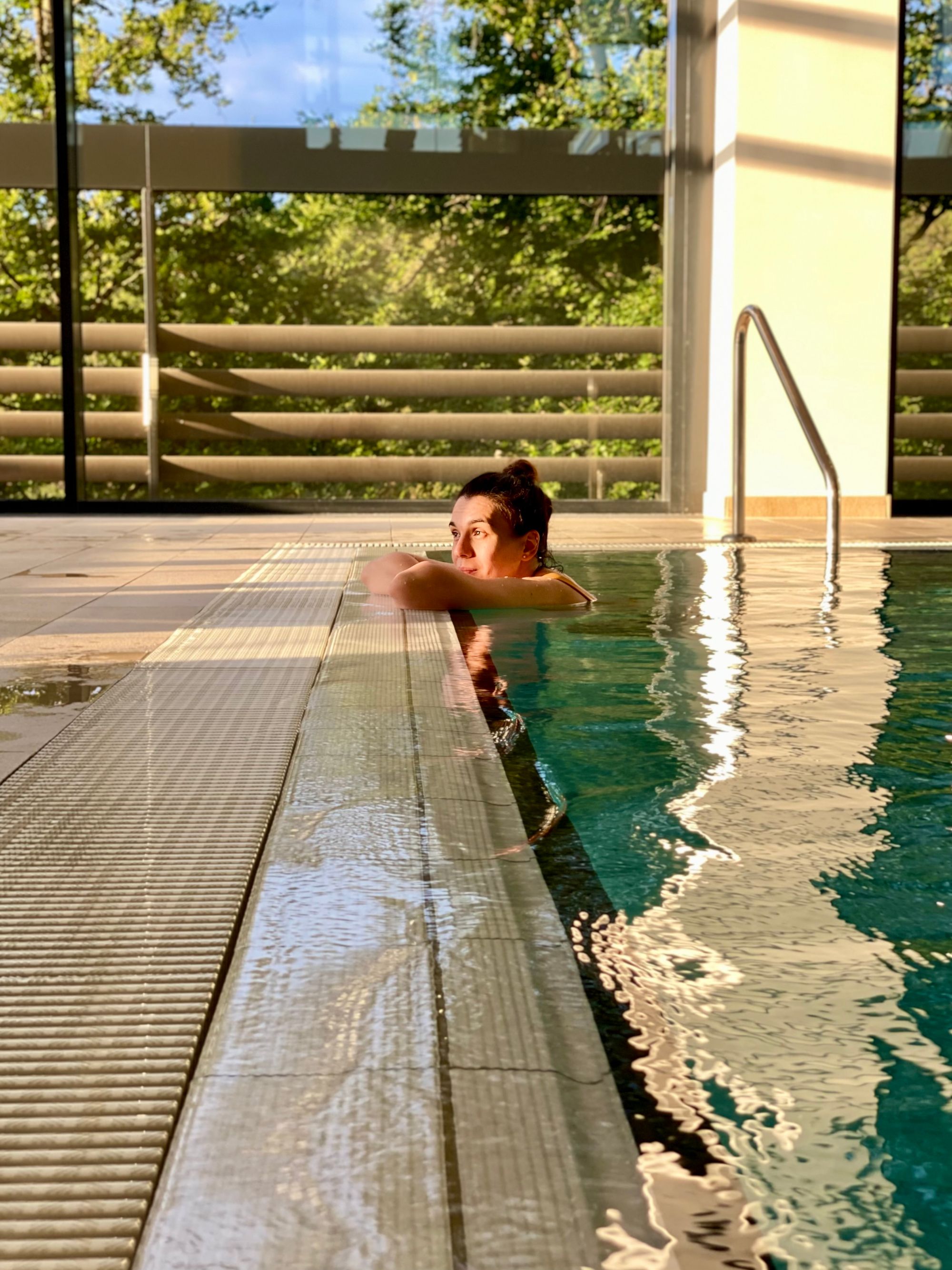 Afterwards we went to have a beer followed by dinner.
One thing to note is that the main restaurants closed earlier than we though. I can't remember exactly at what time (20:00?) but we ended up eating some sandwiches from the bar - luckily we survived.
The room was large, clean with a simple but pleasant design - very German like! It has a huge multi level parking with easy access.
The sky started to clear and we saw a gorgeous sunset from the hotel terrace.
A good way to end the day!
---
Travel day 03: Germany to Switzerland
We started the next day with a slow breakfast at the hotel and it was great with good quality and diversity. It won't be the last time we stay here.
By 09:30 we were on our way, heading towards Switzerland. About 4h:30min drive to cover 430 Km / 270 Mi.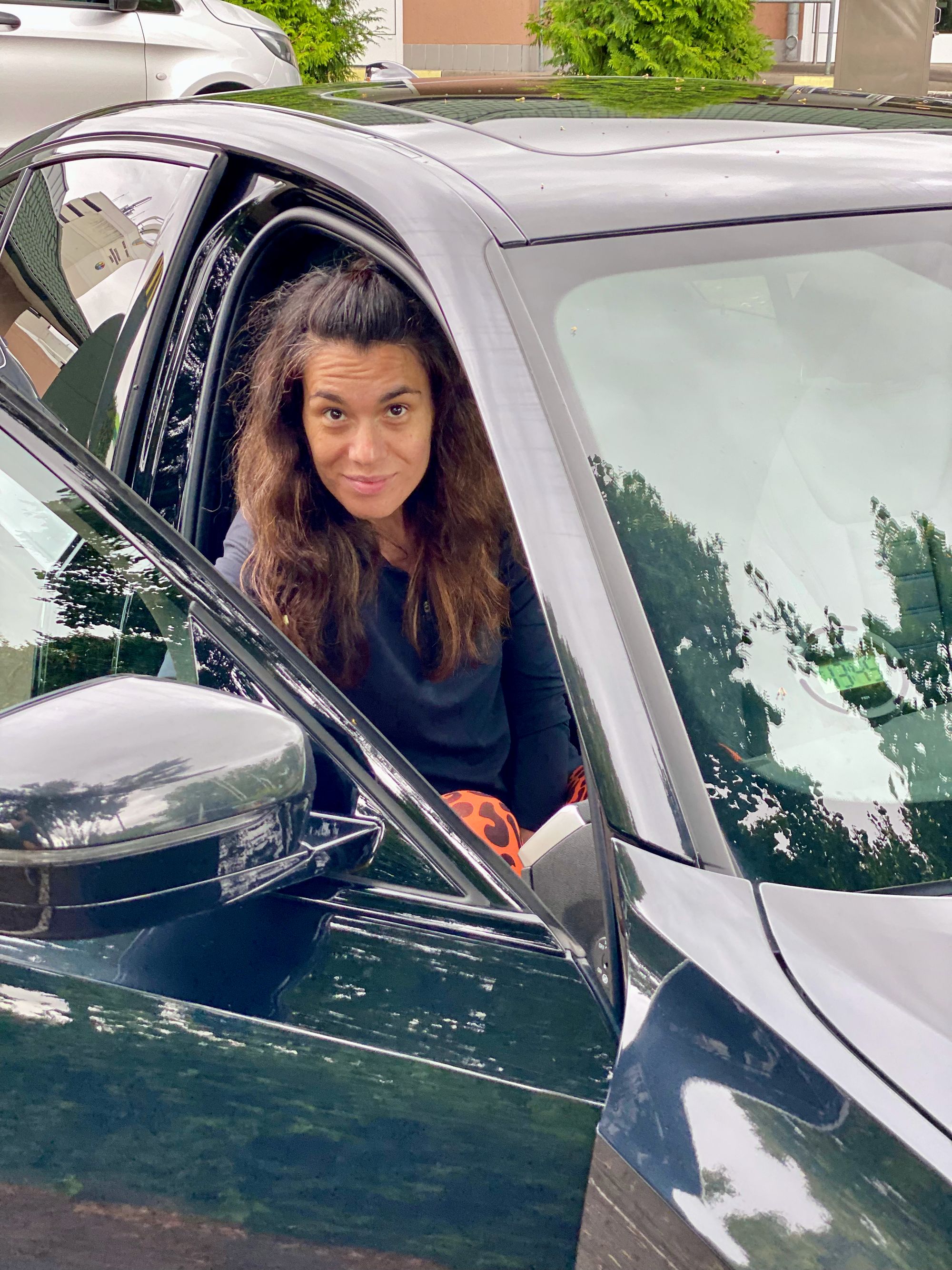 I mentioned in the first road trip that we discovered REWE, a supermarket chain that has a very good salad bar, and since then we formed a tradition of eating something from those every time we drive through Germany (plus buying wine and beer but that's only on the way back).
Since we were following the same route as in the spring road trip we stopped at the same REWE, in the little town of Achern.
We found their salad bar a great alternative to fast food, although since then we made yet another tradition: eating at KFC at least once on the way there and on the way back. You don't want to be too healthy, life is all about balance 😛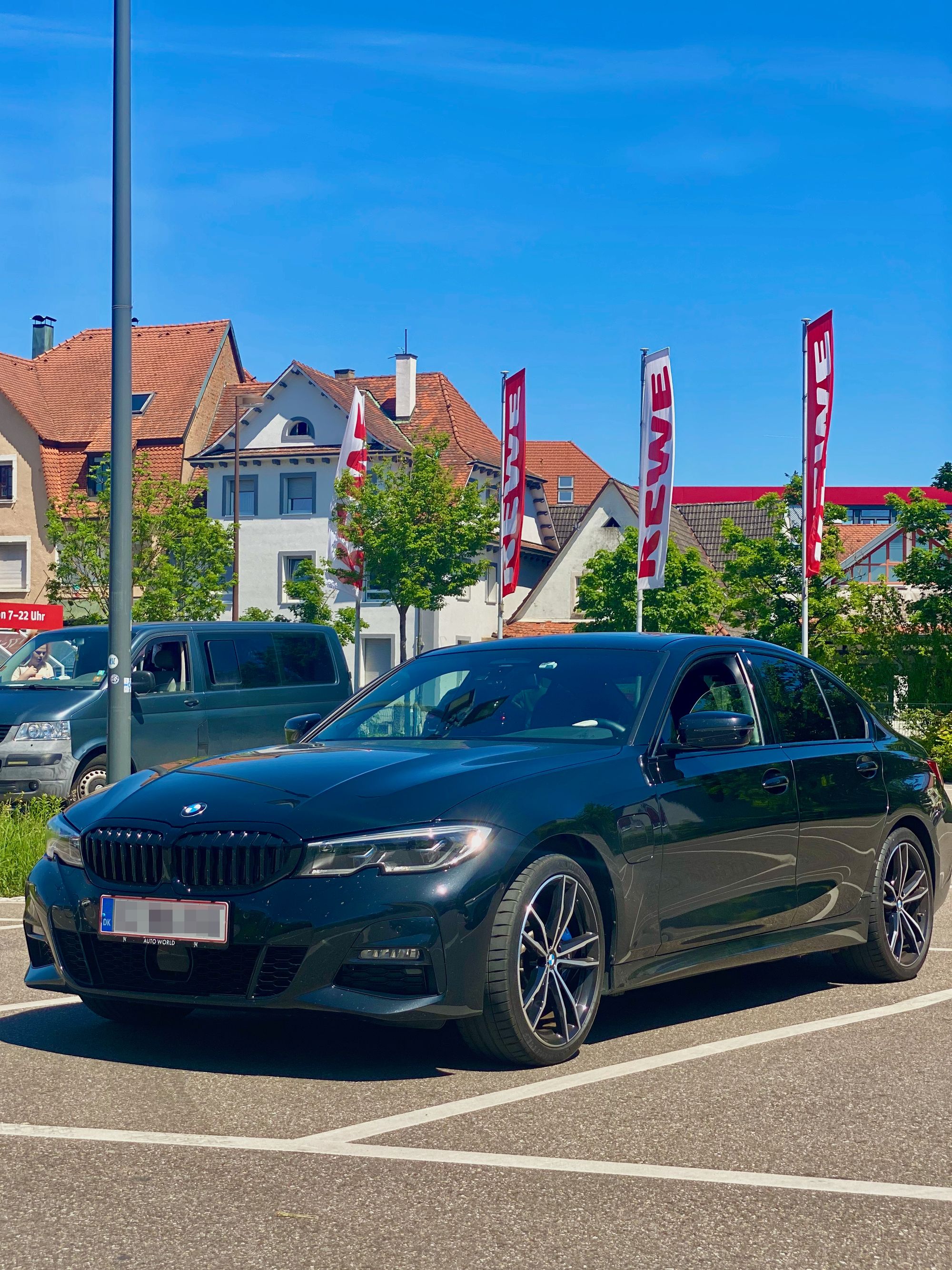 ---
Driving in Germany
👉
Click here
if you want to go directly to our itinerary in Switzerland.
Before continuing with Switzerland I want to talk a bit about driving though Germany.
Travel from Denmark by car in any direction but North and you will most likely need to drive through Germany. It's also centrally located, so chances are that even if you don't live in northern Europe you might need to traverse it to get somewhere.
If there's a country worth having as your neighbor for long road trips this is the one: there are no tolls on highways or bridges, no vignettes, it has great infrastructure with well maintained roads and many places to rest or refill your vehicle and on most highways there's no speed restriction.
People drive predictable, although you can encounter the odd reckless drivers once in a while.
It's a big country to traverse but it's also a beautiful one, especially once you pass Hamburg, the scenery becomes more interesting with valleys and small towns that you can appreciate even from the highway.
The derestricted areas (no speed limit) can be intimidating but most of the risk comes from overtaking - do it quickly but with care and you will be just fine.
Getting flashed at while overtaking by someone in a hurry is something that happened to me and to others I know - as I mentioned, you will always find some idiot in a hurry.
Since I received my driver license a year and some months ago I drove through Germany 8 times (both ways) and you definitely adjust to the speed.
If in our first road trip to Hamburg I stayed at 130 Km/h or below, on the last occasion (also Hamburg funnily enough) I was comfortable with 150-170 Km/h and I don't have any interest in going faster than this on long stretches.
Crossing from Denmark into Germany there is no border control (although in the other direction there is 🙄) and there's also no border control when getting into Switzerland.
If you're not familiar with the Schengen area, it includes 27 countries between which there is no border control, although you can be selected for a random check - happened to us last time we entered Denmark.
So to summarize, driving in Germany is pretty great and I'm happy to have it as a neighbour country to access the rest of Europe from.
---
Day 01: Arrival and Lake Thun
We reached Interlaken, our base in Switzerland for the next 5 days at around 17:00.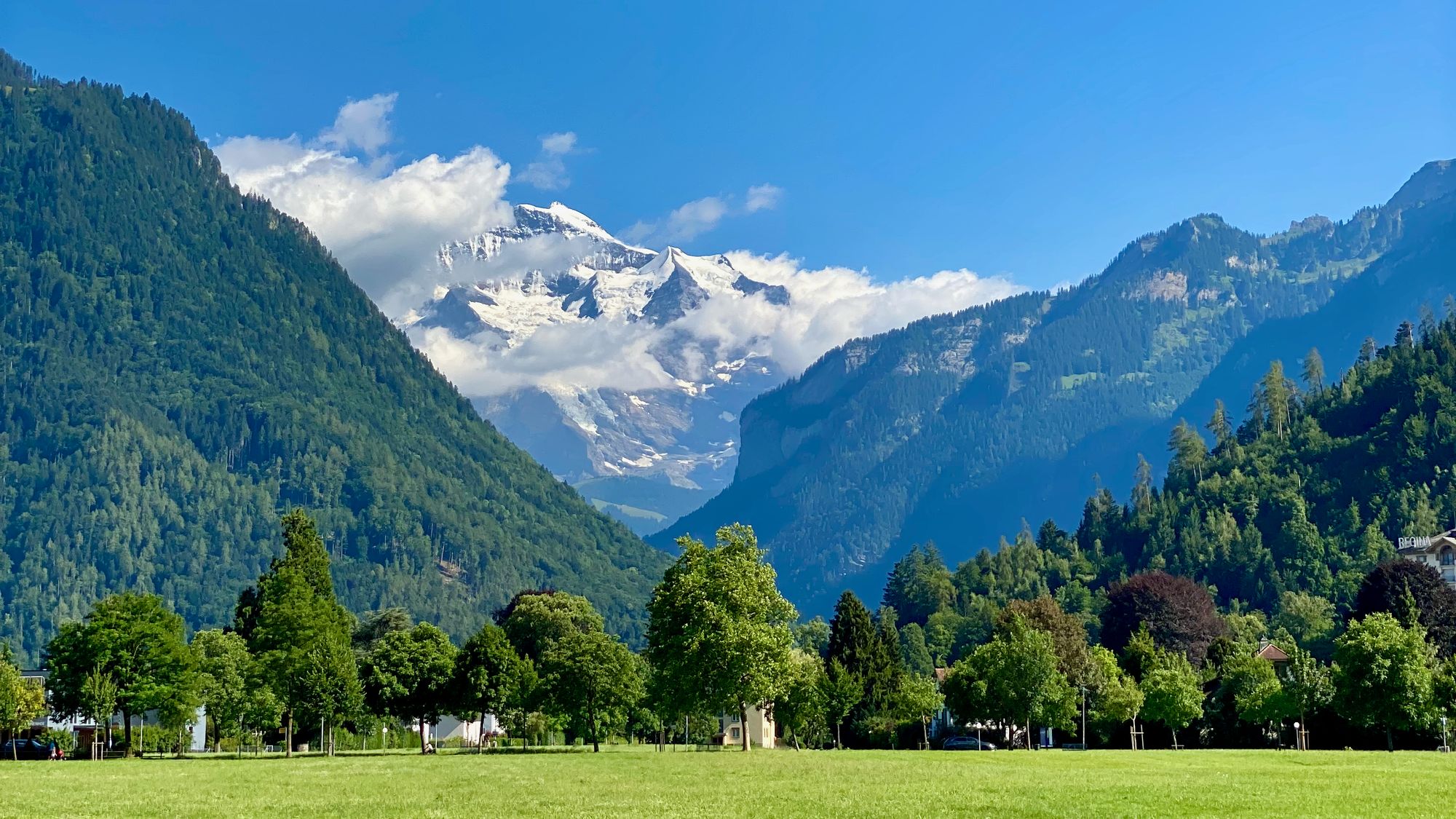 An interesting accommodation
The hotel we choose is called Zentrum Artos Interlaken, one of the few accommodations in the area offering parking space at a decent price.
As we entered the hotel we had a bit of a shock: in the lobby area there where only old and very old people, some in wheelchairs, some with medical devices attached to them.
We thought we're in the wrong place but it turns out the hotel area is collocated with a nursing home and there's quite a bit of mixing between the residents and the hotel guests - from what I understood encourage interaction.
It's an interesting idea for sure and a first for us 😅
The hotel overall is fine, good location on a quiet street, the room is large with a balcony, simple but functional design. It also has easy car access to the covered parking garage.
Not the most exciting hotel but afterall we didn't came to Switzerland to stay inside.
The only thing was that breakfast was a bit too simple but other than that I think it's a good choice for someone traveling by car that wants accommodation in Interlaken.
The sun was still high in the sky so we decided to take a stroll around the town.
The town of Interlaken
Interlaken is a small town located in the Bernese Oberland region of Switzerland. It is situated between two beautiful lakes, Lake Thun and Lake Brienz, which offer stunning views of the surrounding mountains, including the famous Eiger, Mönch, and Jungfrau peaks.
The town itself has a charming, alpine feel, with traditional Swiss architecture, cozy restaurants, and boutique shops. It's a popular tourist destination, especially during the summer months when the weather is mild, and the outdoor activities are in full swing.
After walking the main street we reached the train station where we decided to take the train somewhere close as Interlaken was a bit too touristy / crowded for our taste.
👉
Interlaken, nestled in the Swiss Alps, offers a wide range of activities for outdoor enthusiasts and nature lovers alike:

• Start by taking in the breathtaking panoramic views of the surrounding mountains, including the iconic trio of the Eiger, Mönch, and Jungfrau.

• Engage in thrilling adventures such as paragliding, skydiving, or bungee jumping to experience the adrenaline rush amidst stunning landscapes.

• Explore the pristine lakes of Thun and Brienz, where you can enjoy boating, paddleboarding, or simply relaxing on the shores.

• Embark on scenic hikes through the beautiful Jungfrau region, discovering picturesque alpine meadows, cascading waterfalls, and charming villages.

• For those seeking a more tranquil experience, visit the Höhematte park in the center of town, where you can enjoy a picnic, play mini-golf, or simply take in the views.

With its natural beauty and exhilarating activities, Interlaken is a paradise for adventure seekers and a gateway to unforgettable Swiss alpine experiences.
---
The beautiful town of Spiez
We picked the town of Thun, placed at the edge of the lake with the same name, more specifically on the banks of the Aare river. It seemed like the best choice nearby for a more authentic swiss city.
The train runs along the lake, passing by beautiful towns set on the shore. At some point we made the call to get off at the next station and see how one of these villages looks like.
We ended up in beautiful Spiez 🤩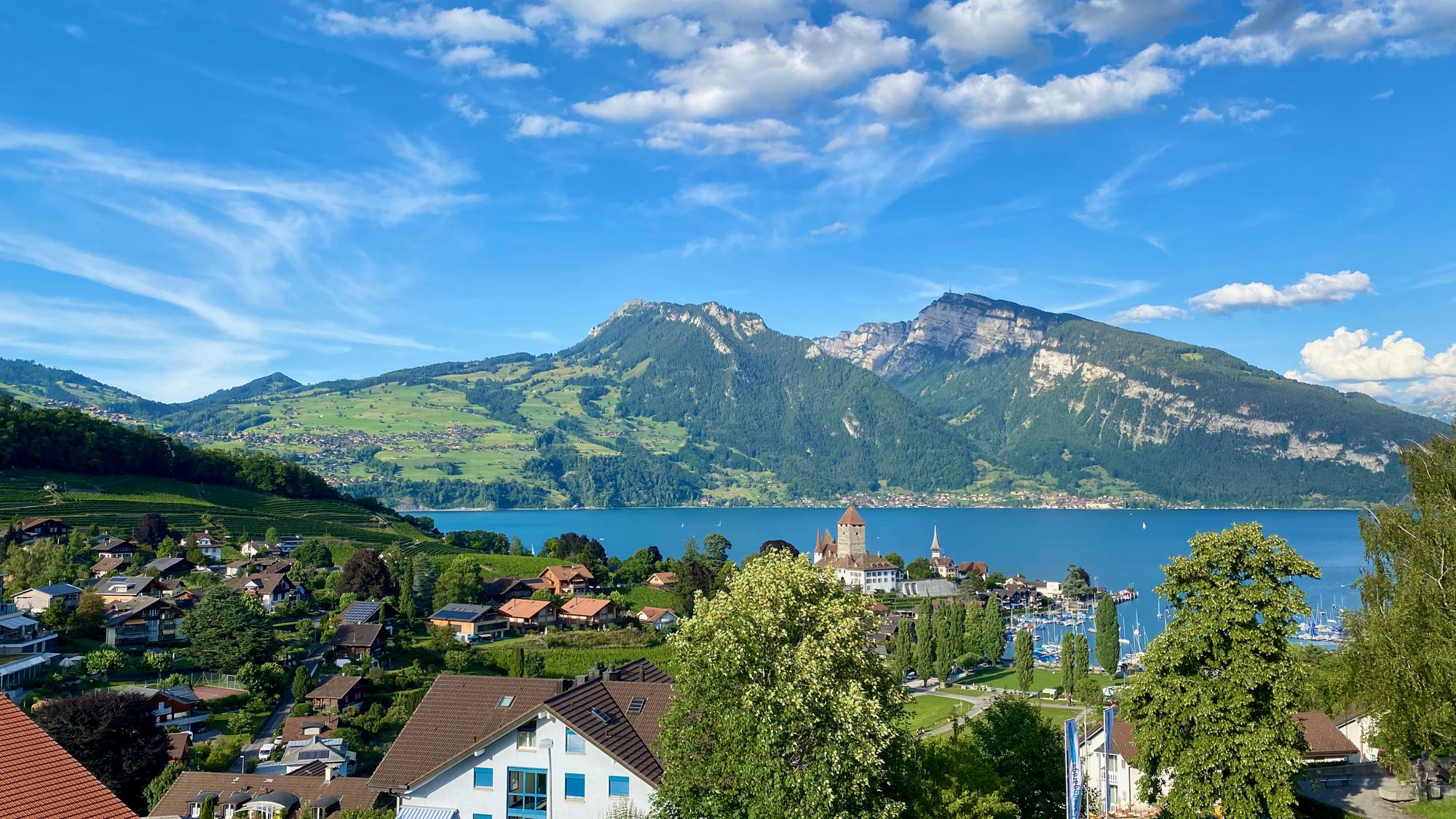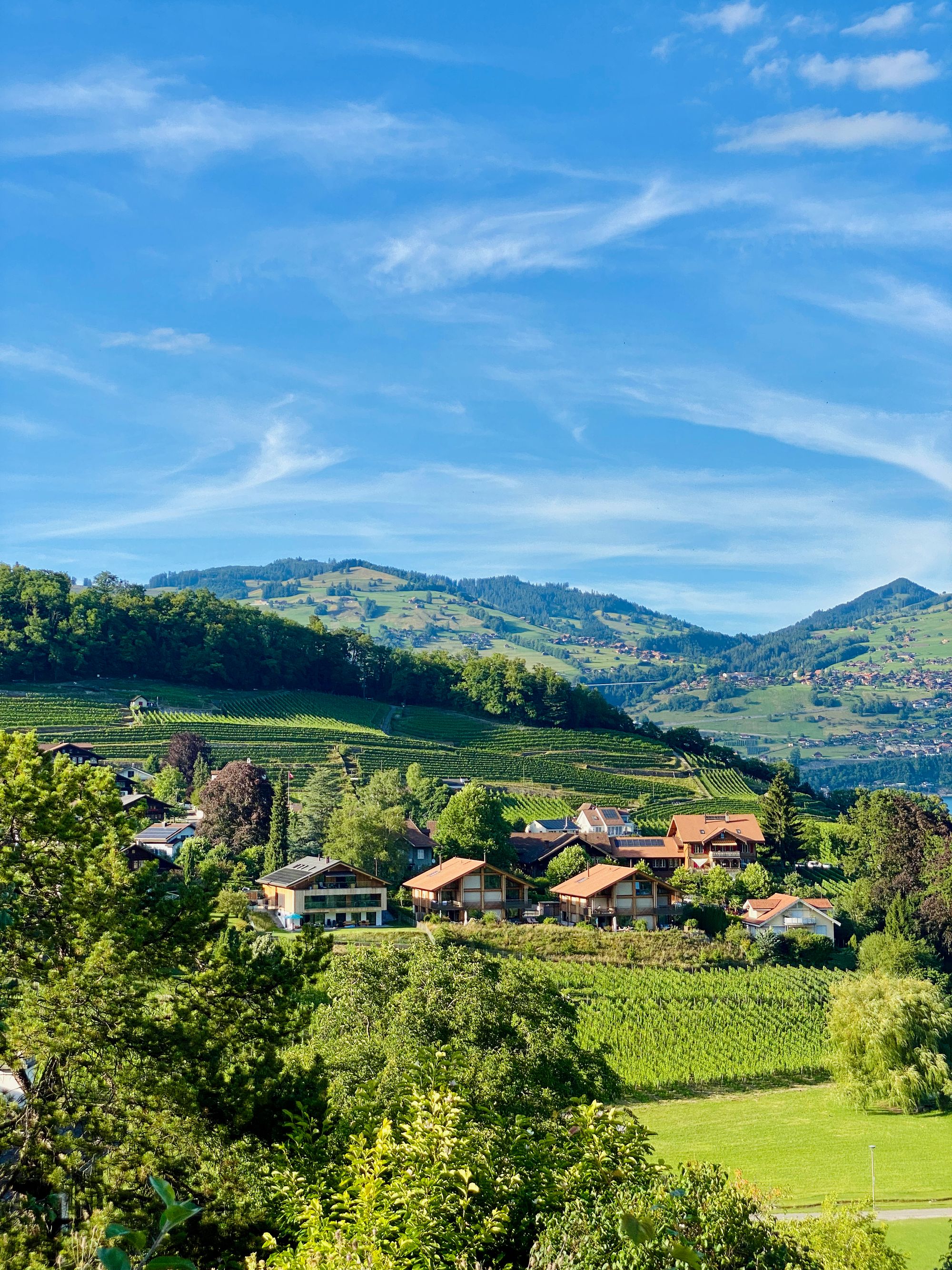 With its location on Lake Thun and surrounded by hills and vineyards, the town provides a picturesque backdrop for outdoor enthusiasts to enjoy activities such as swimming, boating, and hiking.
After a long day driving from Germany to Switzerland we just wanted to relax so we started walking along the promenade when we saw a ferryboat approaching the dock. We quickly bought tickets and hoped on: turns out it was heading towards the town of Thun, the original destination we wanted to reach by train, perfect! 👌
The views from the boat where amazing and picture really don't do justice. Switzerland is such a picture perfect destination.
A first for us, the ferry has two classes, with quite a big difference in price. We decided to have a glass of wine - yes off course swiss ferries serve wine - rather than staying in first class and it was a great companion for the tranquil traversal of the lake.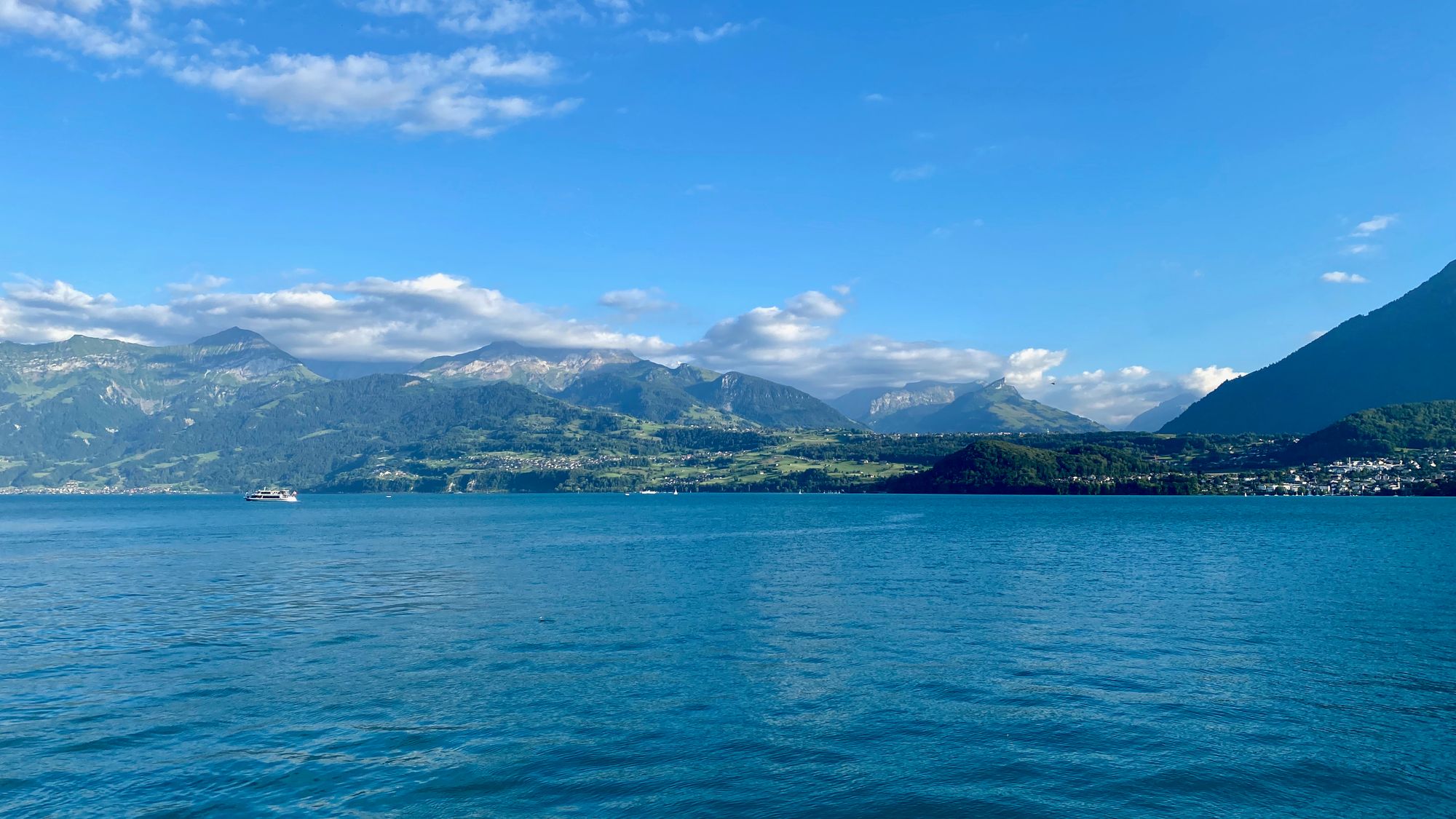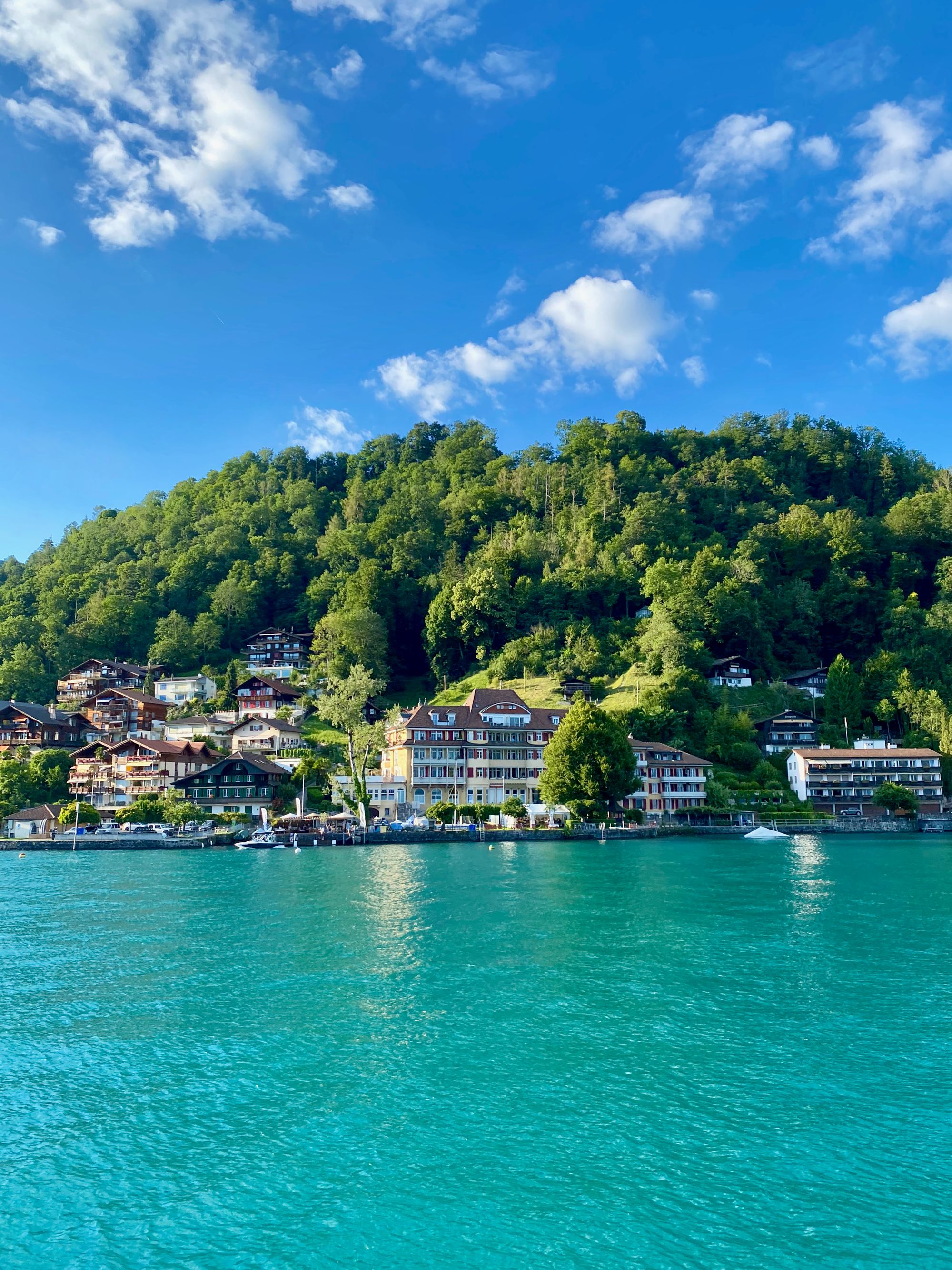 👉
Spiez, located on the shores of Lake Thun in Switzerland, offers a charming blend of natural beauty and historical attractions:

• Explore Spiez Castle, a medieval fortress perched on a hill, which houses a museum showcasing the region's history and provides panoramic views of the lake and surrounding mountains.

• Take a leisurely stroll along the lakeside promenade, enjoying the picturesque scenery and the opportunity for swimming or boating in the crystal-clear waters.

• Visit the Spiez Vineyards, known for producing excellent local wines, and indulge in wine tasting sessions amidst the scenic vineyards.

• Don't miss the chance to sample Swiss cuisine at one of the cozy lakeside restaurants, offering delicious regional specialties.

• With its idyllic lake views, historic charm, and opportunities for relaxation and outdoor activities, Spiez offers a memorable experience for visitors seeking a tranquil and picturesque Swiss destination.
---
The town of Thun
We reached the town of Thun fast, a bit too fast for how beautiful and relaxing it was so in a few day we will return to do a longer cruise around the lake.
Thun is interesting with a rich history that dates back to the Roman times. The historic old town, with its cobbled streets, traditional architecture, and well-preserved buildings, offers visitors a glimpse into the past.
We barely seen anyone on the streets until we reached a square which was packed both with people and with restaurants! The entire population must have been there 😅
We eat some delicious thai food for dinner after which we took the train back to Interlaken.
It was a busy first day in Switzerland and a very beautiful one.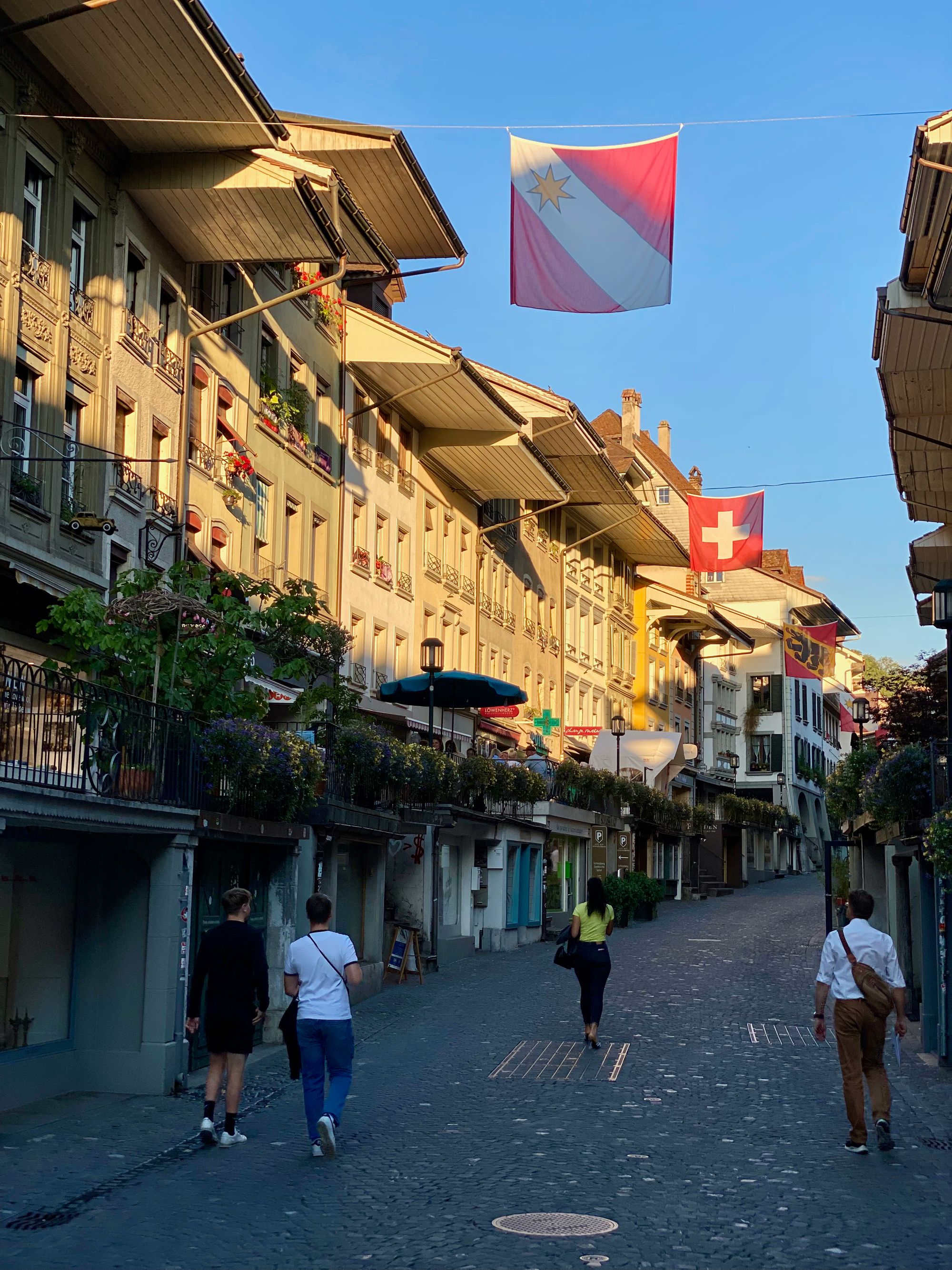 👉
Thun, located on the shores of Lake Thun in Switzerland, offers a delightful array of activities and attractions to explore:

• Start by visiting Thun Castle, an impressive medieval fortress that overlooks the town and offers stunning views of the lake and surrounding mountains.

• Take a leisurely stroll along the charming old town streets, lined with historic buildings, quaint shops, and inviting cafes.

• Enjoy a boat cruise on Lake Thun, where you can admire the scenic landscapes and visit nearby villages.

• Explore the Thun Panorama, a circular painting depicting the town and its surroundings in the 19th century, providing a unique glimpse into its history.

• Take advantage of the natural beauty by going for a swim or enjoying water sports on the lake.

• Savor Swiss culinary delights at the local restaurants, including cheese fondue and chocolate treats.

With its blend of history, natural beauty, and cultural experiences, Thun offers a memorable destination for visitors seeking a quintessential Swiss experience.
---
Day 02: Top Of Europe Jungfraujoch. Worth It?
The next morning we woke up early to reach the so called Top of Europe - Jungfraujoch, regarded as on of the main attractions of the area.
It is Europe's highest train station and post office (and apparently Lindt chocolate store 🙄).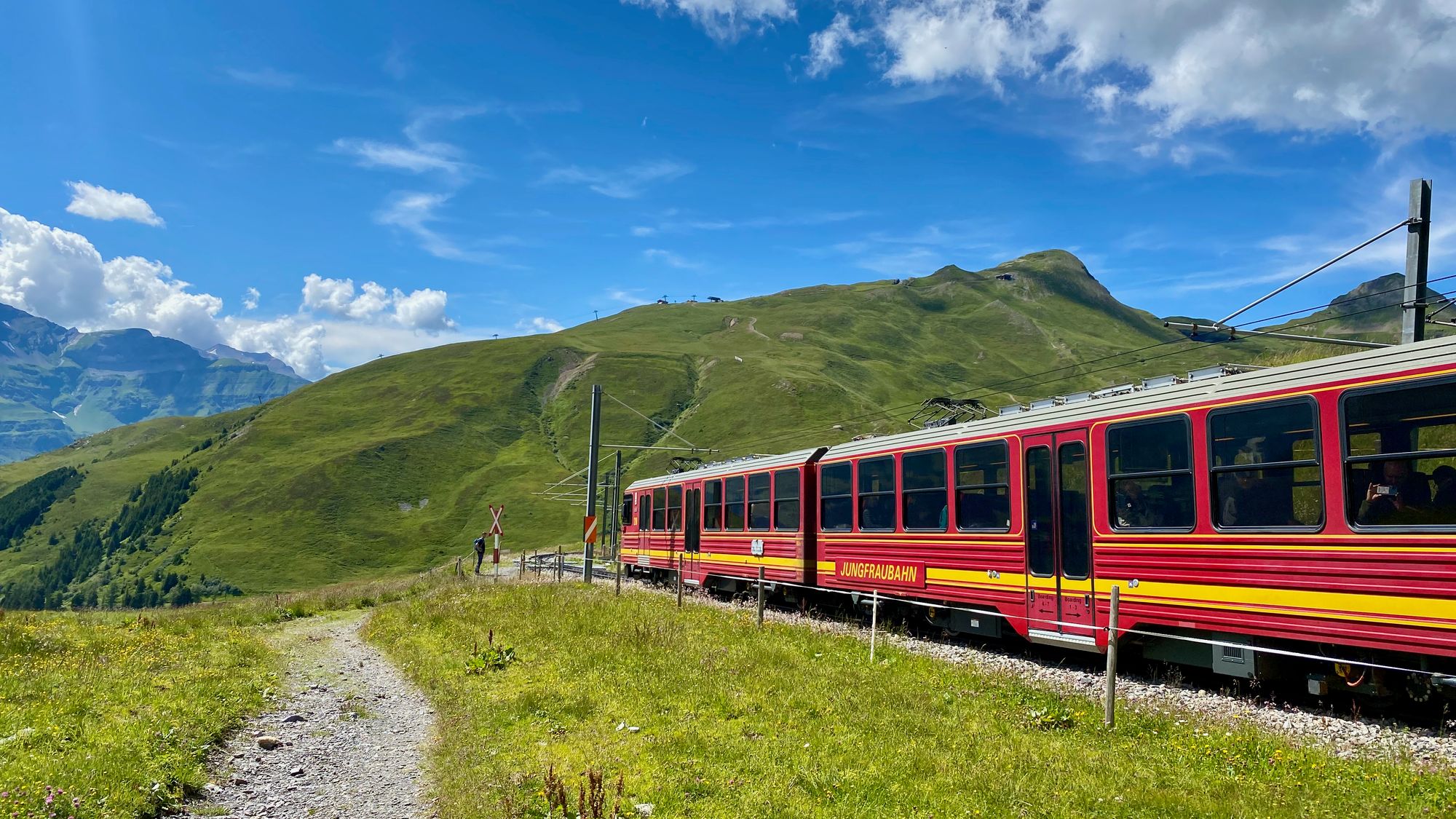 I mentioned before that living in Denmark, we don't often find places that are more expensive but Switzerland is certainly one of those exceptions.
The ticket from Interlaken to Jungfraujoch: Top of Europe, for one person costs 245.80 CHF / 250 EURO / 274 USD / 1858 DKK - so not exactly cheap.
You can configure the ticket in a number of ways on their website and we chose the following:
Regular train from Interlaken Ost to Lauterbrunnen.
Cogwheel train from Lauterbrunnen to Kleine Scheidegg (you can choose gondola instead which is faster).
Cogwheel train from Kleine Scheidegg to Jungfraujoch (this is the only way to reach the top).
On the way back:
Cogwheel train from Jungfraujoch to Eigergletscher instead of Kleine Scheidegg (one stop earlier).
Eiger Express Gondola from Eigergletscher to Grindelwald Terminal.
Regular train from Grindelwald to Interlaken Ost.
The cog wheel train from Lauterbrunnen to Kleine Scheidegg is quite scenic overlooking the valley with its waterfalls - for best views sit on the right side.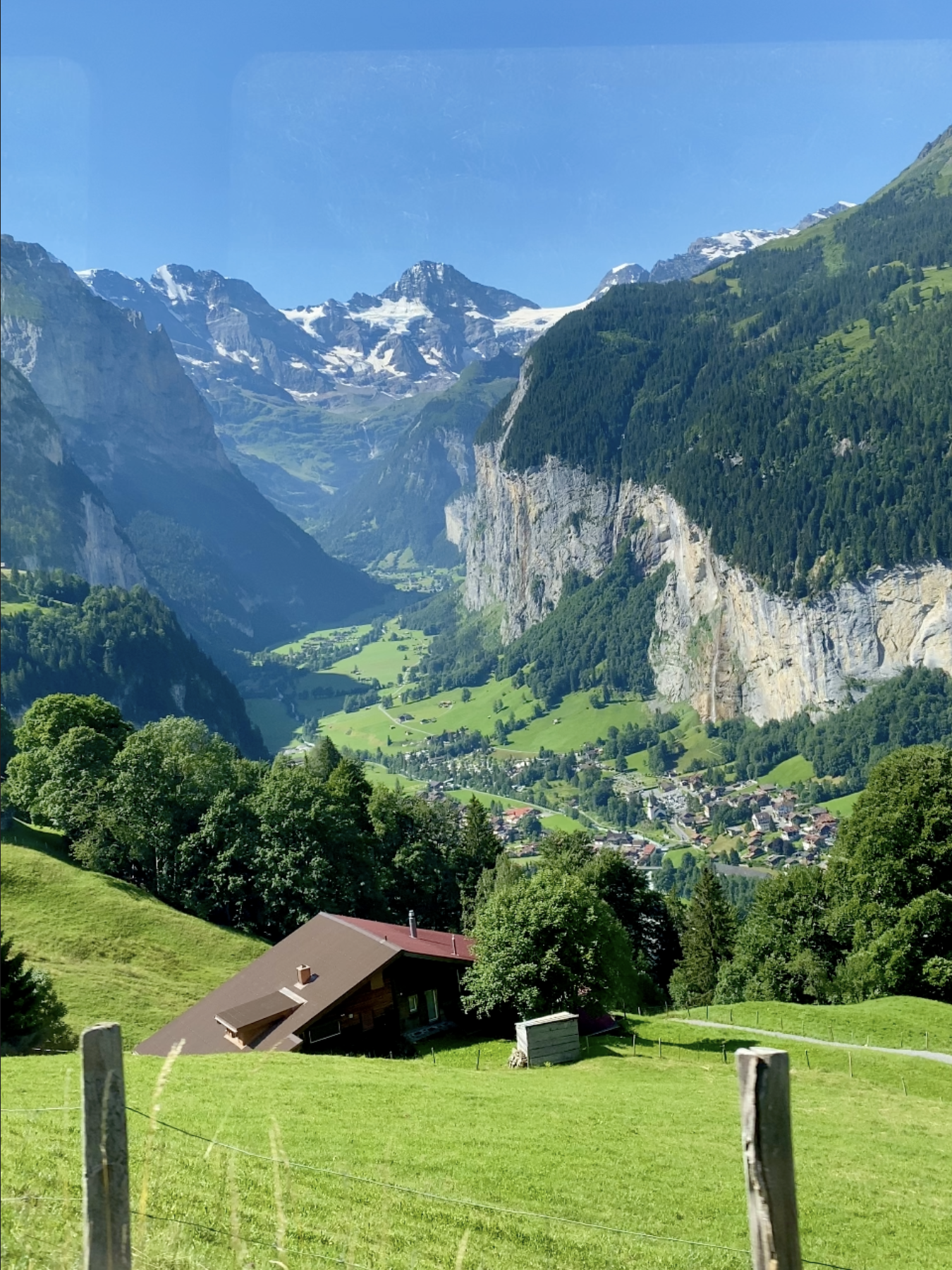 Kleine Scheidegg
Kleine Scheidegg is a good place to take a stroll around before continuing the journey to Jungfraujoch.
There are a few hotels, restaurants and shops around the station and it has great views (when there are no clouds) over the famous trio of the region: the mountain of Eiger, Mönch and Jungfrau, known also as the Ogre, the Monk and the Virgin (although with the exception of the last, the translations are not literal).
I'll come back to Kleine Scheidegg on our way down, but for now let's continue to the Top of Europe.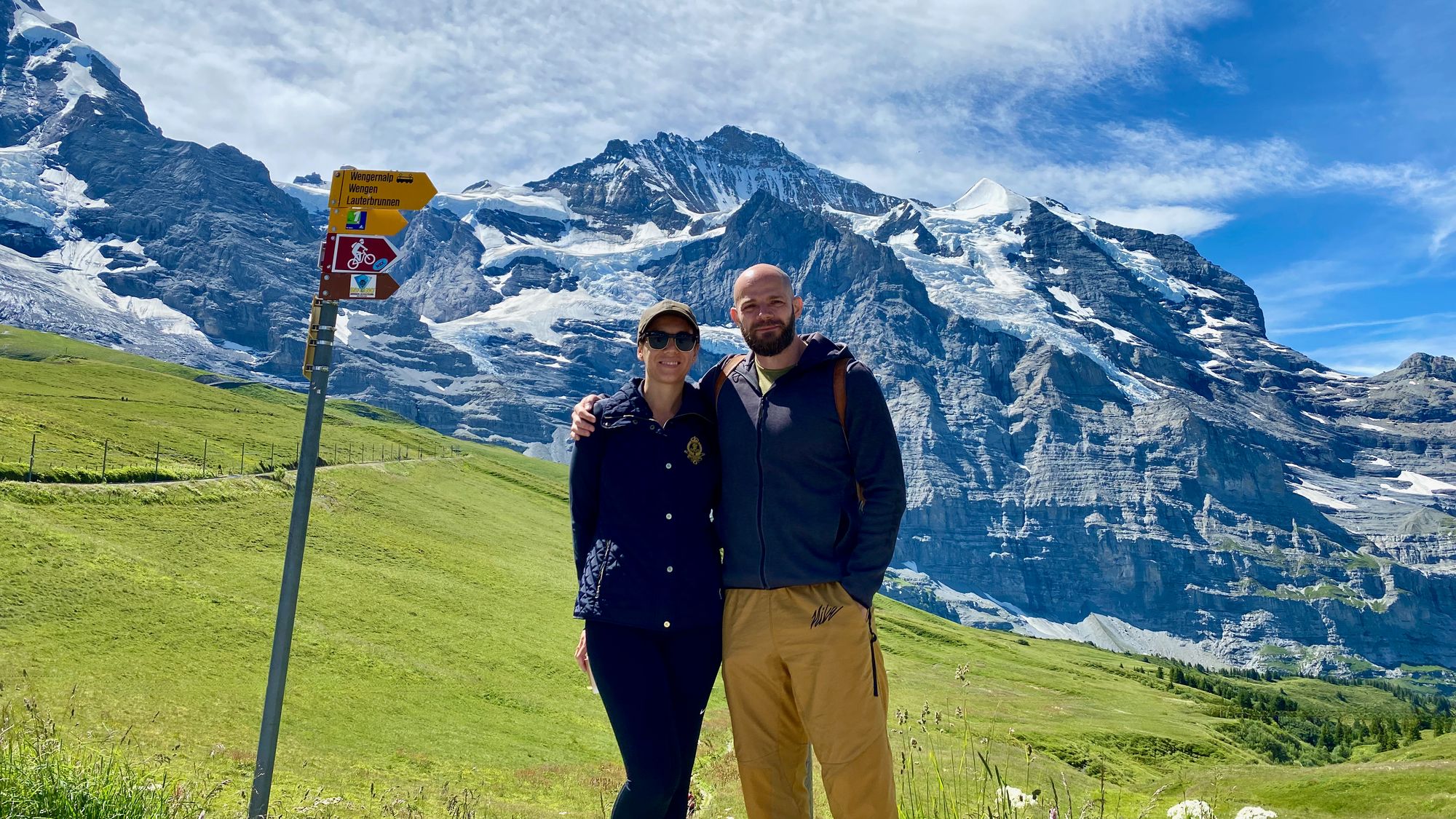 Final ascent
The final part of the journey involves another cog wheel train from Kleine Scheidegg to Jungfraujoch, taking about 50 minutes to reach the end.
This part runs mostly through the infamous north face of the Eiger so there's not that much to see out the window. However, as you are safely and comfortably carried up to 3,454 m / 11,332 ft you cannot help but take a moment to think about all the effort and sacrifice that went into building this railway more than 100 years ago.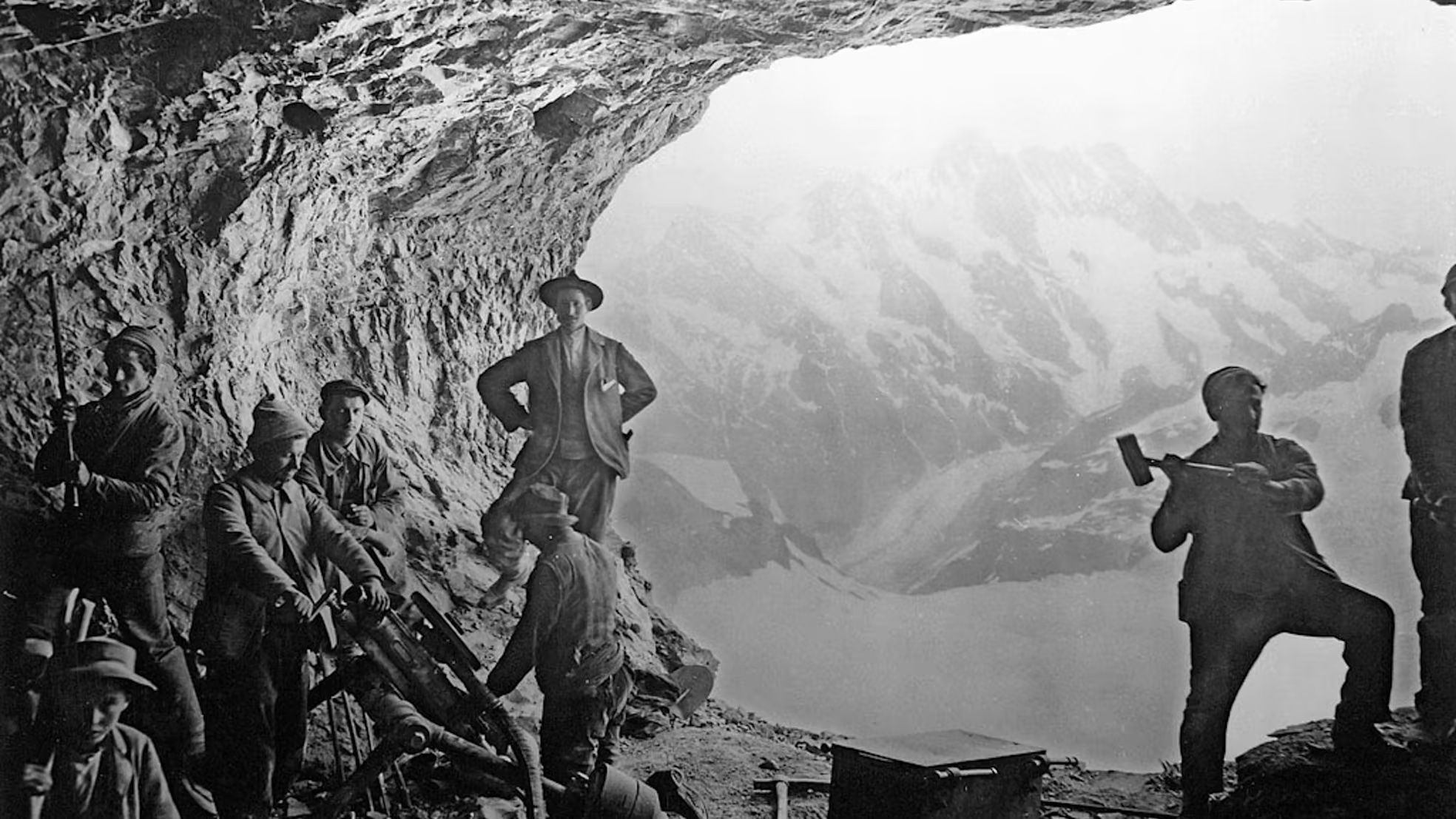 The vision of attempting something this darring, the engineering know-how to plan it and maybe most important, the physical and mental strength of those who risked their lives to make it into a reality that you can now enjoy - what an achievement 👏
I encourage you to read more about the construction of this tunnel, I found it interesting.
There is a 5 minutes stop along the way at the Eismeer railway station (3,158 m / 10,360 ft), located behind the south-east face of the Eiger. Here you can go down and observe the glacier Ischmeer (translating to Ice Sea).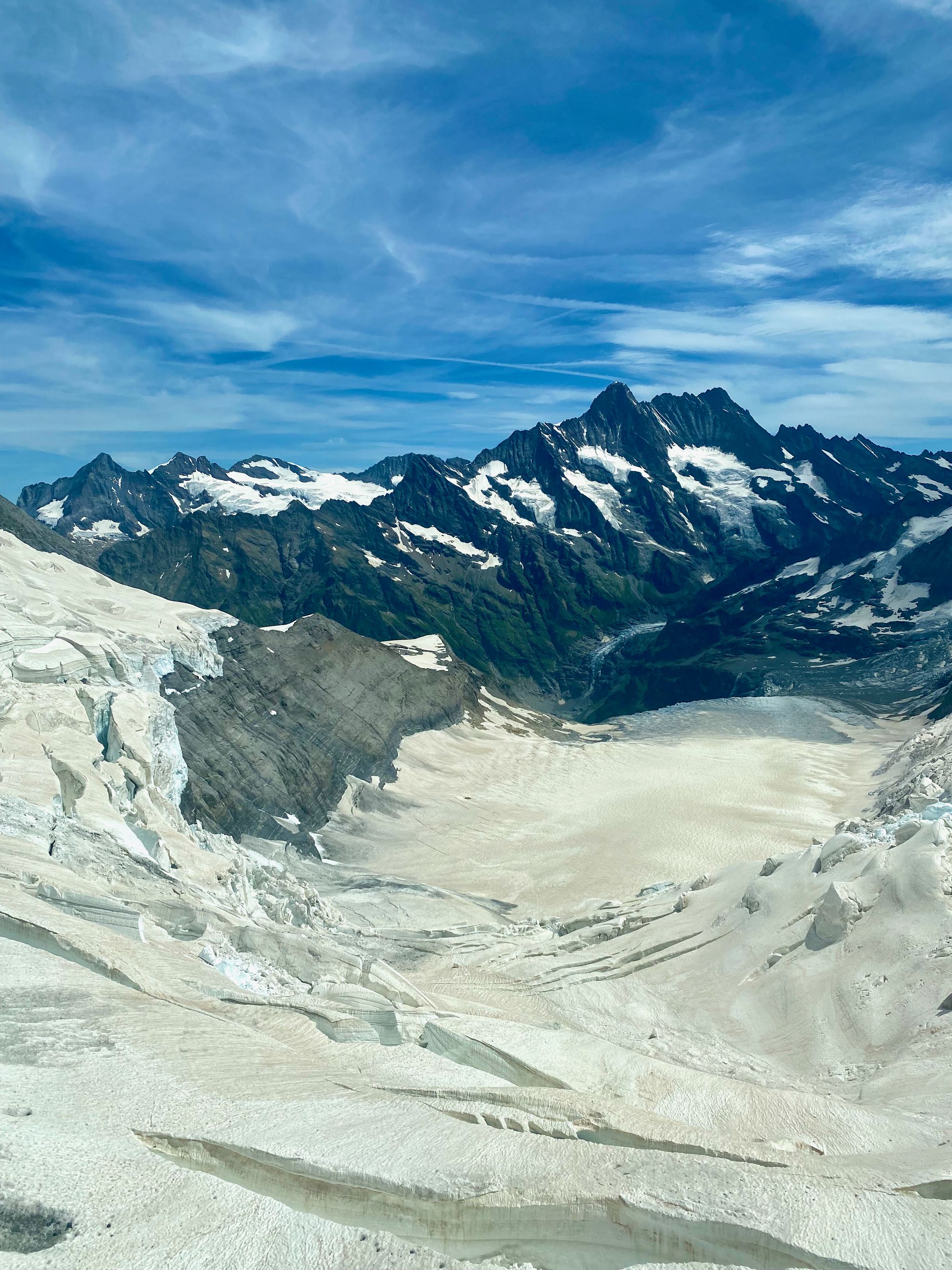 Jungfraujoch, Top Of Europe
Finally we reached Jungfraujoch!
I didn't knew what to expect at the top but it wasn't a few restaurants (including an indian one), some shops and a few other very commercial experiences.
Or maybe I should have, afterall there isn't much else to do at this altitude (3,454 m / 11,332 ft) for the average folks.
Speaking of altitude, many people experience some acclimatization trouble from the altitude gained in such a short time. We both felt some light-headedness, nothing too bothersome, but it's something to keep in mind.
The train station is inside the mountain but you can go outside in a few different places, including at the top of the Sphinx Observatory which is a cool building on its own that offers great views of the surrounding.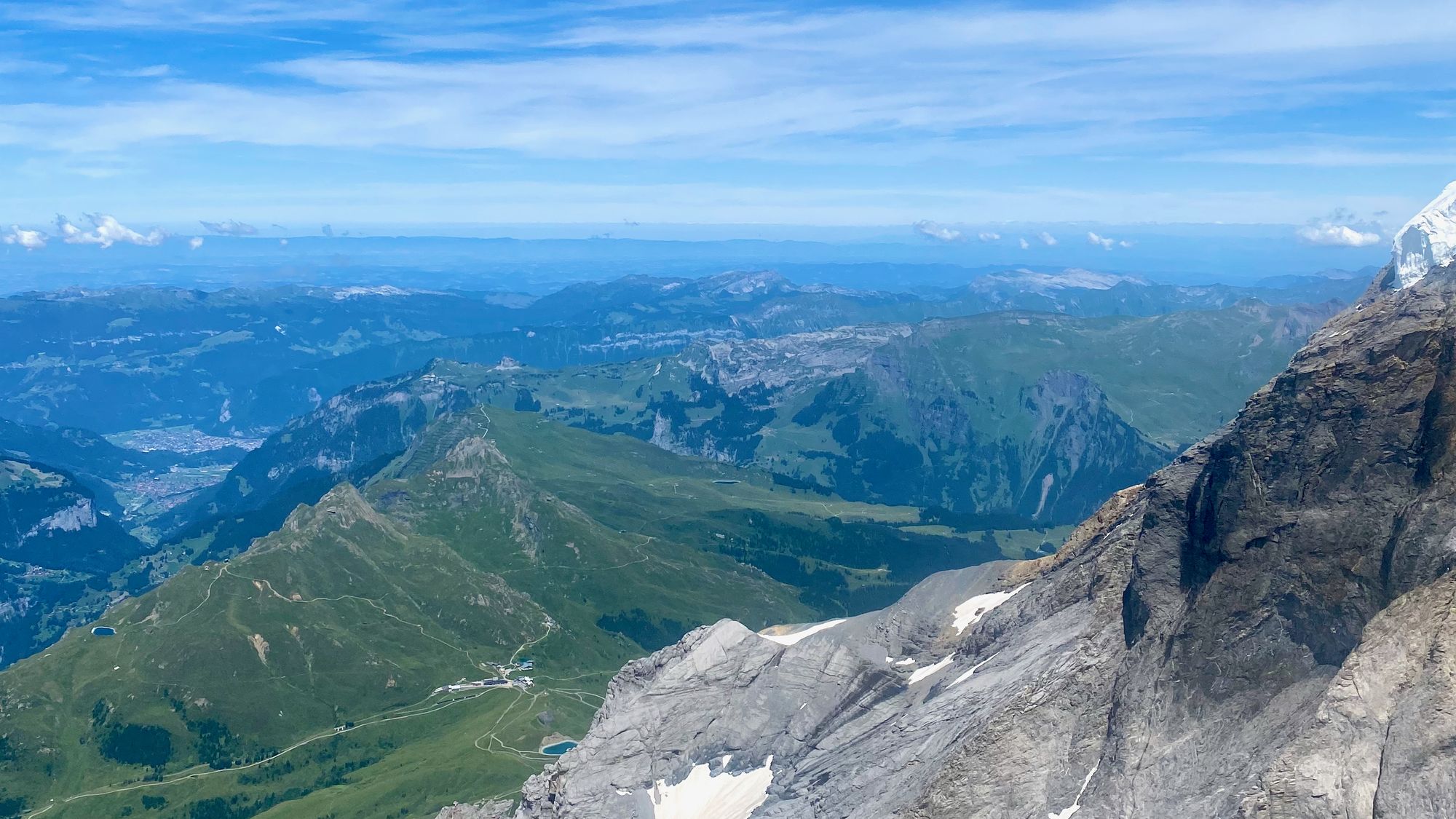 You can also go out on the plateau to experience the everlasting snow (for now at least) and watch the impressive Great Aletsch Glacier, the largest of the Alps, while sitting on a chair drinking some hot chocolate.
There are other activities outside like going on a helicopter ride (yes you can do that!) and a zip-line. We chose the hot chocolate ☺️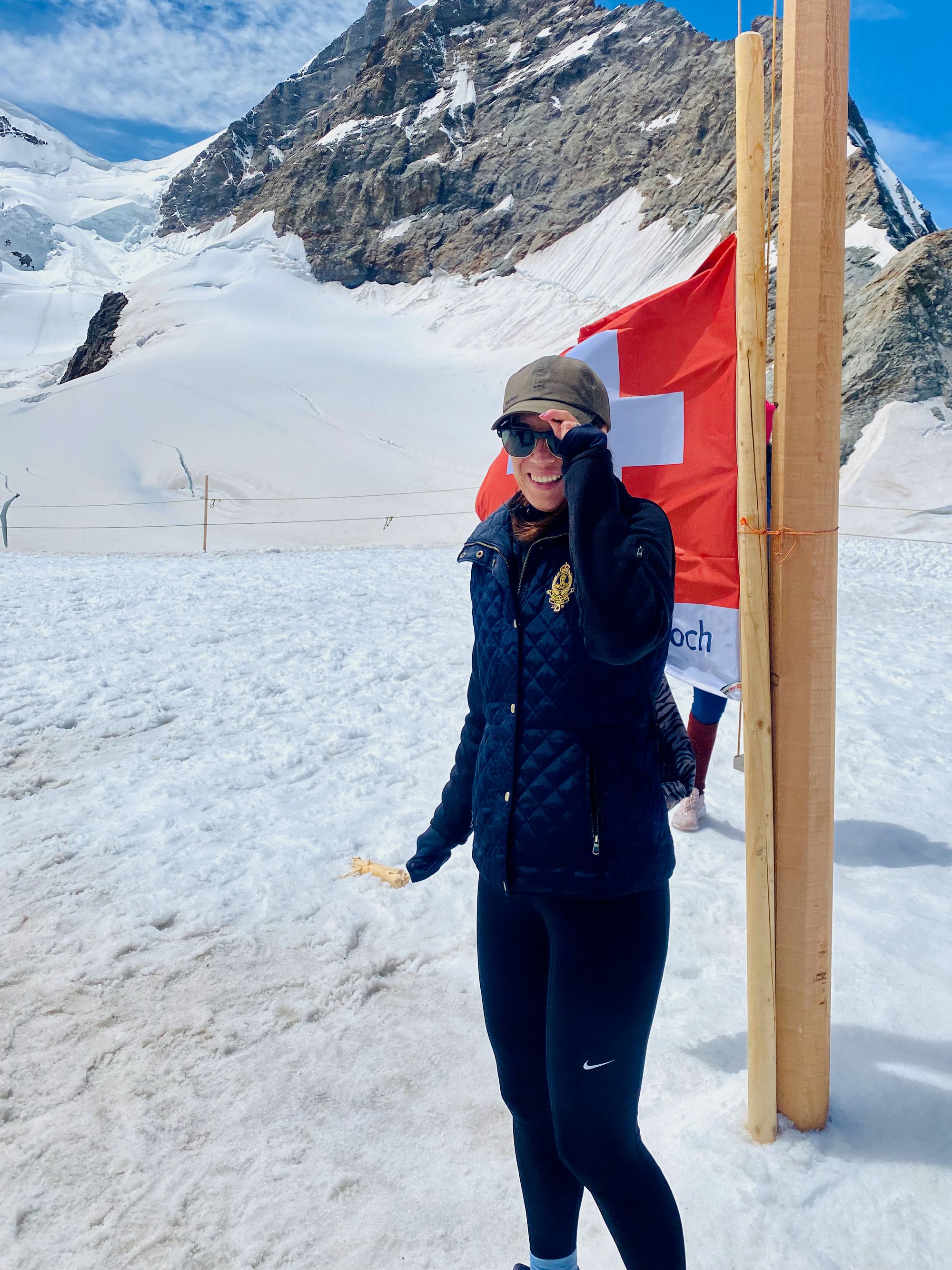 There's also the Ice Palace that can be fun and some other smaller experiences. Overall you'll find yourself walking a lot on long, narrow-ish corridors packed with people to reach different places.
After spending about 2 hours at the top we decided to leave Jungfraujoch. It was an interesting experience but way too commercialized for our taste. And while I understand the amount of effort that went in building something like this it does come with a steep price that I'm not sure is completely justified.
Overall I'm glad we went, if only because otherwise I'm sure we would have regret it, but I kind of wish that there was something else at the top.
💡
On the practicalities side I recommend bringing the following:

Sunglasses: there is always snow at the top and it reflects a lot of the light so make sure you bring sunglasses otherwise it will be difficult to keep your eyes open.

Sunblock: especially on sunny days, although UV can pass through clouds as well.

Layered clothing: this goes without saying but having layers that you can put on or take off will allow you be to comfortable both at the top and on the stops along the way, especially if you plan to hike part of the route, as we did.
---
A Hike That Nearly Defeated Us
On our way back we got off the cogwheel train at Eigergletscher (2,320 m / 7,610 ft), one station before Kleine Scheidegg (2,061 m / 6,762 ft), because our tickets included taking the new Eiger Express gondola down to Grindelwald.
However once there, surrounded by the beauty of the Swiss Alps, we just couldn't leave the mountains this fast, so instead we decided to do a short hike down to Kleine Scheidegg and from there continue to Grindelwald on foot.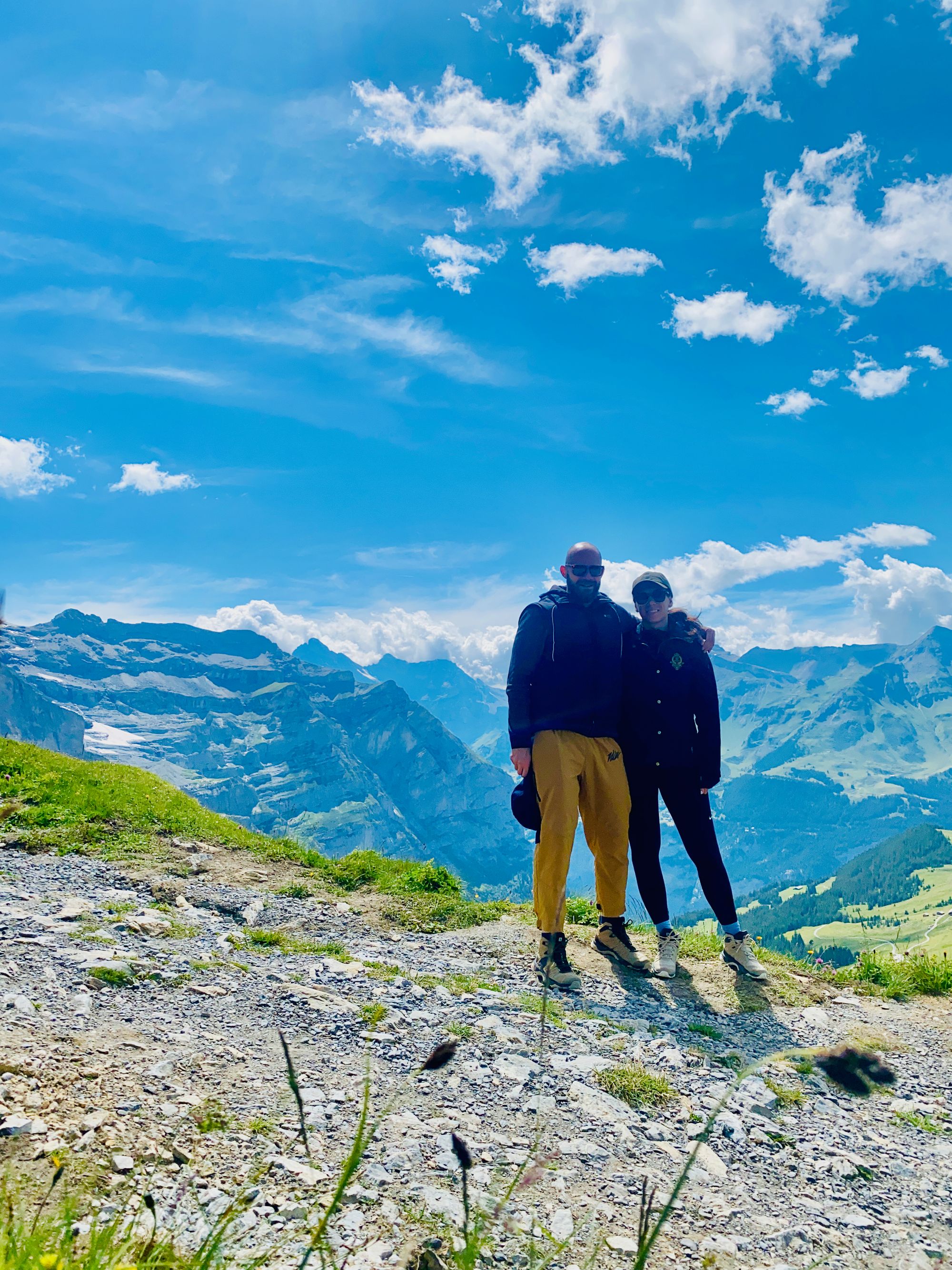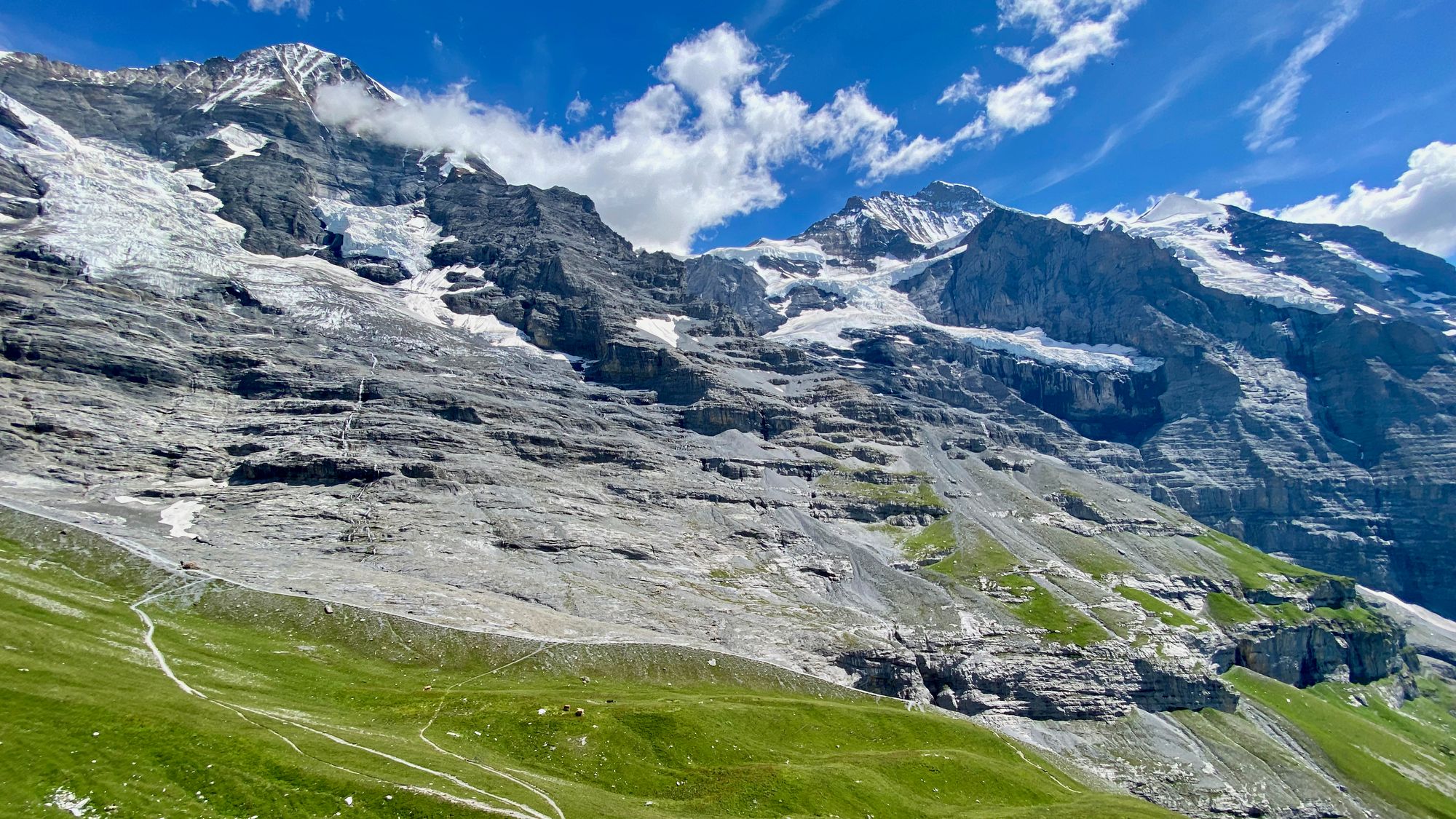 We arrived at Kleine Scheidegg around 16:00 and we were starving, as we haven't eaten anything yet except for breakfast.
There are a few places to eat in the area and we picked Restaurant Eigernordwand, a traditional chalet style place that offers amazing views over the infamous Eiger north face.
It also offers some delicious food. Switzerland is an expensive place to eat out, but every time we did it we had fantastic quality food with good sized portions and (almost always) great views.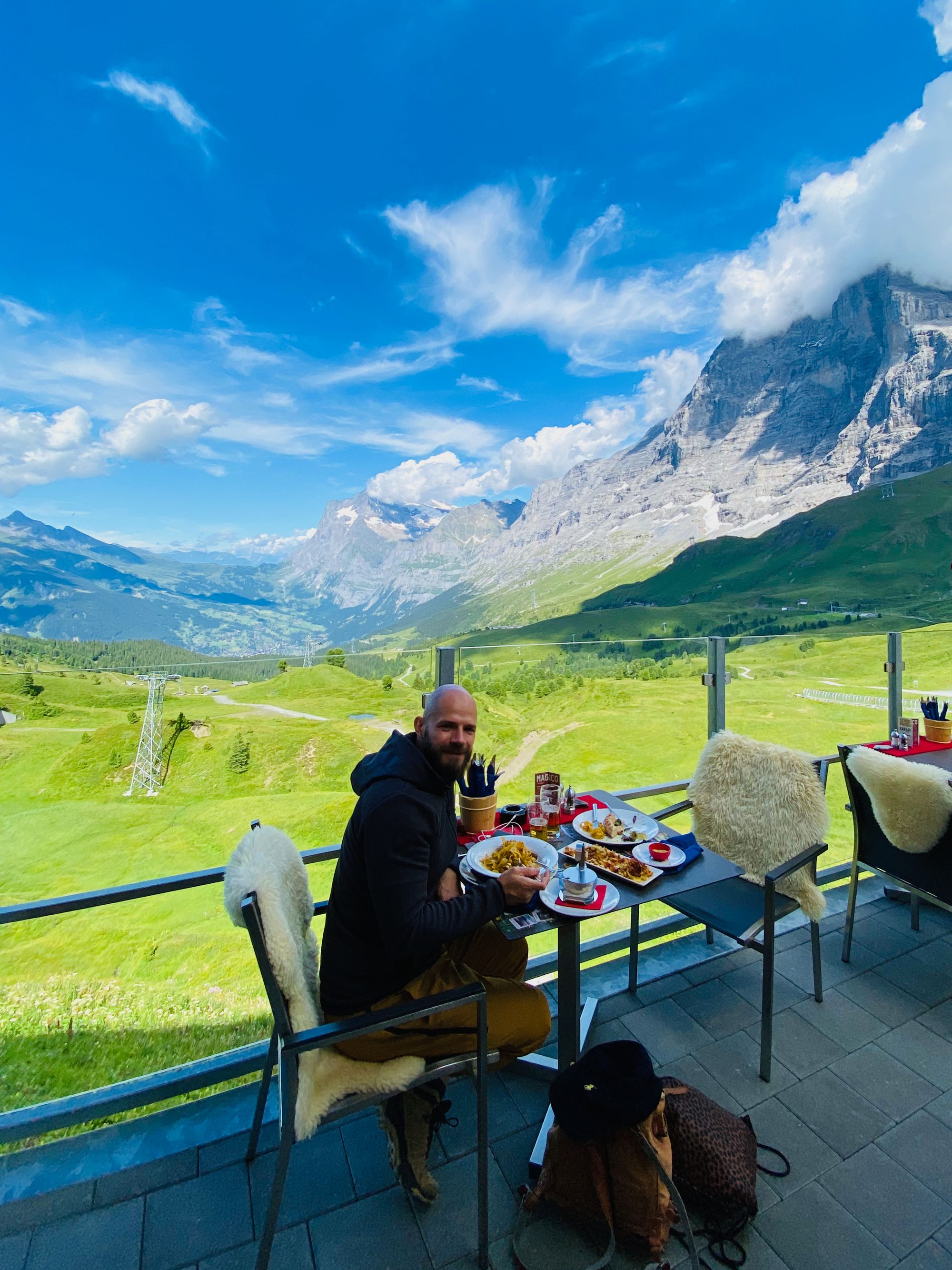 The time was little over 17:00, the sun high up in the sky and so, with our energy restored we decided to descend towards Grindelwald.
We started following a trail that said something between 3 and 4 hours until the destination, I can't remember exactly the number.
I also found a trail on alltrails.com that was over 6 hours (but it was ascending rather then descending) and it was marked as challenging. The plan being that if it gets too much we can take the cog wheel train from one of the intermediary stops along the descent.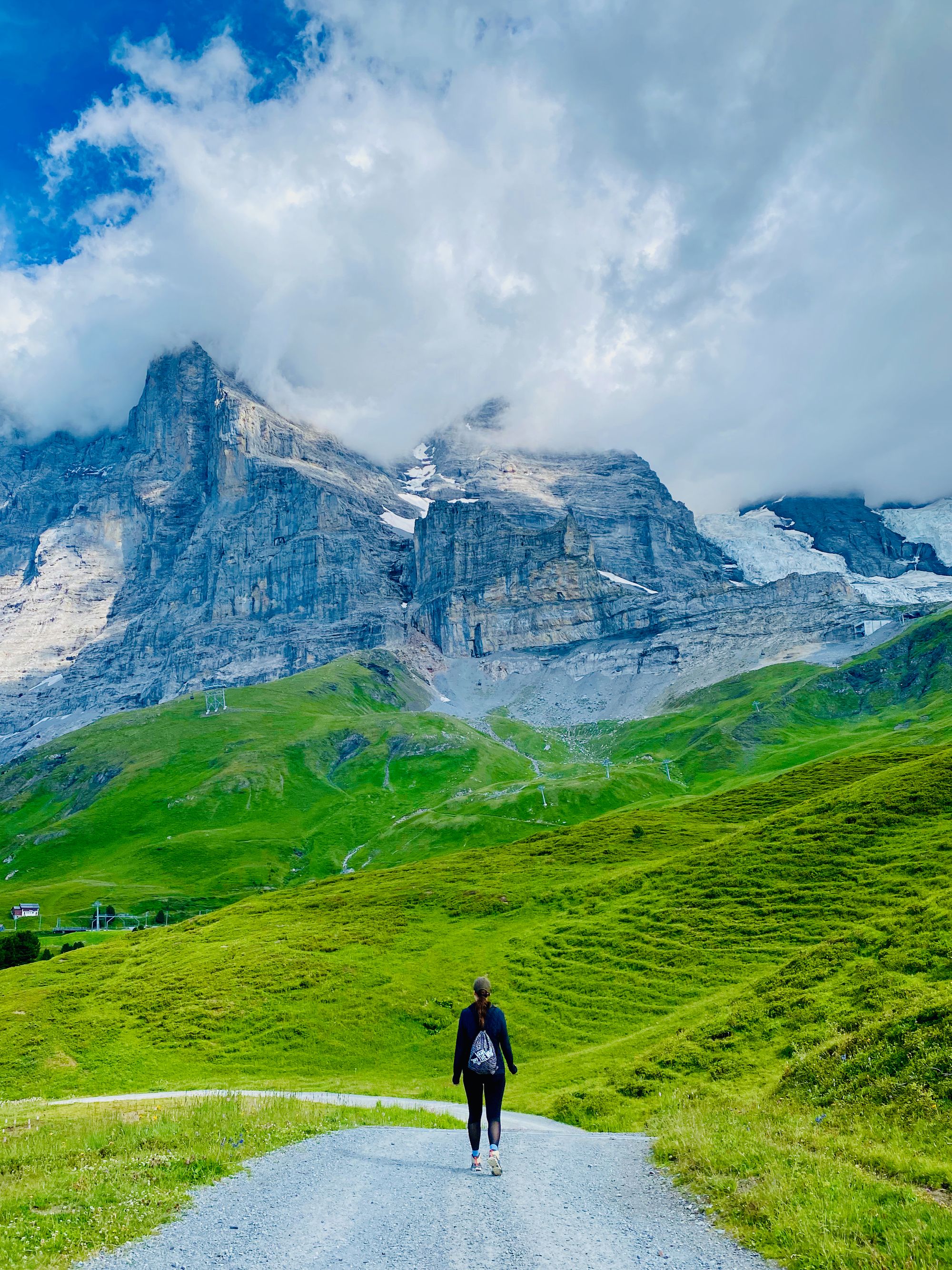 At some point we managed to both lose the markings and go off the maps from alltrails.com trail so we were just moving on random paths going down 😅.
We also didn't saw anyone else on the trail which was both good and bad: good that we had it all for ourselves, bad because this is a very popular hiking area in the summer so we must have been pretty off the path to not see anyone else.
Didn't mattered, the views where gorgeous, the air fresh and the sun still shining.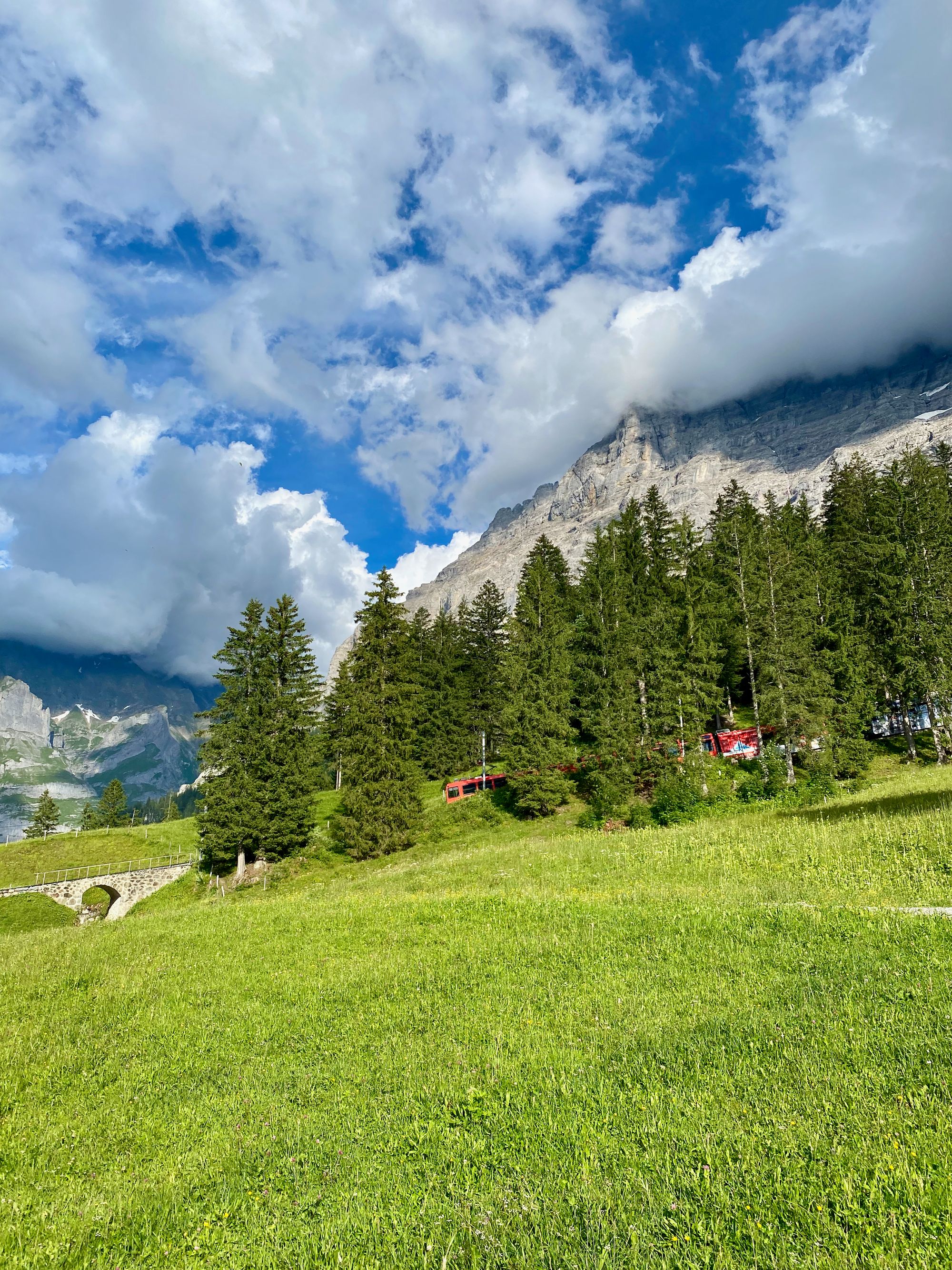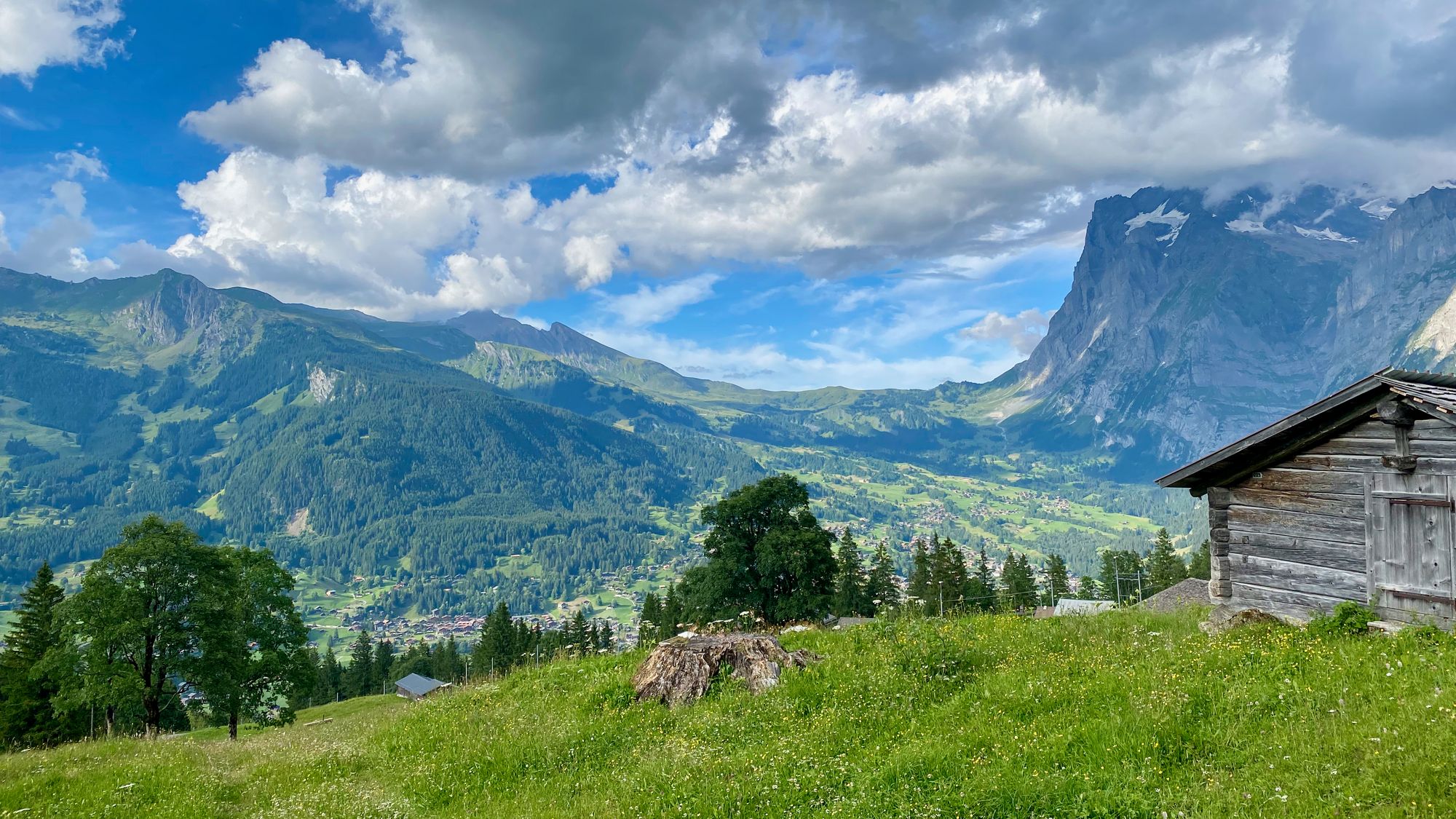 After an hour and a half of steep descent we began to have second thoughts about continuing like this. We approached Alpiglen which was our final chance to get the cogwheel train as the next one was the last for the day.
What to do: give up and take the train or push through and see how this goes?
We decided to keep going and I'm very happy we did. The descent got even worse and the views even better.
At around 20:00 we finally reached Grindelwald.
Almost 4 hours of hike and 13 Km / 8 Mi after we got off the train from Jungfraujoch at Eigergletscher. All in all we descended 1027 m / 3369 ft with no breaks except for lunch at Kleine Scheidegg and our legs were killing us.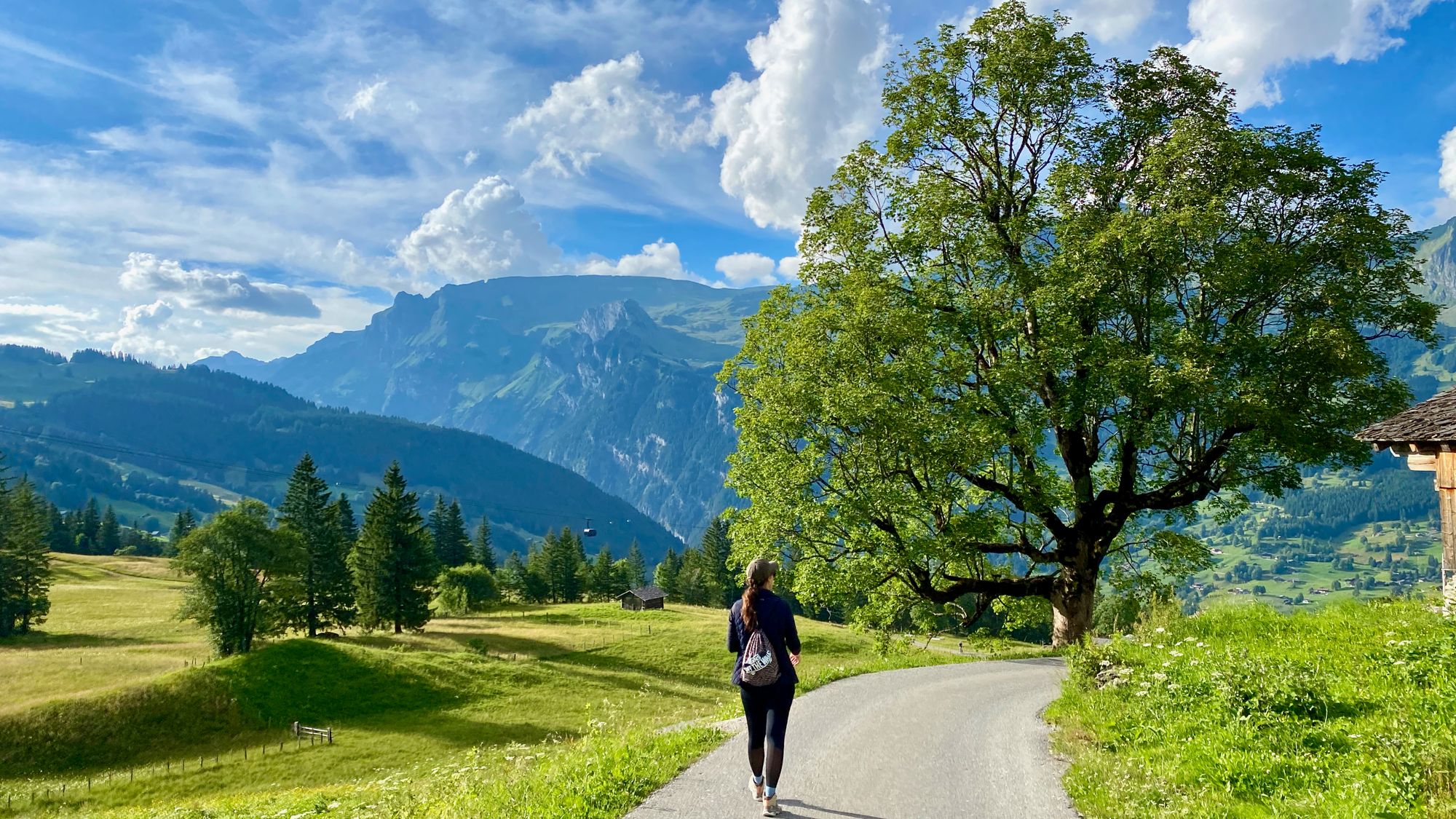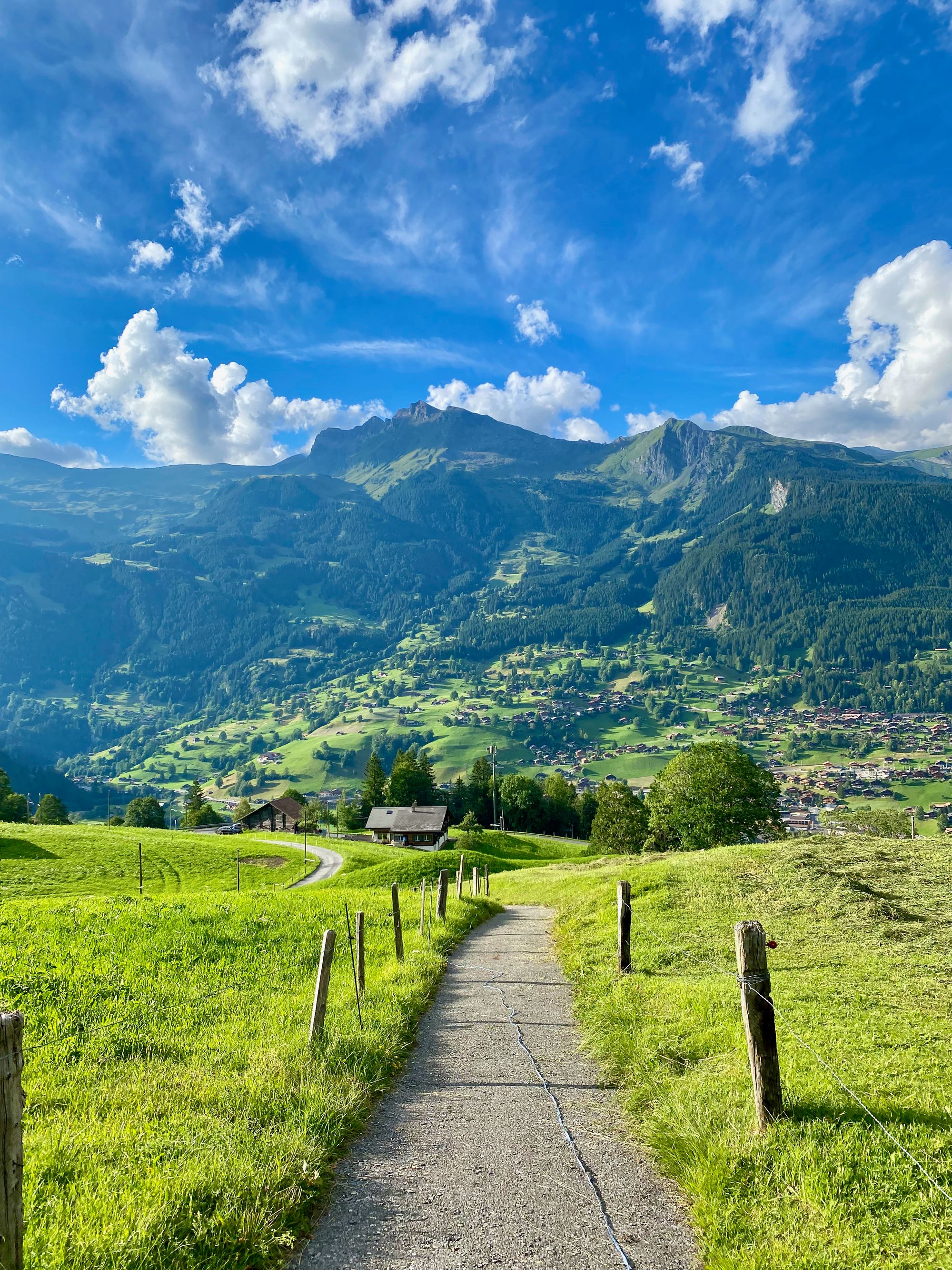 Still, this hike was by far the highlight of the day, not only because of the views it offered us but also because it was a challenge we managed to overcome.
The weather was also fantastic, mostly sunny, about 25 degrees and a light breeze, perfect for an outdoor activity.
😡
Something to be aware of in the summer are horseflies.
They seem to preffer sweathy people so if you cycle or hike there's a good chance of encountering one.
During this hike I got a nasty bite on my palm followed by quite a bit of swallowing. Eventually it passed but not a pleasant experience.
From Grindelwald we jumped into a train to Interlaken, ending the day with some takeaway in our hotel room.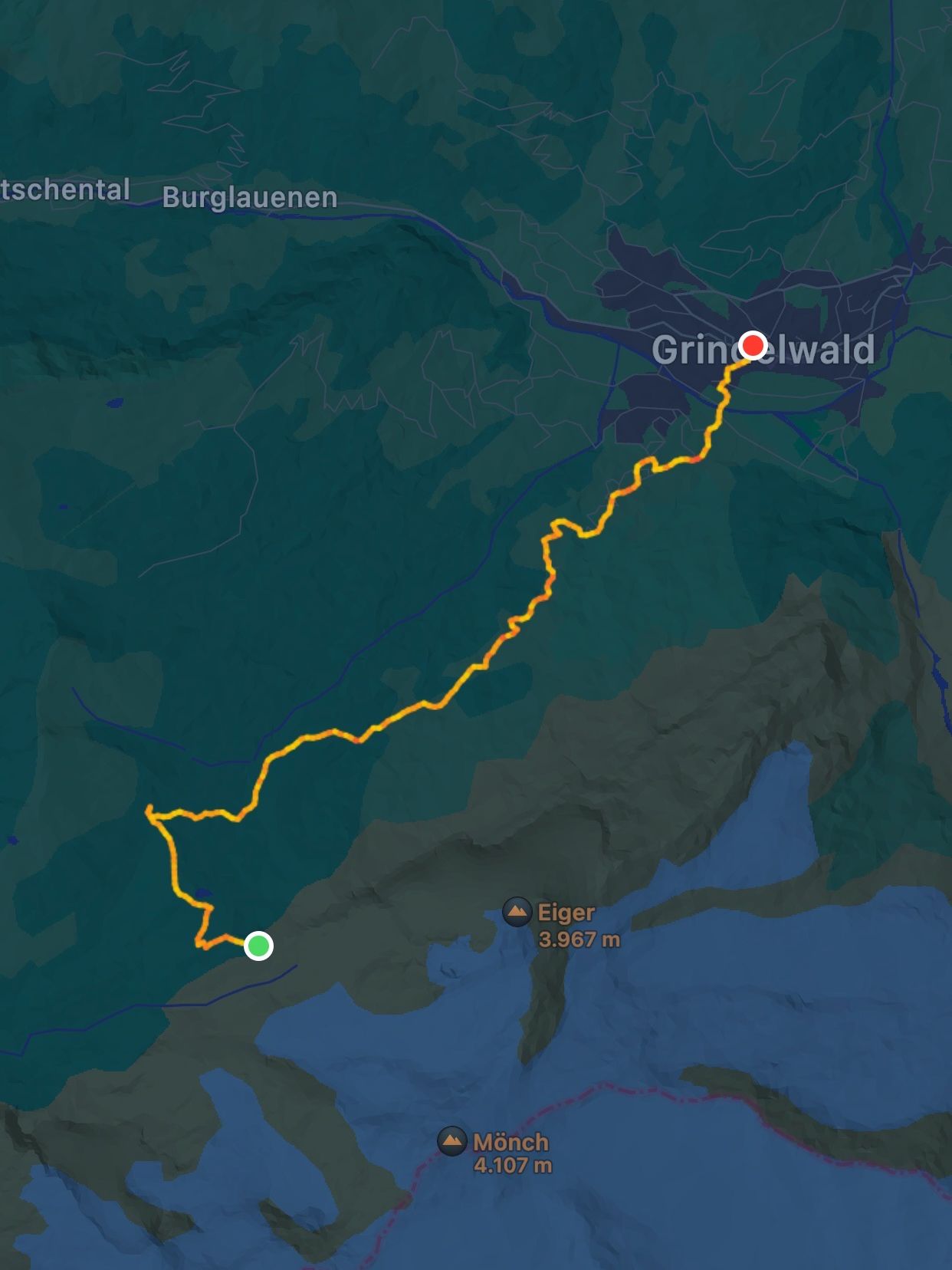 ---
Day 03: Visiting Ticino And Some Amazing Mountain Passes
We woke up barely capable of walking, and it's not an exaggeration. Luckily Jungfraujoch was the only part of the vacation that was planned in advance with tickets booked so we were free to arrange the other days as we wished.  
More importantly, we had access to our car which made it easy to move around Switzerland. Don't get me wrong, the country has a great (and renowned) public transport system and while we did used it a few times it's far from being as convenient compared to having access to your own vehicle. It's also very, very expensive.
With this in mind and seeing how physically tired we were, it made sense to plan the day with less walking and more driving.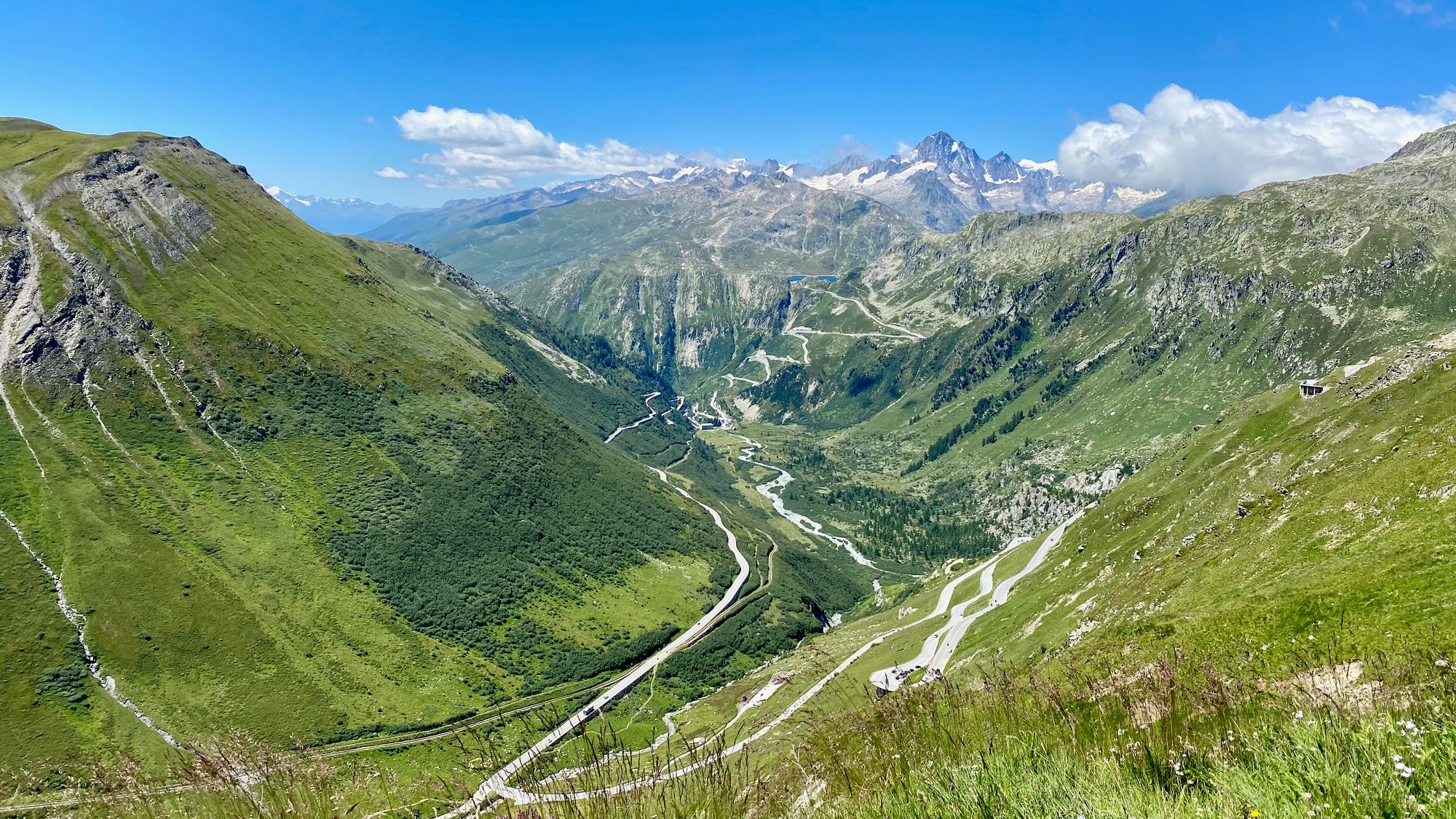 For this day we had two main targets:
Visit the Ticino canton, in the italian side of Switzerland and more precisely the town of Brissago on Lake Maggiore (that was the plan anyway), to experience some proper summer heat. This is around 3 hour drive from Interlaken, not short.
And since we were driving for so long why not making it fun? So the other target of the day, to the discontent of my wife, was to drive on as many mountain passes as possible. We did 4 and it was amazing (for the most part).
We had a slow breakfast and started our journey for the day at around 10:00, taking the smaller (and more interesting) Grimselstrasse passing by the villages of Innertkirchen and Guttannen.
Grimsel Pass
The first mountain pass we reached was Grimsel Pass at around 12:00, which crosses the Bernese Alps at an elevation of 2,164 m / 7,100 ft.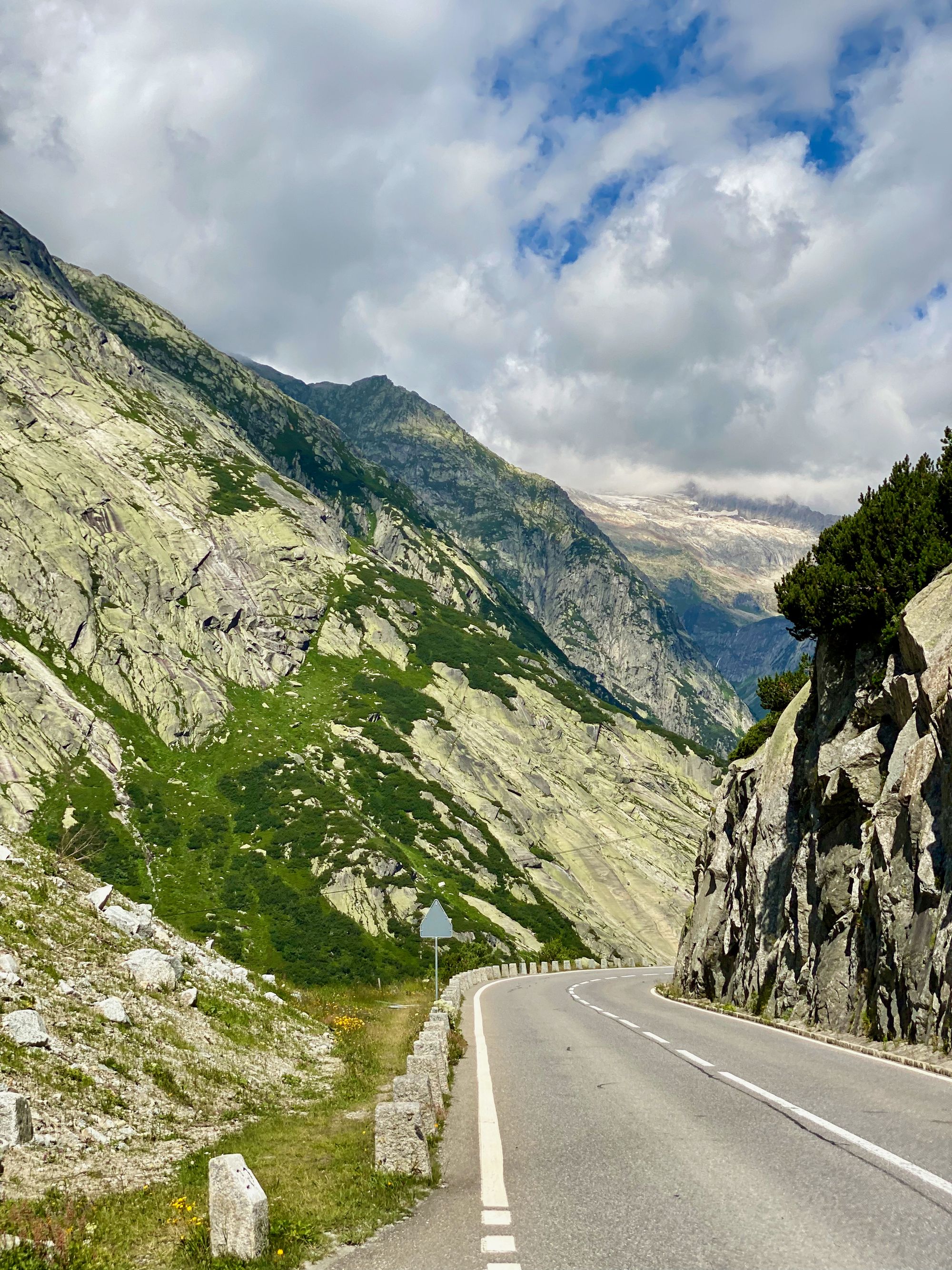 Of all 4 mountain passes that we saw during the day this was our least favorite because of the many constructions it has around. Hydroelectric power plants, high voltage power lines and high reservoir lake walls are dominating the landscape.
In a moment of (not unique) stupidity we didn't bring any thick clothing with us, being only in shorts and t-shirt. Yes, we were going to a lake in the hotter italian side, but at the top of these mountain passes it can be quite chilli even in summer, especially if the wind is blowing.
And that day the wind was blowing at the top of Grimsel Pass, meaning that we were able to spend only a few minutes outside before looking for shelder at a restaurant to warm up with some coffee. Lesson learned.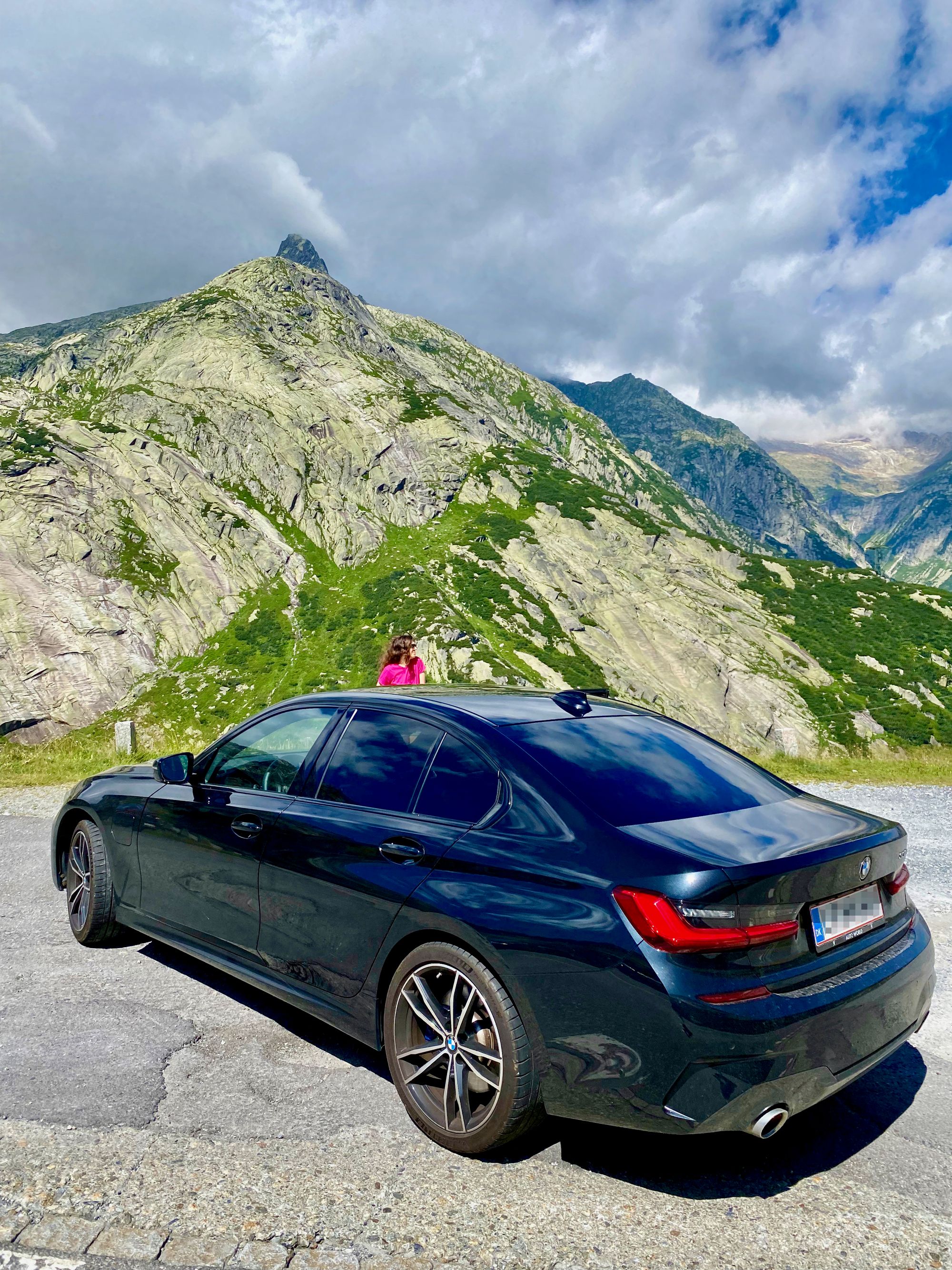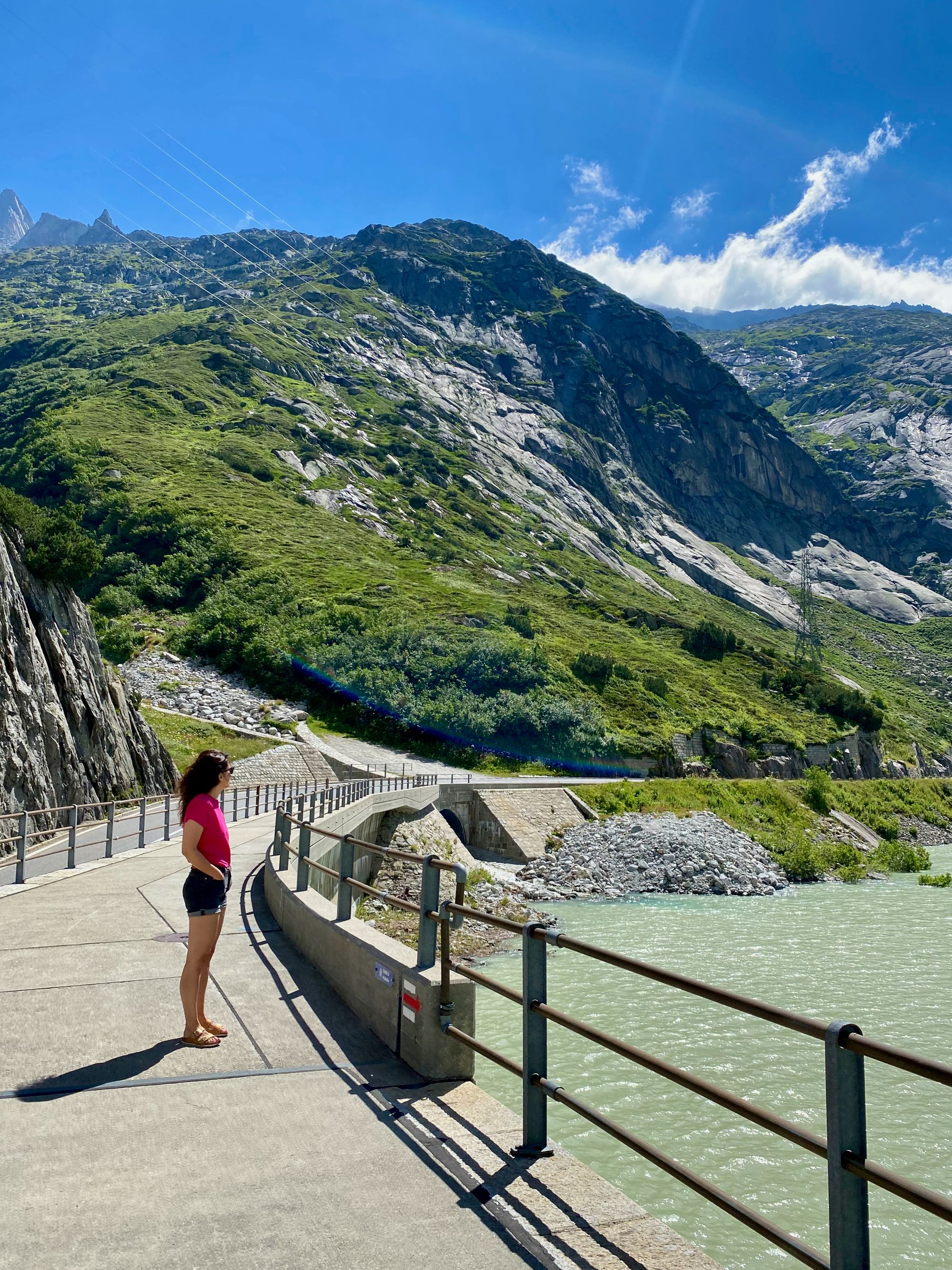 Furka Pass
The next pass on our way to Ticino was the Furka Pass (elevation 2,429 m / 7,969 ft) which is only a short drive from Grimsel Pass. It connects the cantons of Uri and Valais, offering stunning views of the surrounding mountains and glaciers, including the Rhone Glacier which is accessible by a short hike from the pass.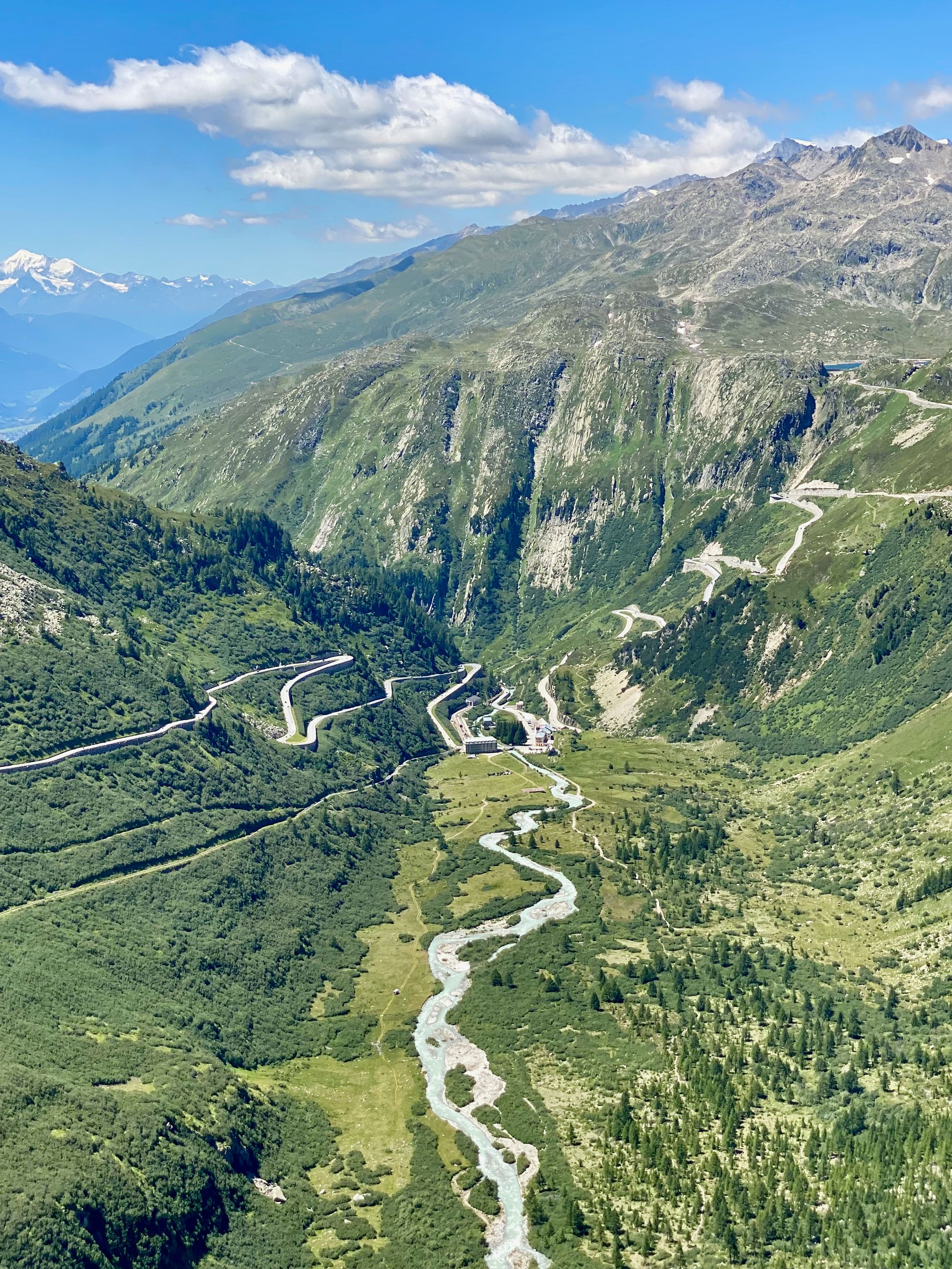 In addition to being a scenic drive, the Furka Pass has cultural significance as well: it was featured in the James Bond film "Goldfinger" as the location where Bond races against Tilly Masterson in a high-speed pursuit. Listening to the James Bond soundtrack while driving here is obligatory!
On certain parts where the lanes are narrow, driving the Furka Pass was on the stressful side, especially since it was pretty crowded with other road users. My wife from the passenger side was even more stressed, afterall I could only look forward, paying attention at the road while she was staring at the huge drop on her side without any protection barrier.
Plus, although she never said it, most likely she thinking that with me getting my drivers license only 6 months ago this was maybe a bit too risky 😅
Still, it was impossible not to stop once in while (when we were able to find an available spot) and take a moment to admire the scenery.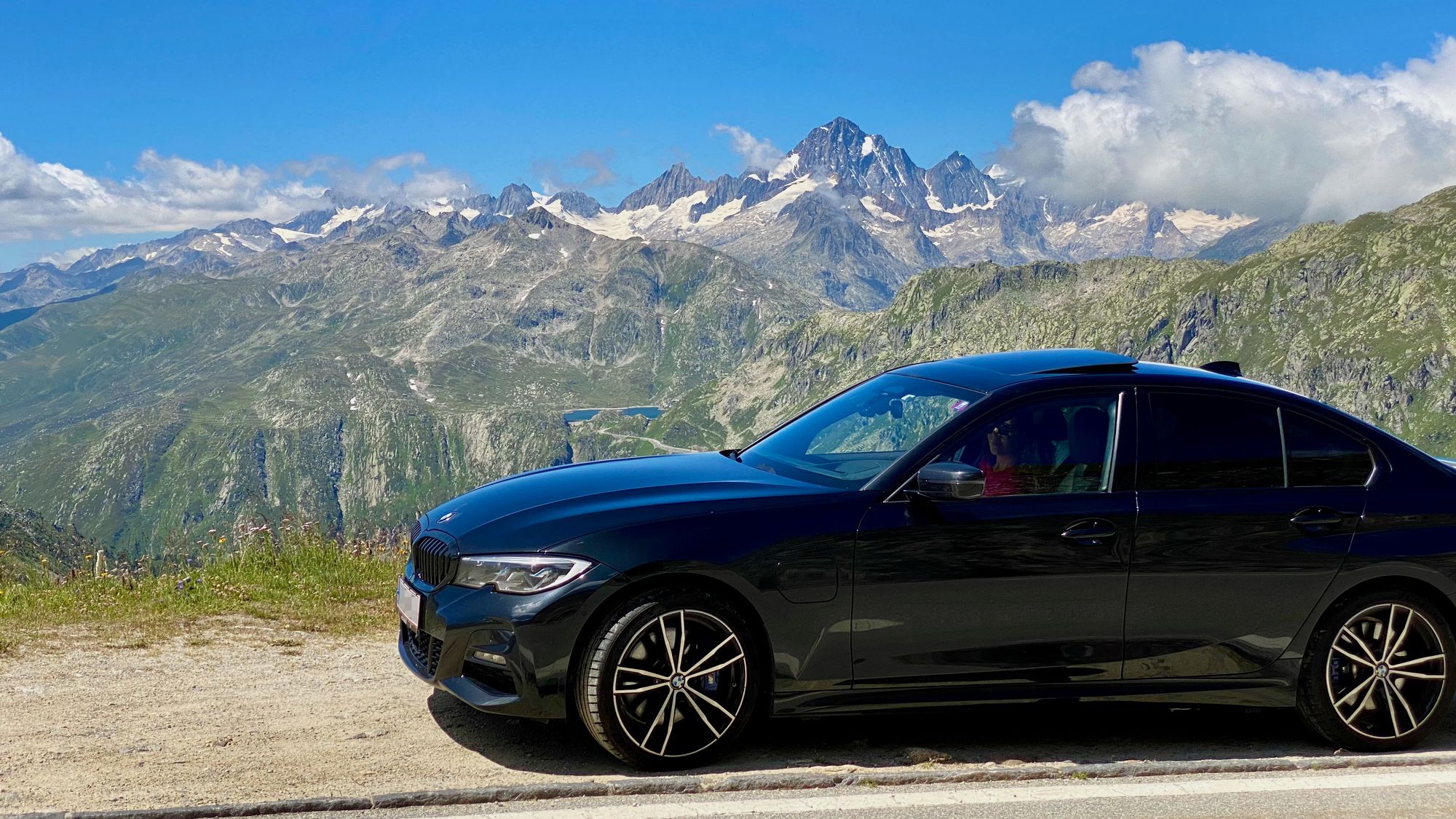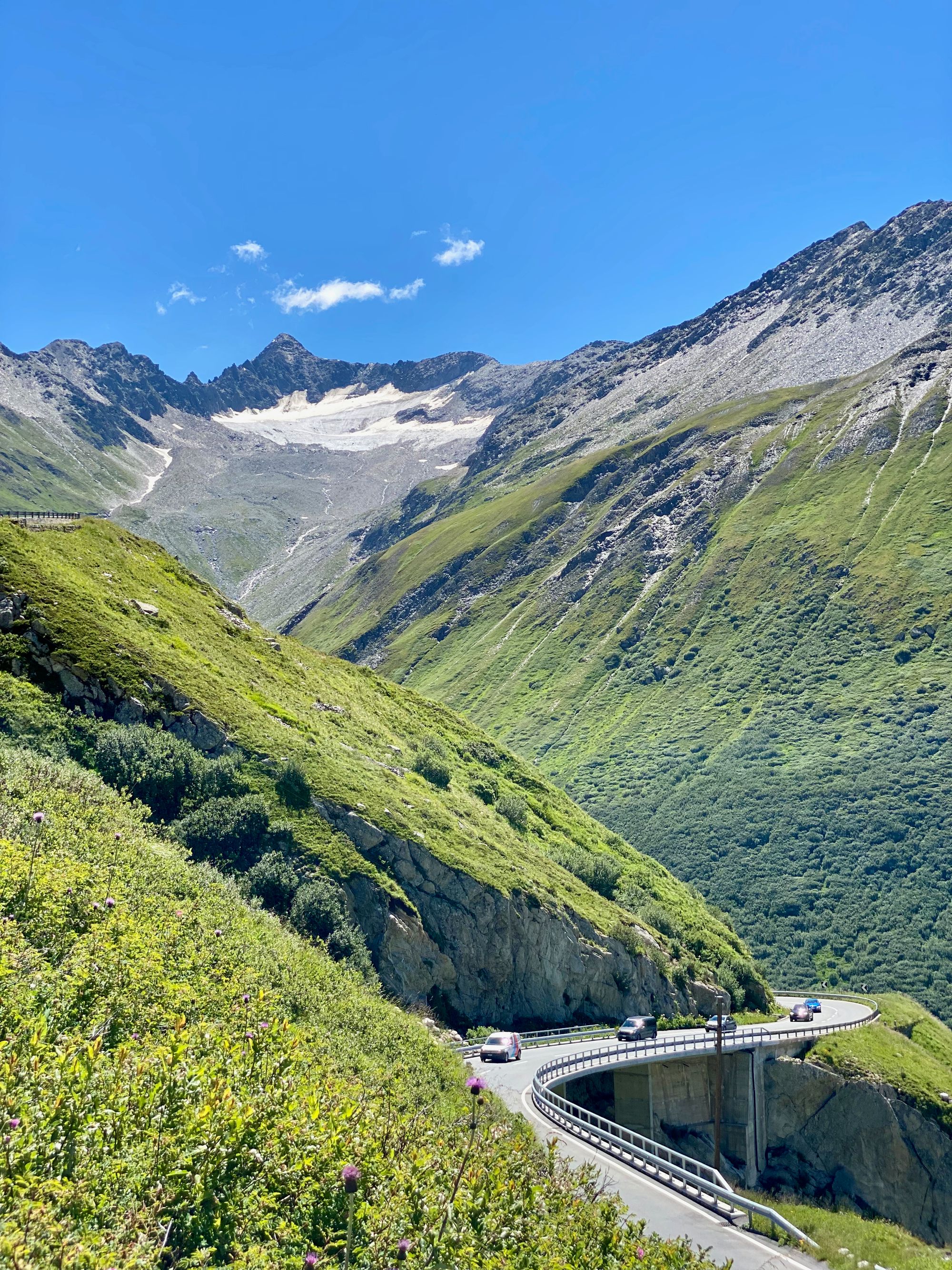 Gotthard Pass
The last mountain pass before reaching our destination on the shores of Lake Maggiore was Saint Gotthard Pass, which forms the border between the cantons of Uri in central Switzerland and the canton of Ticino in southern Switzerland.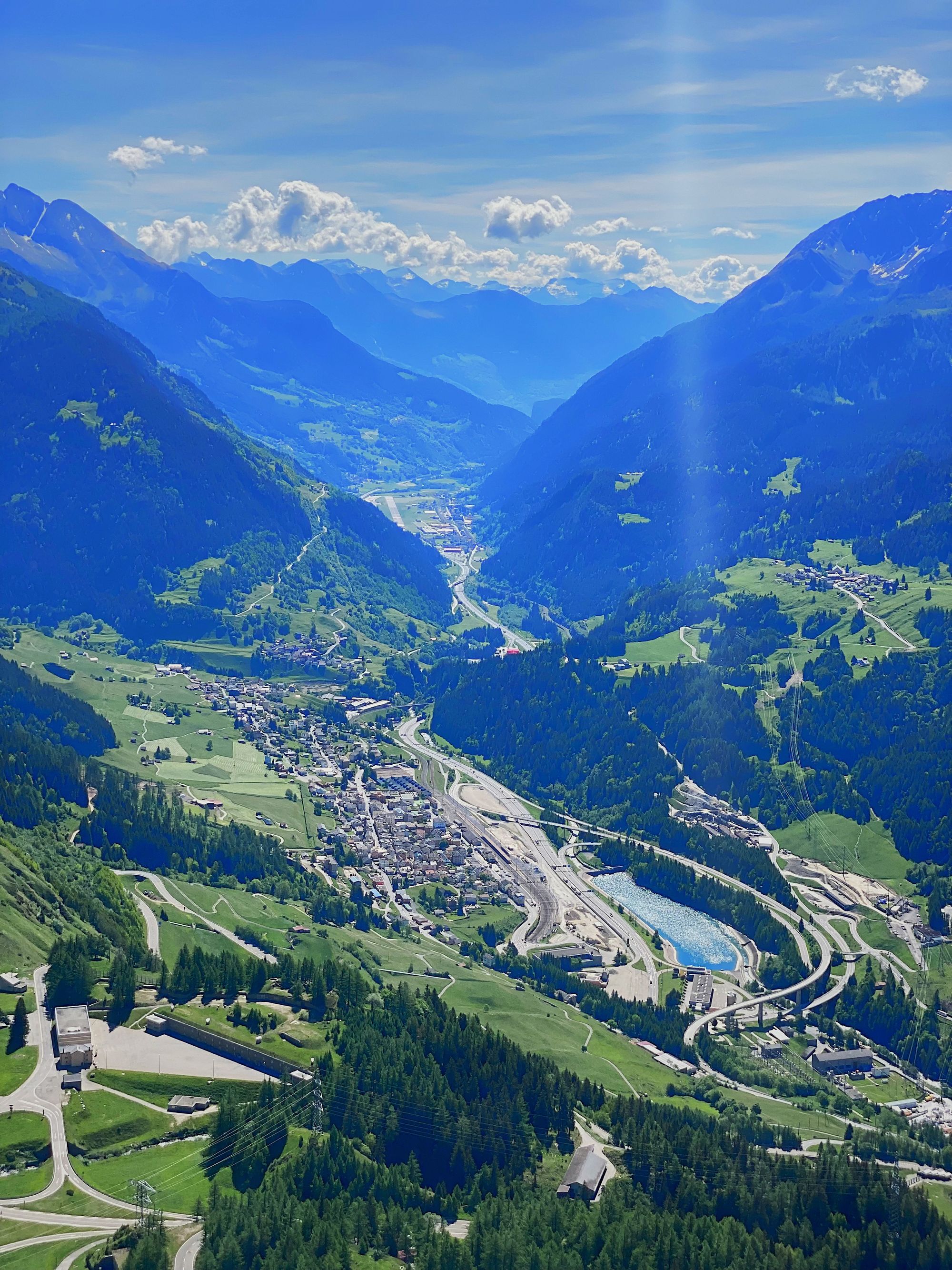 We drove this pass in the other direction in the spring during our road trip to Tuscany, so I knew what to expect. It's a short and fairly easy pass, offering beautiful vistas.
At the top of the pass there was a market selling local produce but unfortunately they accepted only cash and there's no ATM (that we could find). With the next occasion then.
As we were quite late in the day we decided not to do any other stops on this pass so the pictures you see here from Saint Gotthard are taken during the spring road trip.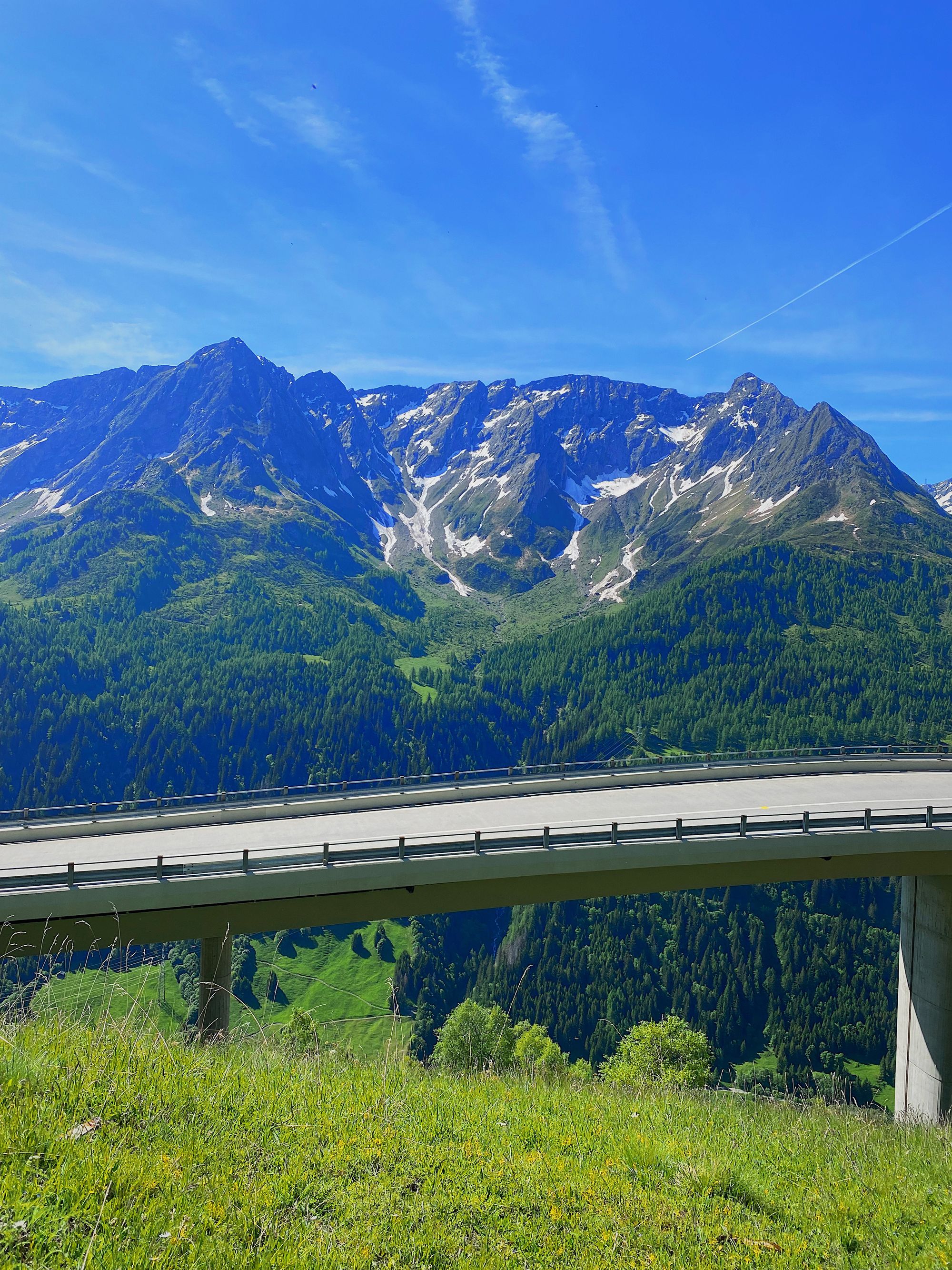 Canton of Ticino
And so, with the crossing of Gotthard Pass we arrived in Ticino, the southernmost canton of Switzerland.
We visited Lugano, the canton's largest city in the spring on our way to Italy and we absolutely loved it! Coming from a cold May in Denmark, Lugano felt like proper summer and even if back then we spent only a few hours we knew that eventually we'll want to see more of this side of Switzerland.
Three months later we were back with the intent of visiting Brissago, a picturesque village situated on the shores of Lake Maggiore. Surrounded by beautiful mountains and lush vegetation this area of Lake Maggiore has a mediterranean atmosphere, quite different from other parts of Switzerland.
The sleepy town of Brissago
I can't remember exactly how I found out about Brissago (Youtube?) but it was as beautiful as I imagined. It was also completely dead.
We arrived at around 15:30, pretty hungry with just breakfast and a small snack had at the top of Grimsel Pass.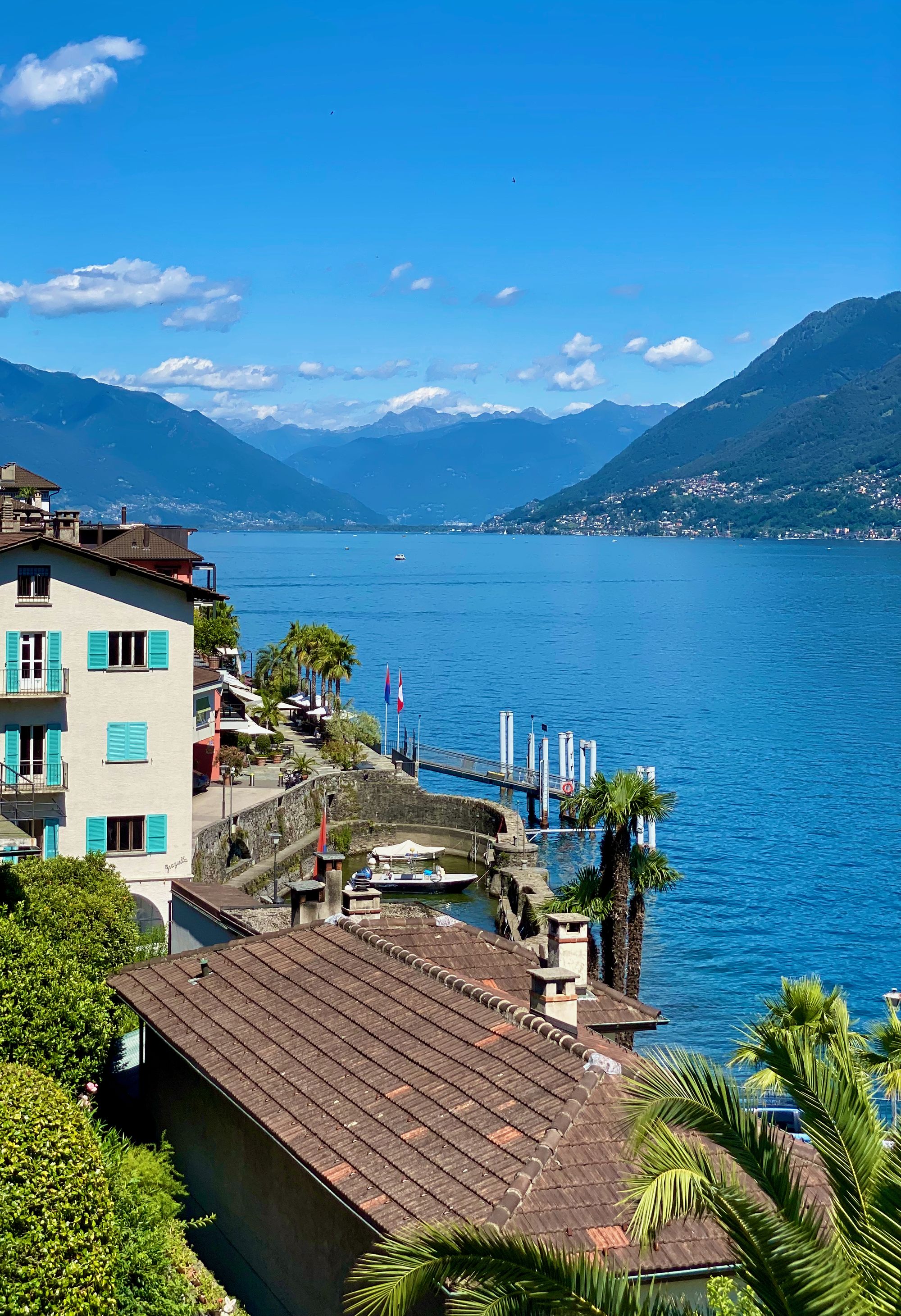 Oh and did I mentioned it was a Sunday? All restaurants were either closed until the evening or they served only drinks. Shops where closed as well. And we tried them all, the town is not that big 😅
👉
Brissago, located in the Swiss canton of Ticino, offers a variety of activities for visitors to enjoy:

• A highlight of the area is the Brissago Islands, a small archipelago in Lake Maggiore known for its stunning botanical garden. Explore the diverse collection of exotic plants, flowers, and trees as you stroll through the well-maintained gardens. Take a boat ride to the islands and bask in the serene ambiance while enjoying panoramic views of the lake and surrounding mountains.

• In the town of Brissago itself, you can wander through charming streets, visit local shops and cafes, and soak up the Mediterranean atmosphere.

• Nature enthusiasts can also take advantage of nearby hiking trails that offer breathtaking views of the lake and the surrounding lush landscapes.

Whether you're seeking tranquility, natural beauty, or cultural experiences, Brissago provides a captivating setting for a memorable visit.
---
The surprising city of Ascona
Google Maps to the rescue! Looks like we're not too far from Ascona, which is bigger and with several restaurants and shops open, at least according to google. To the batmobile!
Thirty minutes later we were sitting down at a terrace waiting for our food to arrive - starvation avoided.
We were so hungry that we went to the first place we saw across the parking lot, Restaurant & Lounge Marina Ascona.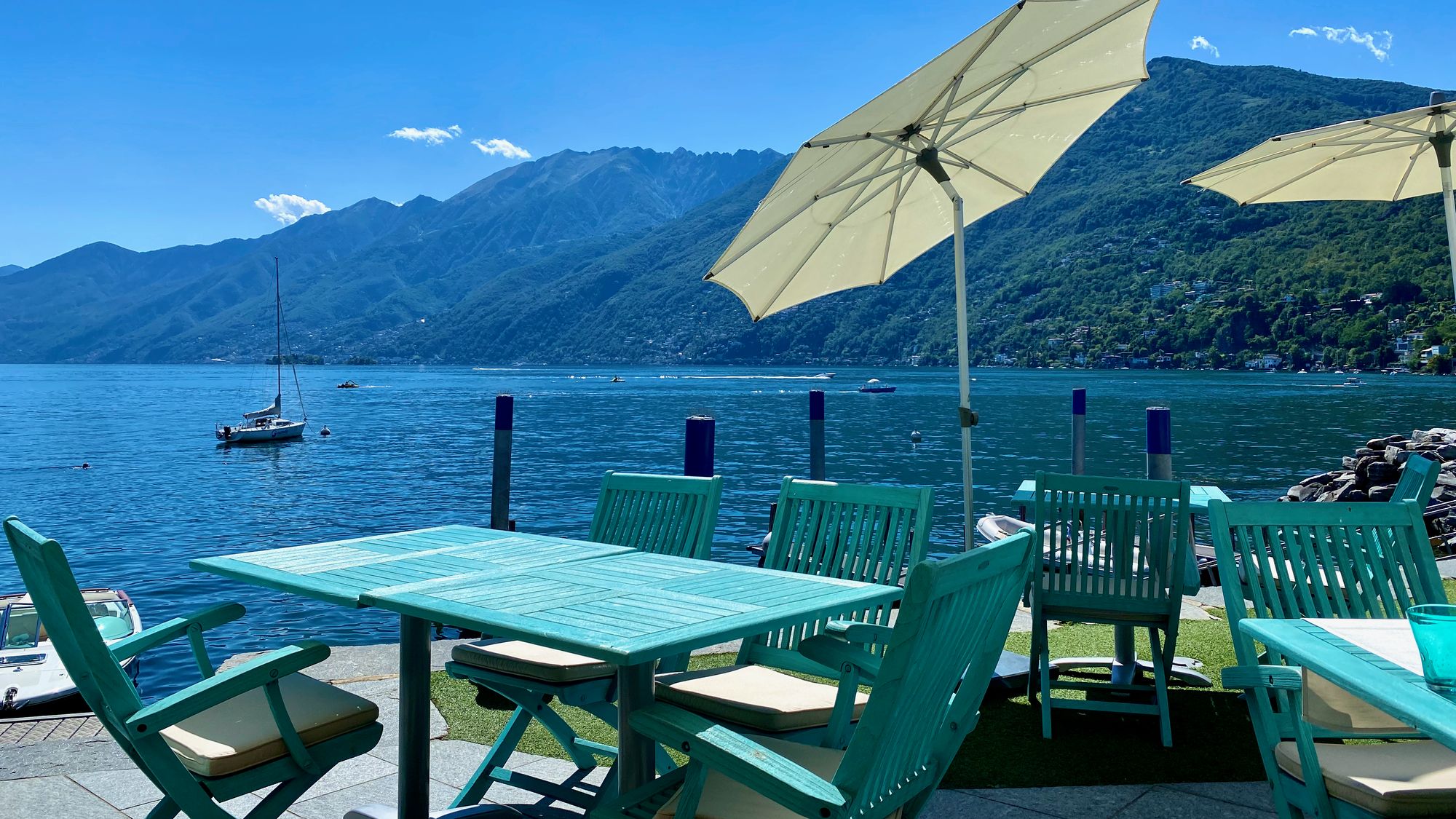 There was just one other table occupied so we were a bit worried that Ascona was just a sleepy as Brissago but luckily that wasn't the case.
Five minutes walk from where we had lunch... dinner... whatever you eat at 16:30, is the city promadate which was full of life and full of open restaurants. Oh well, now we know.
We had a blast exploring the promenade and the small streets. It felt like we were somewhere in Italy with everyone speaking italian, including us as much as we could. Unfortunately we couldn't stay too long - after all we had a 3 hours return drive and I don't think those mountain passes are too fun at night, so at around 18:00 we were back on the road.
Looking back I should have done more research and either leave earlier or go straight to Ascona, skipping Brissago.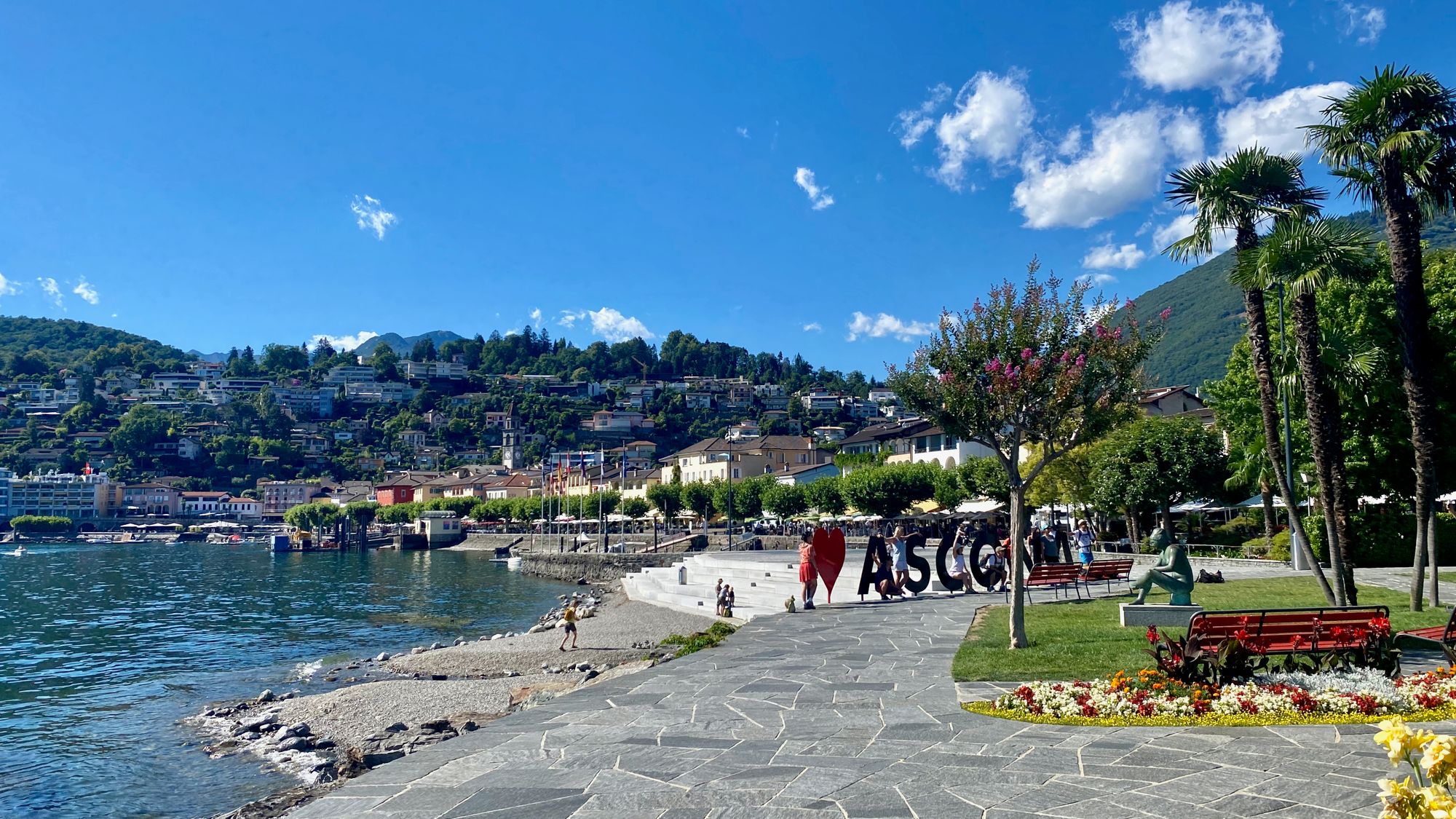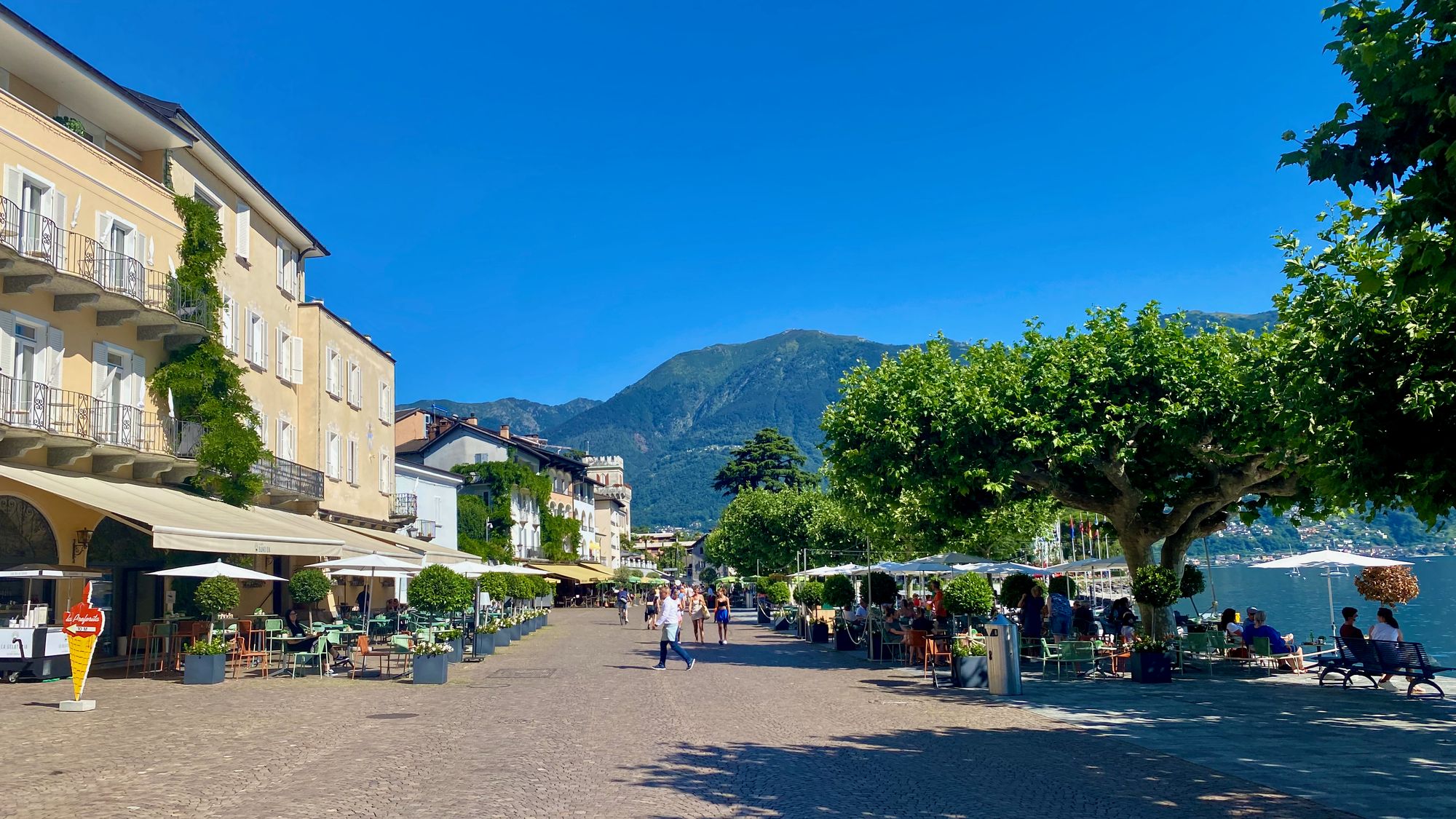 👉
Visiting Ascona, located on the shores of Lake Maggiore in Switzerland, offers a delightful blend of natural beauty, artistic charm, and Mediterranean ambiance:

• Begin by exploring the picturesque lakeside promenade lined with palm trees, boutique shops, and inviting cafes.

• Visit the charming Old Town, with its narrow streets and historic buildings, and discover local art galleries, artisan shops, and vibrant markets.

• Take a leisurely boat ride on Lake Maggiore, enjoying the stunning views of the surrounding mountains and islands.

• Don't miss the opportunity to visit the famous Monte Verità, a cultural center known for its alternative lifestyle and artistic heritage.

• Relax on the sandy beaches, indulge in water sports, or simply soak up the sun and tranquility.

• Ascona also hosts various cultural events and festivals throughout the year, including the JazzAscona music festival.

With its natural beauty, artistic atmosphere, and leisurely Mediterranean vibe, Ascona offers a memorable destination for visitors seeking a unique Swiss lakeside experience.
---
Susten Pass
Up again on the Gotthard Pass leaving Ticino behind. We then decided to return on another route and over the Susten Pass (2,260 m / 7,415 ft) rather than the Furka Pass so that I can drive on one more mountain road.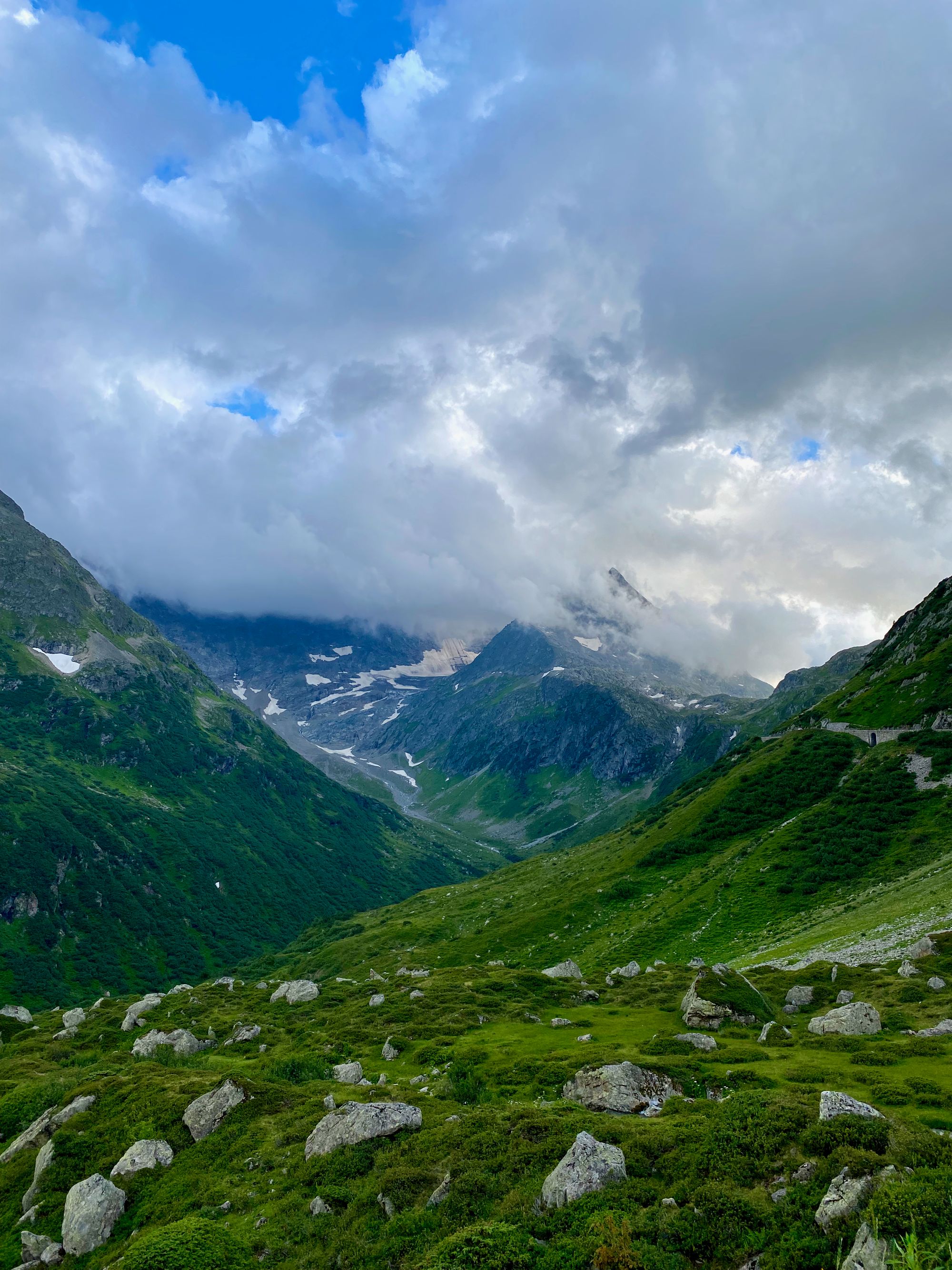 It was a (lucky) great decision!
Susten Pass offers magnificent vistas, demanding bends and smooth pavement, being considered among the most exceptional driving routes in Switzerland and maybe even worldwide.
We arrived at around 19:30 and at that time there very few other cars on the road. The sun setting over the mountains created a very special atmosphere that was becoming more dramatic the closer we got to the clouds 🤩
Of all four mountain passes Susten Pass is the one we enjoyed the most.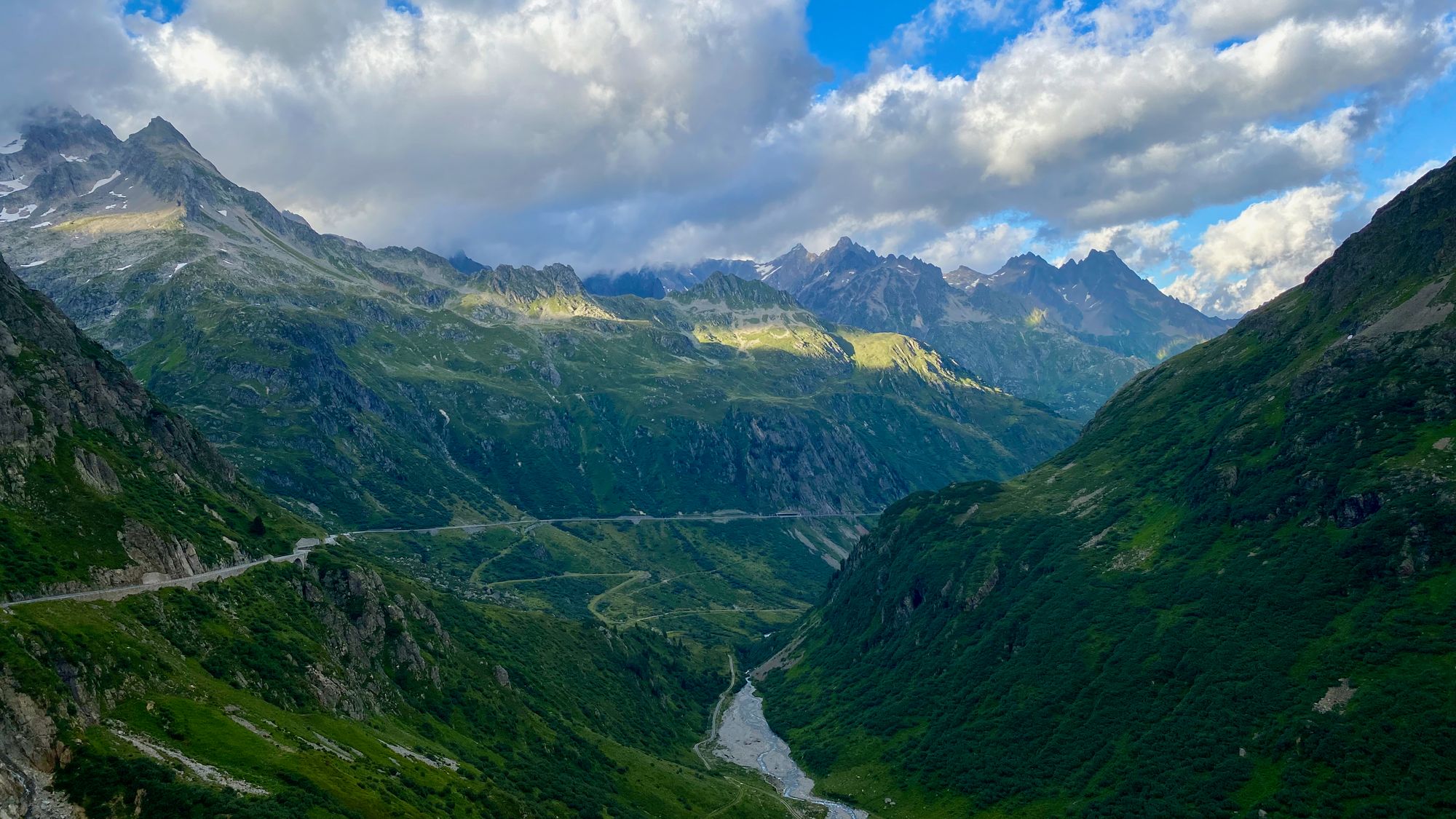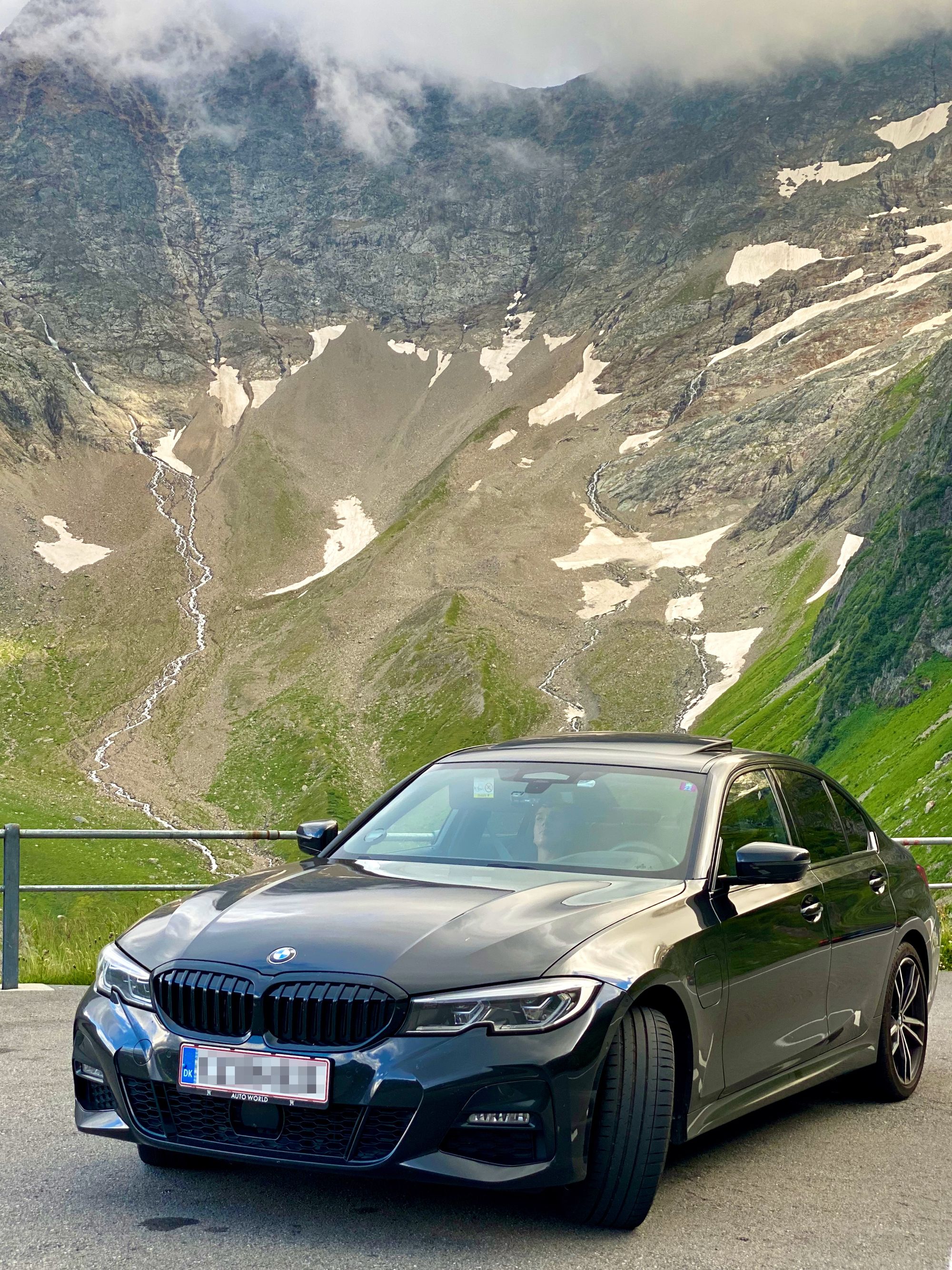 We got home to our base in Interlaken at around 22:00. It was a day spent mostly in the car but on some amazing roads surrounded often by jaw dropping scenery.
The swiss vignette is not cheap (40 CHF / 40 EURO / 45 USD / 300 DKK) but the roads, with some very few exceptions, are in great condition and landscape is always changing as you drive through the country.
After the challenging hike from yesterday it was great to give our legs a break and instead challenging my driving skills.
💡
One thing to mention regarding the mountain passes is that many have tunnels as alternative - after all, these passes are usually closed between November and May due to winter conditions.

Both BMW navigation and Google Maps offered the tunnels as default when inputting destinations.

In some cases, such as the San Gotthard Pass, neither were able to guide us at the top so we had to use the road signs showing the way though the mountain passes and not the tunnels.
💡
Another thing: Grimsel, Furka and Susten are sometimes called the trinity of swiss passes because they can be done in a few hours being placed one after another.
If you want to experience Switzerland's mountain passes (you should!) these 3 are a great place to start and my recommendation is to do them in the order I wrote.
---
Day 04: Visiting Montreux on the shore of Lake Geneva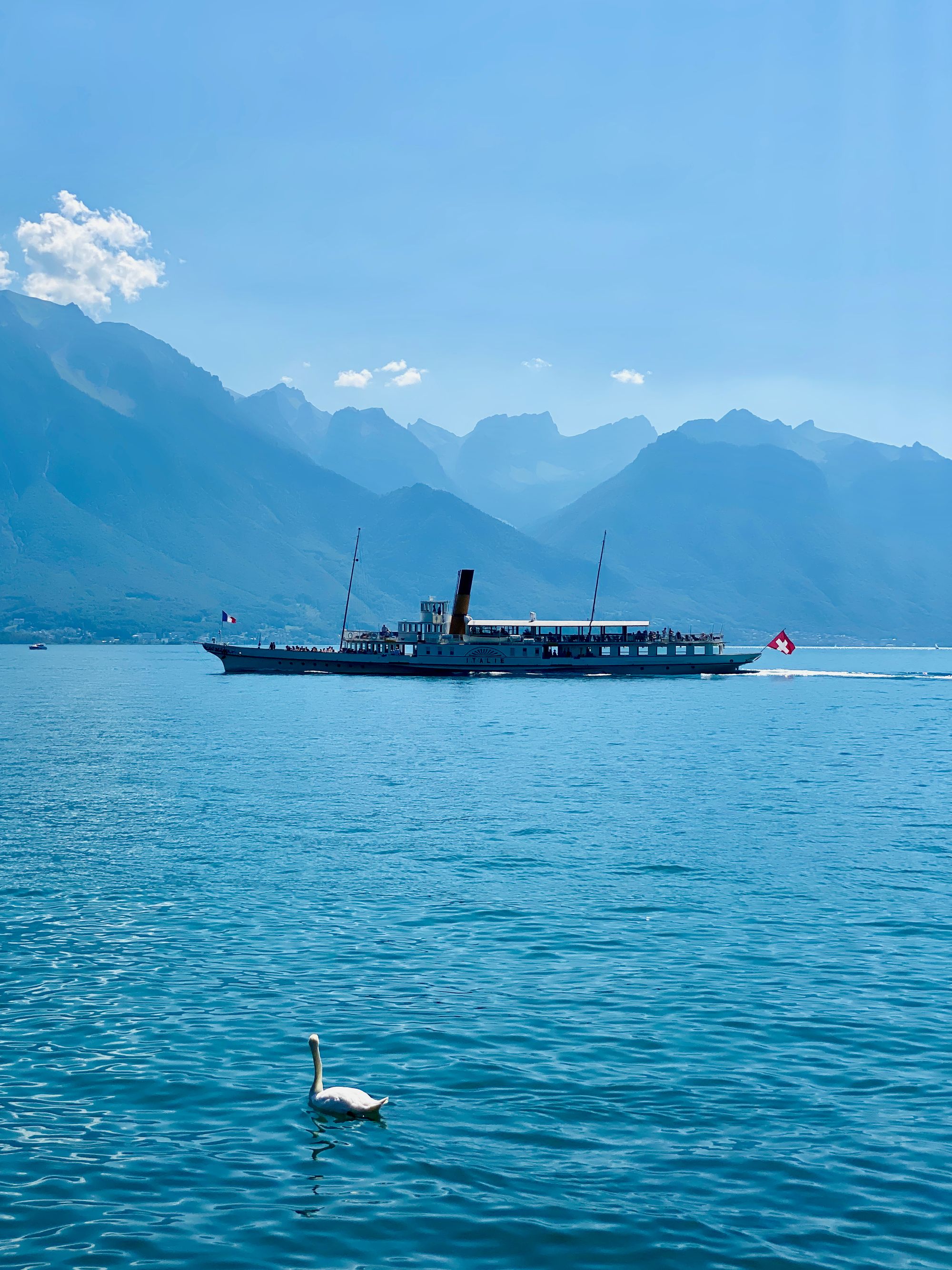 Before going to bed our intend for this day was to do a hike in order to alternate the time spent on the roads with the time spent on the trails.
However, once up we found that our legs were still hurting, making a hike if not impossible at least pretty painful. So we decided to see another side of Switzerland using our car, this time visiting the city of Montreux in french side of the country, on the shore of Lake Geneva.
The drive directly from Interlaken to Montreux takes little under 2 hours on the highway but we added a detour to the town of Gstaad which also took us off the highway onto smaller, prettier and unfortunately more dangerous roads.
A stoney encounter
We left at around 09:00 on a beautiful sunny day.
The road was a bit busy but with pretty scenery, changing from the shore of Lake Thun to open valleys to twisty bends while passing through multiple small villages.
All was going great until we got close to Gstaad when a stone coming (most likely) from an oncoming truck cracked our windshield. Oh no!
I pulled over and started searching on Google - always the first step, isn't it? The news wasn't great, the crack will only spread.
Next I looked for a BMW service center, found one less than 1h away and drove there.
They told me I shouldn't be worried, I can still drive but I need to replace the windshield when I get home in Denmark.
They also said that the crack will likely extend to the left until it reaches the edge and that's it, the windshield won't fall off or anything and that I can try to chat with Carglass (chain of windshield repair shops) to see if they can do anything to slow down the spread.
(at that time the crack was much smaller than in the pic below)
Found a Carglass 5 minutes away, drove there, the guy didn't spoke english but managed to say the word "replace". Well, that's that. We decided to resume our day and see how things evolve.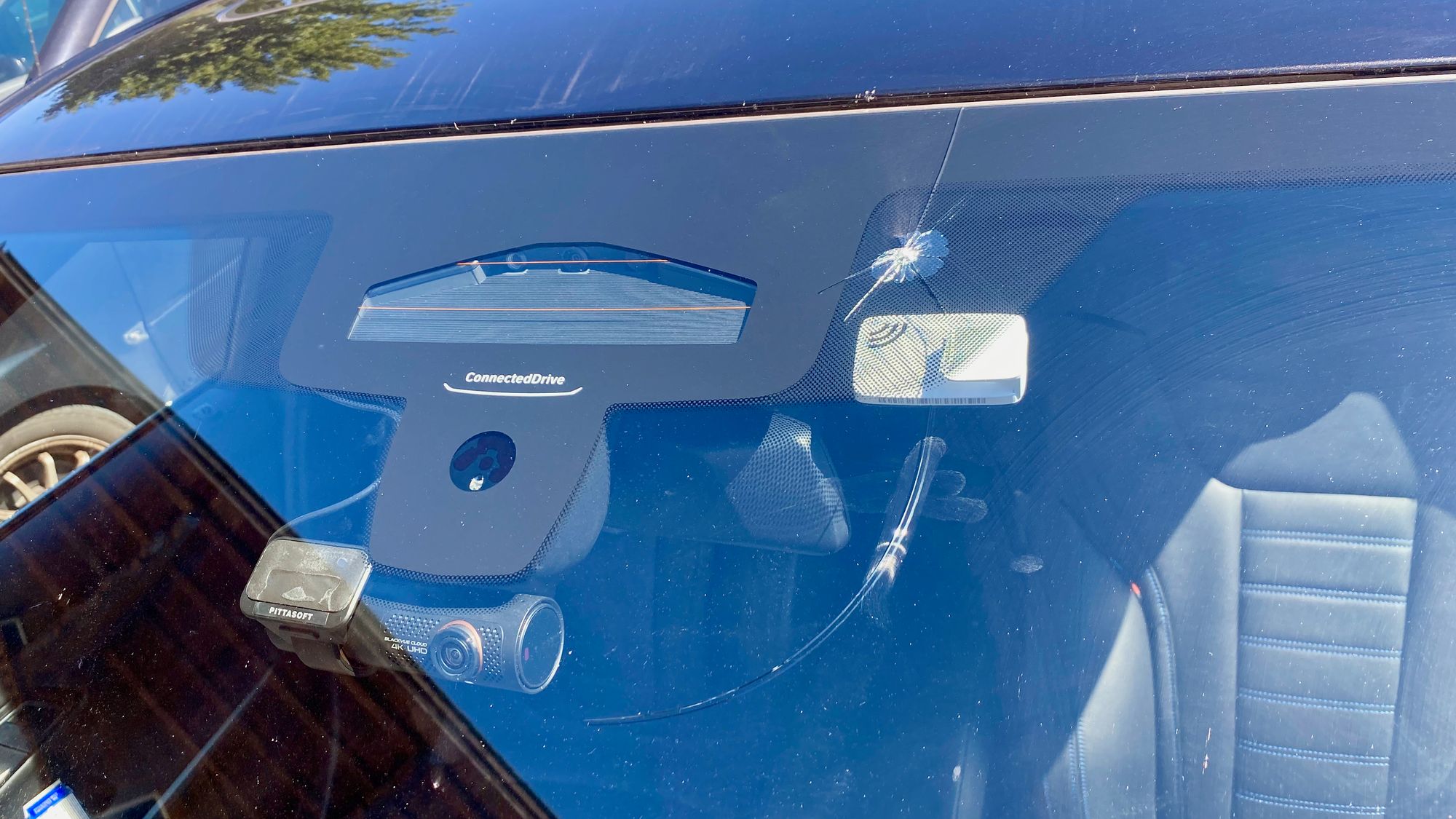 Charming small Gstaad
With all that happened we made it to Gstaad at around 11:30, much later than planned. Gstaad is a picturesque Swiss mountain resort town located in the Bernese Oberland region, known for its luxurious ski resorts, world-class hotels, and upscale boutiques.
The town is surrounded by beautiful alpine scenery, making it a popular destination for skiing, hiking, and other outdoor activities.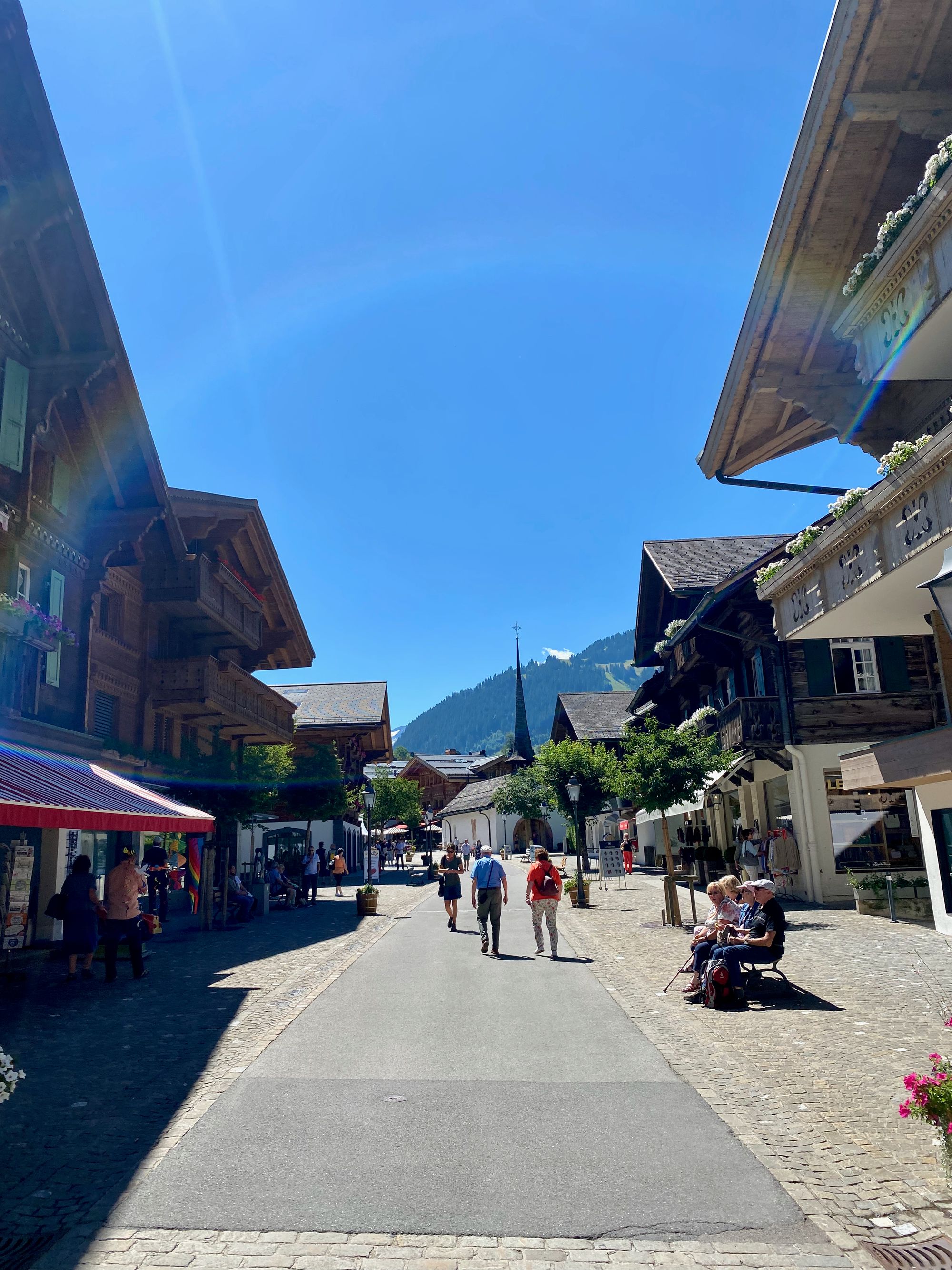 We spent about one hour in Gstaad, strolling the streets of the old town and having coffee + pastry on the terrace of a nice bakery.
Most of our discussions revolved around if we should return to Denmark or continue our vacation to Switzerland and France.
I did my best to find what the law is saying in the different countries but without a lot of success. What I could find was that one should not drive if the windshield was cracked enough to impair the vision - obviously, which luckily it wasn't the case, so we continued the day.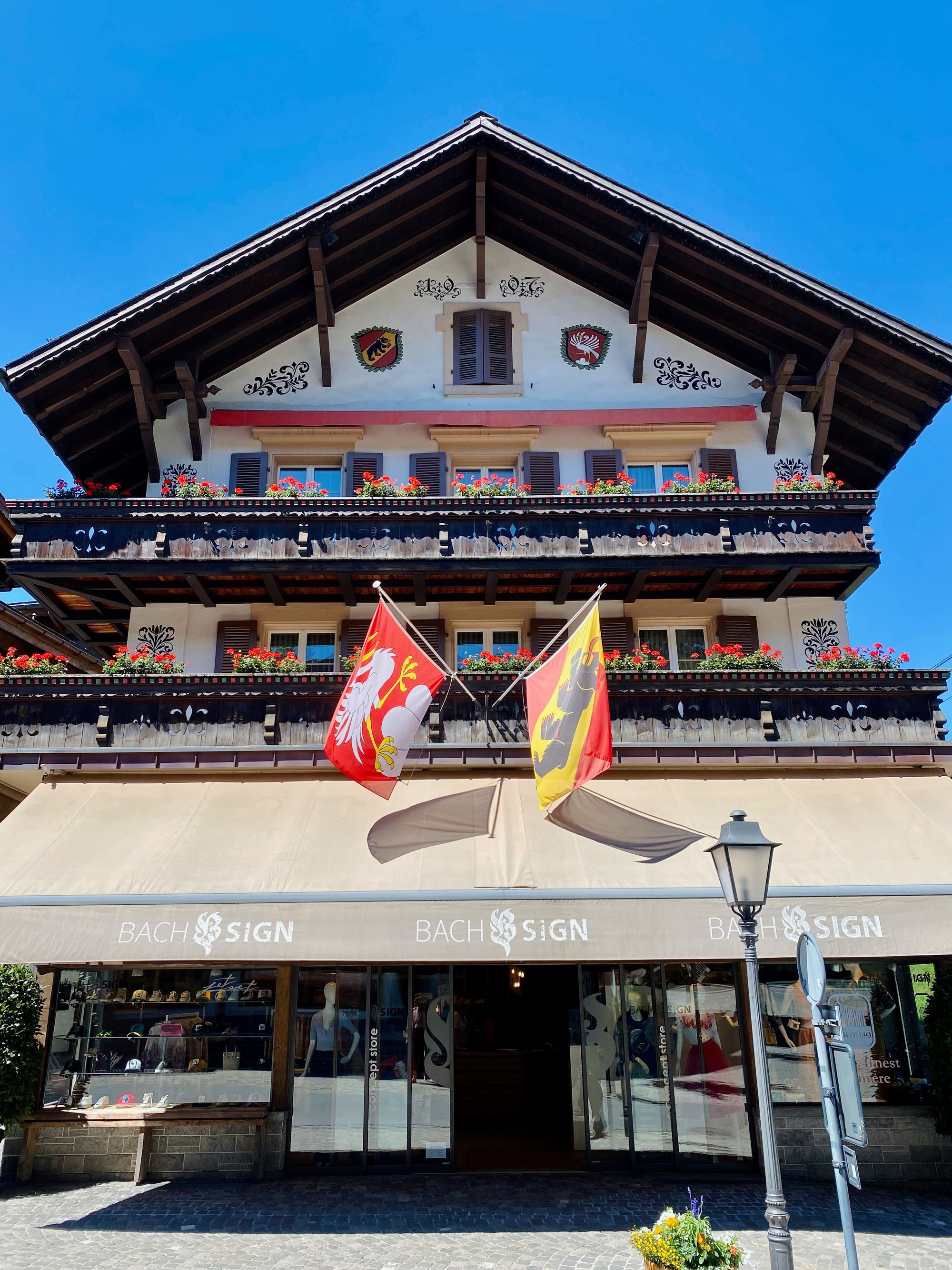 👉
Visiting Gstaad, nestled in the Swiss Alps, provides a luxurious and enchanting experience. Known for its glamorous reputation and stunning natural surroundings, Gstaad offers a perfect blend of outdoor activities and upscale amenities:

• Hit the slopes in winter and enjoy world-class skiing and snowboarding on the pristine slopes, or visit in the summer for hiking, mountain biking, and golfing amidst the breathtaking alpine landscapes.

• Explore the charming promenade lined with high-end boutiques, gourmet restaurants, and luxurious hotels.

• Immerse yourself in the tranquil atmosphere of the surrounding mountains and valleys, dotted with traditional Swiss chalets and picturesque villages.

• Indulge in fine dining, pamper yourself at luxurious spas, or attend one of the renowned cultural events that Gstaad hosts throughout the year.

With its combination of natural beauty, refined elegance, and outdoor adventures, Gstaad offers an unforgettable experience for those seeking a luxurious alpine getaway.
---
Gorgeous Montreux
A bit over 16:00 we finally reached Montreux, only a few hours later than planned 🙄 Nothing to do about, accidents happen.
We instantly fell in love with Montreux! And how can you not?
It has stunning natural scenery, with the snow-capped Alps visible across Lake Geneva. Then there's the town's palm-lined promenade along the lake, a popular spot to enjoy a stroll and take in the beautiful views.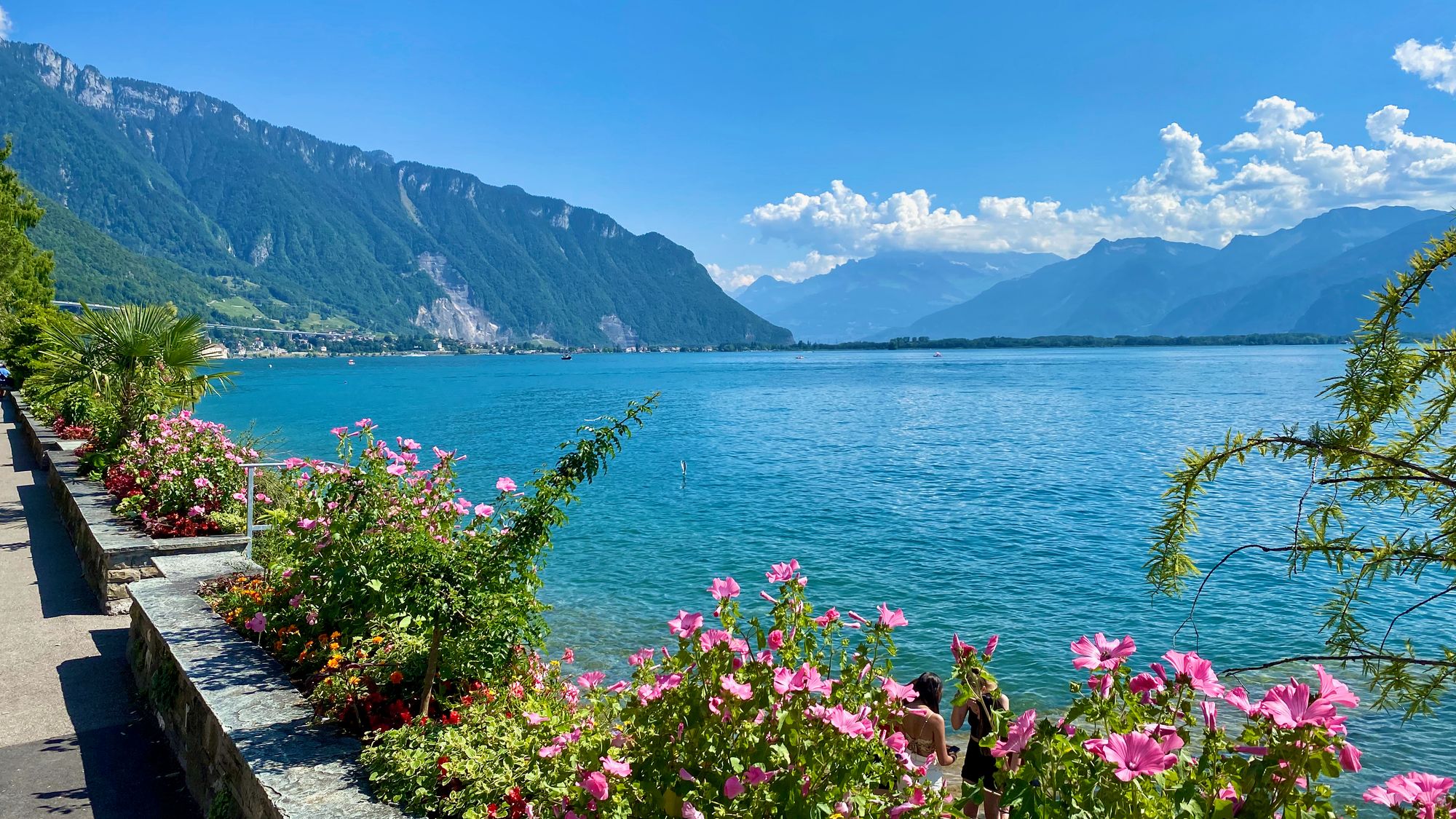 The region is also known for its wines, including the popular Lavaux wine region nearby and the Chillon Castle, an impressive medieval castle located on a small island on Lake Geneva.
First thing we did was to grab something to eat, besides breakfast and the pastry in Gstaad we didn't had anything the whole day.
We then spent the next 2.5 hours exploring the city.
The promenade along the lake was the highlight for us but the whole city has a nice vibe that's hard to describe. You can tell that the place is well maintained, clean, a lot of flower and manequired plants and very pretty buildings.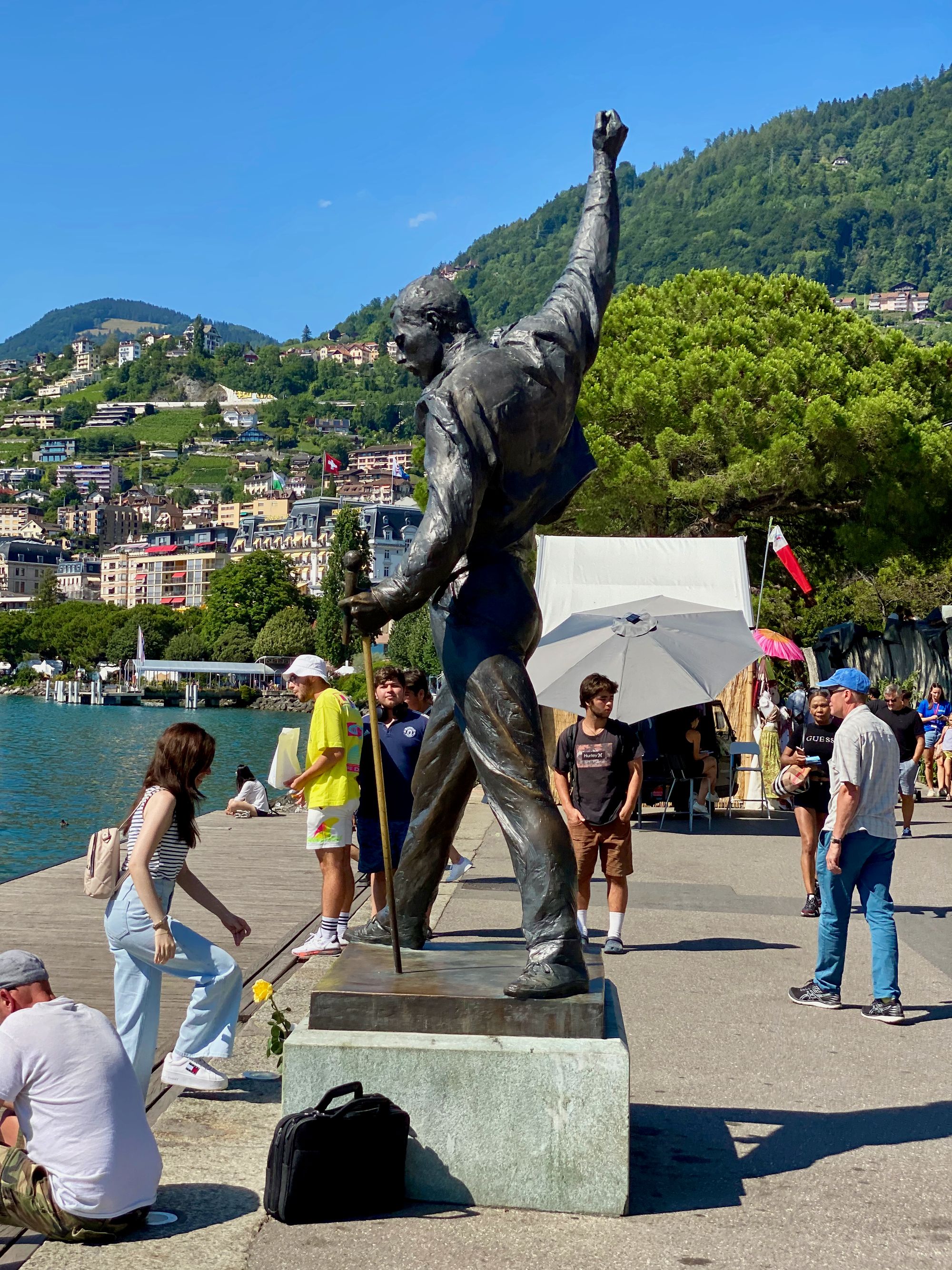 Everyone spoke French although it was easy to get along with English.
The heat though... was pretty extreme and a big change from Interlaken even if it's only 2 hours away 🔥
Half past 18:00 we started the drive back to our hotel. We spent the rest of the evening exploring Interlaken while looking for some take away. We settled on pizza - how original.
Day 04, more eventful than we wanted, came to an end. We managed to get a glimpse into yet another side of Switzerland, this beautiful and diverse country.
🚙
We loved Montreux so much that we spent 5 days here during the Easter Break of 2023, exploring everything from snowy peaks to wine fields of Lavaux, but that's a story for another blog.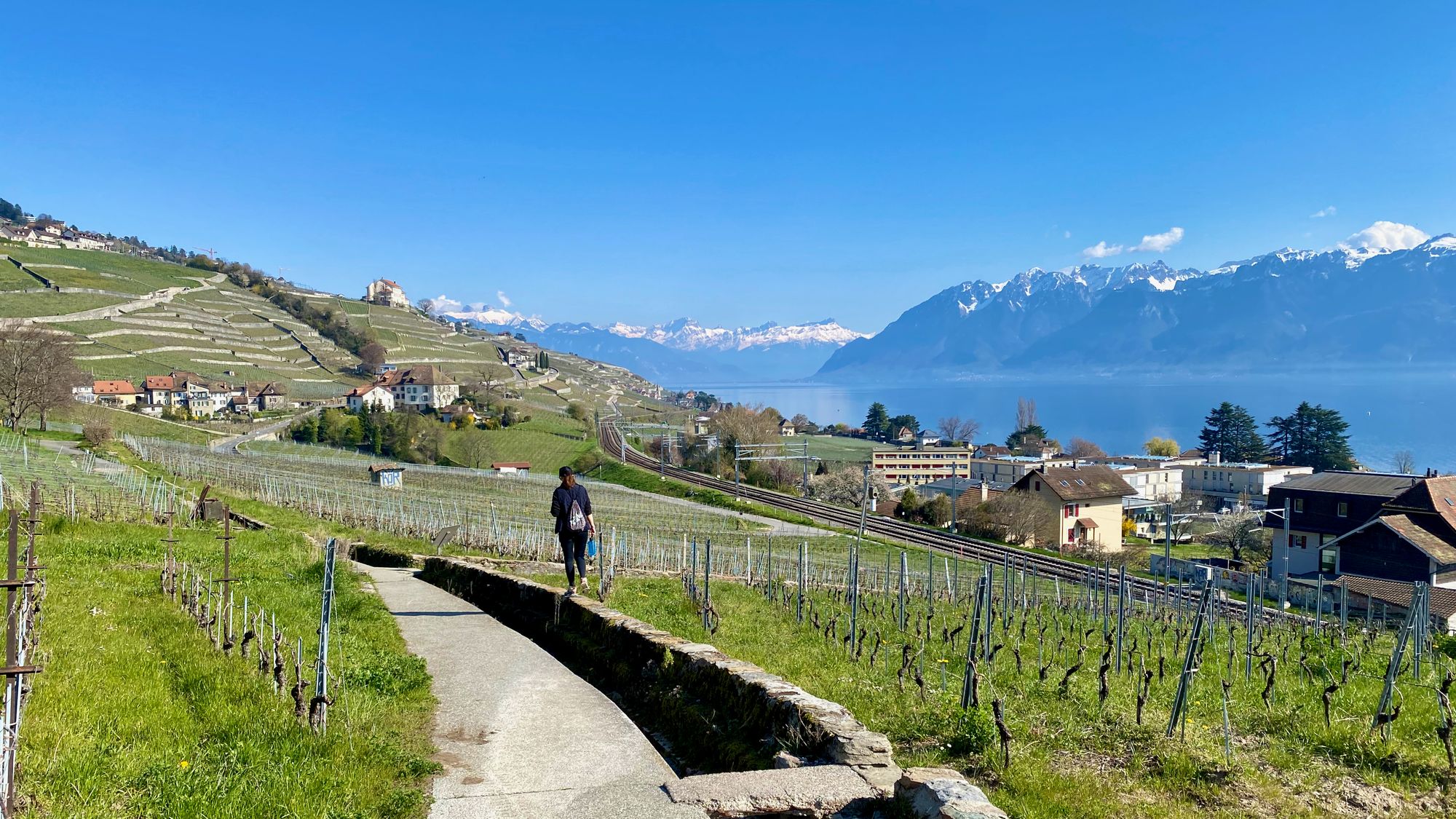 👉
Visiting Montreux promises a delightful experience blending natural beauty, cultural heritage, and a vibrant atmosphere:

• Start by exploring the charming lakeside promenade, adorned with colorful flowers, sculptures, and stunning views of the lake and the Alps.
• Visit Chillon Castle, an iconic medieval fortress that captivates with its rich history and breathtaking location on a rocky island.

• Explore the Montreux Jazz Festival, a world-renowned event that showcases an array of musical talents.

• Stroll through the picturesque Old Town with its narrow streets, boutiques, and inviting cafes.

• Don't miss the opportunity to take a leisurely boat ride on Lake Geneva, offering panoramic views and access to nearby attractions such as the Lavaux vineyards or the nearby mountain peaks for hiking or skiing.

With its blend of natural beauty, cultural events, and scenic landscapes, Montreux invites visitors to indulge in a captivating Swiss experience.
---
Day 05: Schynige Platte Panorama, the most beautiful trail
Two days after our hike from Eigergletscher to Grindelwald we felt ready for another one.
We also wanted to take a break from the car, especially since the next day we will drive from Switzerland all the way to the Provence area in France.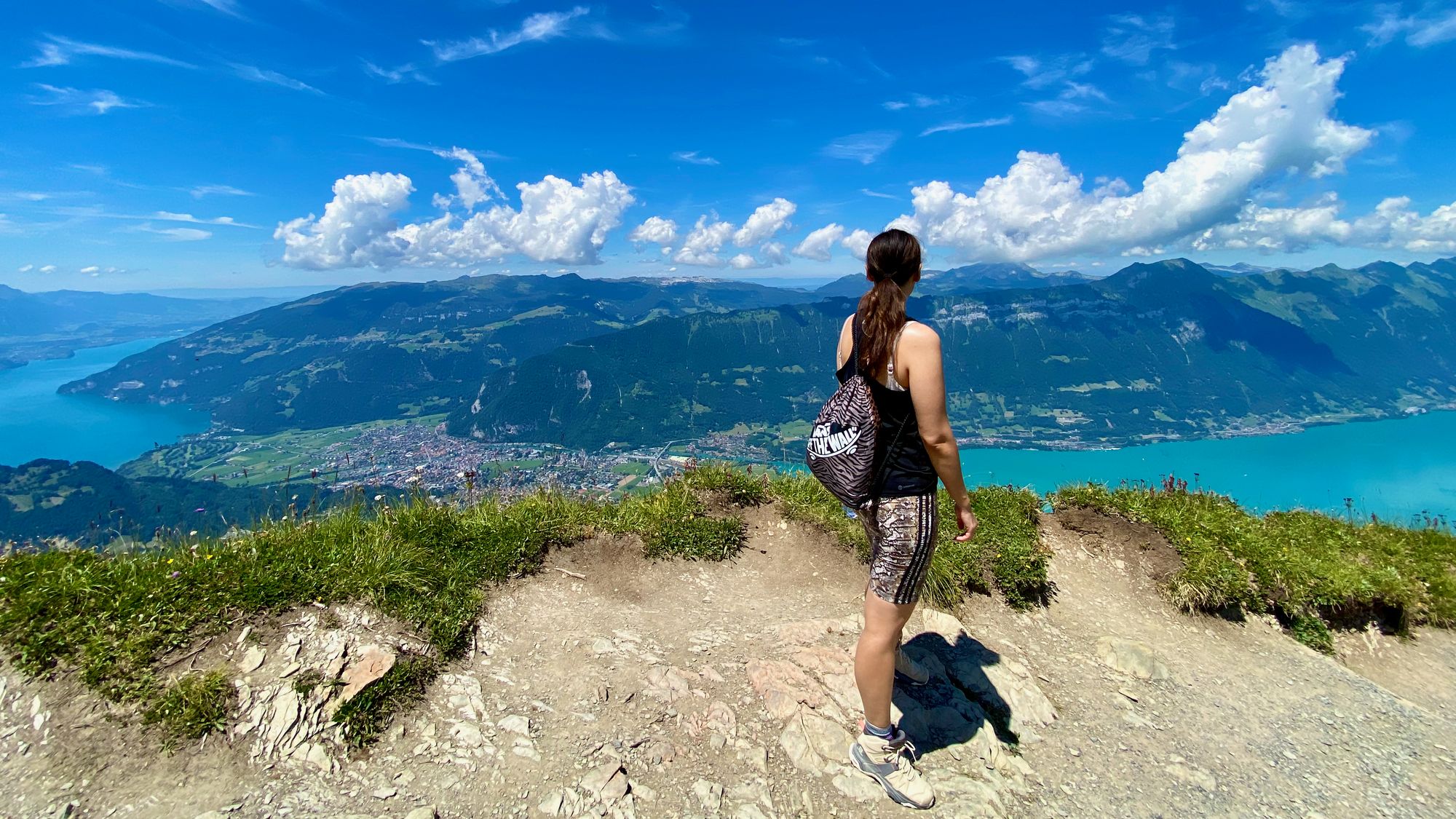 Looking at alltrail.com one of the most popular hikes in the Interlaken area is the Schynige Platte Panorama Trail.
It is a circular, scenic trail located in the Bernese Oberland region of Switzerland, starting at the Schynige Platte station. The trail is around 7.5 Km / 4.6 Mi long and takes hikers on a picturesque journey through rolling hills an alpine meadows with breathtaking views of the surrounding mountains, including the Eiger, Mönch and Jungfrau.
To reach Schynige Platte station we took a regular train from Interlaken Ost to Wilderswil where we switched to a vintage cogwheel train with beautiful wooden benches and large open windows.
The ride from Wilderswil to Schynige Platte takes about 50 minutes, climbing about 1420 m / 4660 ft and for best views sit on the right side.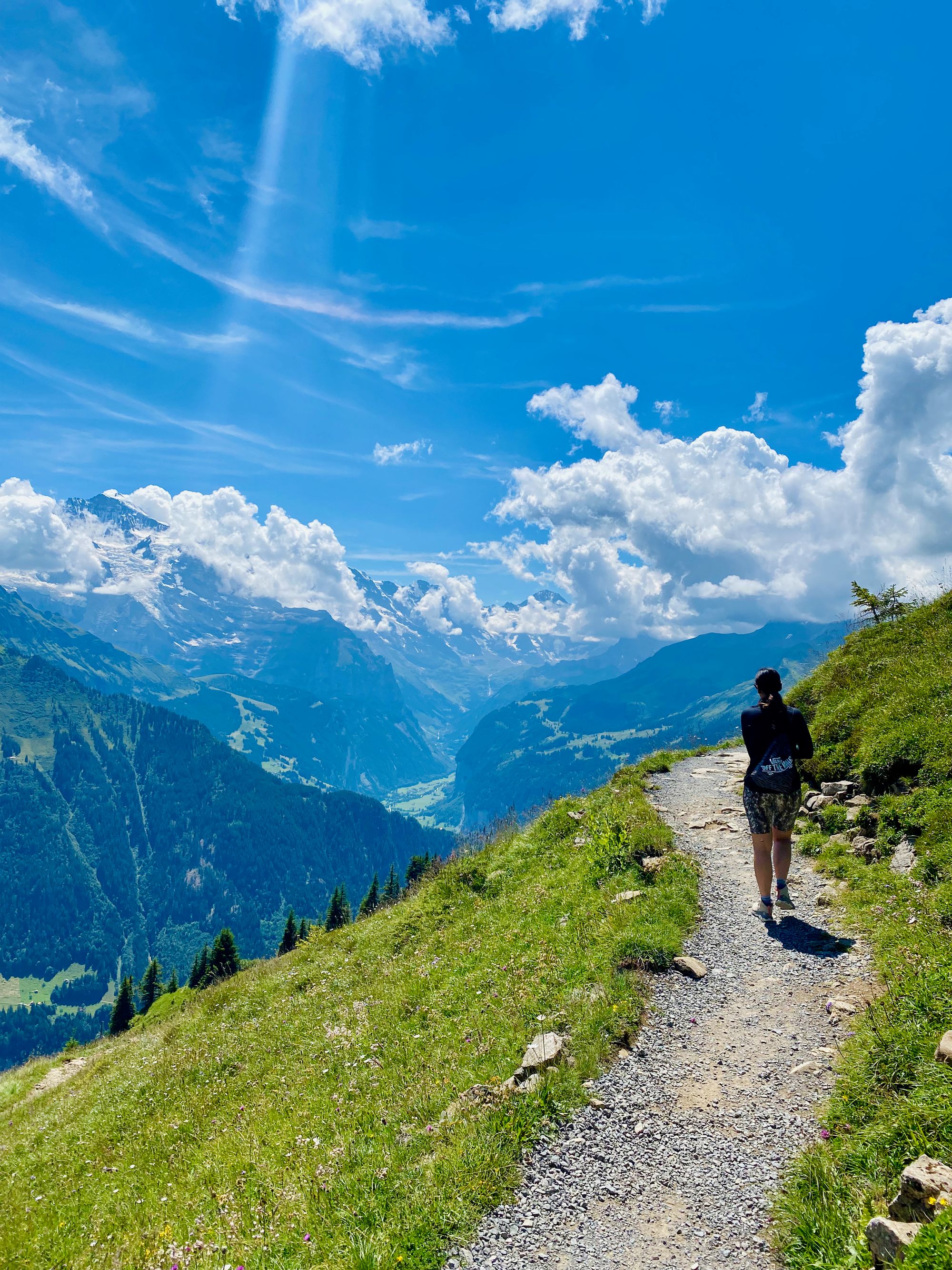 Next to the Schynige Platte train station there's an alpine garden that is worth taking a stroll through before starting on the trail and a restaurant to help getting your energy back after (or before?) the hike.
We started the trail at a little over 13:00 on a beautiful, sunny day.
The views along the way are some of the most impressive we have ever seen and we stopped every 5 minutes to admire the scenery and to take pictures.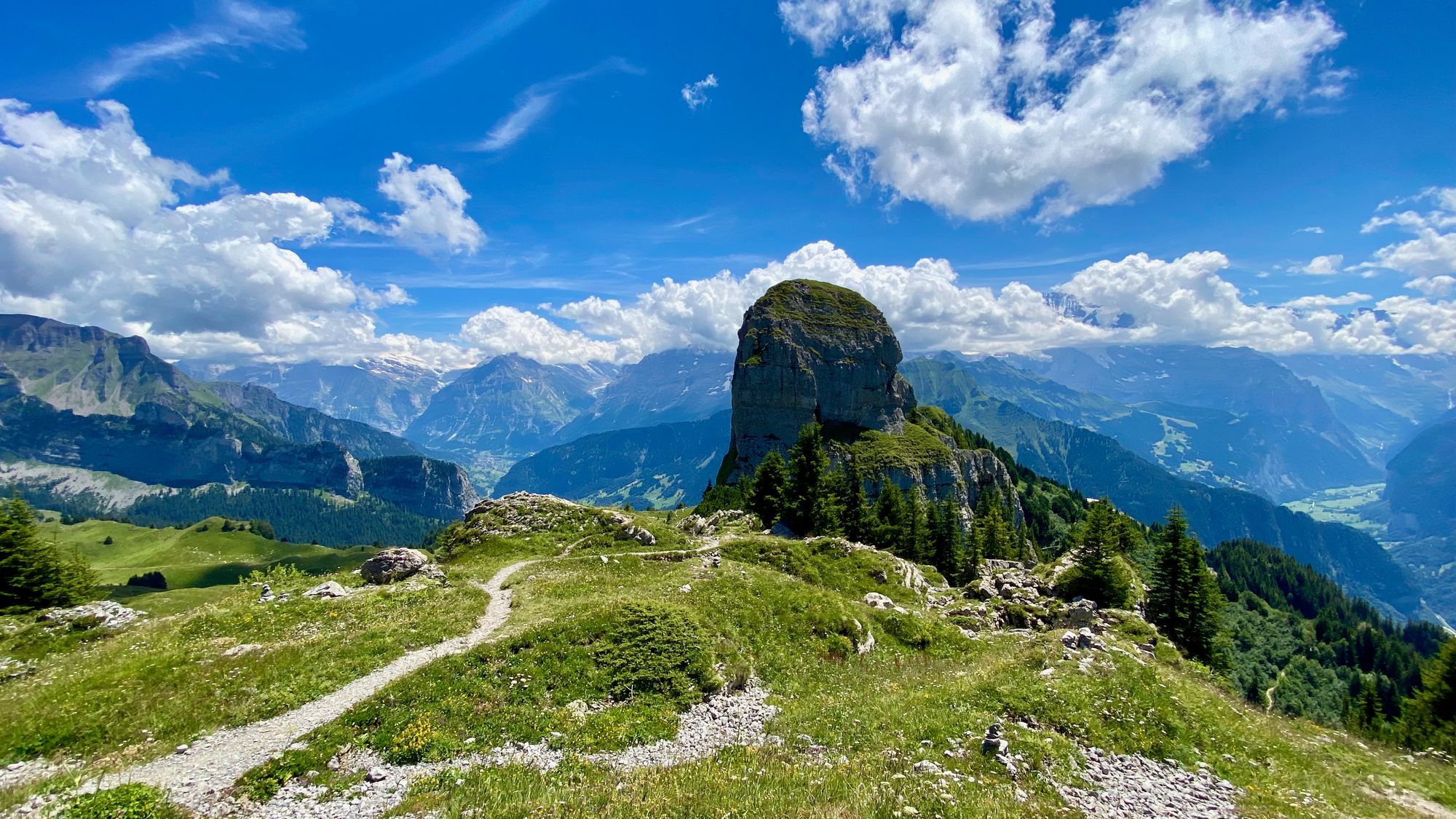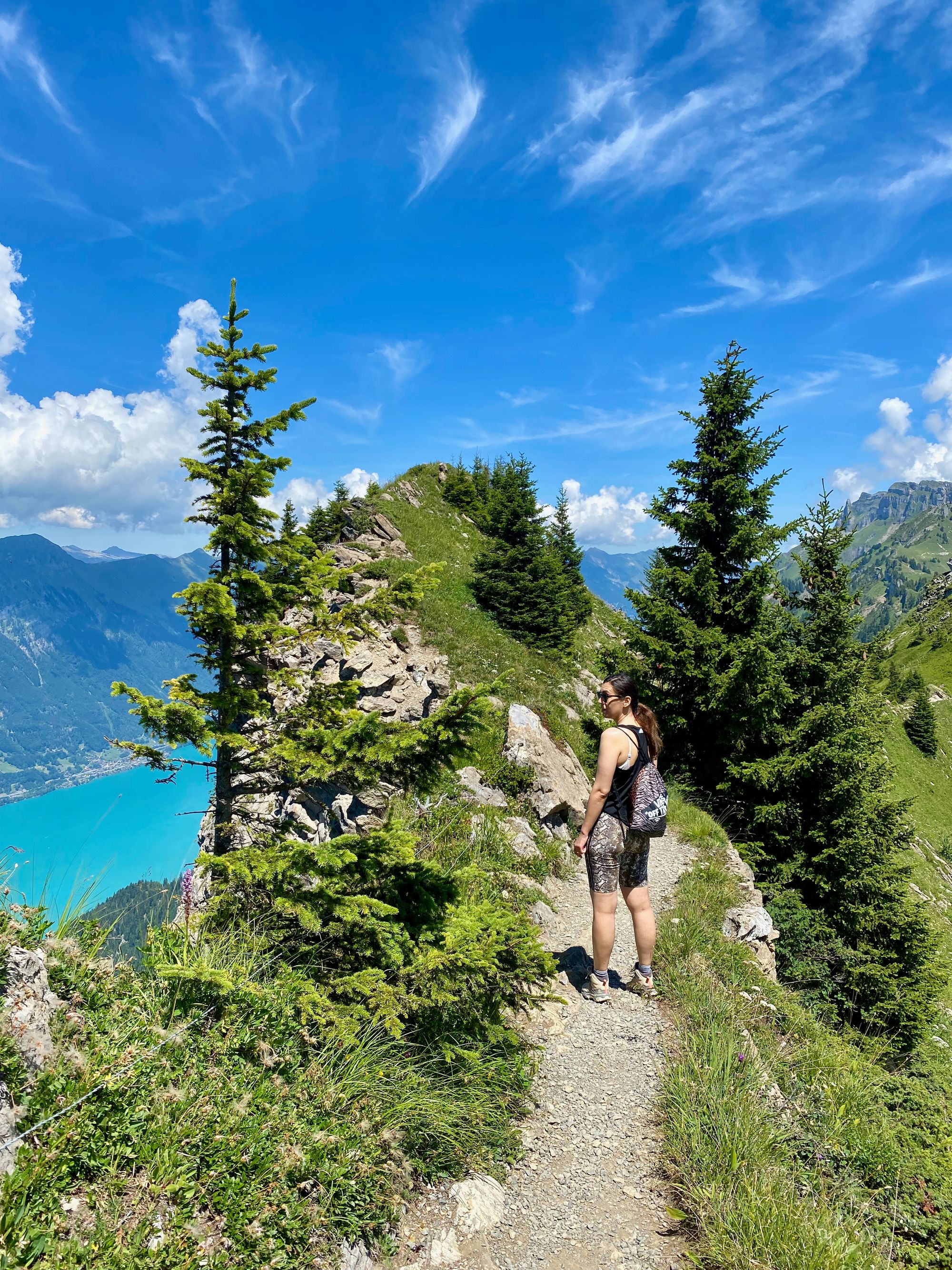 I would say the trail is on the easy side, even though there is a bit of climbing in the beginning it's nothing to worry about.
Then there's a short section that gets you close to the ridge and if heights aren't your friend you might get a bit uncomfortable. I was happily surprised to see that my wife, despite her fear of heights really enjoyed all sections of the trail.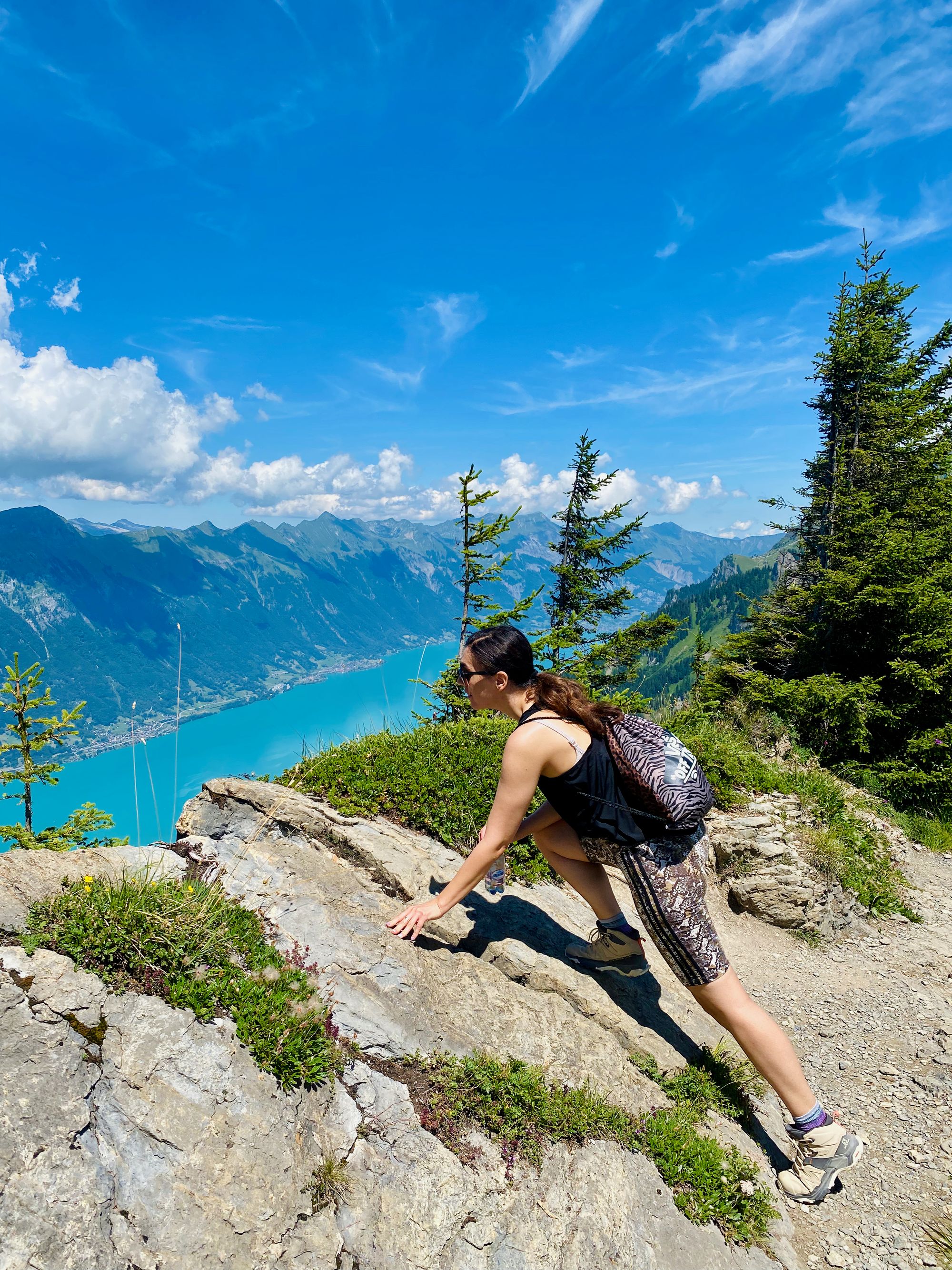 Being in the middle of the European summer vacation the trail was packed with people of all ages and there were a few moments when it felt a bit too crowded, but luckily most took the short route, leaving us almos alone for half of the trail.
But if you're looking for solitude this hike isn't for you.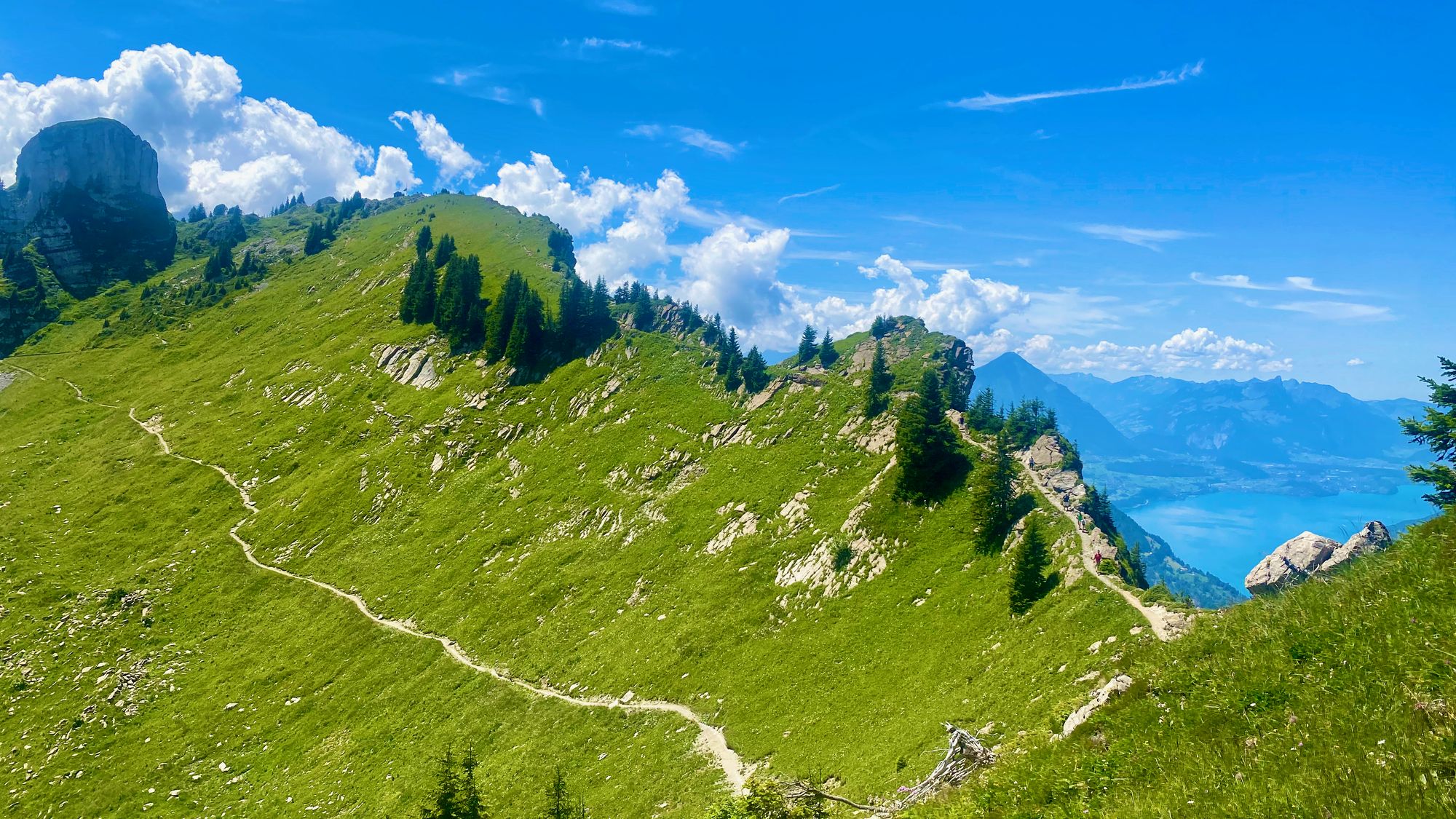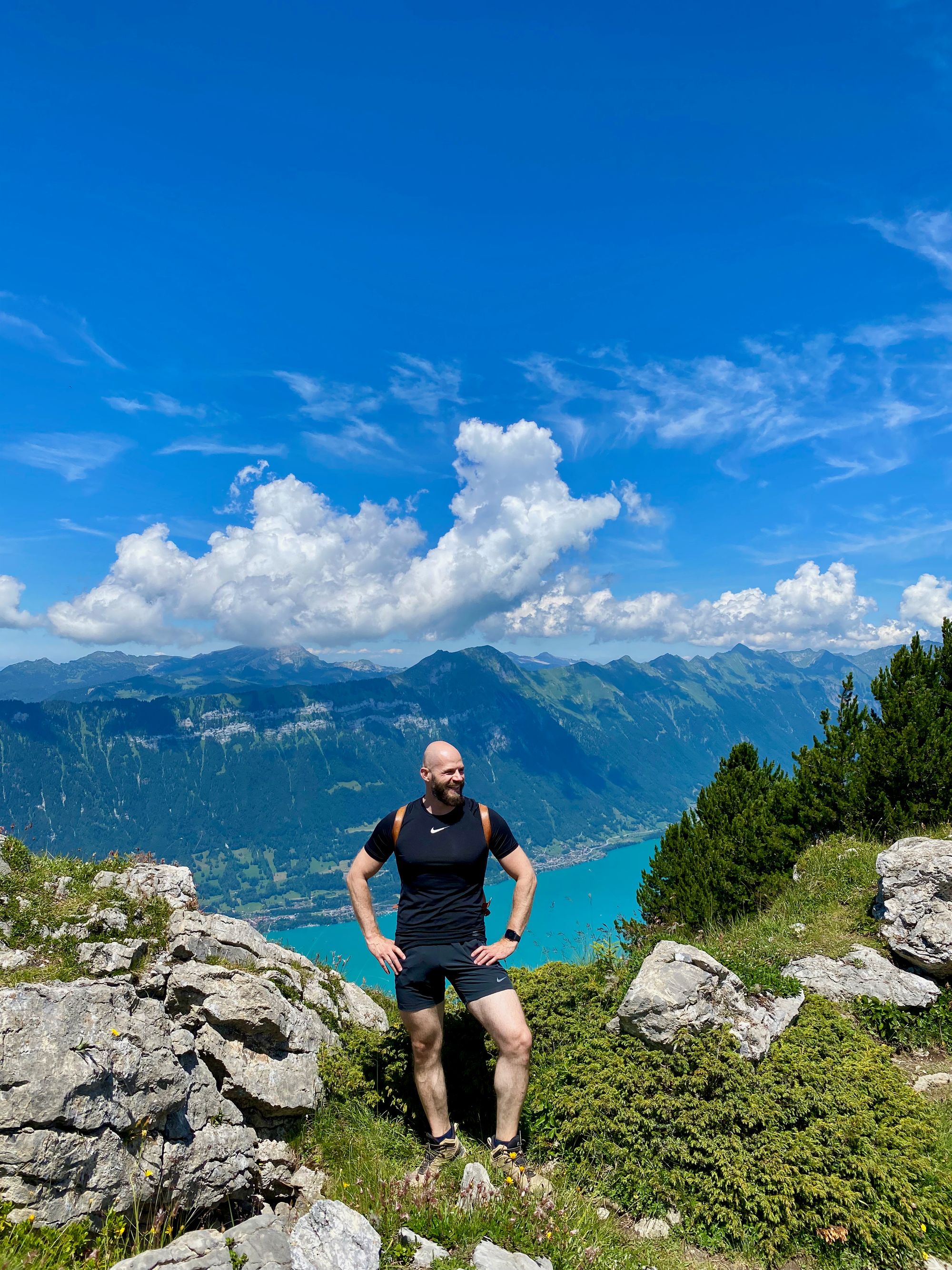 Make sure you bring plenty of water as there isn't any place along the way (that we could find) to replenish.
It took us under 3 hours to complete the hike including a short detour to the Oberberghorn observation deck.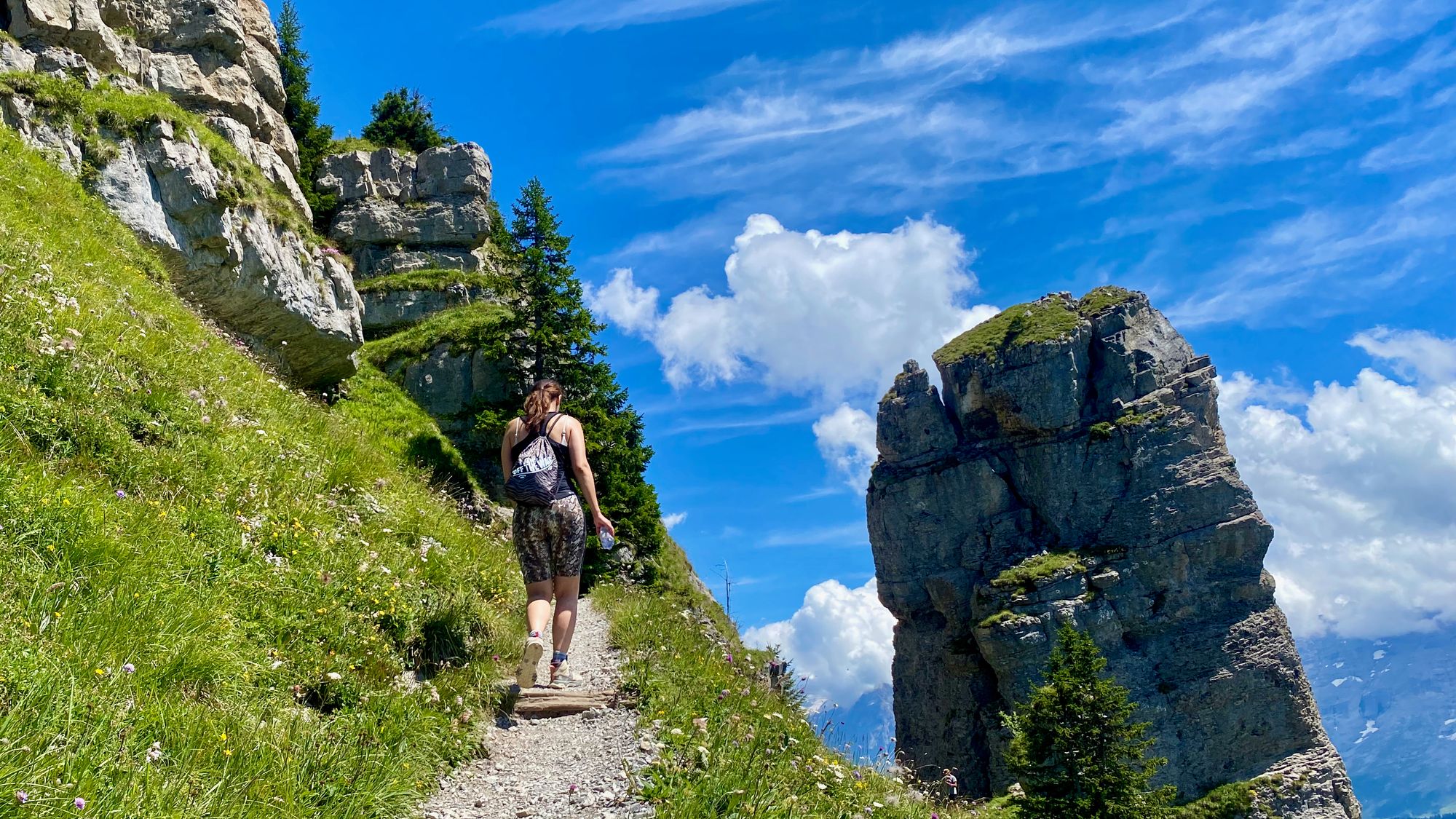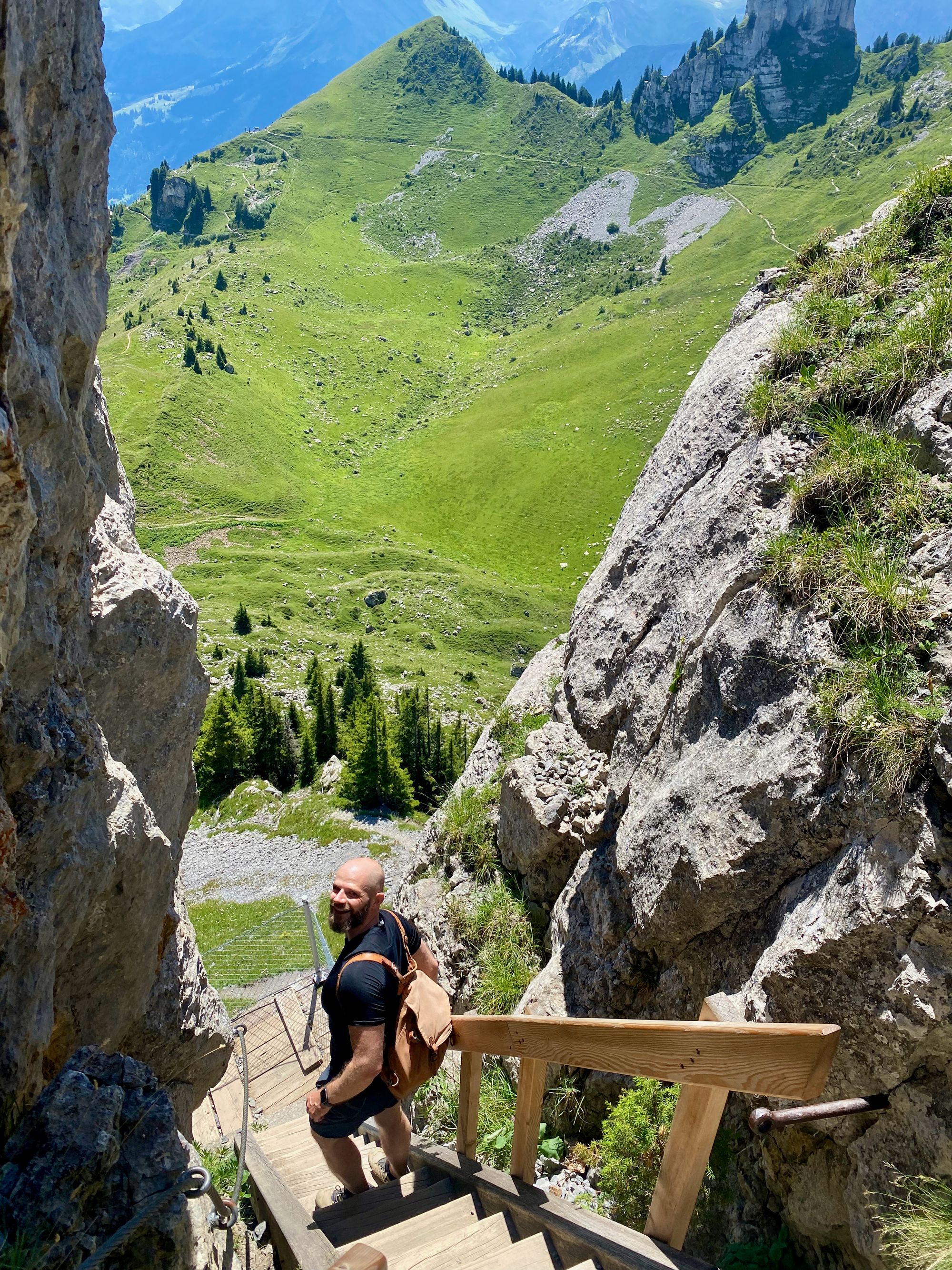 We had a great time on the hike being surrounded by amazing vistas. Below are a few more images from the trail.
If you are in the Interlaken area the Schynige Platte Panorama Trail is a must do!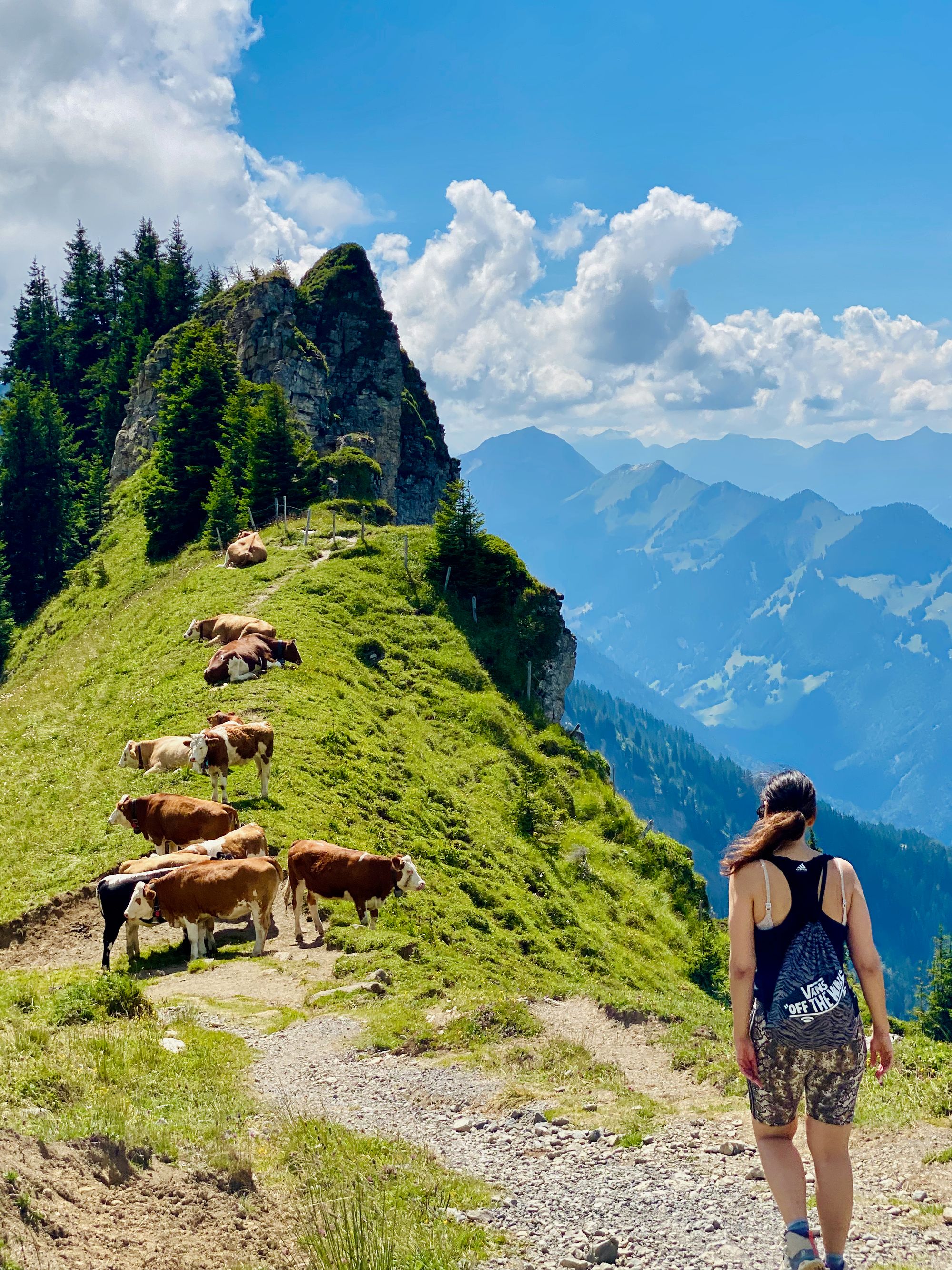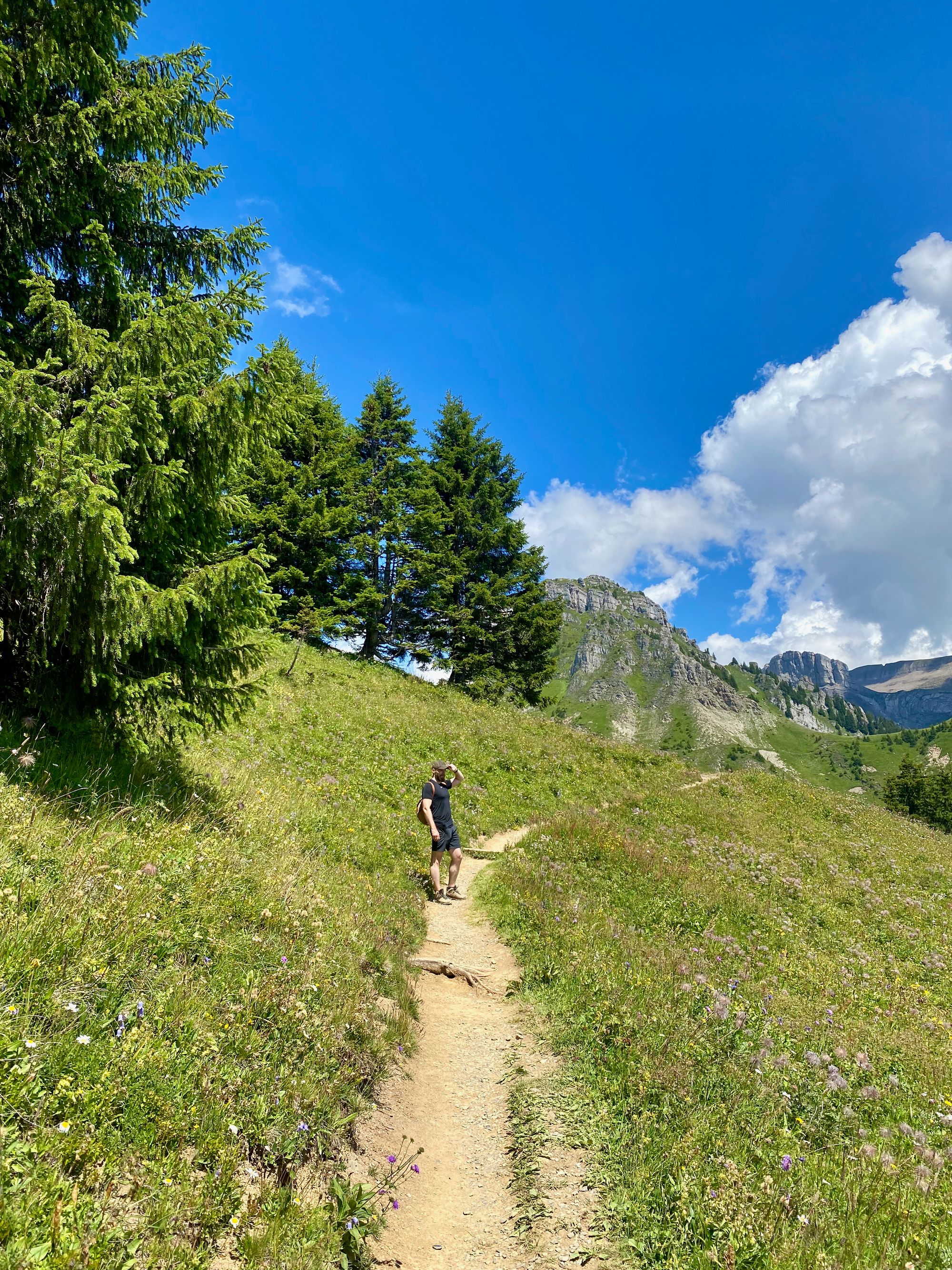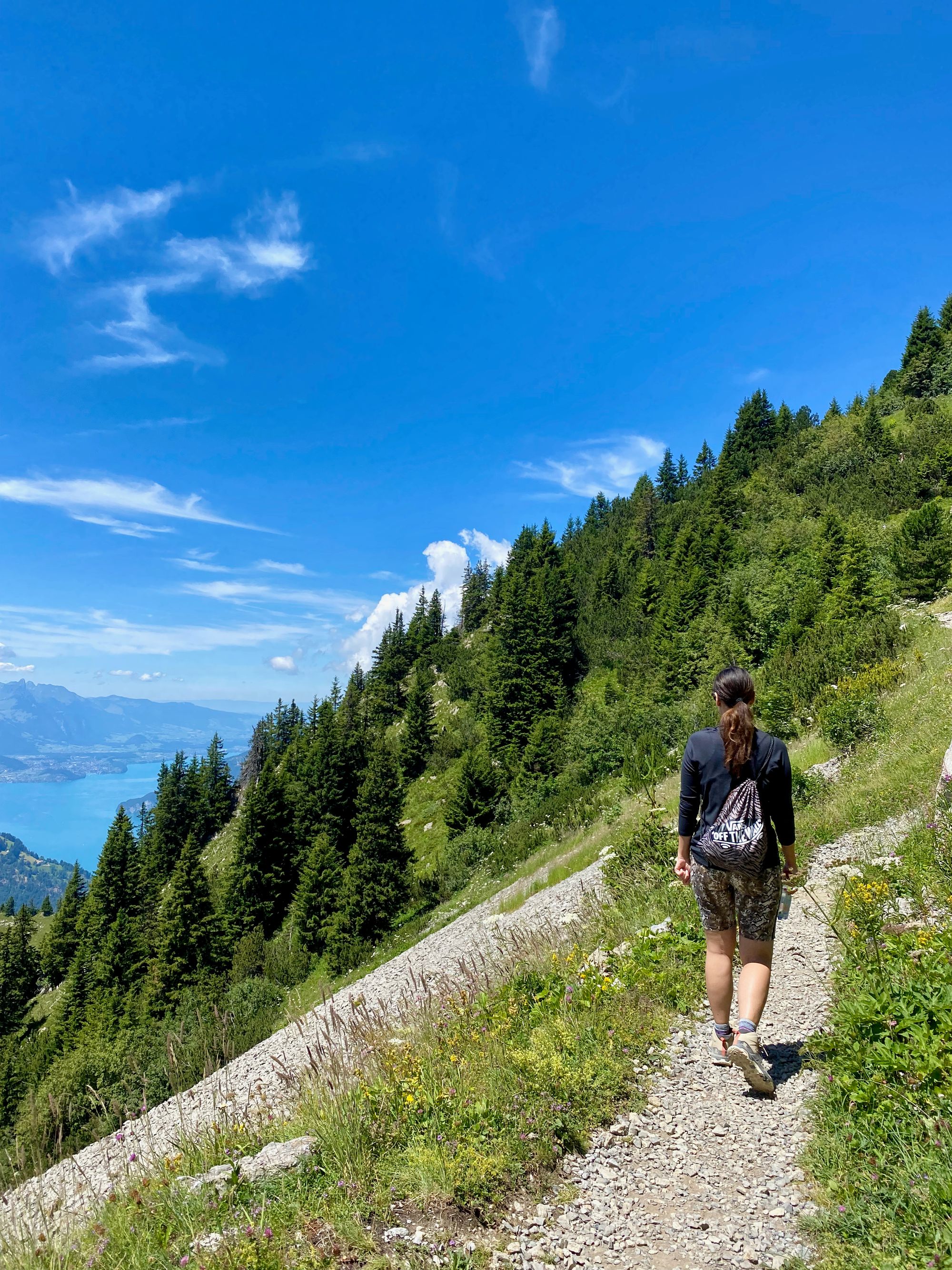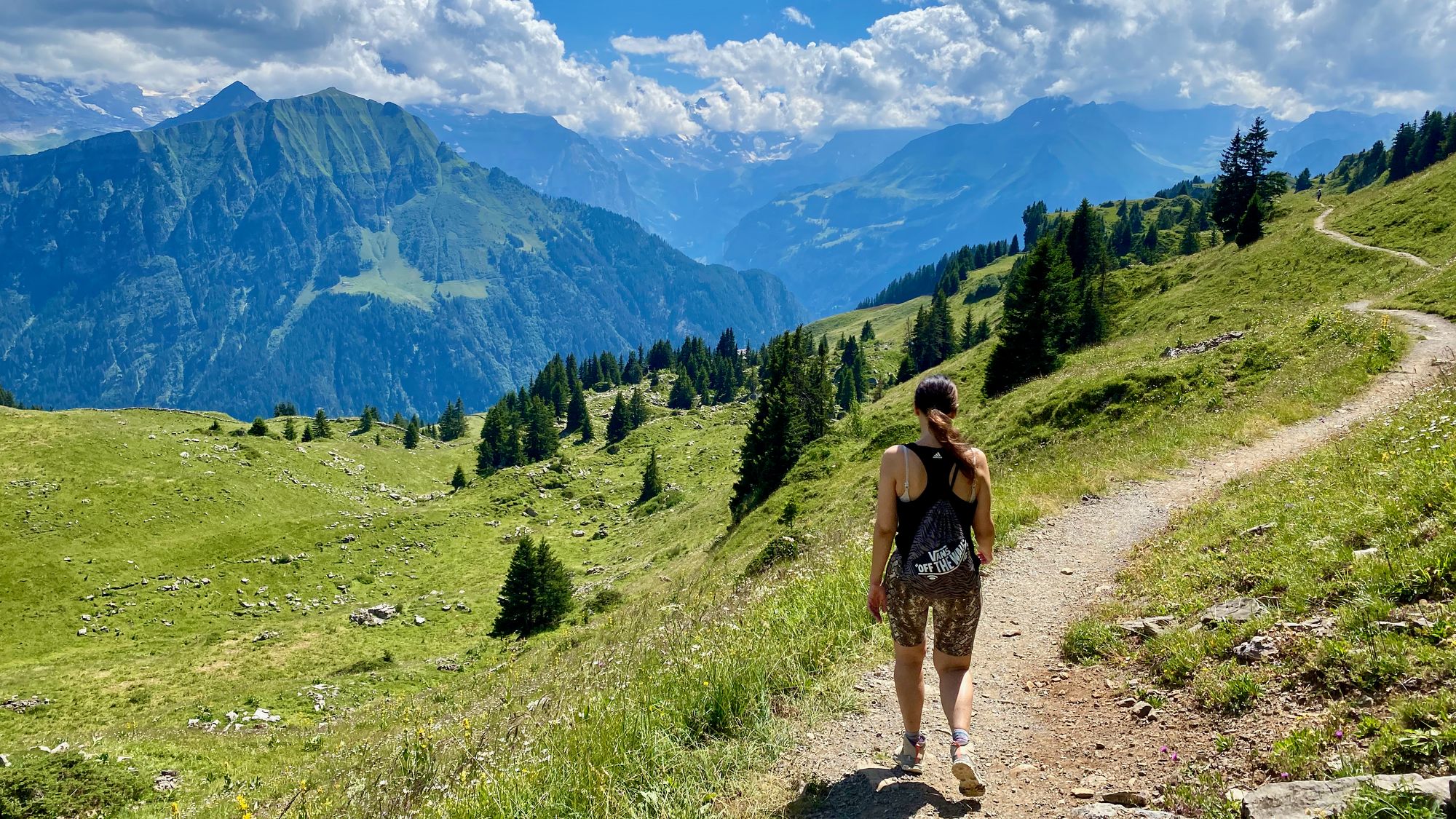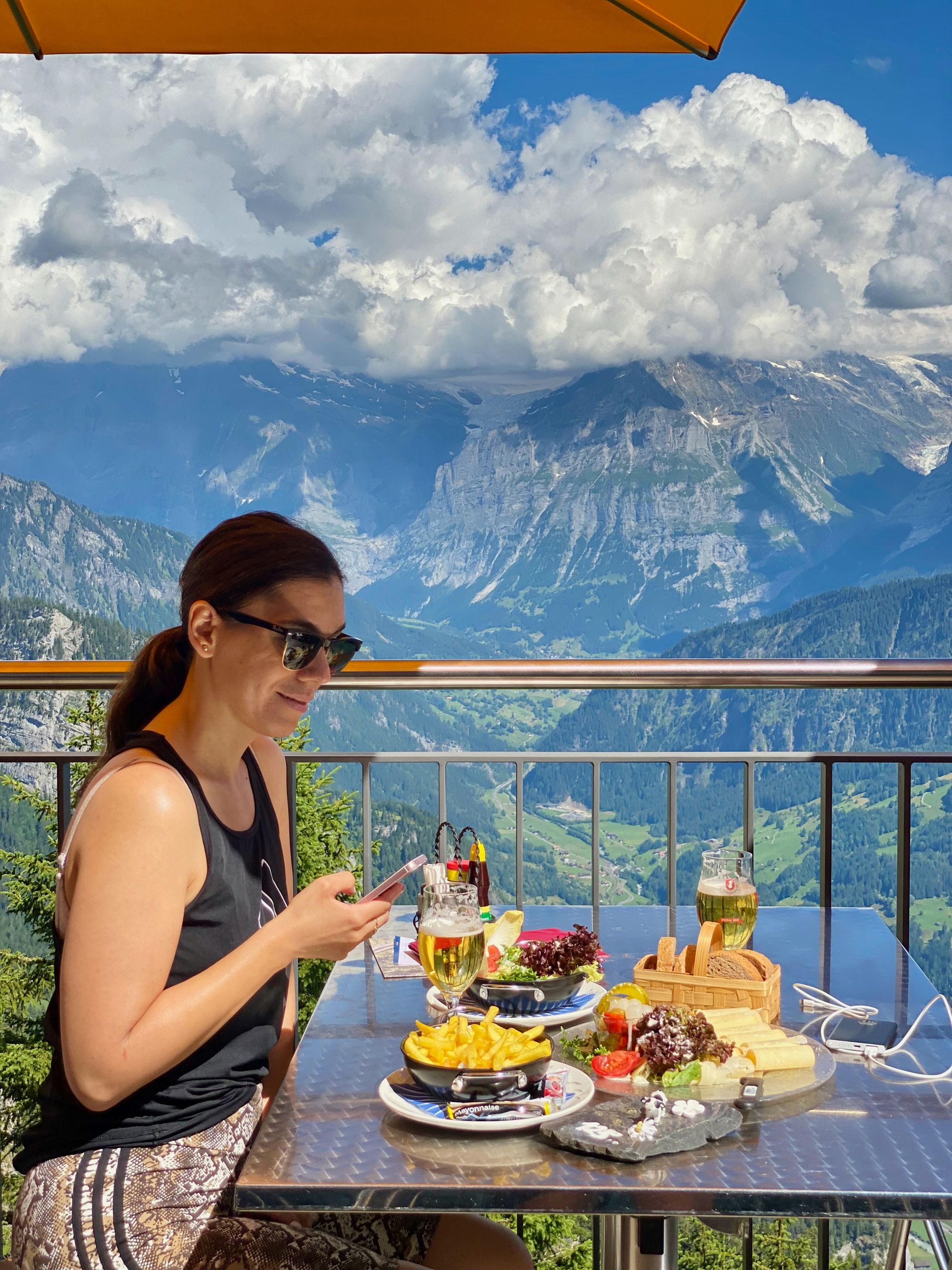 At 16:00 we were back at the starting point, with an appetite! The restaurant near the station is perfectly located to offer great views of the swiss alps but also of cows being transported from the mountains to the valley by helicopter.
Yes that happens, google it 😄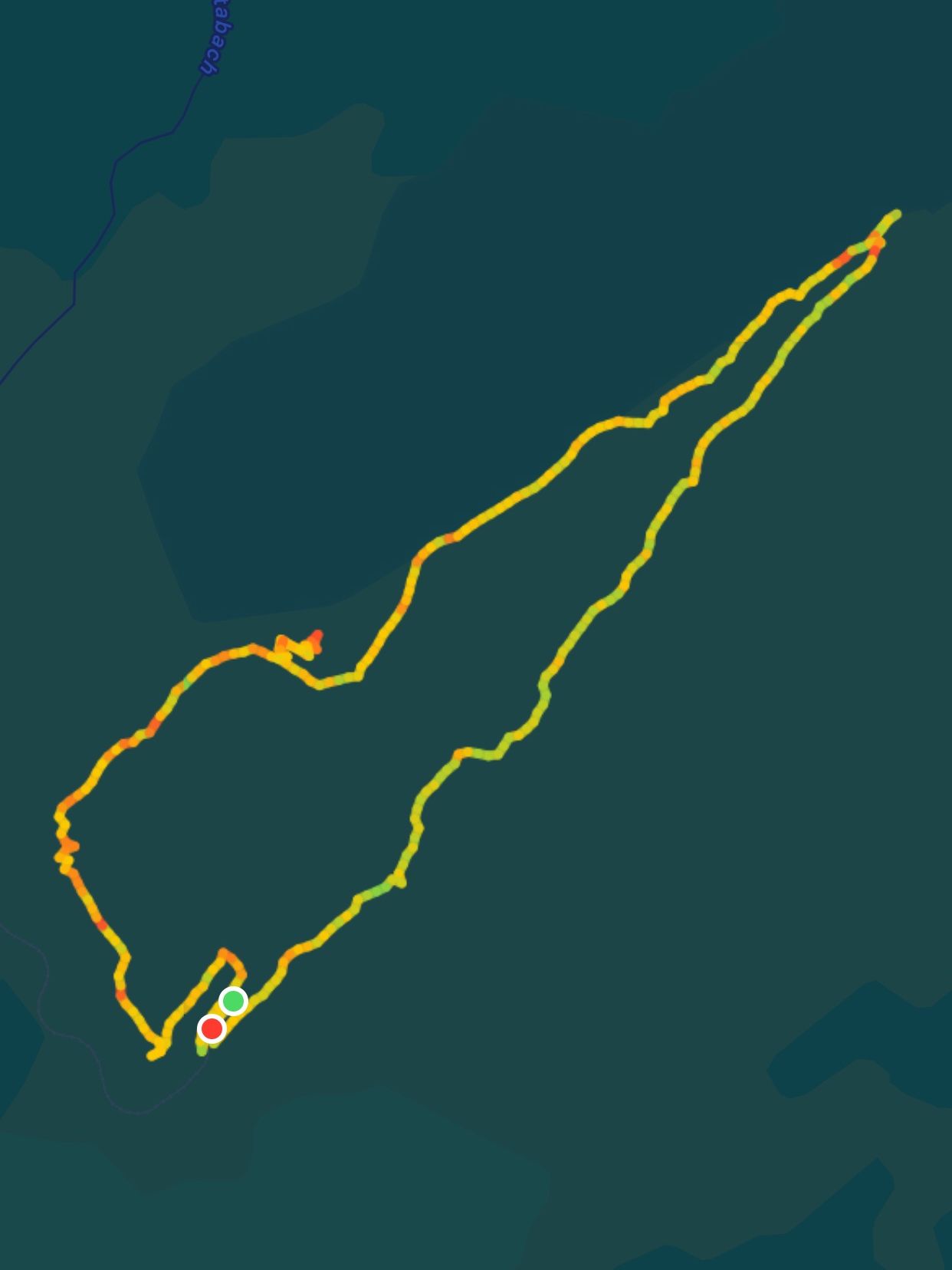 ---
Cruise on Lake Thun
What better way to relax after the hike than going full circle and revisit Lake Thun for a cozy ferry ride, the same we did on our first day in Switzerland.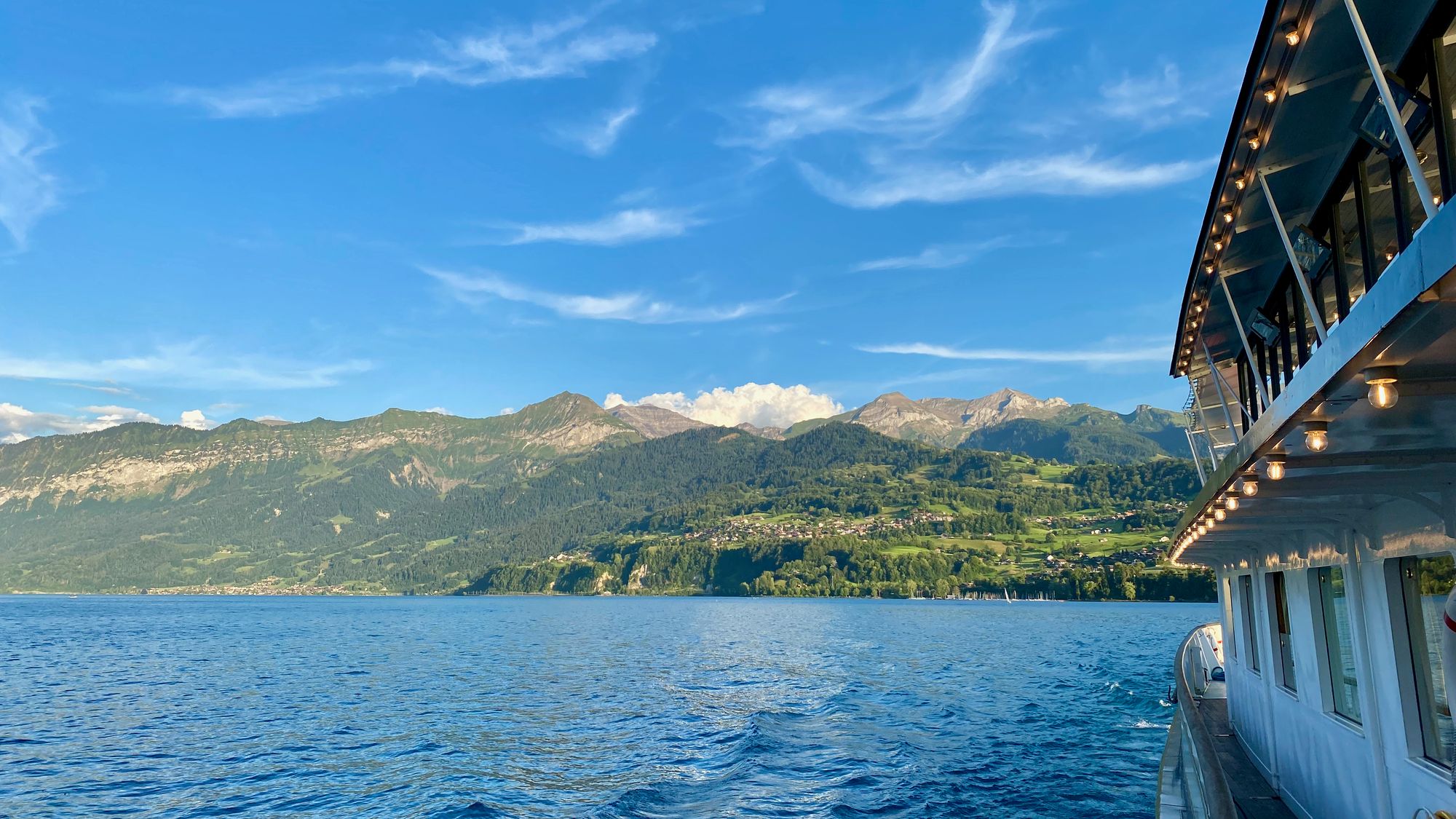 By 17:00 we left Schynige Platte taking the cogwheel train back towards Interlaken. Two hours later we were in a train approaching Spiez.
Weather wise we were extremely lucky during our time in Switzerland. Zero rain, almost no clouds and perfect temperature for outdoor activities.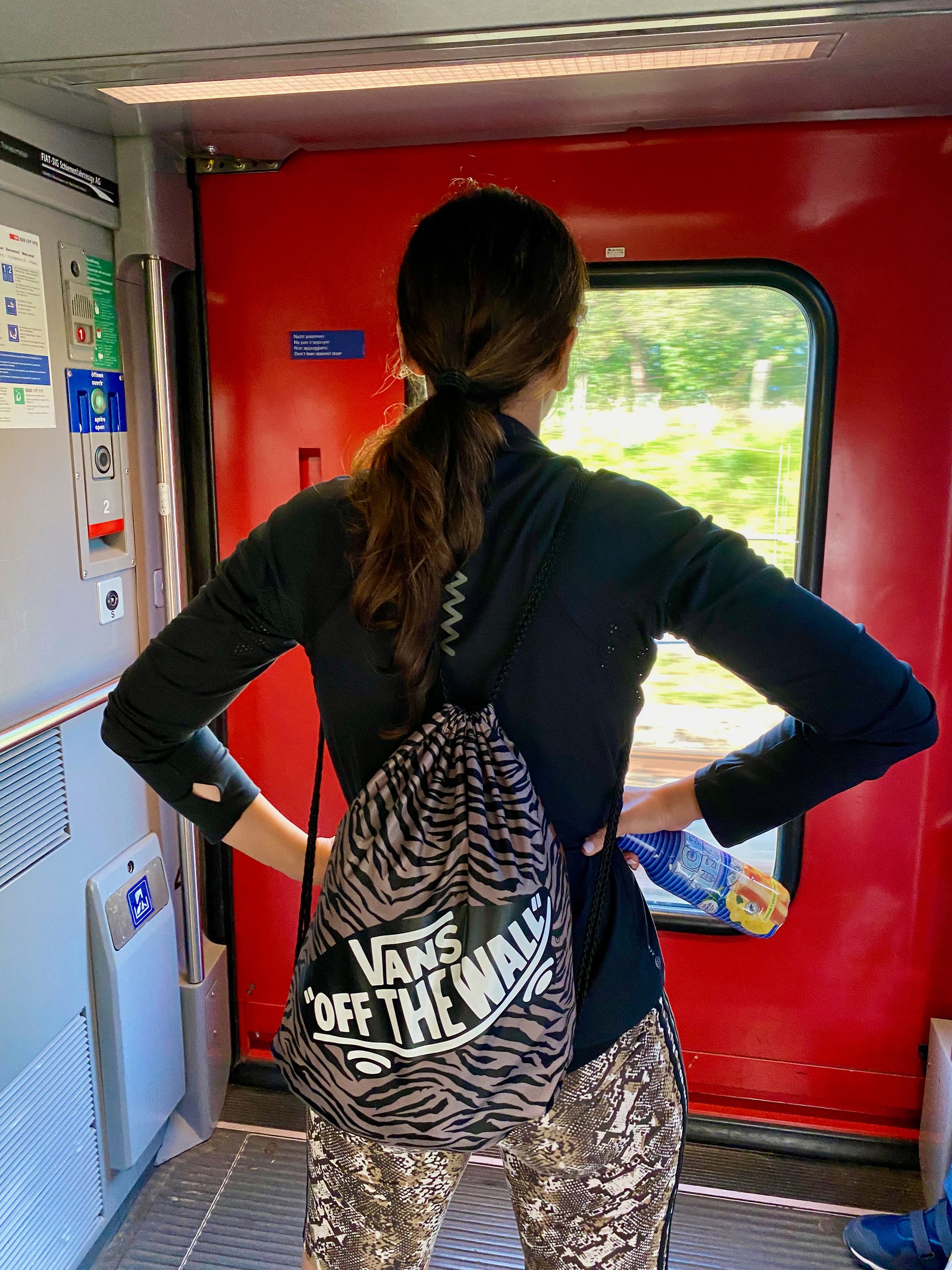 We decided this time to do a panoramic round trip around Lake Thun on an incredibly cool vintage paddle-wheel steamer built in 1906.
In the summer months it runs twice a day and we were lucky to arrive just in time to catch one of the rides.
Same as the first ferry ride this was also a spur of the moment kind of decision. One that we certainly don't regret but if you like to plan more in advance you can read about the different cruises on the lake (including a culinary one) here.
The low sun created a very beautiful lighting over the lake and the surrounding hills. I know you're tired of hearing me say this, but Switzerland is such a picture perfect country.
The tour took about an hour and by 20:30 we were back in Spiez. We had a pizza at a restaurant by the promedate that we had to finish pretty fast in order to catch the last train to Interlaken.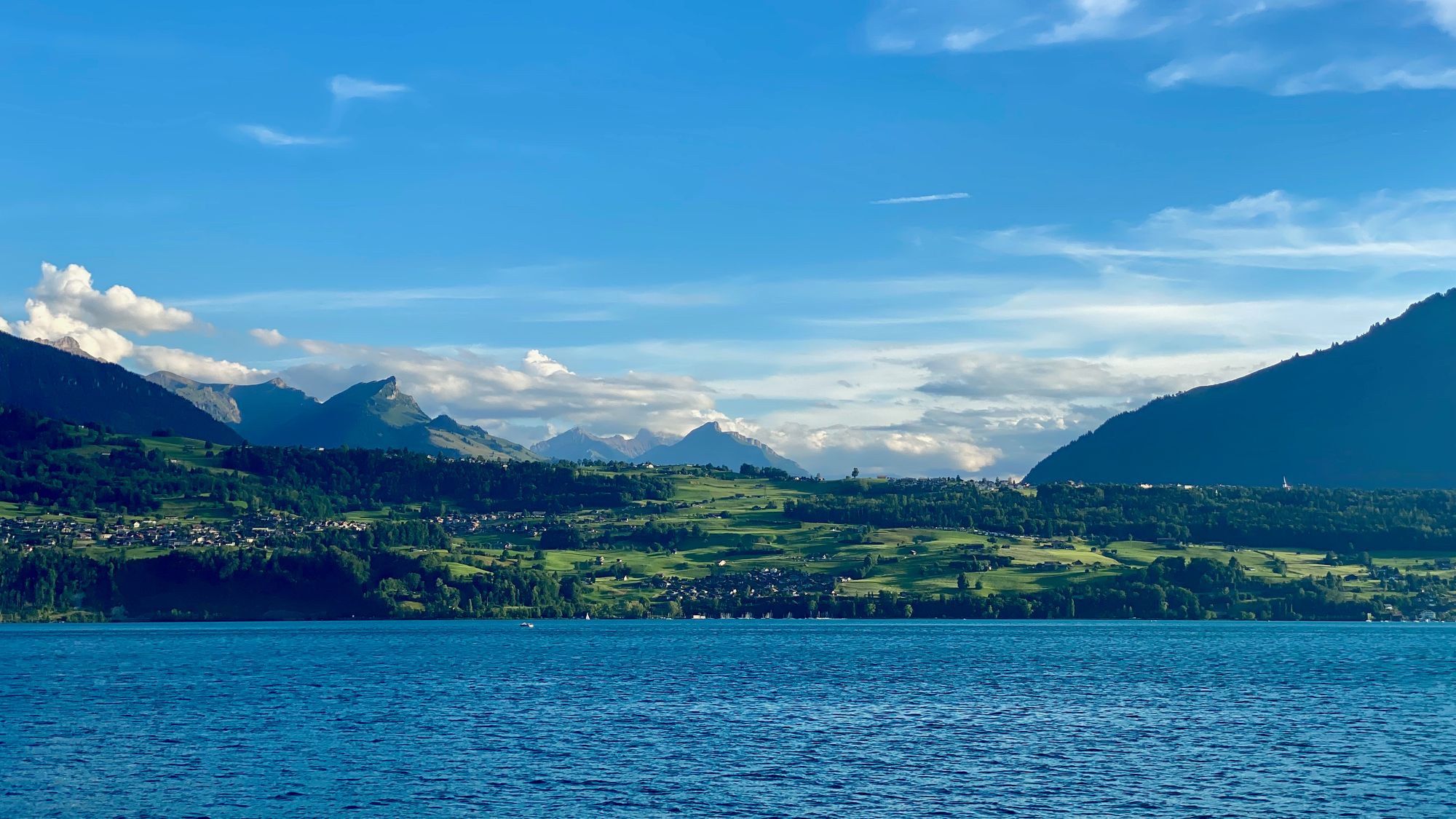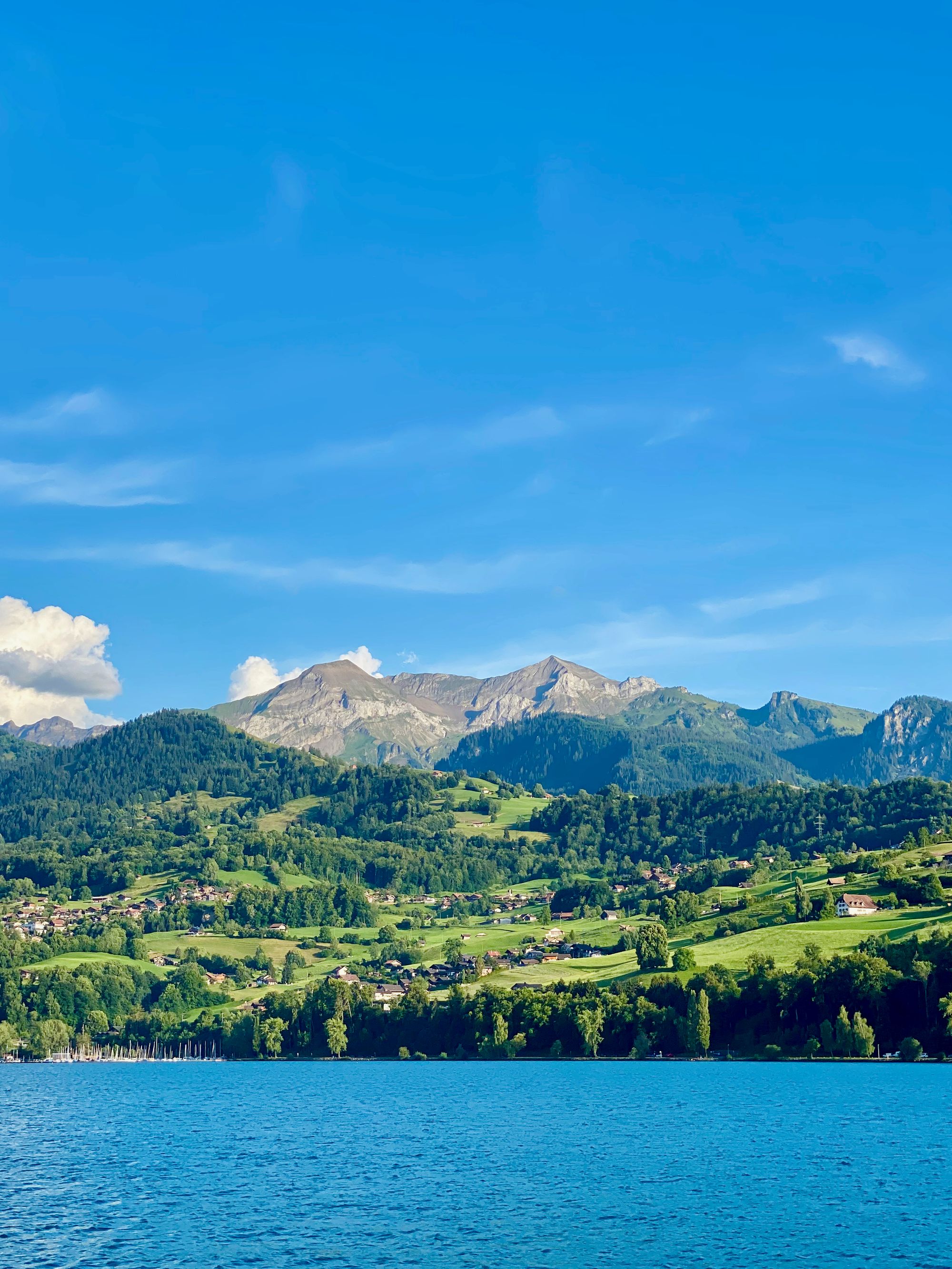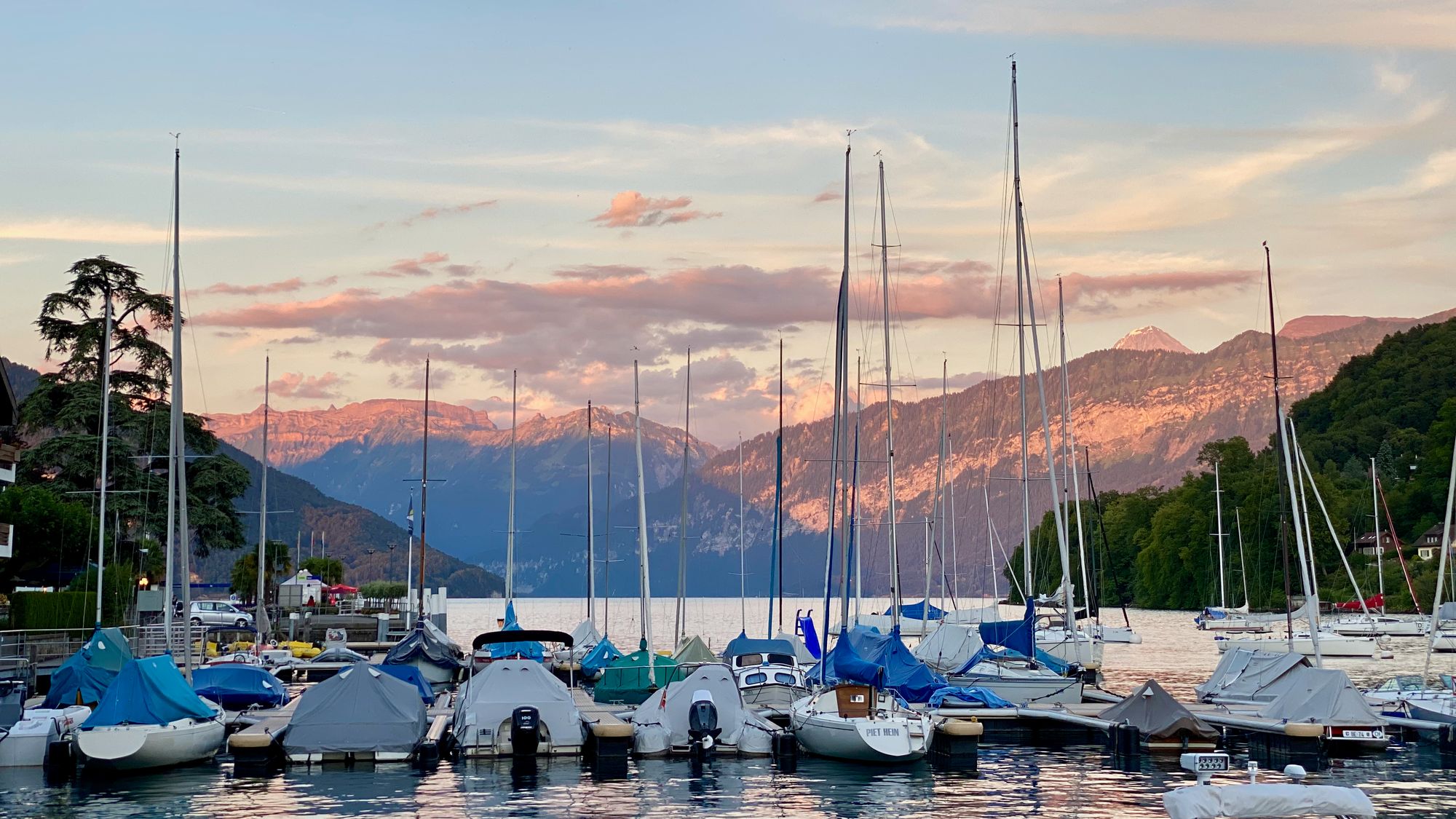 ---
Conclusion
And so our last day in Switzerland came to an end. The 5 days flew fast and we had an amazing time - just thinking about all we experienced puts a smile on my face.
It really was a trip that I'll remember for the rest of my life.
Having our own car in Switzerland was a great decision as it allowed us to stay flexible and to visit places that otherwise would be hard to reach.
I had a ton of fun on the mountain passes listening to the James Bond soundtracks and our BMW handled every situation perfectly, never feeling unstable - germans know how to build cars!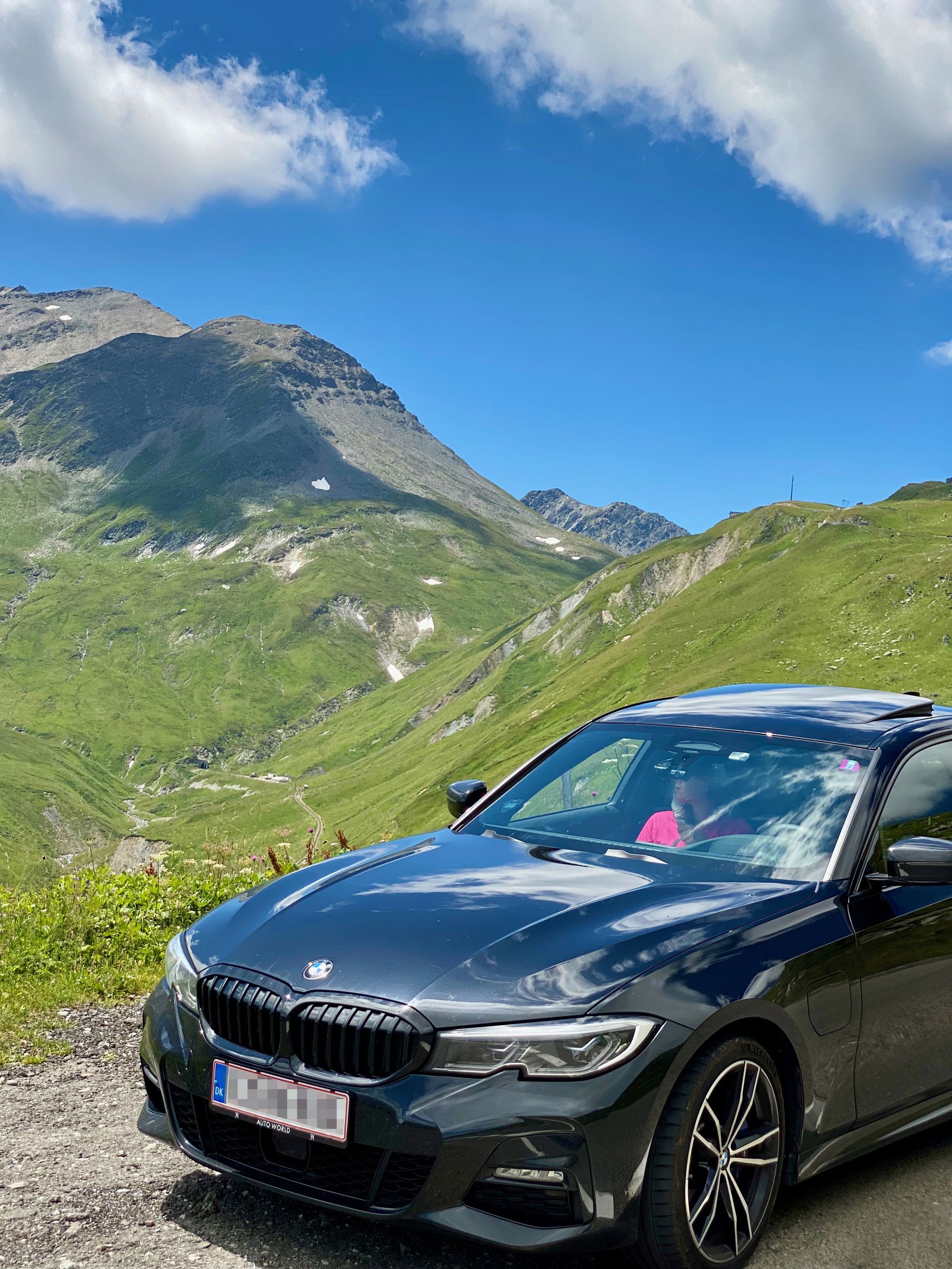 The Swiss public transport is definitely great but it's not perfect. Trains don't always come that often and sometimes they run by odd schedules so keep that in mind - we literally had to run to catch the last train from Spiez to Interlaken.
Here is our 5 day itinerary in short:
Day 01: Arrival in Interlaken, took the train to Spiez on the shore of Lake Thun, then ferry ride to the town of lake Thun and back to Interlaken by train.
Day 02: Visiting Jungfraujoch the "Top of Europe" at 3,454 m / 11,332 ft then hiking from Eigergletscher station to the town of Grindelwald (13 Km / 8 Mi).
Day 03: Taking the car to the canton of Ticino to visit Brissago and Ascona. On the way there and back we passed through some amazing mountain passes: Grimsel Pass, Furka Pass, Gotthard Pass and Susten Pass.
Day 04: Road trip to visit Gstaad and Montreux, having our windshield cracked and dealing with all that.
Day 05: Hiking the beautiful Schynige Platte Panorama trail and finishing the day with a cruise along Lake Thun.
Is it a perfect itinerary? Probably not but I hope it can help planning your time in Switzerland. I think it will be hard not to have time.
I know this was a long read but it's hard to compress such a diverse country. In the second part we'll be driving to France to spend a few days in the Provence area before going to the Côte d'Azur and back to Denmark.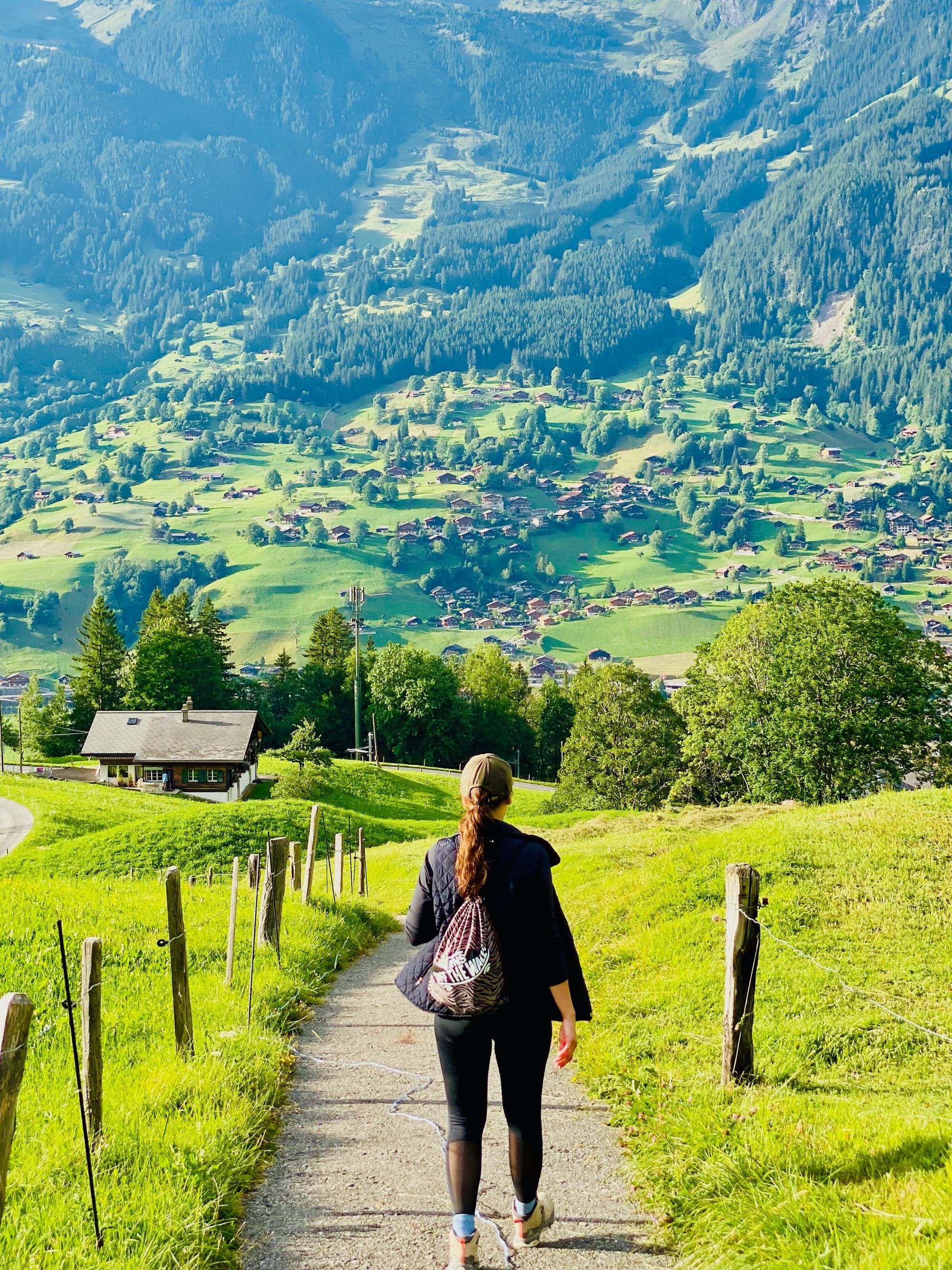 👍 What was good: the diversity that such a small country offers from the impressive swiss Alps to glacier lakes with surreal colors and to the picturesque villages.
👎 What was not so good: Switzerland is expensive, especially for eating out, and we felt it even being used to the prices in Denmark, another pretty expensive place.
🤩 Most memorable moment: this is a difficult one but I think the evening drive back to our hotel over the Susten Pass.
Thanks for reading,
-Adrian
💖
If you enjoyed reading this consider
subscribing
to my blog so you get notified when I write new articles.
---
Entire Trip Summary
From Denmark to Switzerland and France (+ return), 06 - 24 July 2022.
🚗 Distance driven:
5825 Km / 3620 Mi
🌍 Countries crossed:
Denmark, Germany, Switzerland & France.
🍹 Standout cities visited: ‌‌
🌄 Standout areas visited:
Furka Pass & Susten Pass for some amazing mountain roads. The drive from Interlaken to Gstaad was also very pretty.
🏨 Hotels we stayed: ‌‌
---
Itinerary Map
🌍 Below you will find an interactive map with the directions taken, the places we stayed and the ones we visited for the entire trip.