Second Road Trip Part 02: South of France in 8 days
Read about our 8 days in Provence, split between exploring the hilltop towns of the Luberon area and the French Riviera, before driving home to Denmark through Switzerland and Germany.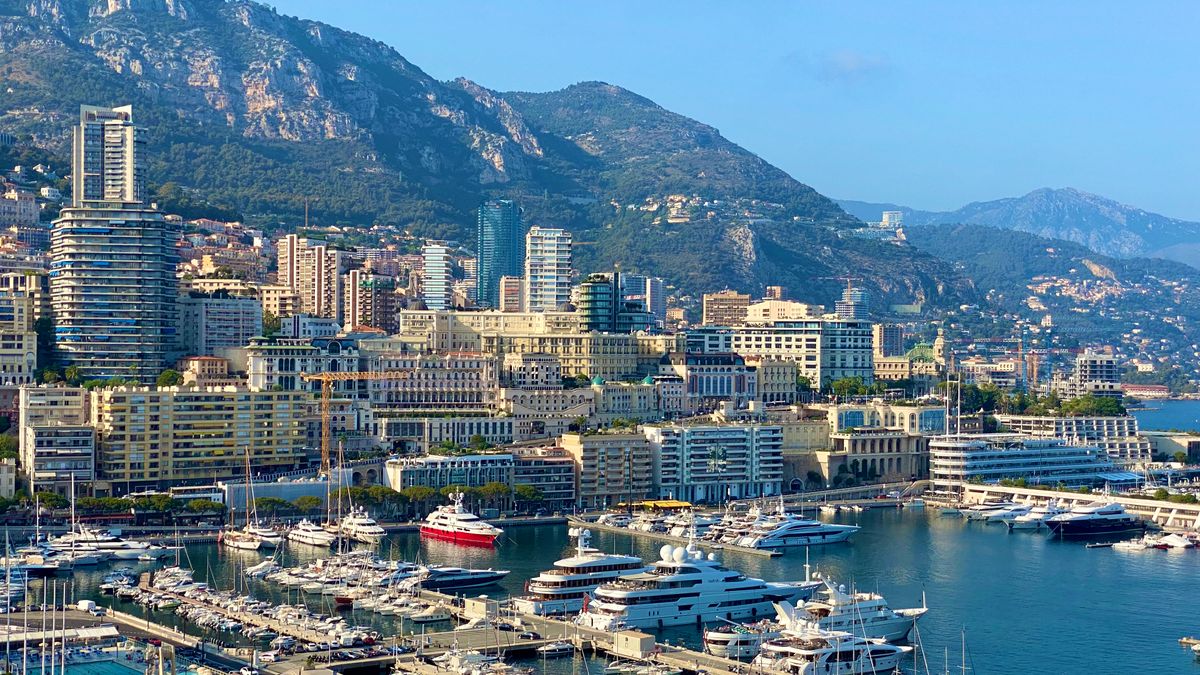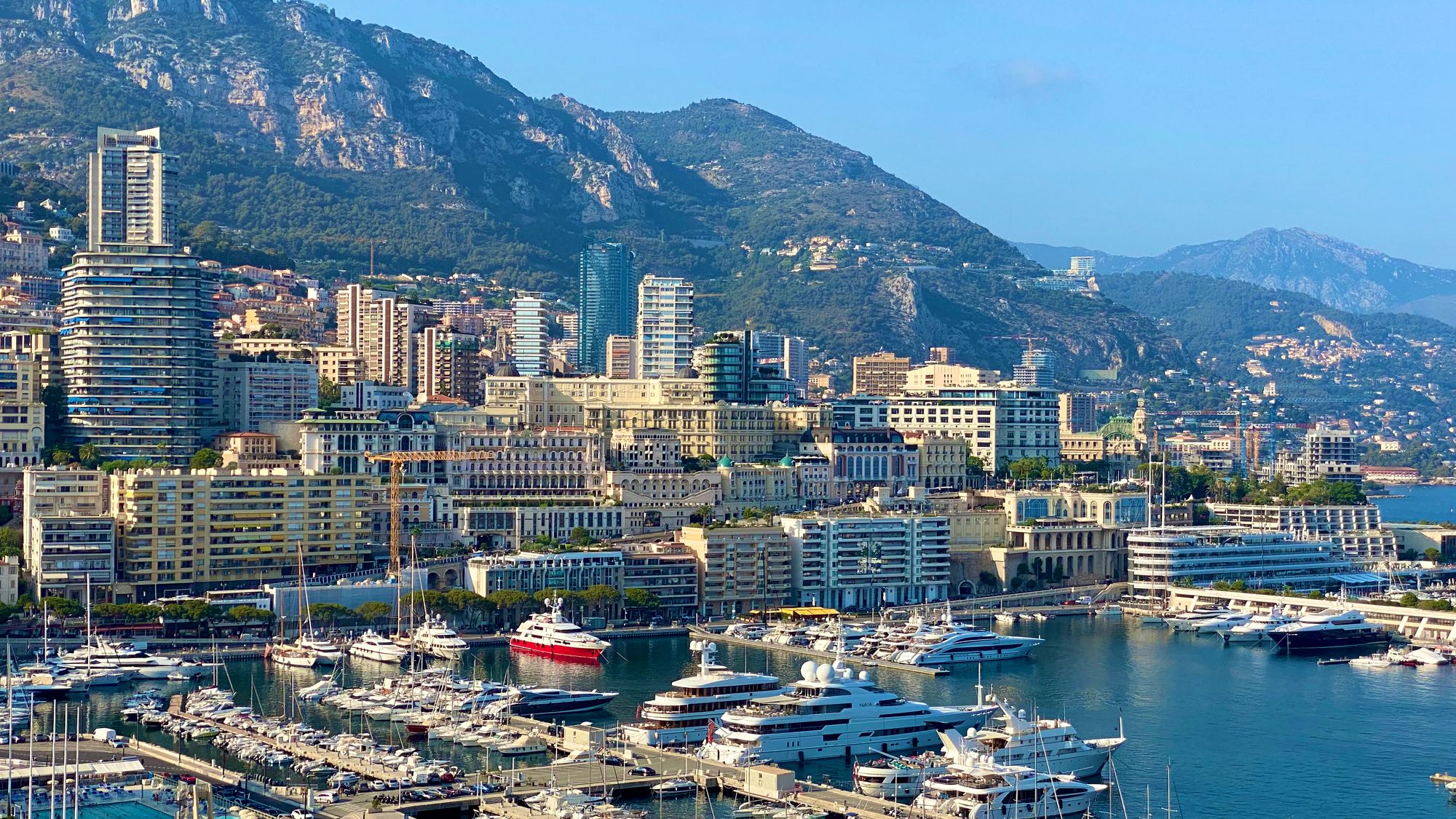 Greetings,
My name is Adrian and together with my wife we embarked in four road trips around Europe during 2022, one in each season.
Two of them where done for remote work and two entirely as a vacation.
Being the first time we had access to a car we got to experience a sense of freedom we never knew before, creating unforgettable memories we otherwise would had missed.
In this series of blog posts I will talk about our journey, what went well & what didn't, with the hope of helping and inspiring others to explore Europe by car.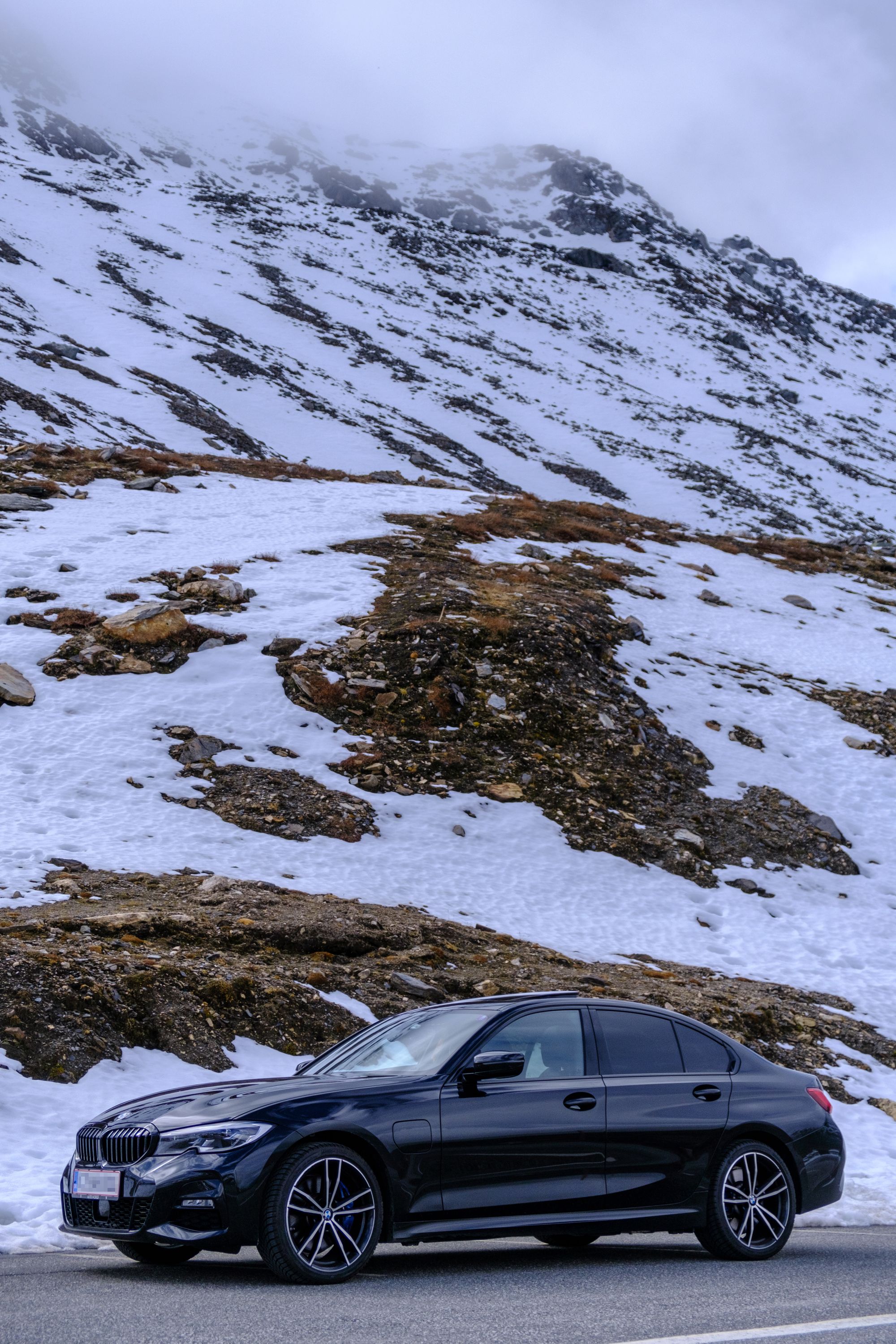 ---
Introduction
Welcome dear reader to part 02 (and last) of our Summer road trip that took us from Denmark to Switzerland and France, and back to Denmark.
In this second part you'll join us on the journey to discover Provence, France - a region that has something for everyone, whether you're interested in history, culture, food, or just enjoying the natural beauty of the region.
First we'll by spending 4 days exploring the charming villages of the Luberon area before making our way to the bustling cities of the French Riviera (+ Monaco) for yet another 4 days. At the end we'll conclude our journey by driving home to Denmark, passing through Switzerland and Germany.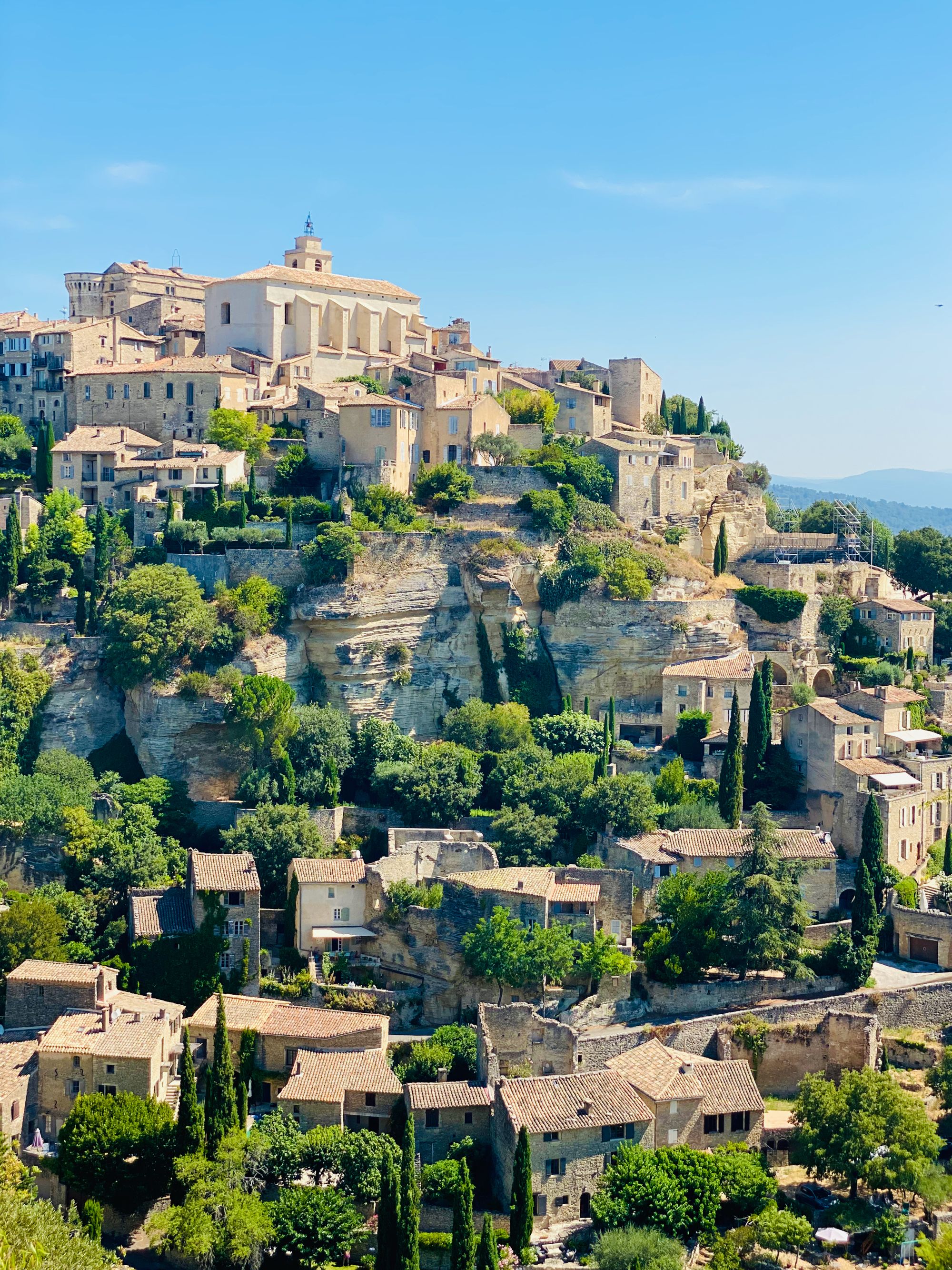 👉 Read part 01 here if you are interested in our swiss adventure: the alps, glacial lakes, unforgettable hikes and some amazing mountain passes.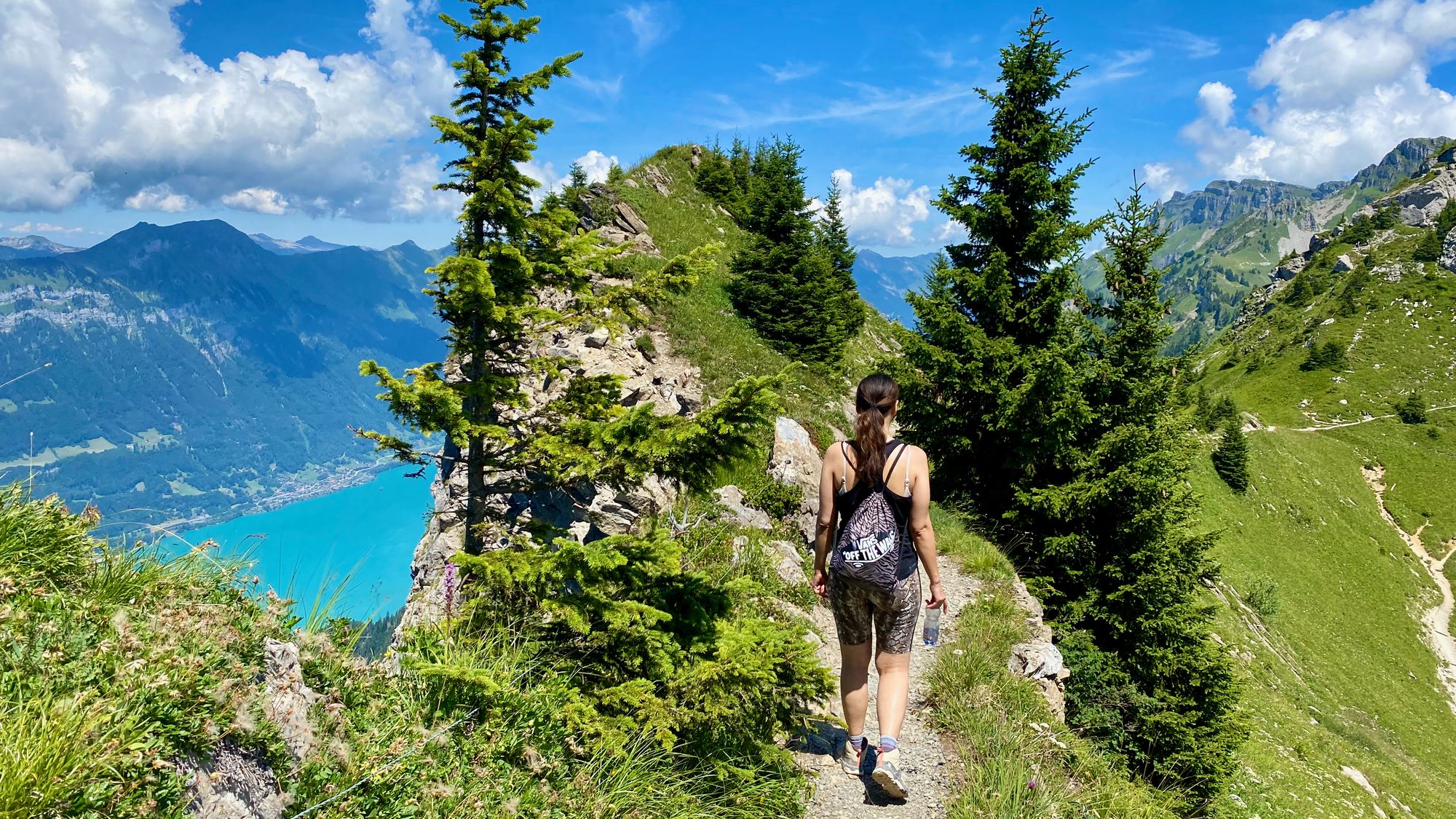 Table of content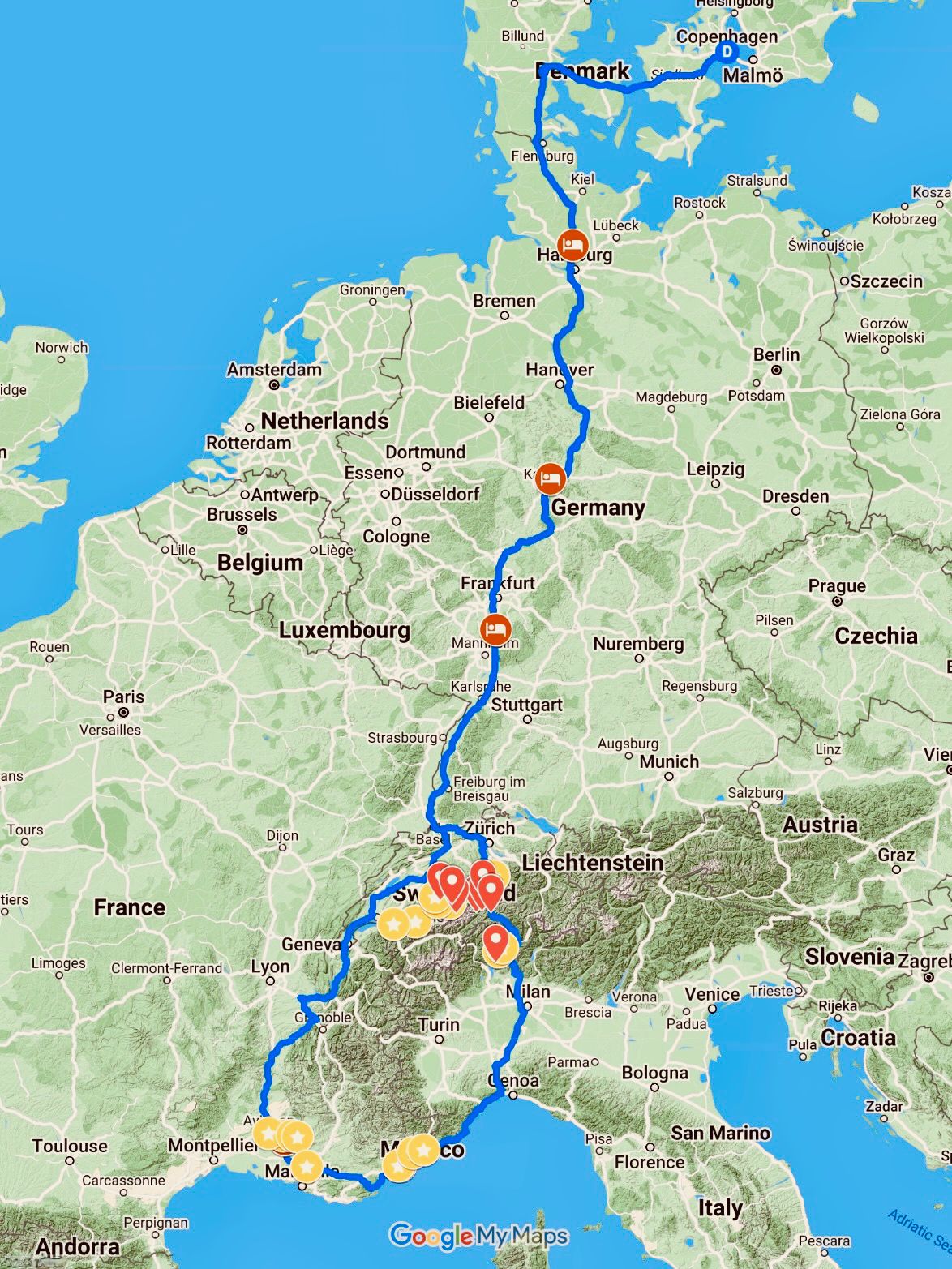 ---
Adieu Switzerland, Bonjour France
Five days after arriving in Switzerland we had to say goodbye to this beautiful country. It was too short of a stay and we will return to Switzerland in the spring of 2023 but for now we'll be making our way to the Luberon area of France, a first for us.
With both countries being in the Schengen area, crossing into France was smooth and fast. As opposed to Switzerland there is no vignette for driving in the country, instead you pay at booth tools along the highways (cards accepted).
⚠️
Although there is no vignette required, some cities especially the larger ones, require a Crit'Air sticker.
Crit'Air stickers are mandatory for driving in low-emissions zones introduced by certain local authorities or for driving when the préfet introduces emissions-based traffic restrictions during periods of pollution.
Read more on the official website here:
https://certificat-air.gouv.fr/
Travel time with stops and everything was about 7 hours for ~600 Km / 372 Mi passing through some beautiful landscape changing from snow capped mountains with lush vegetation to a softer and dryer environment, at times reminiscent of what we saw in Tuscany during our spring road trip but not quite - it certainly has its own vibe.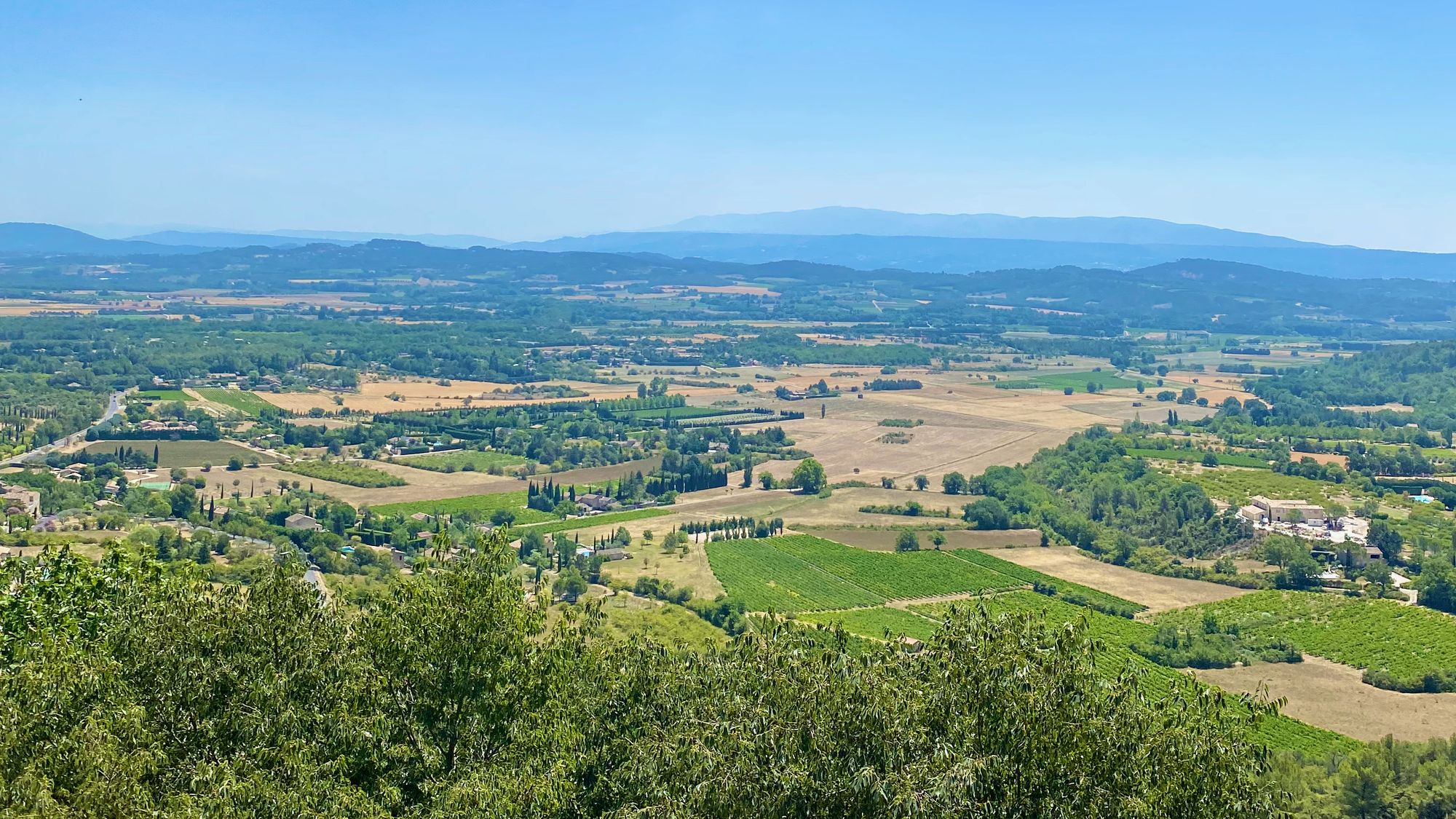 Unfortunately I won't be able to share any dashcam footage with you. If you haven't read the first part (you should), our windshield cracked in Switzerland and while luckily it was just a single line that didn't obstructed my view it went straight in front of the dashcam... so no footage from the car this time 😤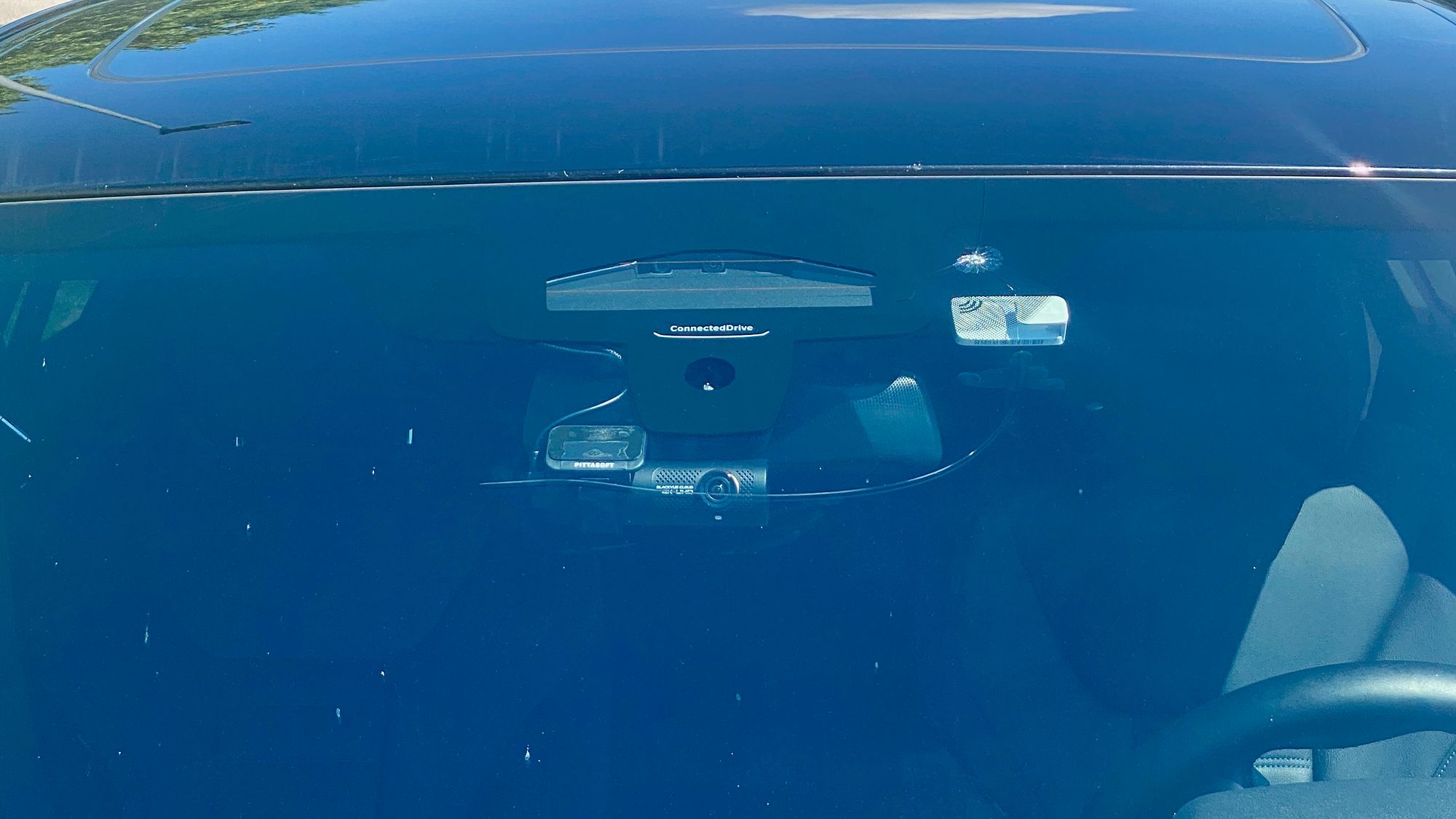 Besides the changing landscape, other things were changing as well: the temperature went from a comfortable ~25 C / 77 F to a much less comfortable 39 C / 102,2 F and some days even more.
Combined with an unprecedented drought, the heatwave triggered several large fires in southern Europe, including one that we were able to see from a distance.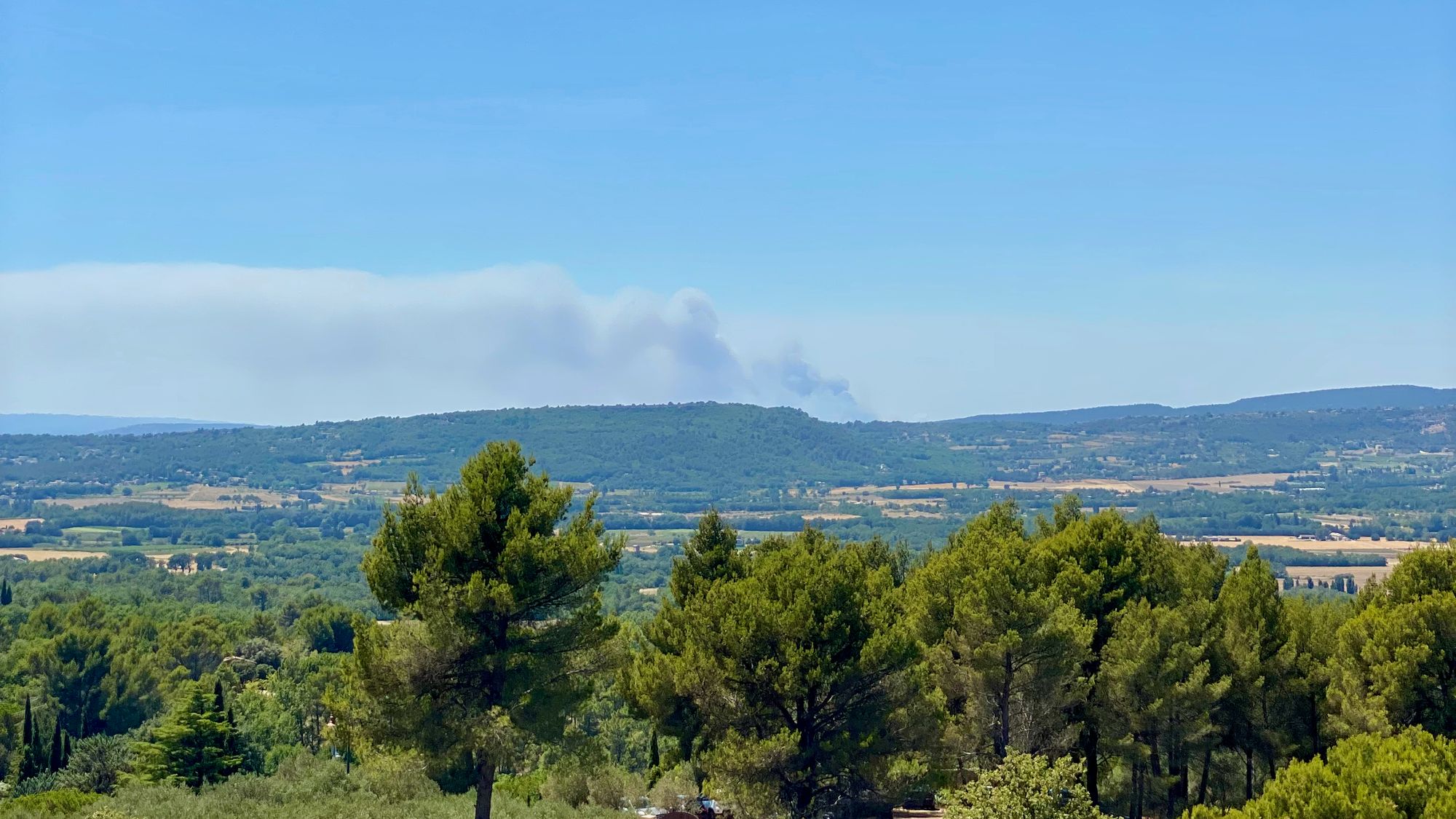 Driving style changed also: people where a bit more in a hurry, a bit more aggressive and there was less signaling while changing lanes (still more compared to Italy 😅) but to be honest is wasn't as bad as I thought.
---
Luberon, a very french affair
The Luberon region has a rich historical and cultural heritage. It is known for its medieval villages, which are perched on hilltops and offer stunning views of the surrounding countryside, some of which we'll visit together in the following days.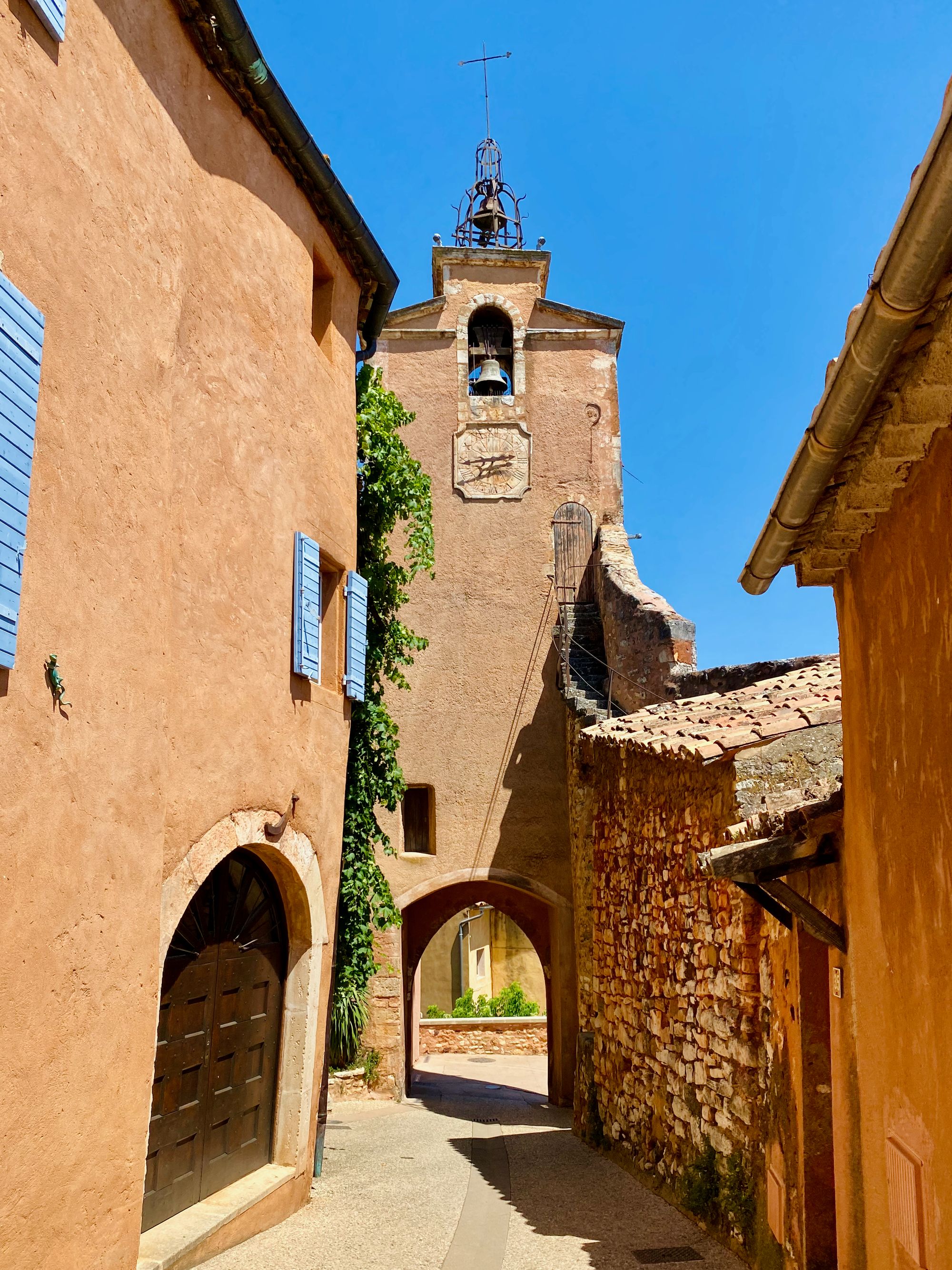 The region is also famous for its high-quality produce, including olives, truffles, honey, and, of course, wine. Numerous vineyards dot the landscape, offering wine tastings and tours. The local cuisine is influenced by Mediterranean flavors, featuring fresh ingredients, herbs, and aromatic spices.
Overall, Luberon offers a unique blend of natural beauty, cultural heritage, and gastronomic delights. It is a popular destination for travelers seeking a tranquil retreat, a taste of Provencal lifestyle, and an immersive experience in the French countryside.
---
Luberon Day 01: Arrival & Settling In
We arrived at our hotel a little past 18:00, just as the day was starting to let go some of the extreme heat.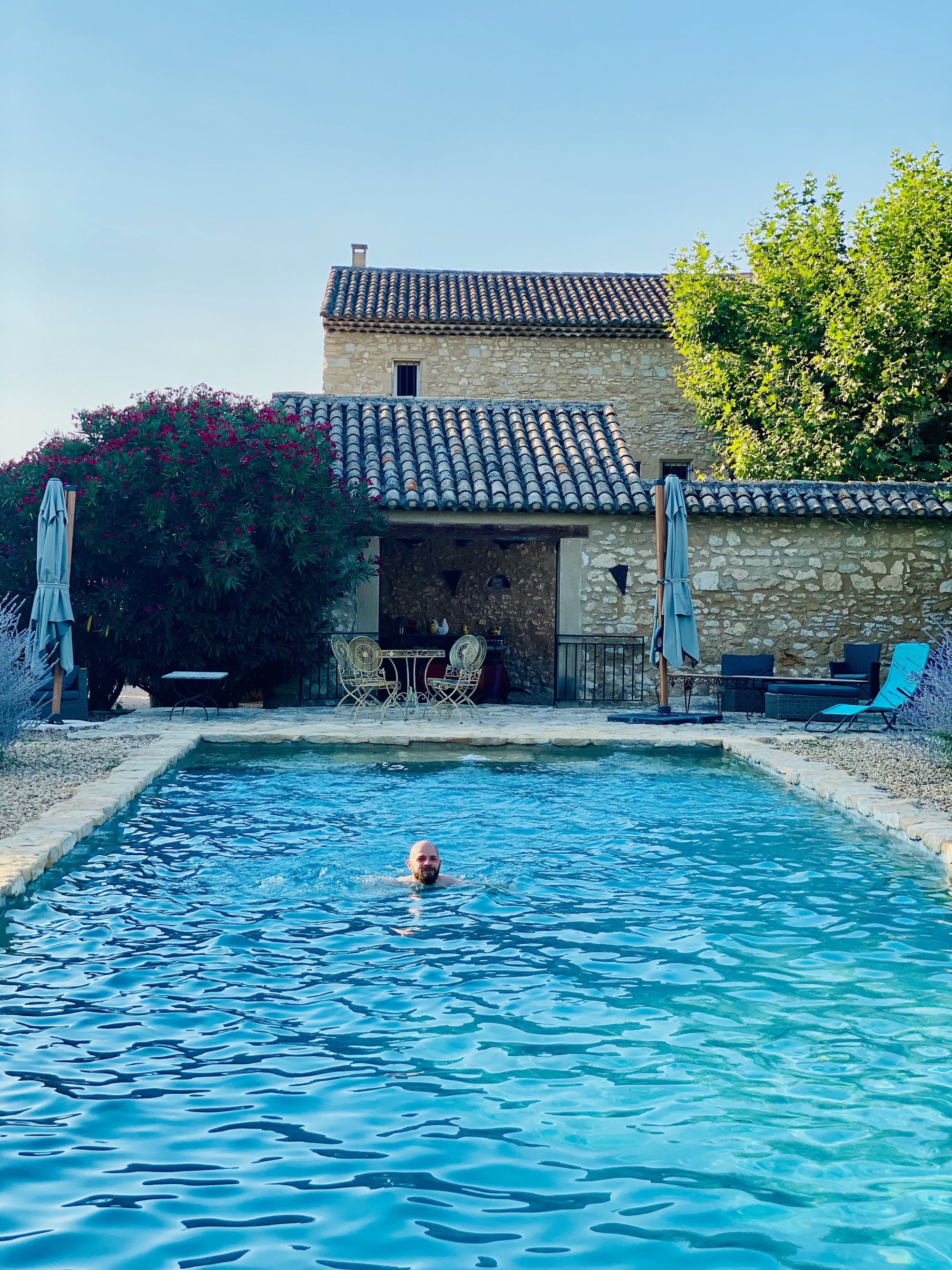 We stayed at La Louvière des Bruyères, somewhere between Robion, Cavaillon and L'Isle-sur-la-Sorgue. An Old Provencal farmhouse with beautiful stone walls, garden and pool that is just the perfect setting to relax after a day of exploring Luberon.
It is placed in a more remote location and that was intentional. Although we usually like to stay in cities so we can be in walking distance to restaurants and shops, this time we prioritized quietness and ease of access with the car - looking back it was the right decision and we'll do the same next time we'll visit this area.
As someone with a passion for interior design it was great to see how wonderful both the common spaces and our room were decorated with interesting art pieces. I didn't expected this in an old farm house and I loved it!
Breakfast was served outdoor in the shade - a good way to start the day. Car access is easy with private parking inside the confinement of the hotel.
It also has an outdoor kitchen including a fridge where we kept snacks and wine (of course) to enjoy in the evening.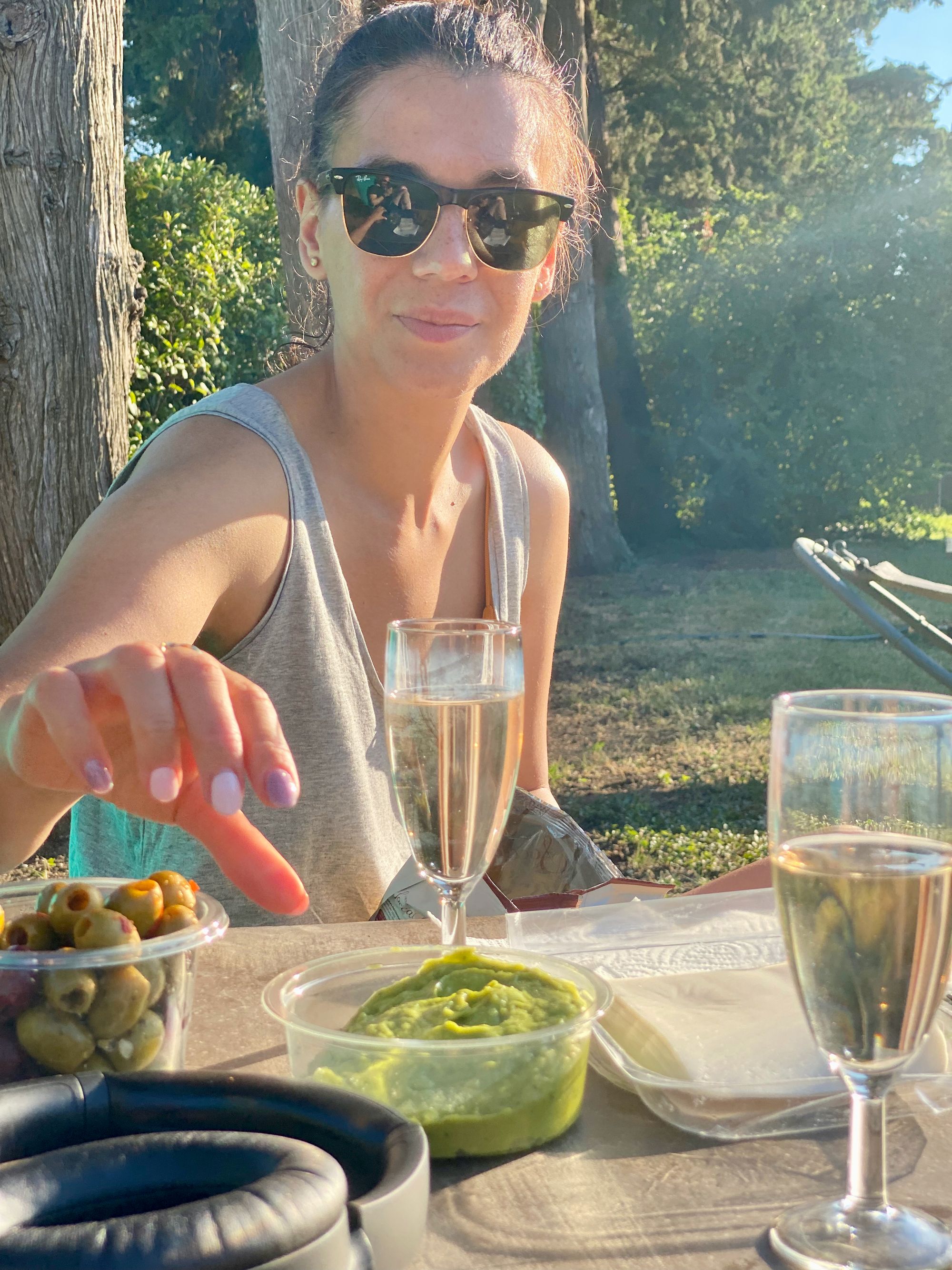 The hosts were kind and accommodating (and very french - in a good way) making our stay very pleasant.
However, without question the queen of the location was Fye, their adorable cat, suspicious of anyone invading her territory - she clearly ruled the place 😄
Overall we had a great stay at La Louvière des Bruyères, feeling both like home and just what we imagined the countryside of Luberon would be like.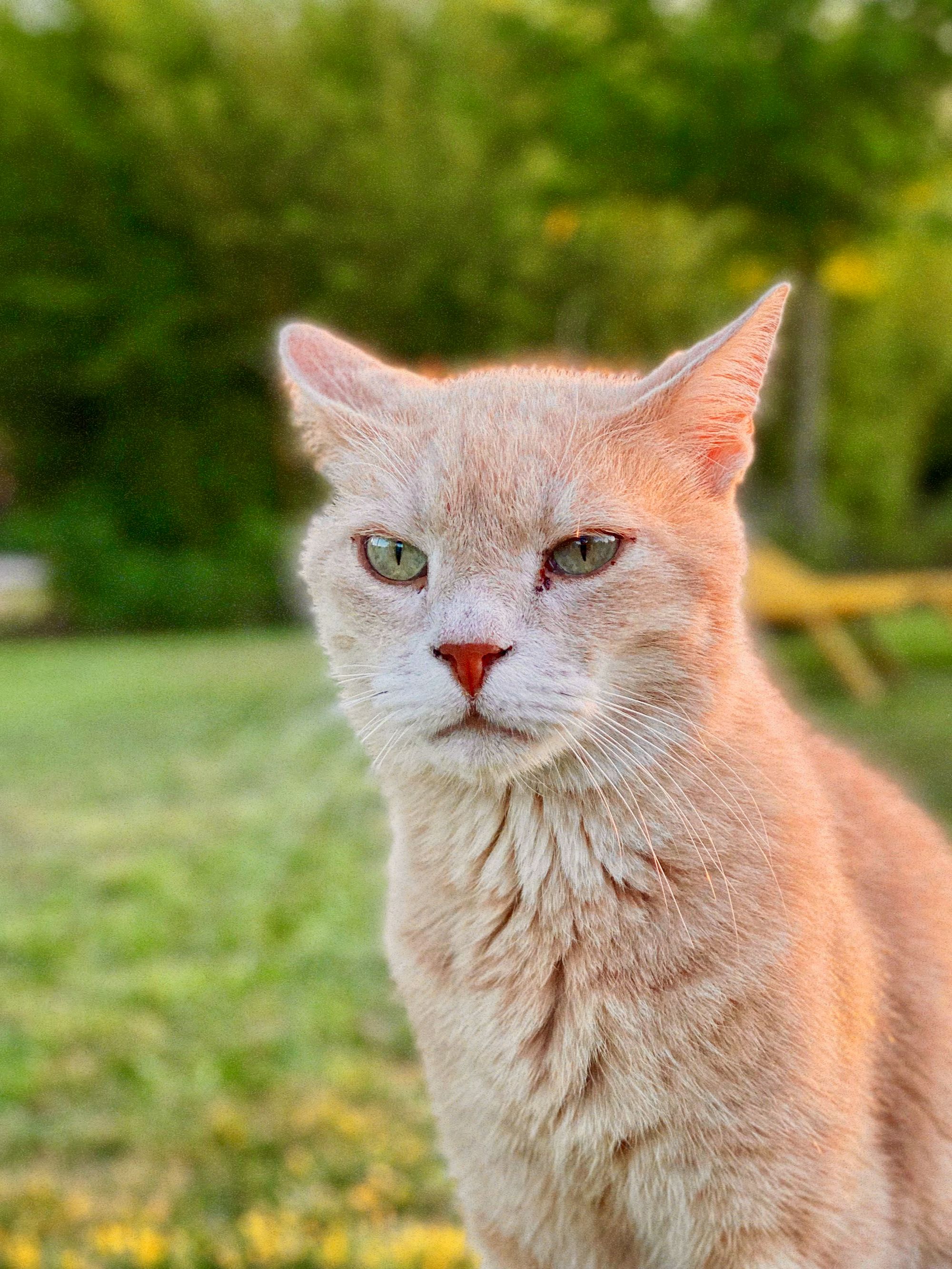 ---
Luberon Day 02: L'Isle-sur-la-Sorgue & Avignon during Bastille Day
We realised only in the morning that today, 14 of July, is Bastille Day, or as the french know it: Fête nationale française - France national day. A totally unplanned coincidence.
Due to the severe drought and risk of fire there weren't to be any fireworks in the area but many surrounding towns had special activities - let's see what we find.
L'Isle-sur-la-Sorgue
The difficult to pronounce L'Isle-sur-la-Sorgue was one of towns holding a special event for Bastille Day: a large Provençal market, perfect!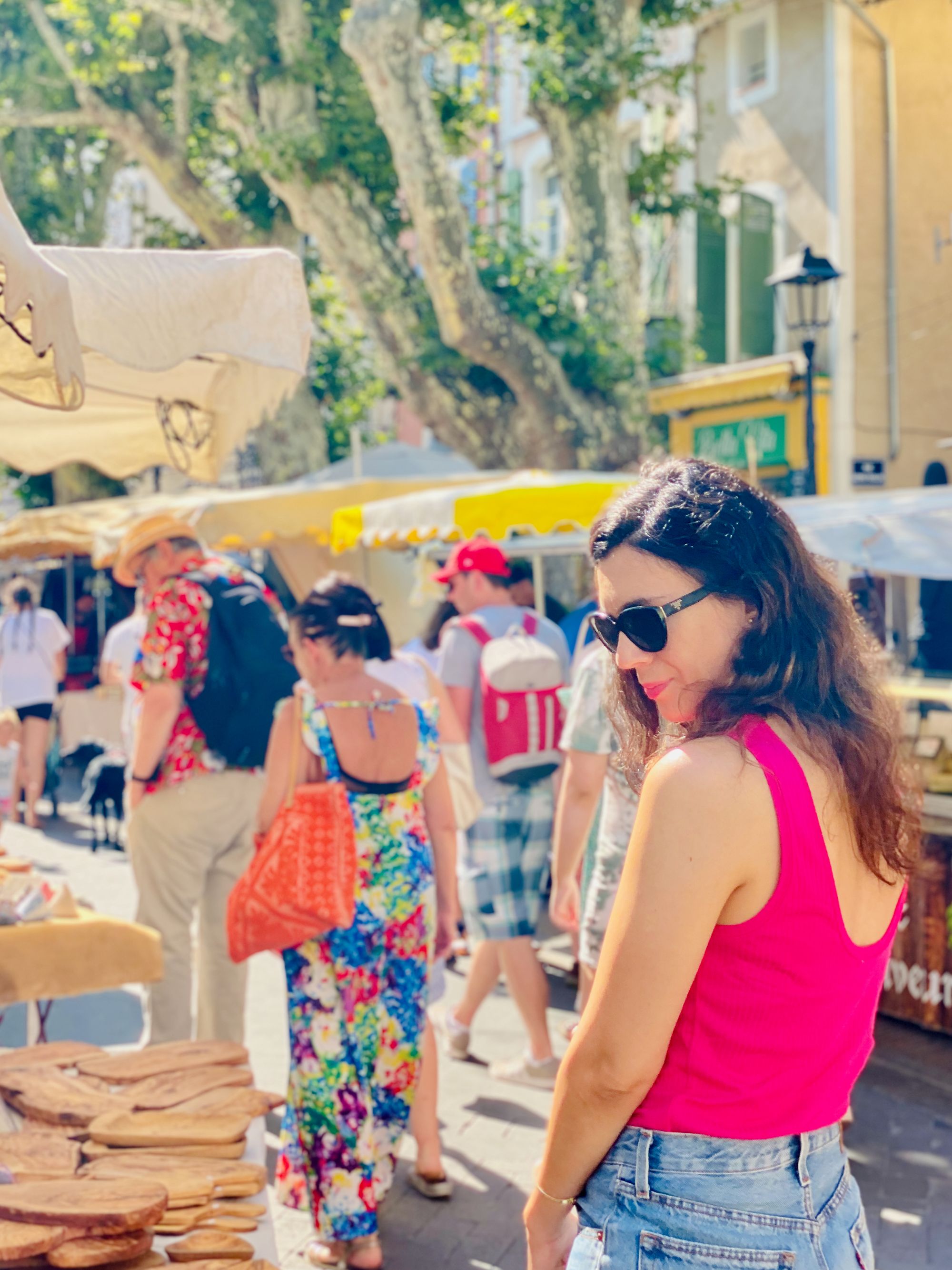 L'Isle-sur-la-Sorgue is a charming small town located in southeastern France, in the Provence-Alpes-Côte d'Azur region. Known as the Venice of Provence it is renowned for its picturesque canals, antique markets, and vibrant atmosphere.
In addition to the antique markets, L'Isle-sur-la-Sorgue also has traditional Provençal markets, just as the one we visited during Bastille Day. These offer fresh local produce, regional delicacies, artisanal products, and more.
The city squares are bustling with activity, and you can soak up the lively atmosphere while browsing through the colorful stalls.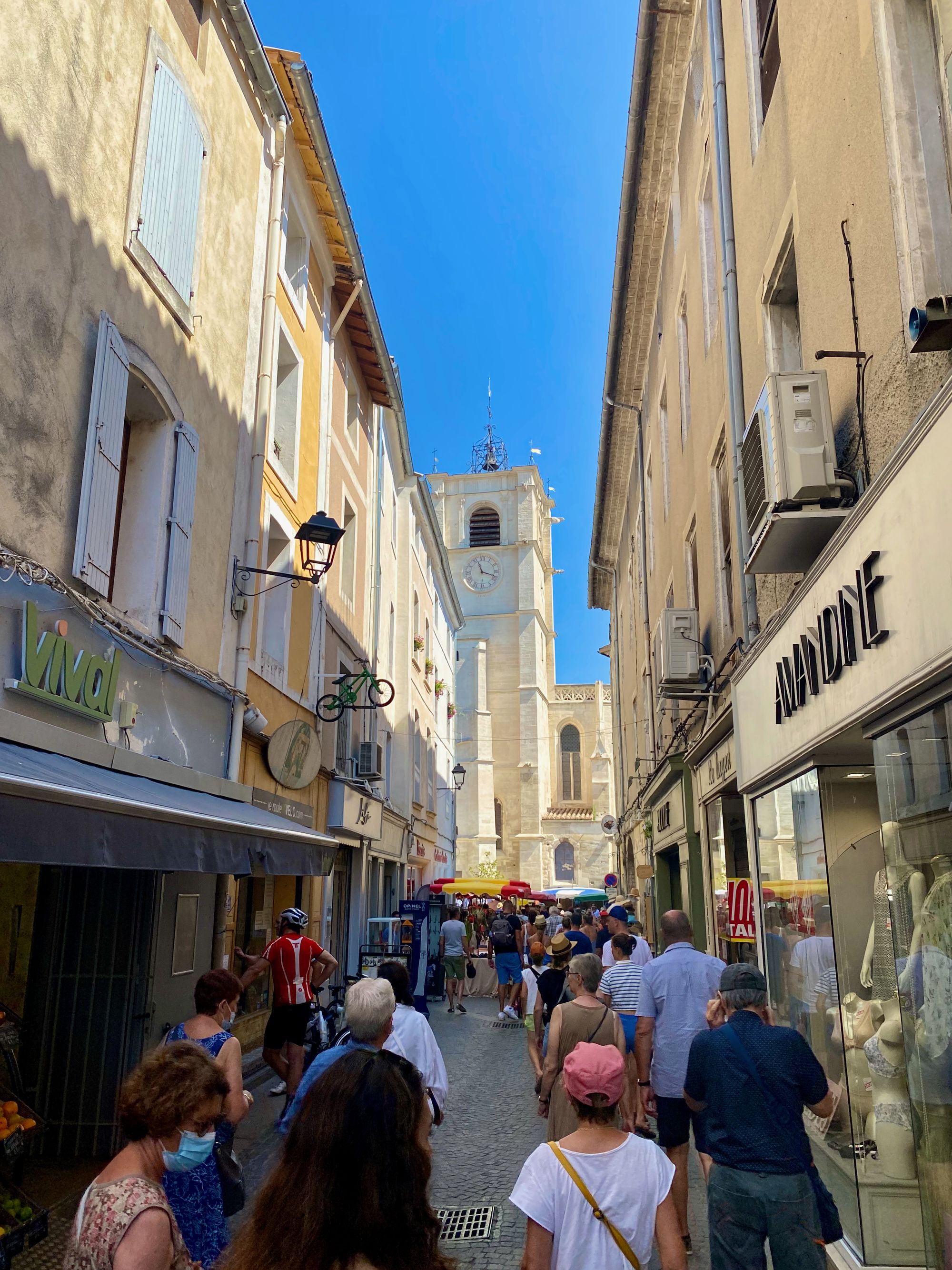 Drive time from our hotel to L'Isle-sur-la-Sorgue: 10 minutes, finding a parking spot: only twice as much.
Driving through the city to find a parking spot wasn't easy, lots of pedestrians, lots of cars and a few closed off roads.
As a miracle we managed to grab a spot just as someone else was leaving and as a double miracle it was in a free public area 🤯
I mentioned in the spring road trip about the terrible thing that happened to a german couple that stayed at the same hotel as us and since then I've always been worried about parking in a public space that is not guarded - however today the area was so crowded and so much police was on the streets that we felt safe to leave the car there.
At around 10:00 we were already exploring this charming little town.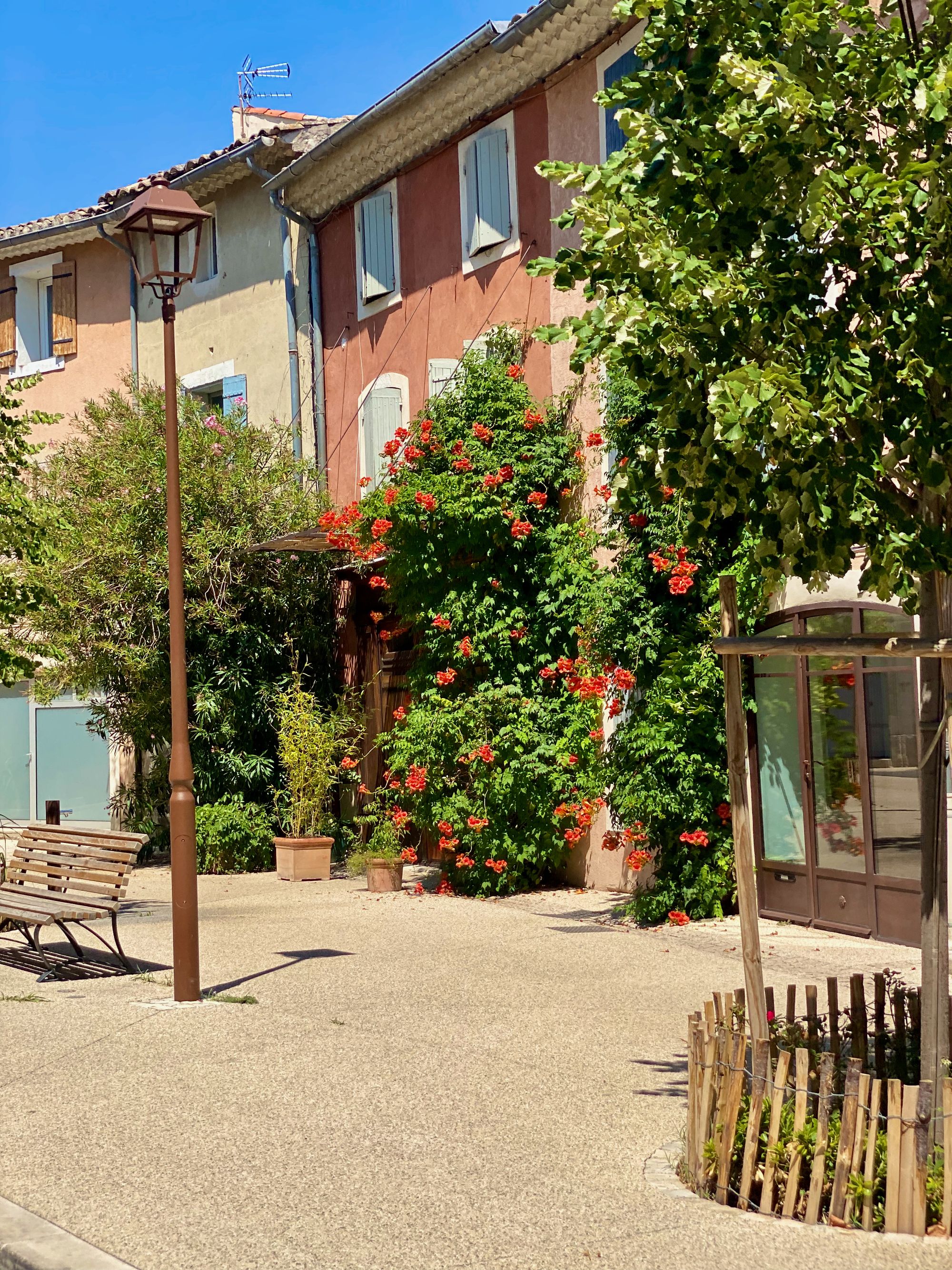 The atmosphere was very festive, crowded and with a lot of delicious products to try - it was exactly what we thought we would find in Tuscany as well but didn't. Silvia purchased a bottle of alcohol distilled from oranges to be used in cocktails made by a small local producer and I got a small souvenir.
Hunger struck after about 2 hours of walking the streets so we did one of our favorite activities during vacation: finding some local produce to enjoy outdoors. Seeing that we were in the middle of a market it wasn't a difficult task at all.
We found a bakery that seemed to be there since the middle ages and bought 2 baguettes, then we got some olives and cheeses from the market and lastly we found a good spot in the shade on the river bank to enjoy the food. It was delicious.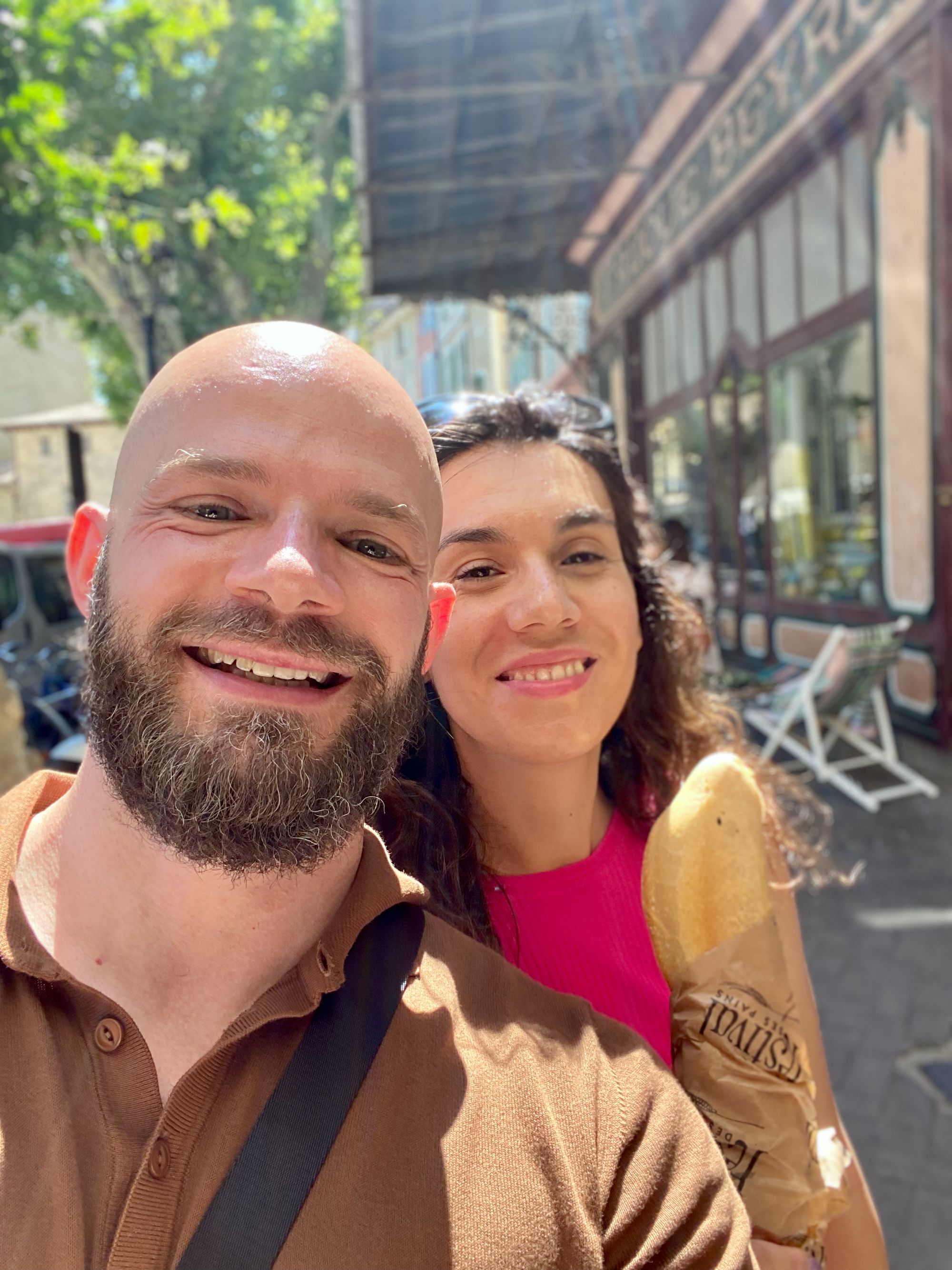 👉
Visiting L'Isle-sur-la-Sorgue is a delightful experience for those seeking a charming Provençal town with a unique character:

• Explore the town's antique shops and art galleries, as it is renowned for its vibrant antique market attracting collectors from around the world.

• Stroll along the canals, admire the colorful buildings, and relax at riverside cafes.

• Don't miss the chance to visit the impressive Fontaine-de-Vaucluse, a nearby natural spring that gushes out from the foot of a towering cliff.

With its quaint ambiance, vibrant markets, and natural beauty, L'Isle-sur-la-Sorgue offers a memorable experience for visitors in the heart of Provence.
---
Bustling Avignon
Time was about 13:00. With our energy recharged we started looking for our next target: the city of Avignon.
Less than 40 minutes away, Avignon is a significantly larger city than L'Isle-sur-la-Sorgue (population 92.000 vs 19.000).
Avignon is renowned for its historic sites, most notably the Palais des Papes - Palace of the Popes, which we actually skipped due to the huge waiting times, opting instead to spend time exploring the city. Another significant site in Avignon that we skipped was Pont d'Avignon - we left it for the end and we were too tired to for it.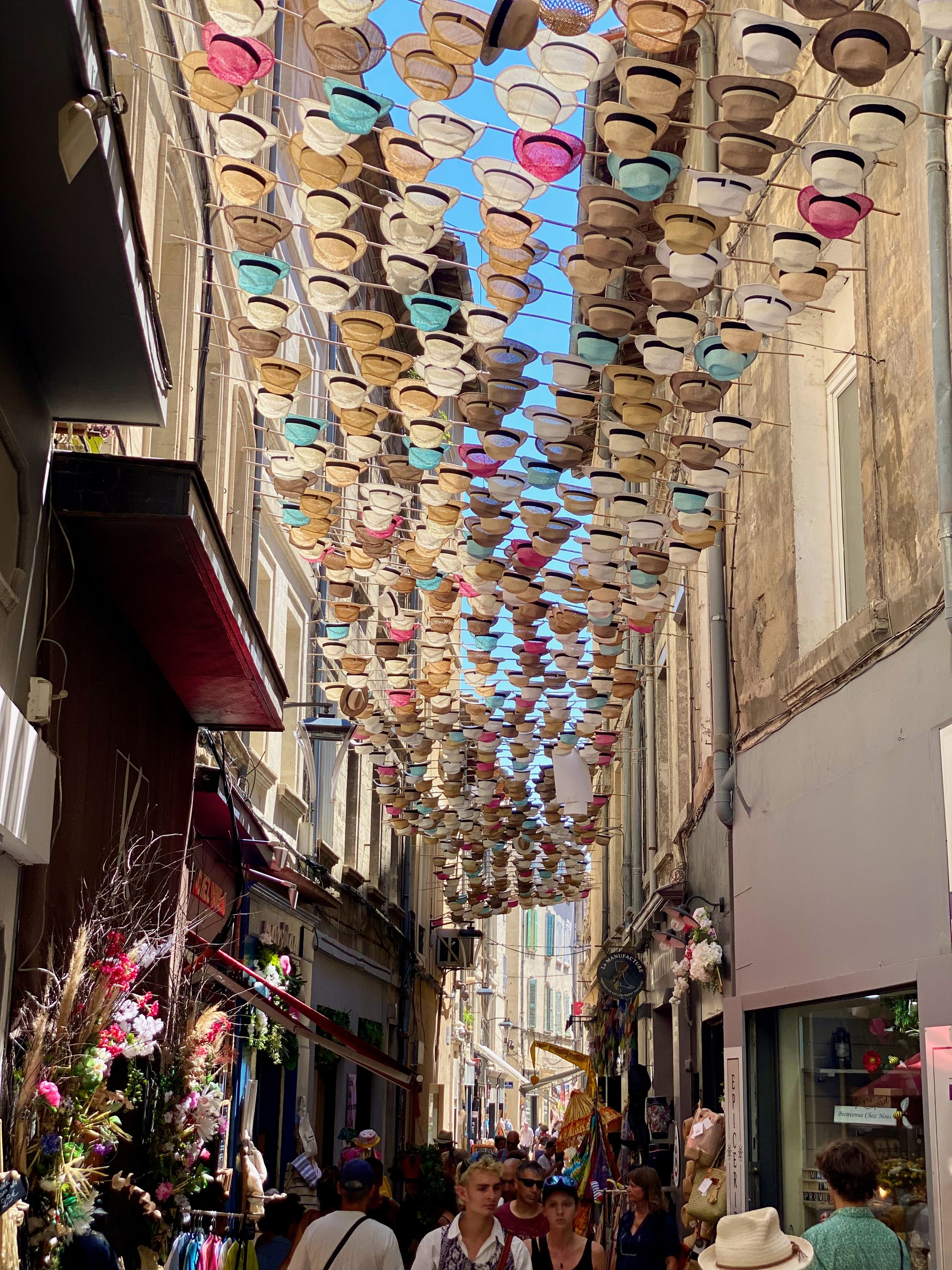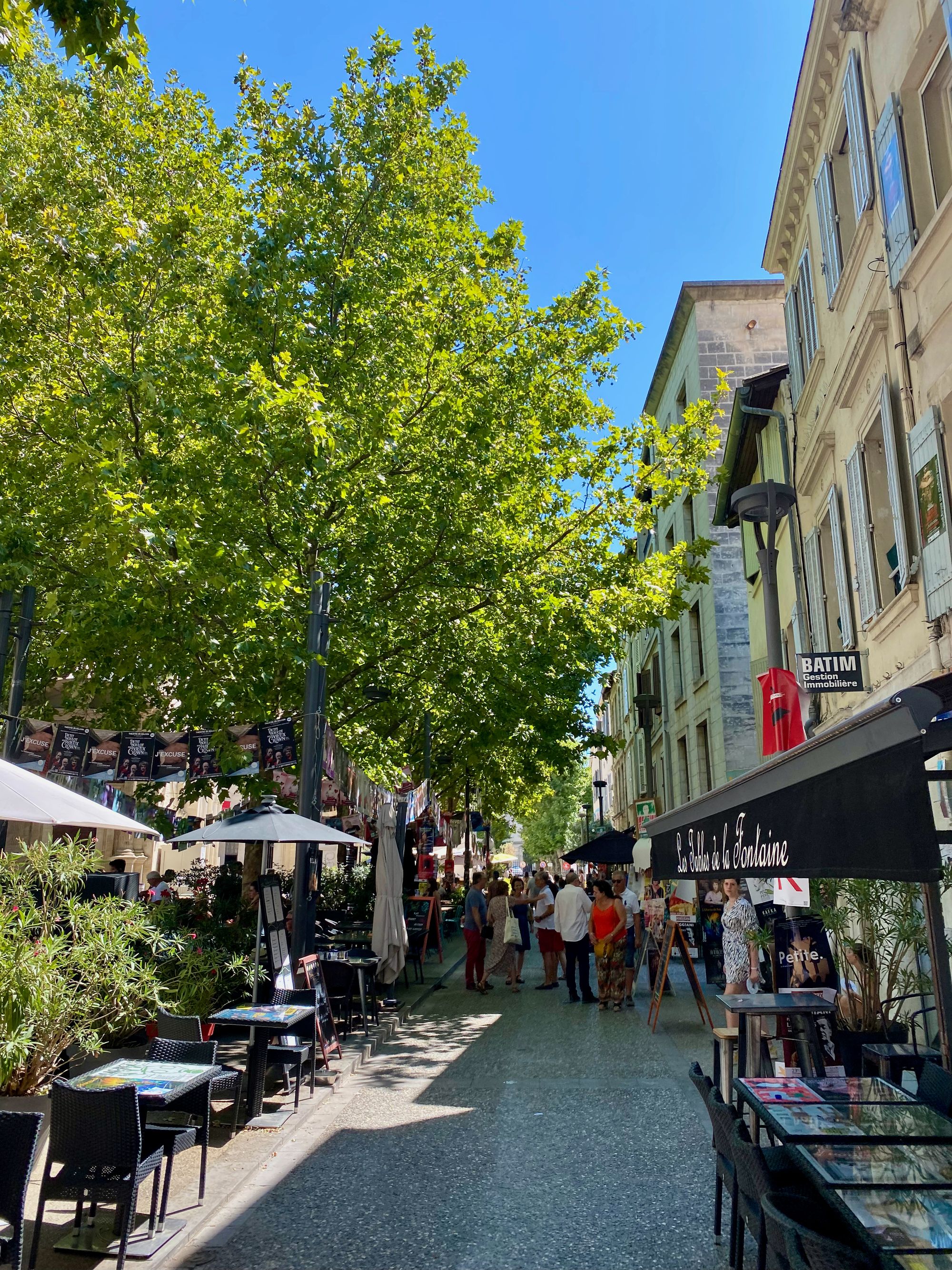 No regrets, we absolutely loved strolling through the narrow streets of the old town with the beautiful (and well preserved) medieval architecture.
As we were there in July, the Avignon Festival was in full swing. It is one of the most significant theater and performing arts festivals in the world. The city comes alive with a vibrant atmosphere as artists from various disciplines showcase their talents in venues throughout Avignon.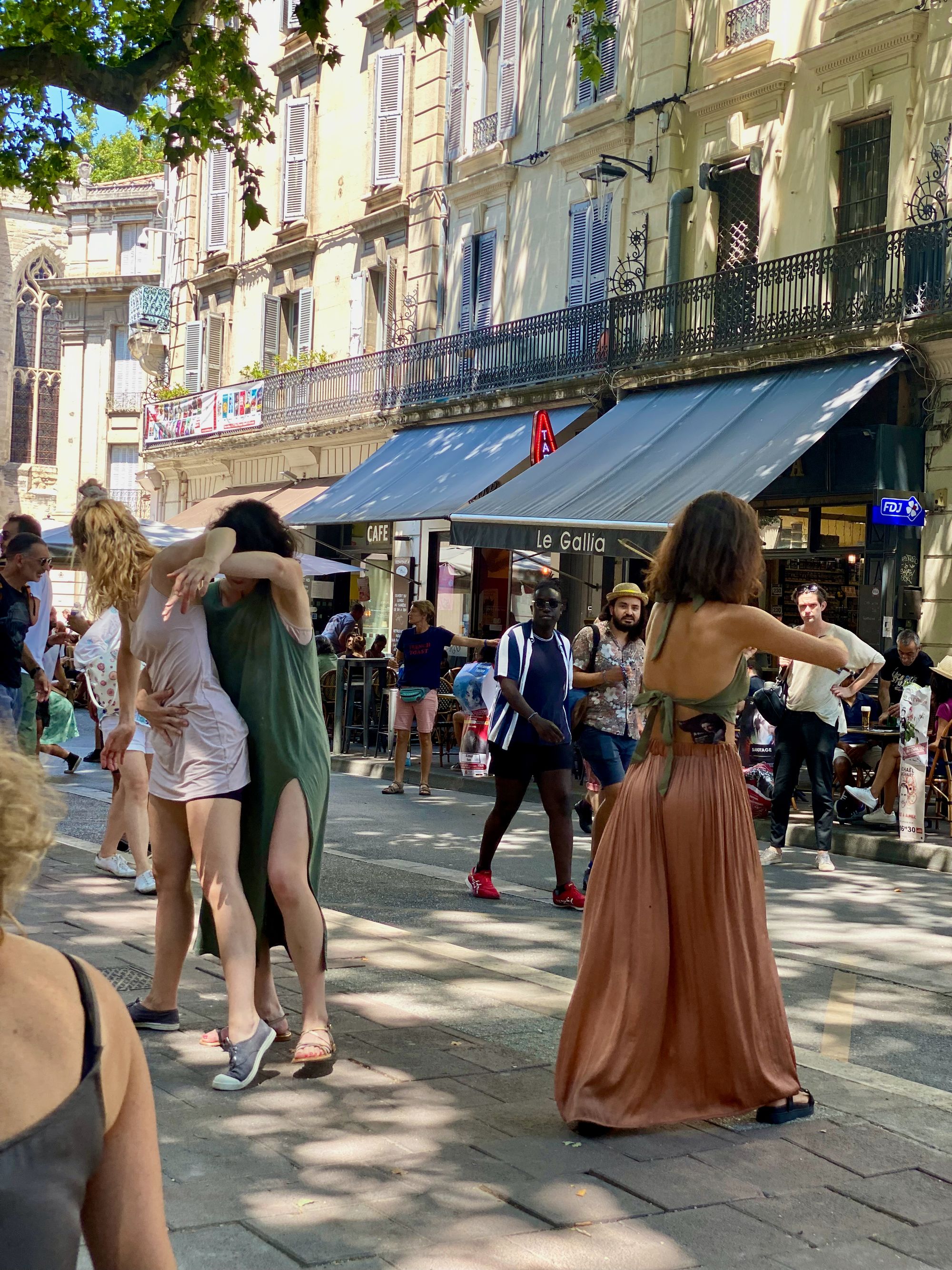 We spent about 5 hours in the city, alternating between doing people watching while enjoying a cocktail (or several in my wife's case) and walking the streets while looking at the art performances.
It was hot, it was crowded but I loved Avignon. It had a special atmosphere that I don't think I encountered it since and it's a city that I hope to visit again.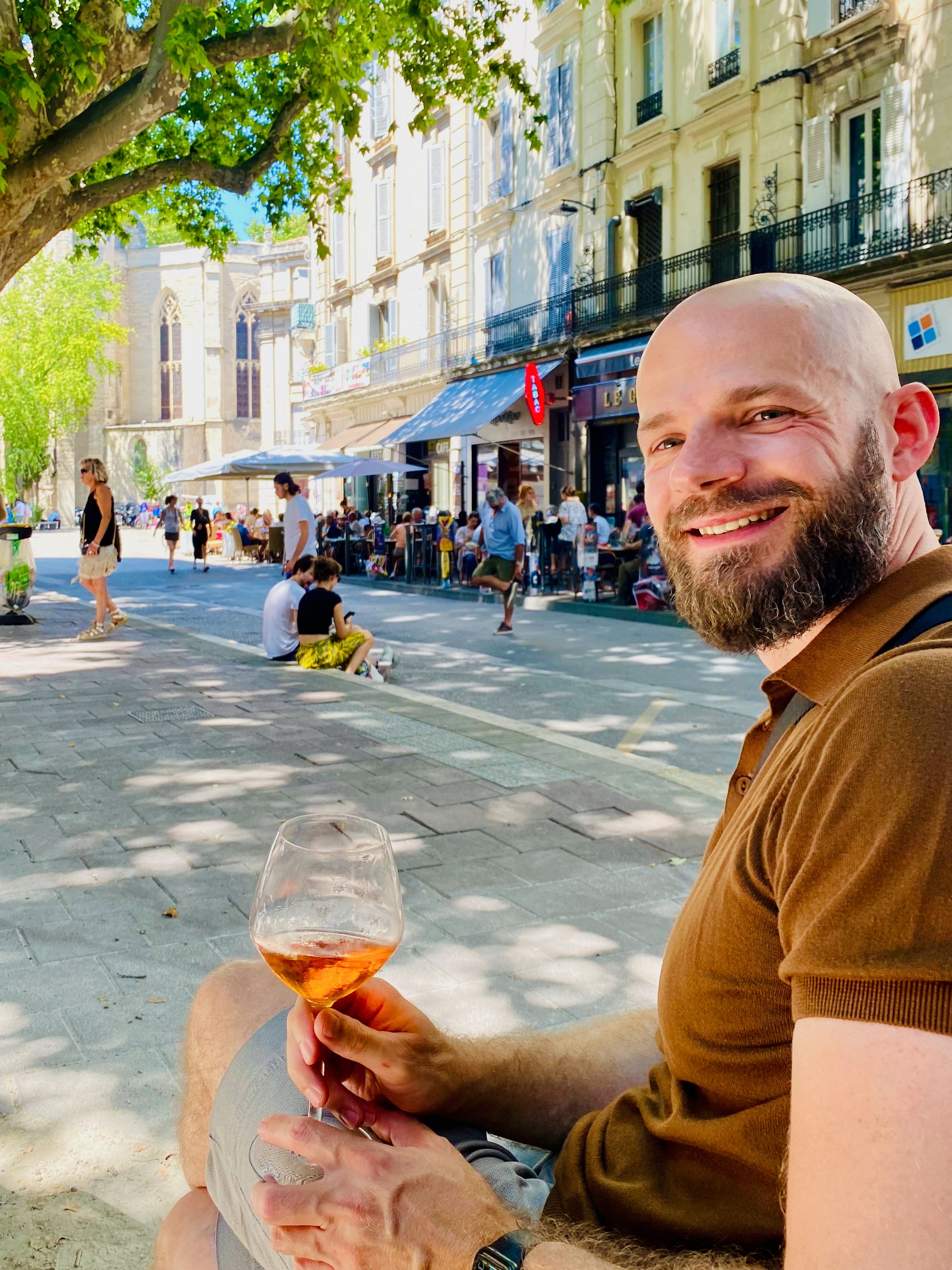 👉
Avignon offers a wealth of attractions and activities to enjoy during your visit:

• Begin by exploring the UNESCO World Heritage-listed Palais des Papes, a massive medieval fortress and papal palace that showcases stunning architecture and rich history.

• Stroll through the charming streets of the old town, known as the "intra-muros," and discover the vibrant Place de l'Horloge with its cafes, restaurants, and street performers.

• Visit the famous Pont d'Avignon, a partially destroyed bridge that holds historical significance.

• Explore the Musée du Petit Palais, which houses an impressive collection of medieval and Renaissance art.

• Don't forget to experience the lively atmosphere of the Les Halles market, where you can sample local specialties and purchase fresh produce.

• Avignon also hosts the renowned Avignon Festival in July, which celebrates theater, dance, and music.

With its cultural heritage, historic sites, and vibrant ambiance, Avignon promises a captivating experience for visitors.
---
At around 18:00 we started heading towards Gordes, about 1h drive from Avignon and one of the most popular cities in Luberon, were we had dinner reservation at an Italian 🙃 restaurant called La Bastide de Pierres.
After dinner we walked the dark alleys for a bit and watched a public concert dedicated to Bastille Day.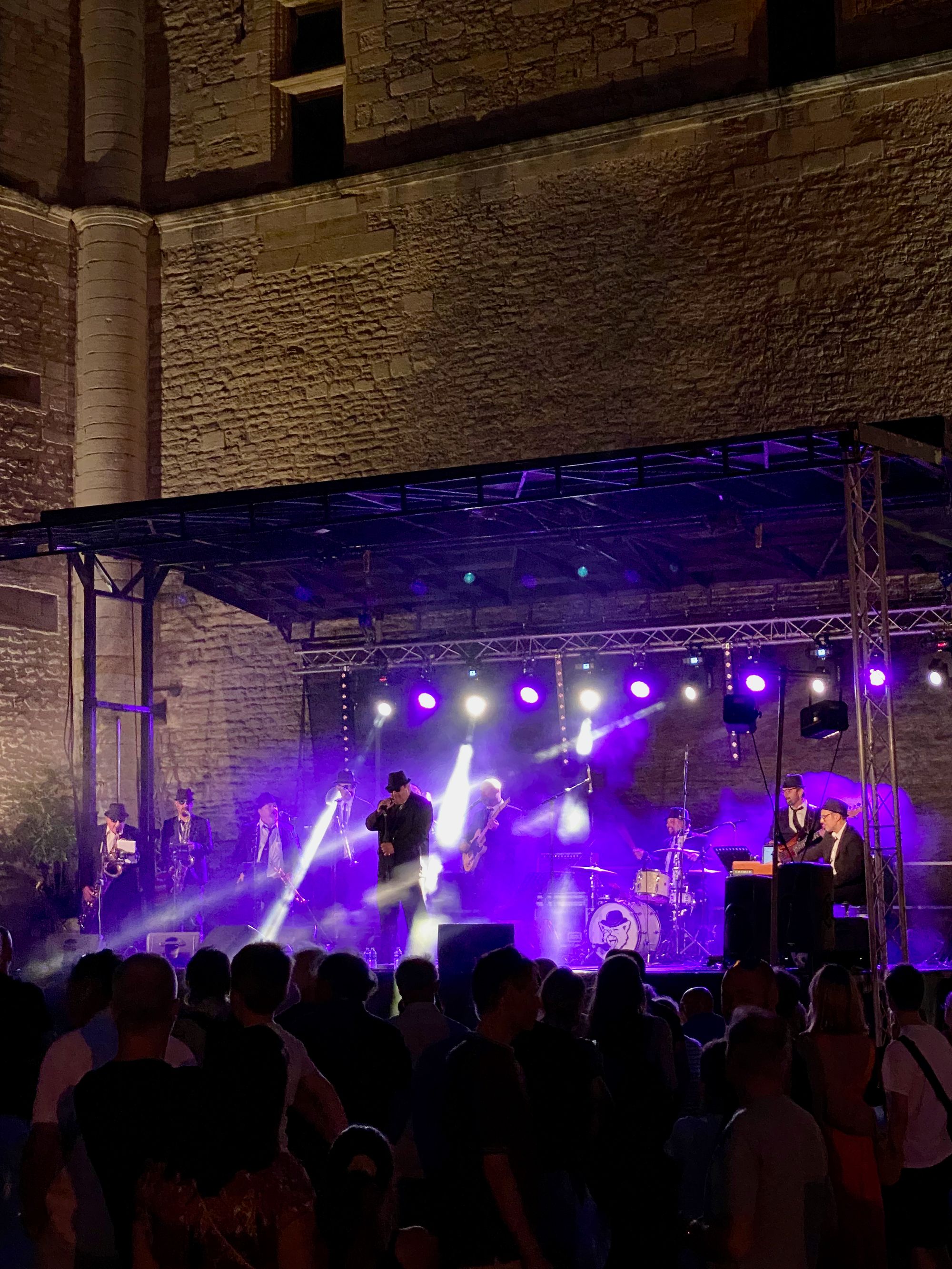 Returning to the hotel at night was quite the experience, having to drive on extremely narrow country roads, pitch black and many having an water canal on the side. It's a shame I don't have any footage saved.
---
Luberon Day 03: Gordes, Roussillon and Wine Hunting
The next day we had a slow start with late breakfast. The summer heat was taking a toll on us and we had to take it a bit slower.
For this day we planned to visit Gordes and Roussillon, including a short hike in the Le Sentier des Ocres.
The hilltop town of Gordes
The next day we started with Gordes, which I mentioned is one of the most popular towns of the area, only 20 min away from our hotel, La Louvière des Bruyères.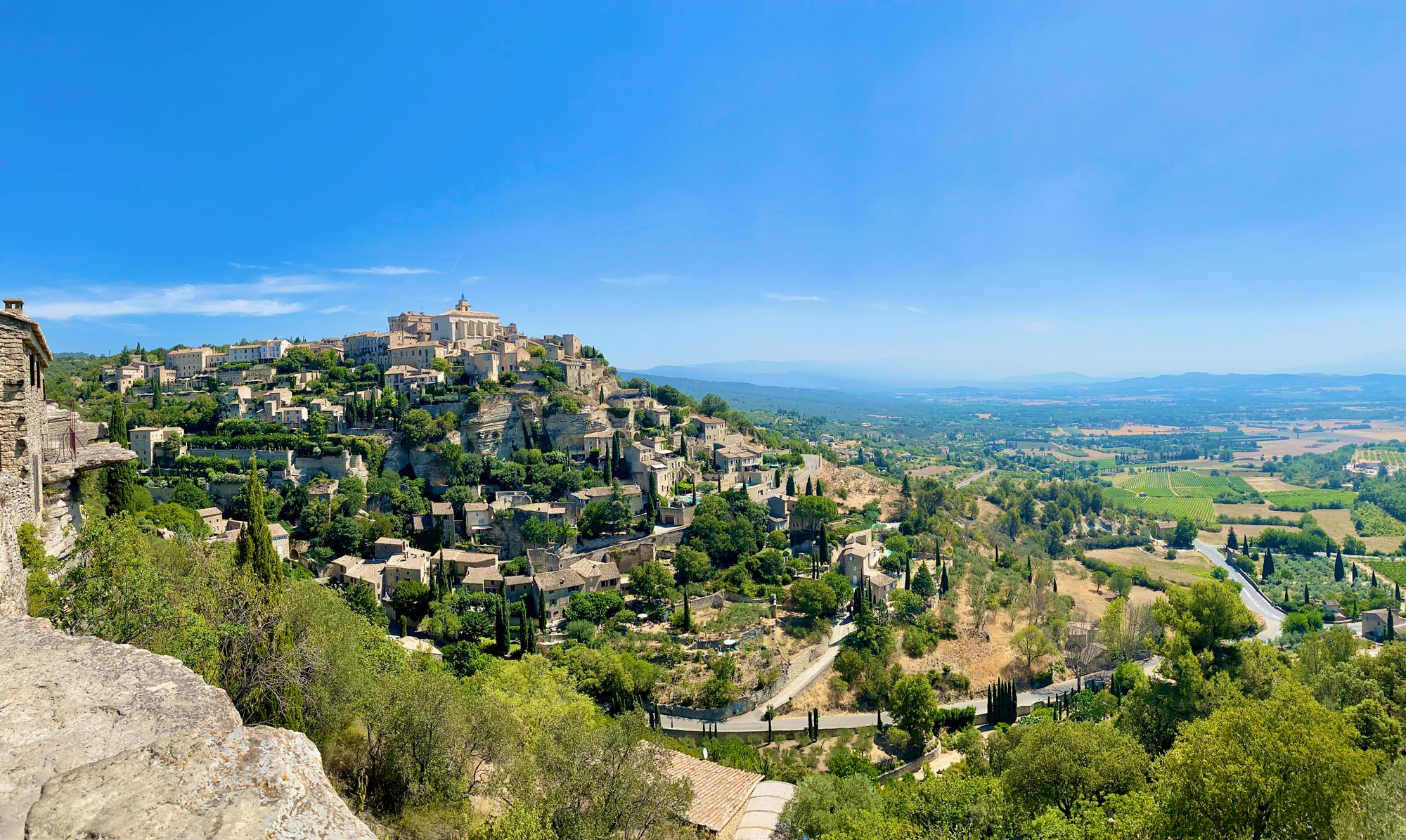 Perched on a hilltop, Gordes is known for its stunning panoramic views of the surrounding countryside, traditional stone architecture, and charming narrow streets.
The city is certainly pretty and I can see why people like it, but after visiting quite a few hilltop medieval towns in Tuscany just a couple of months back, it was hard to be in awe.
Still, the panoramic views over (and from) the city are very nice and I'm happy we included Gordes in our itinerary.
We spent under two hours exploring the city before leaving to our next destination.
The drive close to the city is scenic as you gain elevation on winding, narrow roads. In general I found driving in Luberon mixed: some of the roads are very pretty and relaxing while other are more on the uninteresting side.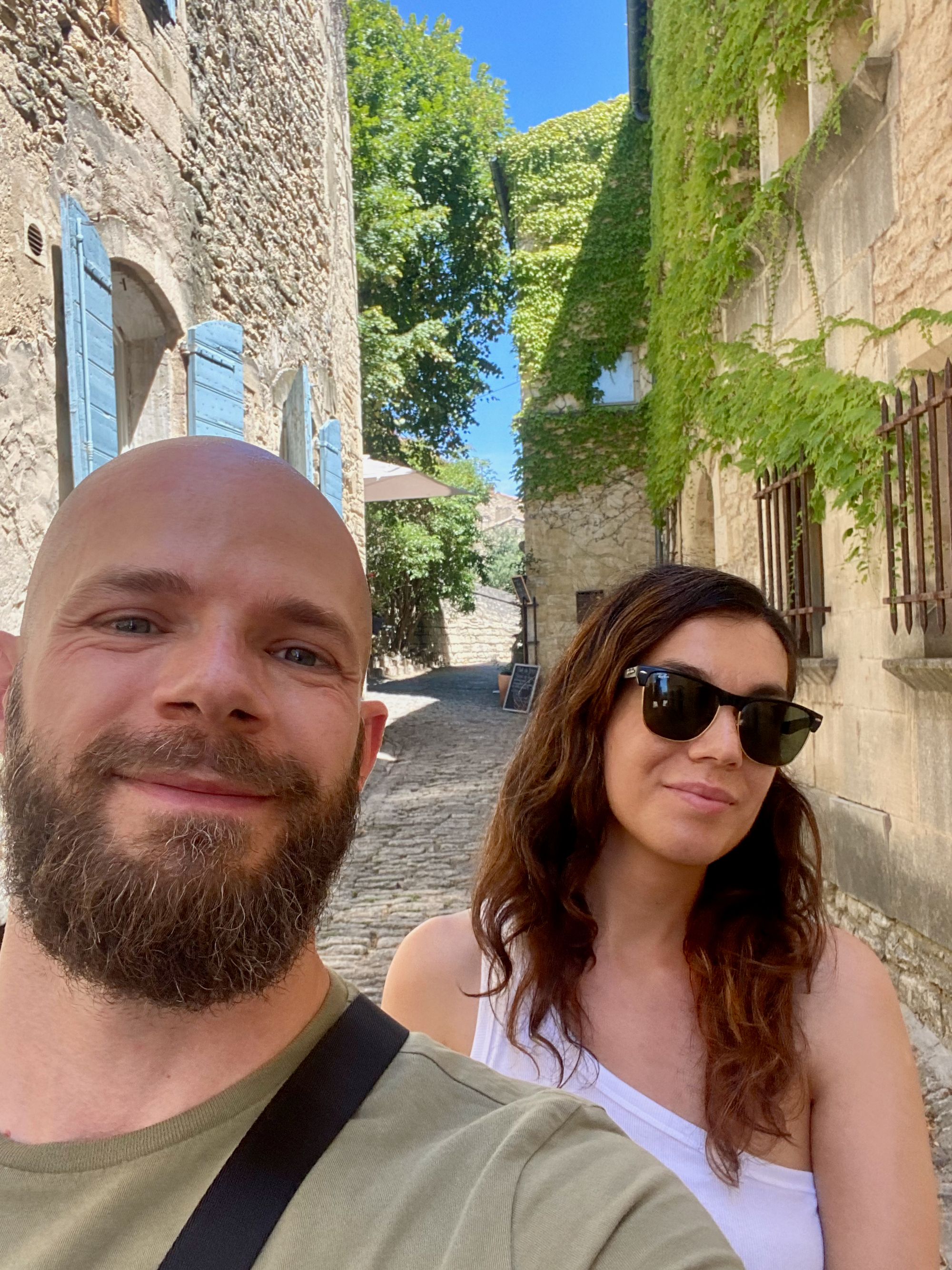 👉
Visiting Gordes is a must for those seeking the quintessential Provençal experience. Here are some of the activities that can be done:

• Explore the narrow cobblestone streets, browse artisanal boutiques, and soak in the ambiance of charming squares.

• Visit the 16th-century Château de Gordes, which hosts art exhibitions and provides a glimpse into the region's history.

• Don't miss the opportunity to explore the natural beauty surrounding Gordes, including the nearby Sénanque Abbey with its lavender fields.

Whether you're captivated by its architectural beauty, cultural events, or outdoor activities, Gordes promises a memorable visit that embodies the essence of Provence.
---
Orange Roussillon
Our next destination for the day was Roussillon, only 15 minutes drive from Gorders, a picturesque village located in the heart of the Luberon region in Provence, southern France.
It is renowned for its stunning natural surroundings, unique ochre cliffs, and vibrant colors that make it one of the most beautiful villages in France.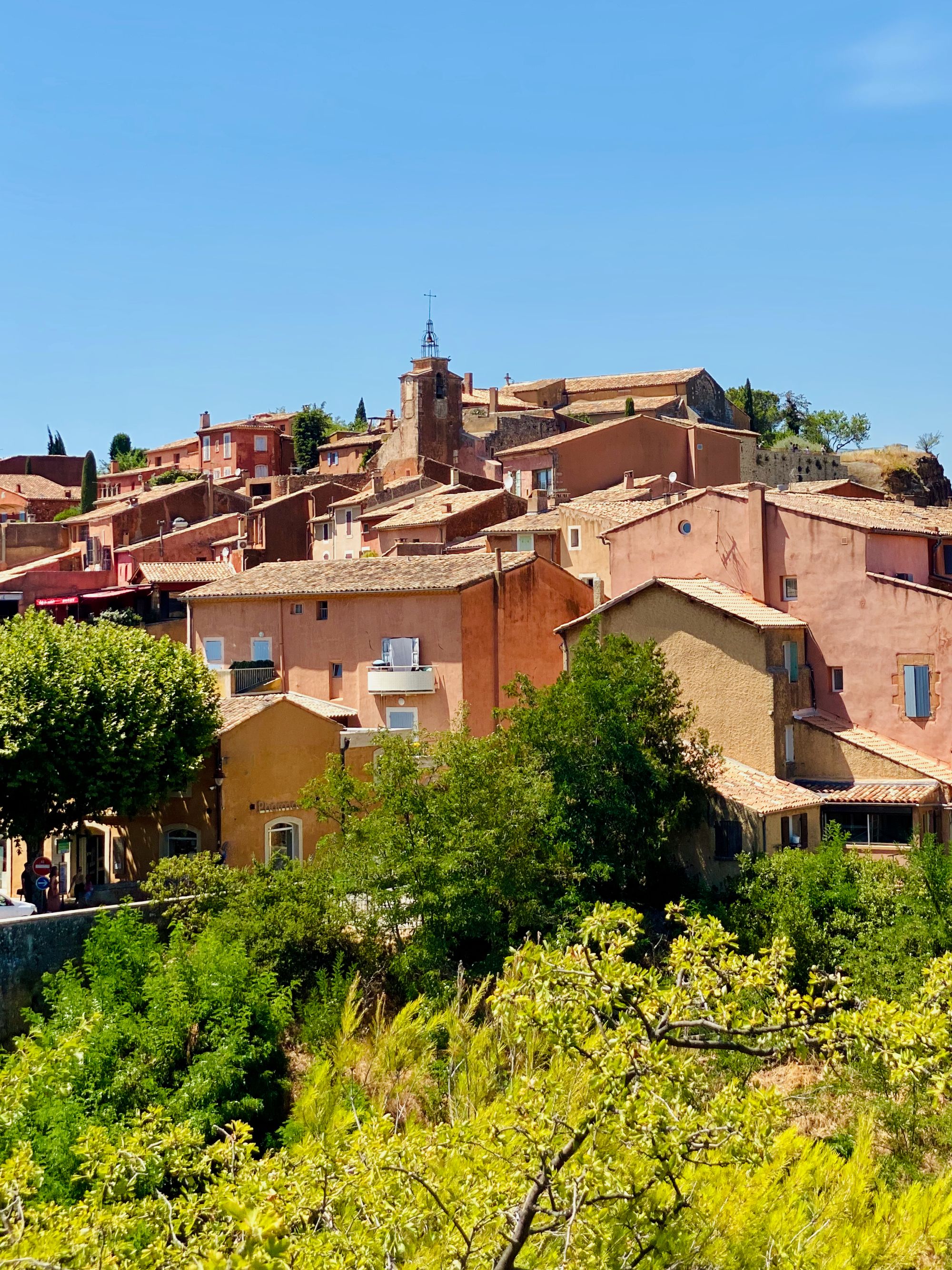 Visiting a lavender field is one of the recommended activities in Luberon, however we didn't found time to include it on our short itinerary.
Luckily though, on our way to Roussillon we stumbled upon such a field. It was very small and definitely not as pretty as other "instagramable" ones but it was good enough for us 😄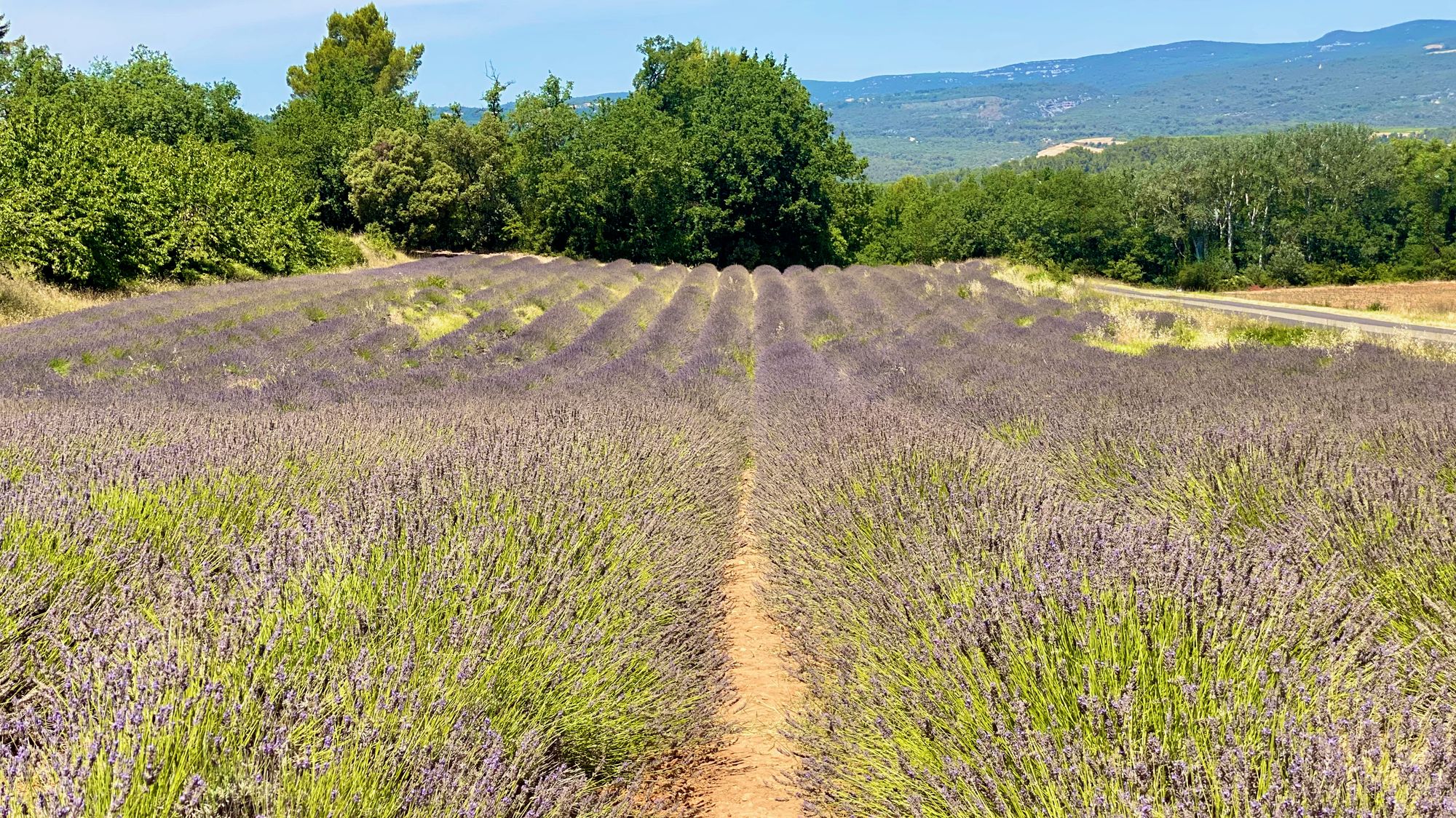 Our plan for Roussillon was to do a hike in the Le Sentier des Ocres, also known as the Ochre Path - a scenic trail that starts right in the village. It is one of the main attractions in the area and one of the activities I was most looking forward to.
Unfortunately the trail was closed due to fire hazard 😢 - the picture close to the beginning of this article with the smoke column in the distance was taken from this place so it was no joke. Oh well, nothing to do about it. We got to see the ocre colored cliffs from a distance while exploring the small but very pretty Roussillon.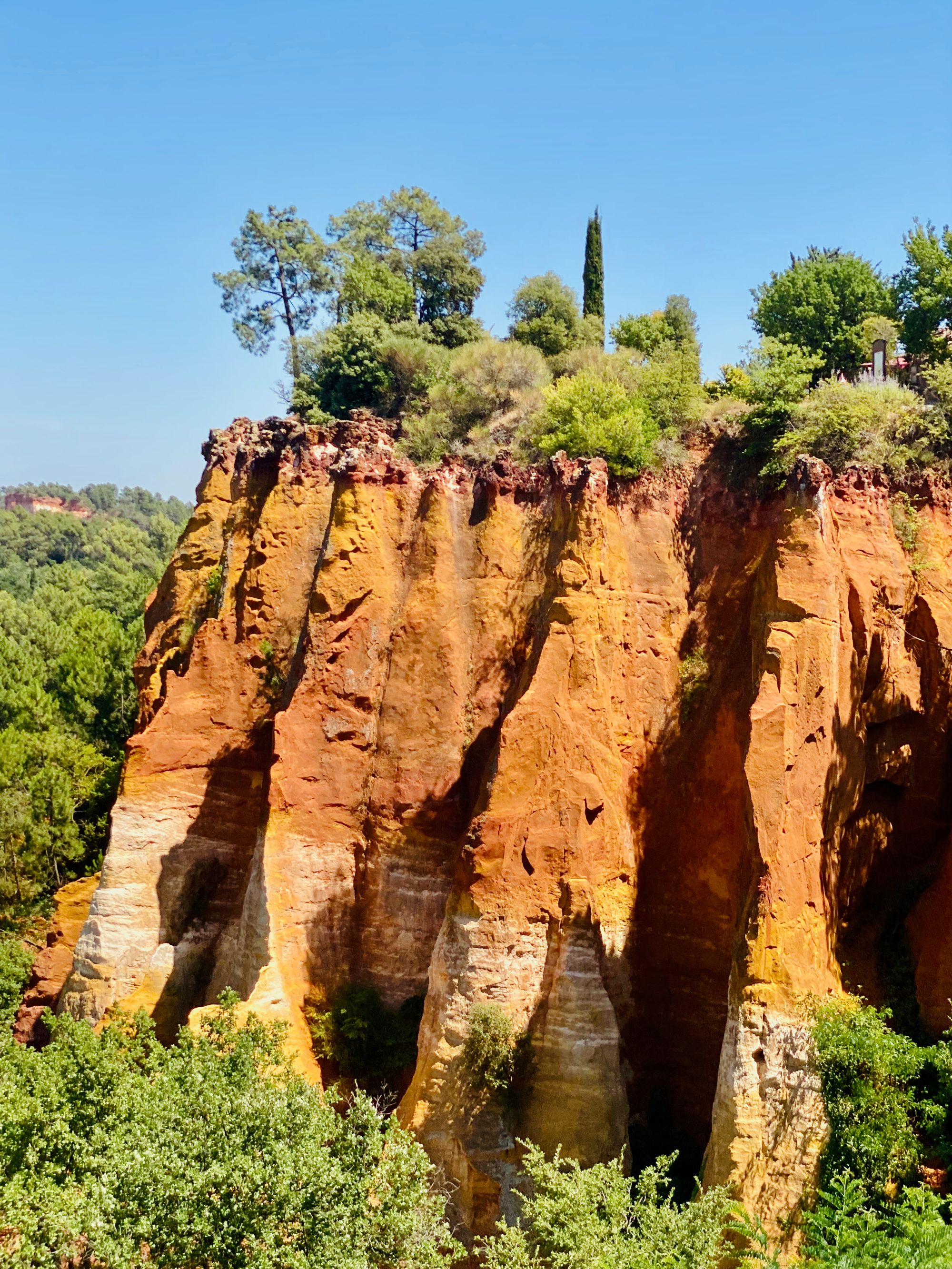 At the top of the city, next one of the viewpoints over the Luberon valley, we found this little shop called Bals'Art specializing in aceto balsamico (vinegar) many infused with different spices.
We purchased a few bottles that we still enjoy to this day, almost a year later - highly recommended.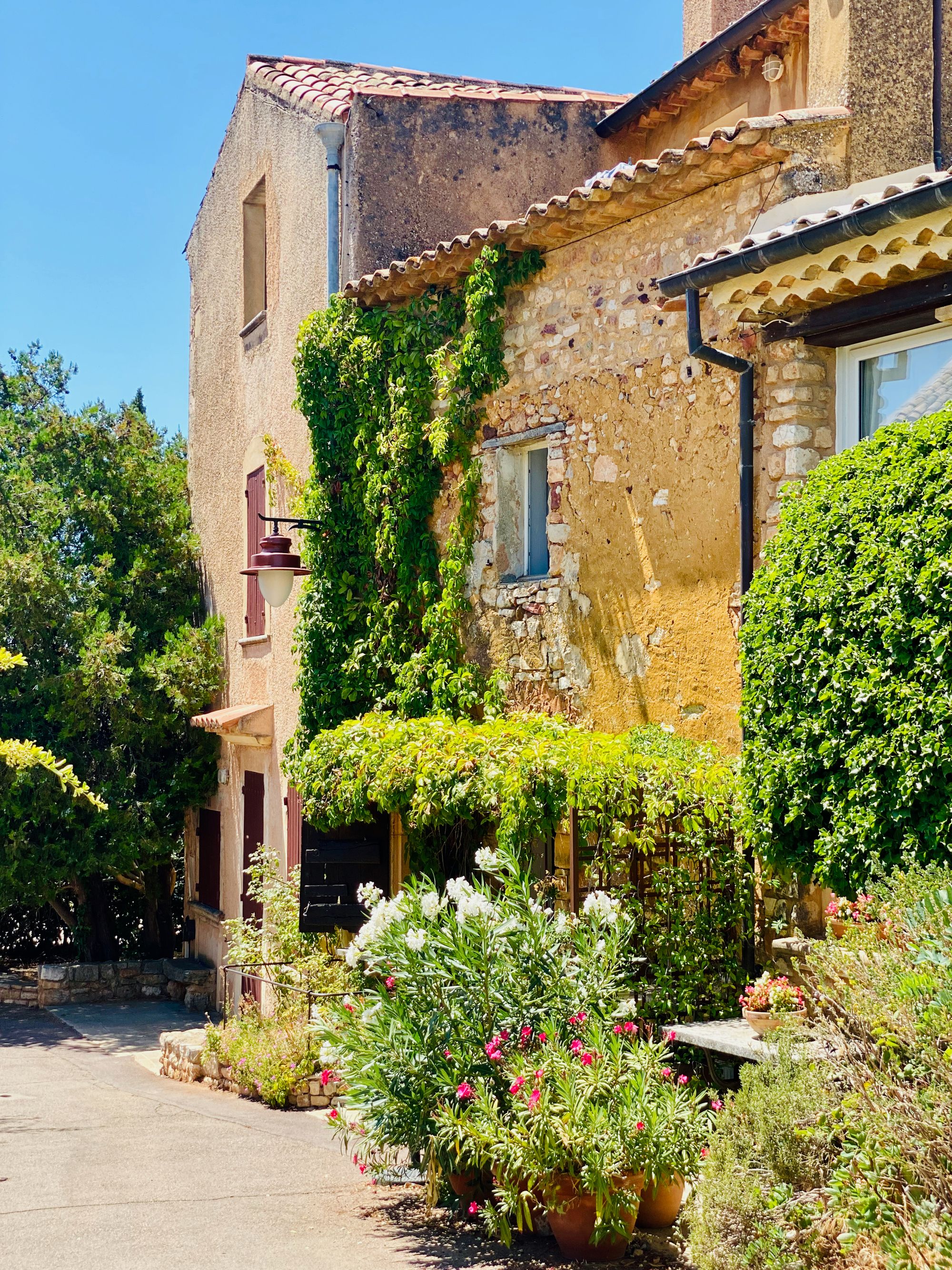 Roussillon is very small and if you don't do the hike (which from what I understood is quite short anyway) you will not spend more than one hour here, two at most.
With its striking colors, old but well preserved buildings and verticality, I found it to be one of the most unique town visited.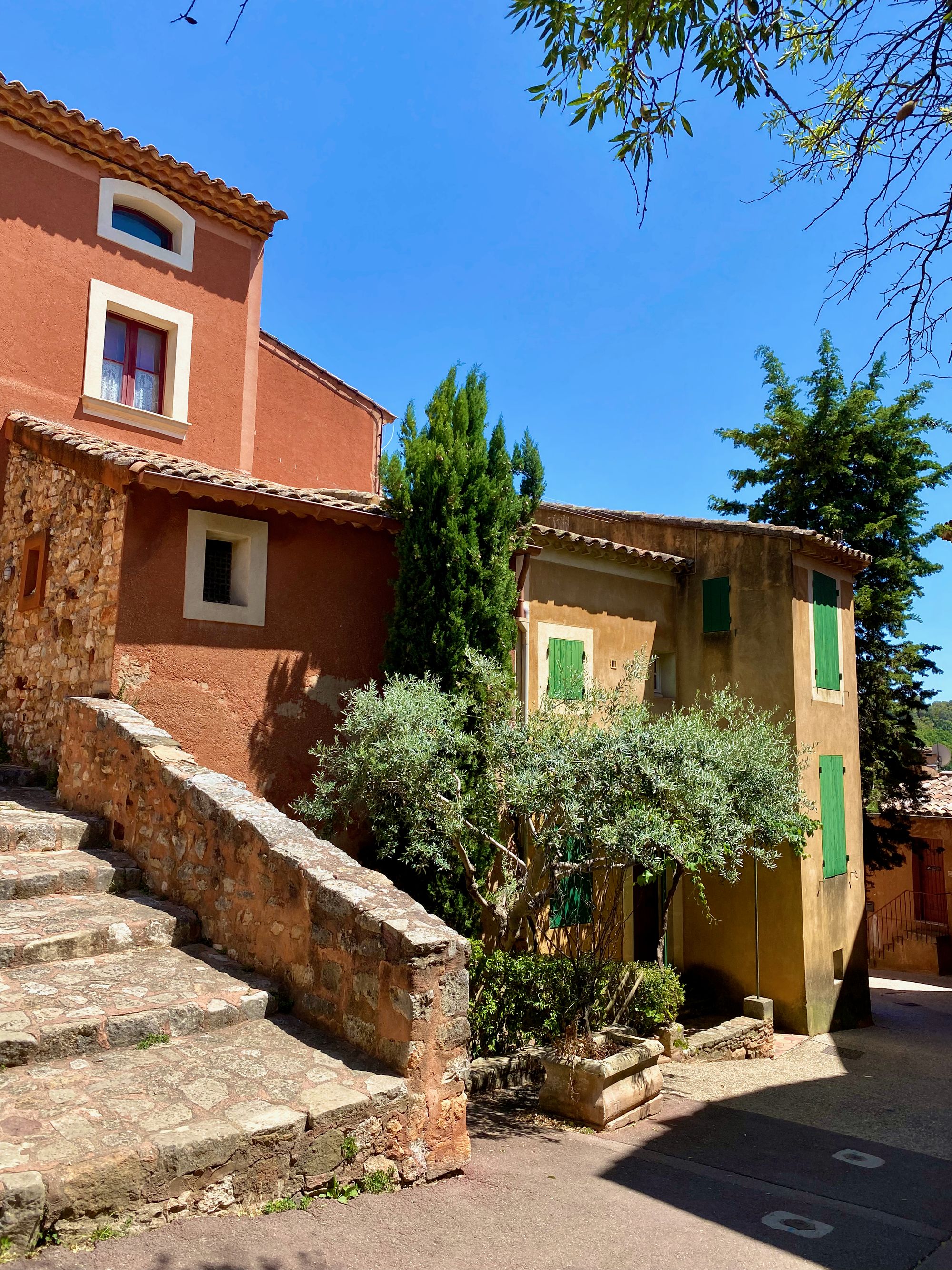 👉
In Roussillon, there are several must-do activities to make the most of your visit:

• Begin by exploring the enchanting Sentier des Ocres, a scenic trail that takes you through vibrant ochre cliffs and provides breathtaking views (hopefully you'll have better luck than us and the trail will be open).

• Immerse yourself in the artistic atmosphere of the village by visiting local art galleries and workshops, where you can discover unique creations inspired by the region's natural beauty.

• Indulge in the local gastronomy by savoring traditional Provençal cuisine and sampling regional specialties, such as olive oil and lavender products.

• Take the time to explore the charming streets of Roussillon, with its stone buildings and colorful shutters, and discover hidden squares and boutiques offering local crafts.

• End your visit by exploring the surrounding countryside, which offers opportunities for outdoor activities such as hiking, cycling, or wine tasting in nearby vineyards.

Roussillon promises a captivating experience with its stunning landscapes, artistic heritage, and Provençal charm.
---
Wine Hunting
One of our favorite activity in Tuscany during the spring road trip was finding local producers and we found some great ones - we still haven't tasted an olive oil that's better than the one from Frantoio Cooperativo Valdelsano.
Seeing that we had some spare time today as the hiking trail was closed, we decided to find a wine producer in the area. Google Maps to the rescue!
Only 20 minutes away from Roussillon (if you don't get lost as we did) there is Château Saint Pons, a domain producing wine located in the middle of Luberon national park.
We purchased a couple of bottles before returning to our hotel to cool off, spending the rest of the evening relaxing in the garden.
Usually we spend most of the day outside exploring the surroundings but the heatwave was draining our energy fast. Also, we just had 5 active days in Switzerland so taking it slow made sense.
All in all there was something very soothing about being in such a quiet location, far away from city noises, in full summer - I think about it with great pleasure as I'm writing about the experience.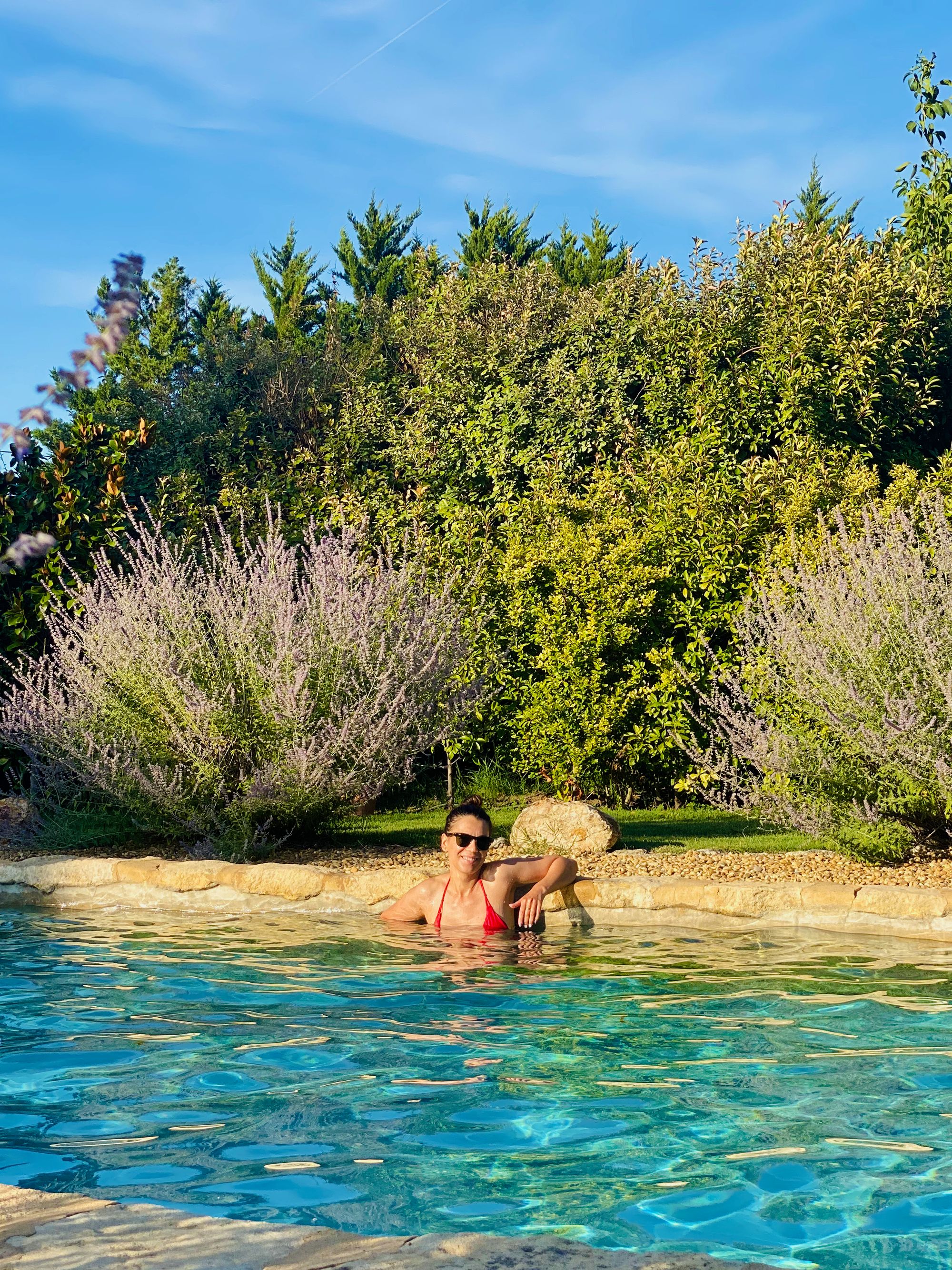 ---
Luberon Day 04: Aix-en-Provence
Located about 1h drive from our location, Aix-en-Provence (known also just as Aix) is a yet another picturesque city in the heart of Provence and the destination for our last day in this part of France. It is known for its rich history, artistic heritage, and vibrant ambiance.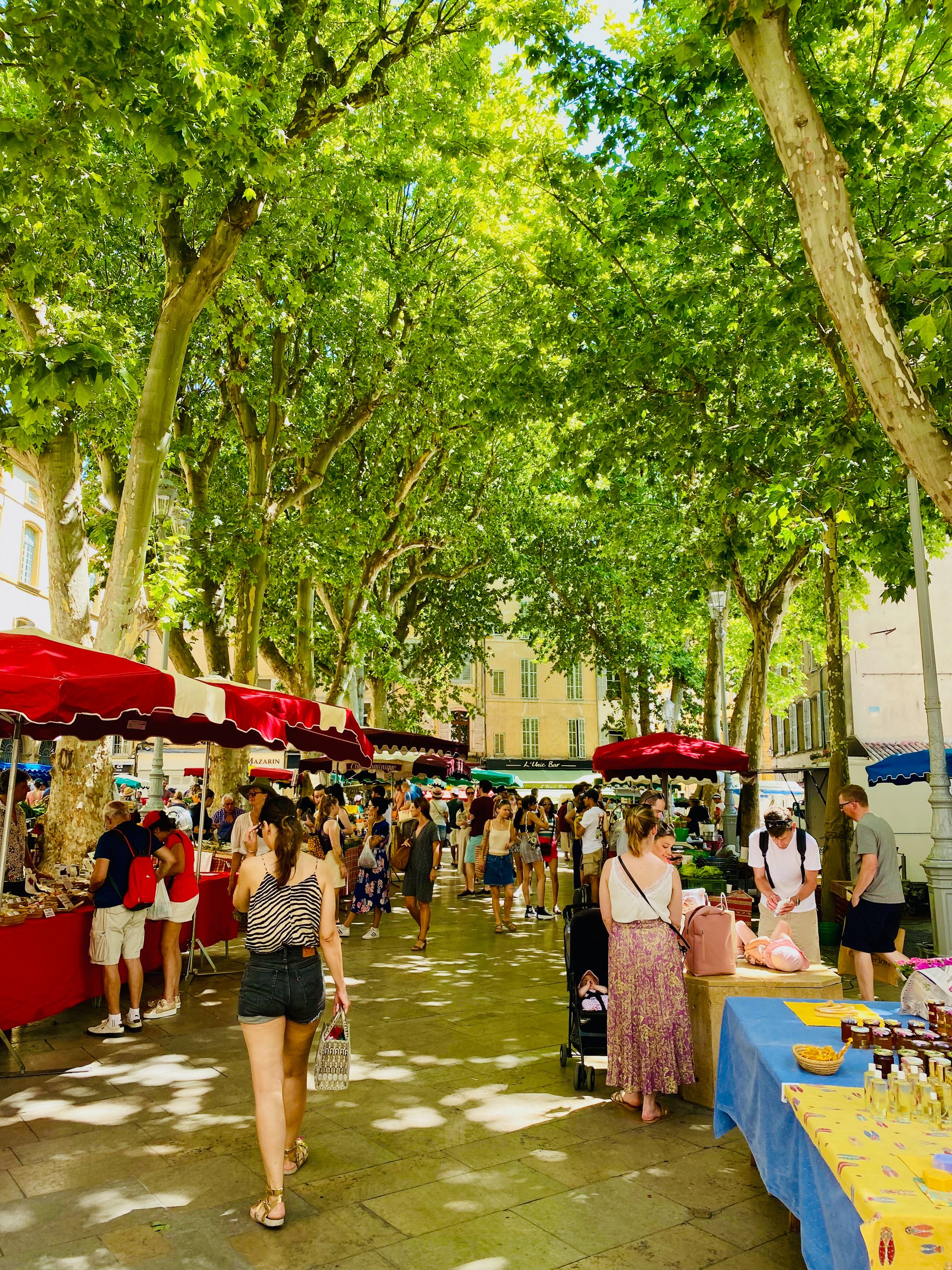 We arrived a bit late, at around noon, and as per usual we spent the day exploring the beautiful streets, doing people watching from different terraces and trying local specialties.
We found Aix to be somewhat similar to Avignon, being both (relatively) bigger cities, but still with a different enough atmosphere.
It's worth noting that Aix has a market each day (while other cities once a week) in case you want make sure you get to experience a provence market - you should, they are delicious 🤤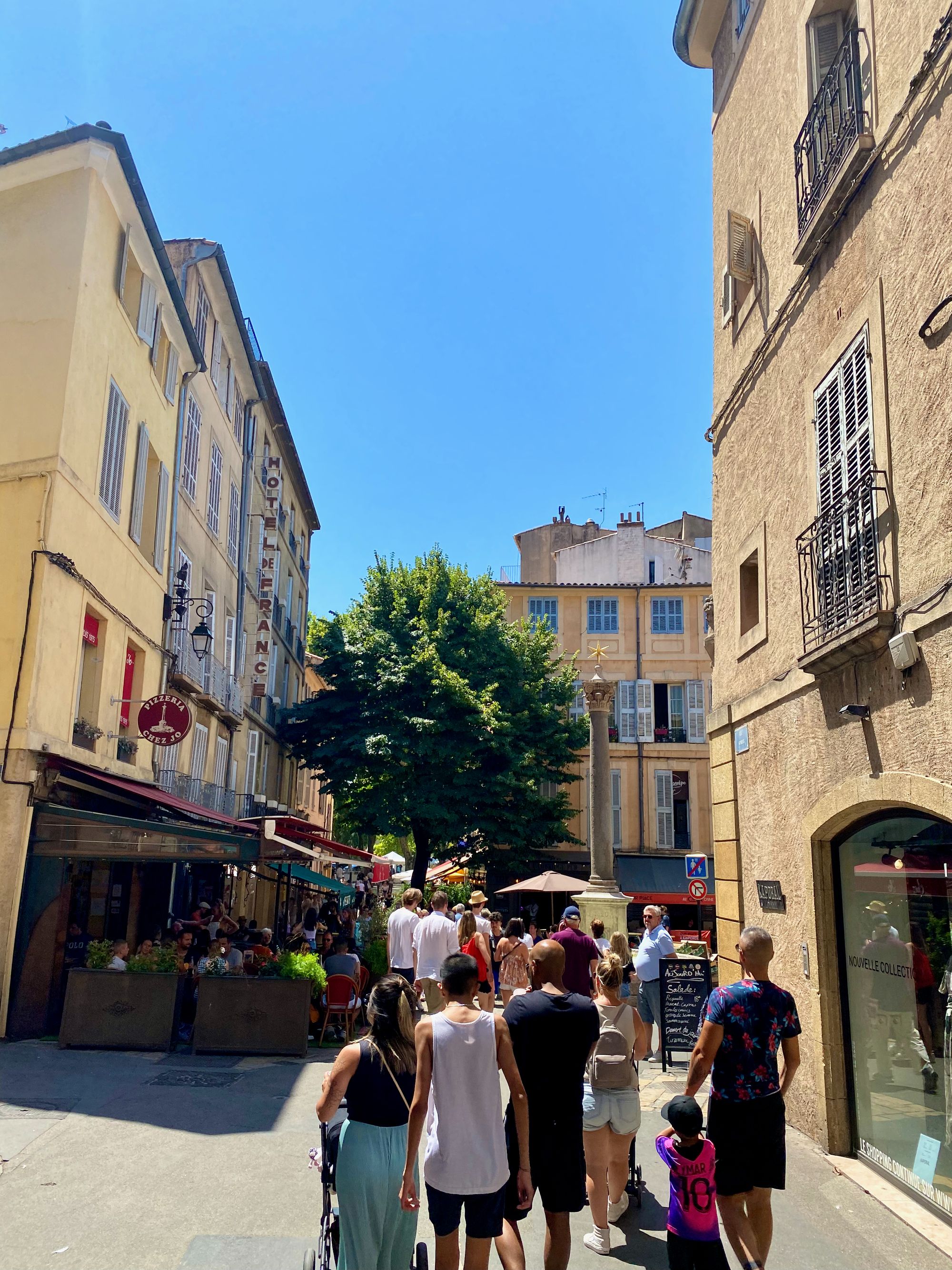 👉
Aix-en-Provence offers a delightful blend of history, culture, gastronomy, and natural beauty, ensuring a memorable visit for all. Here are some activities that you can do In Aix-en-Provence:

• Explore the historical streets of the Old Town, wander along the elegant Cours Mirabeau, and visit cultural gems like the Atelier Cézanne and Musée Granet.

• Indulge in the vibrant market scene, sampling local delicacies and browsing for unique souvenirs.

• Take time to relax in the city's beautiful parks and gardens, such as Parc Jourdan or the Pavillon de Vendôme.

• Don't miss the opportunity to immerse yourself in Aix's café culture, savoring a leisurely meal or a refreshing drink on one of the outdoor terraces.

• And if you're up for an adventure, venture into the stunning natural landscapes nearby, such as the iconic Montagne Sainte-Victoire.
And so our last day in Luberon ended, a region that we didn't knew much about before arriving. We discovered a diverse area packed with experiences for all tastes, always with a strong French identity.
I would love to return to Luberon one day, and if we do, it will probably be in autumn. Although I personally enjoy a heat wave once in a while (I do miss them in Denmark) the one we had during our stay there in July was too much and it severely affected the amount of time we could spent comfortably outside. Still, I look back with great pleasure to our time in Luberon.
While many of the villages we visited are quite small and don't take more than a couple of hours to explore, it was still impossible to cover everything the area has to offer in 4 days and we didn't even tried.
We picked what we thought it will gives most pleasure and left the rest for the next time - it will be a next time!
---
Cote d'Azur, worth the hype?
The next day we started with a slow breakfast before leaving to our 3rd (and last) location: The French Riviera aka Côte d'Azur.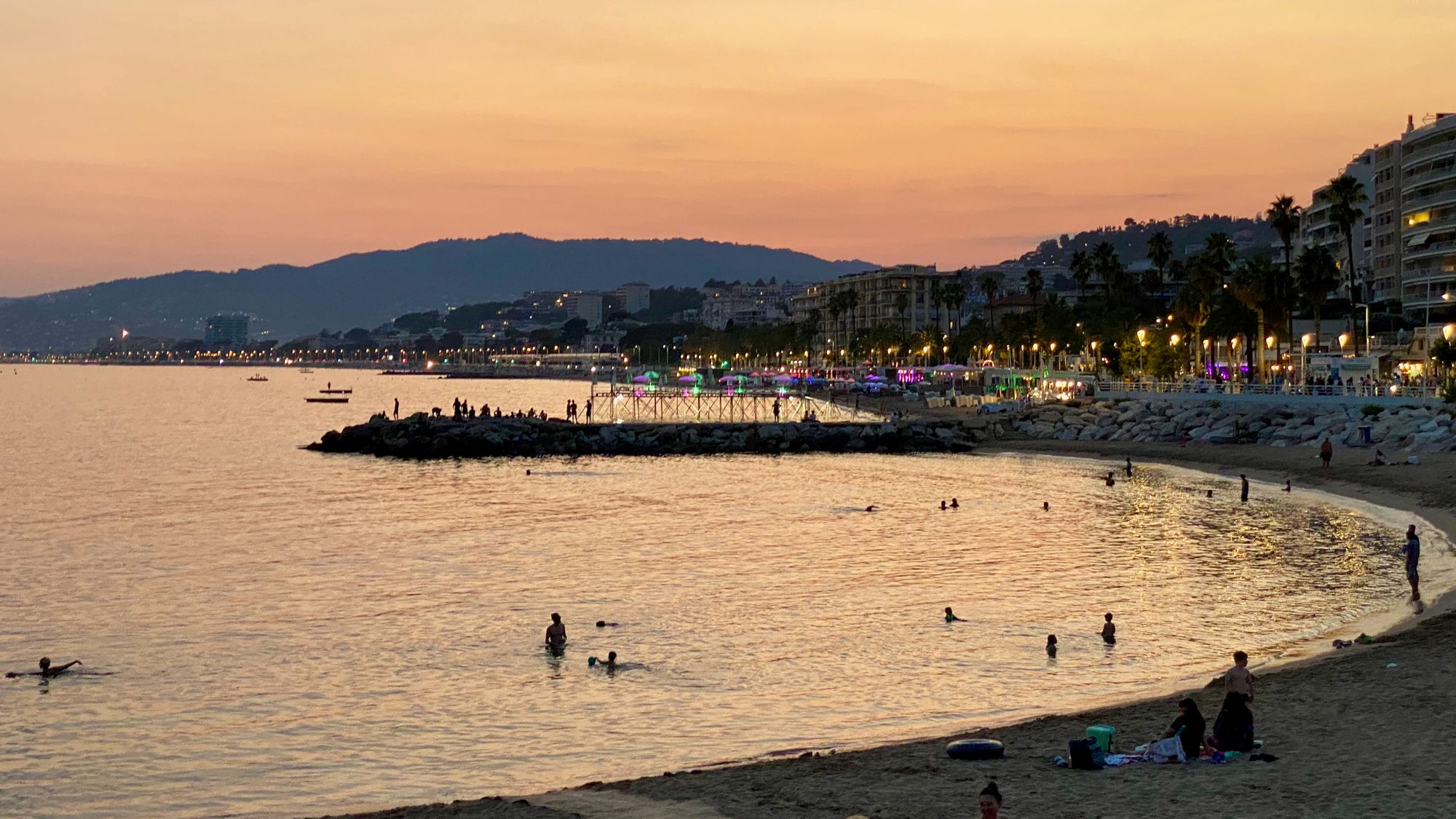 I've been struggling writing about this part for weeks, and I'm not exaggerating. You know, the truth is that we were disappointed by what we found on the French Riviera.
It was severely overcrowded, lost its glam (or at least the glam we though in our minds it has) and it was extremely overpriced for the quality it provided.
140 Euros for 2 sunbeds on a crowded rocky beach where they check your bags so you don't bring water or snacks with you? What idiot falls for that?
What I was mostly disappointed with however, was the quality of people. Besides the (often) dirty streets we saw some very questionable behaviour both in the city centers and in the trains running between these. In contrast with Luberon the food wasn't much either. The quality was subpar to our expectation, even if you don't take the inflated prices into account.
The heavy traffic and extreme heatwave that made you sweaty all the time didn't helped either.
So overall we had little moments of enjoyment on the French Riviera, with one exception that I'll come back to later. Maybe 20, 30 years ago things were different but the mass tourism and over development didn't do this area any favours. It felt like a legacy star in heavy decline.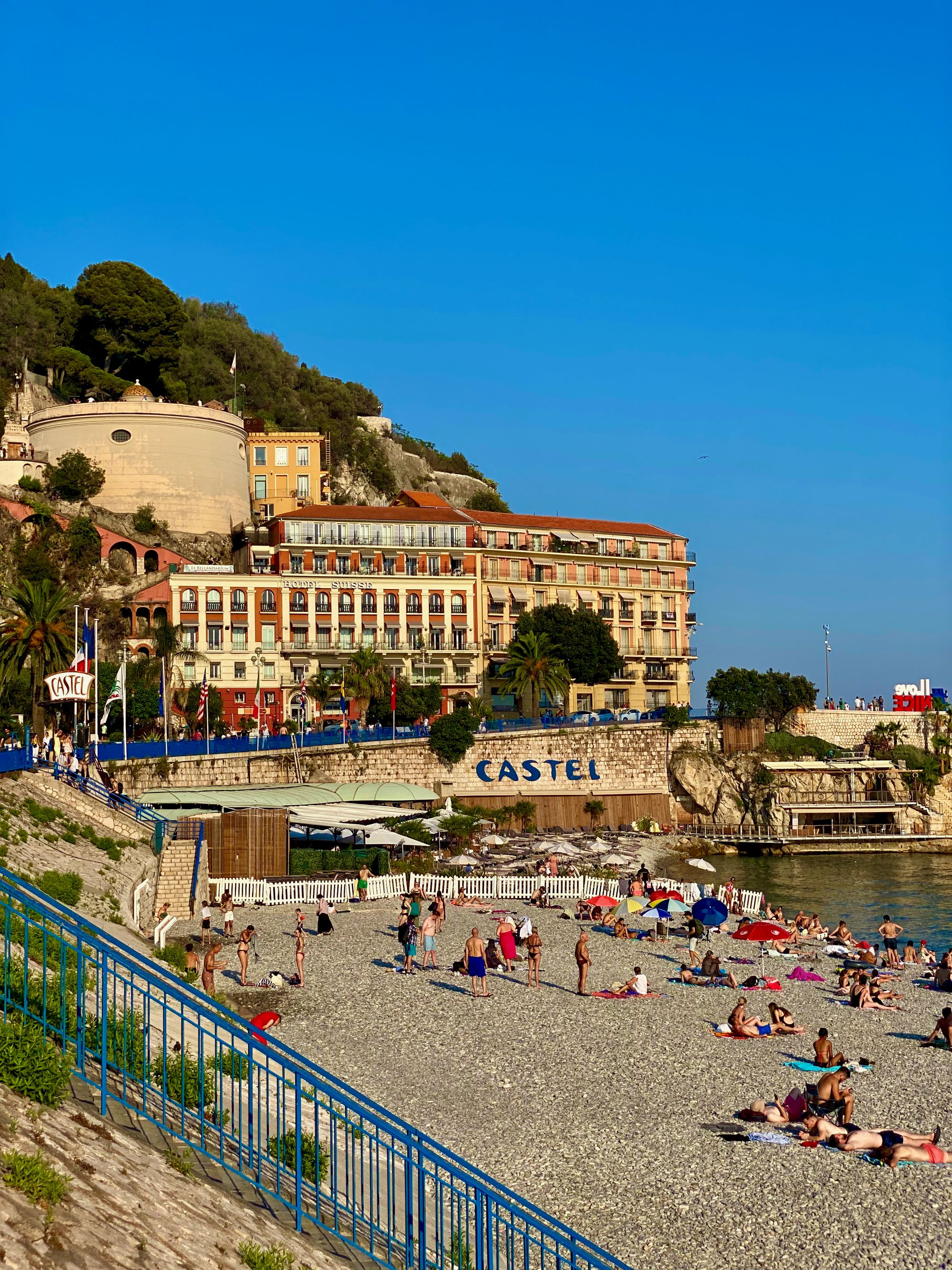 If all you want is to take some pretty pictures for Instagram sure, you can do that. You can certainly find nice looking places but beneath the surface is an empty shell of its former glory.
It's an area that we won't return to - it rarely happens but I guess you can't win them all.
---
Monaco
I mentioned that there was one exception to the French Riviera disappointment and that exception was Monaco.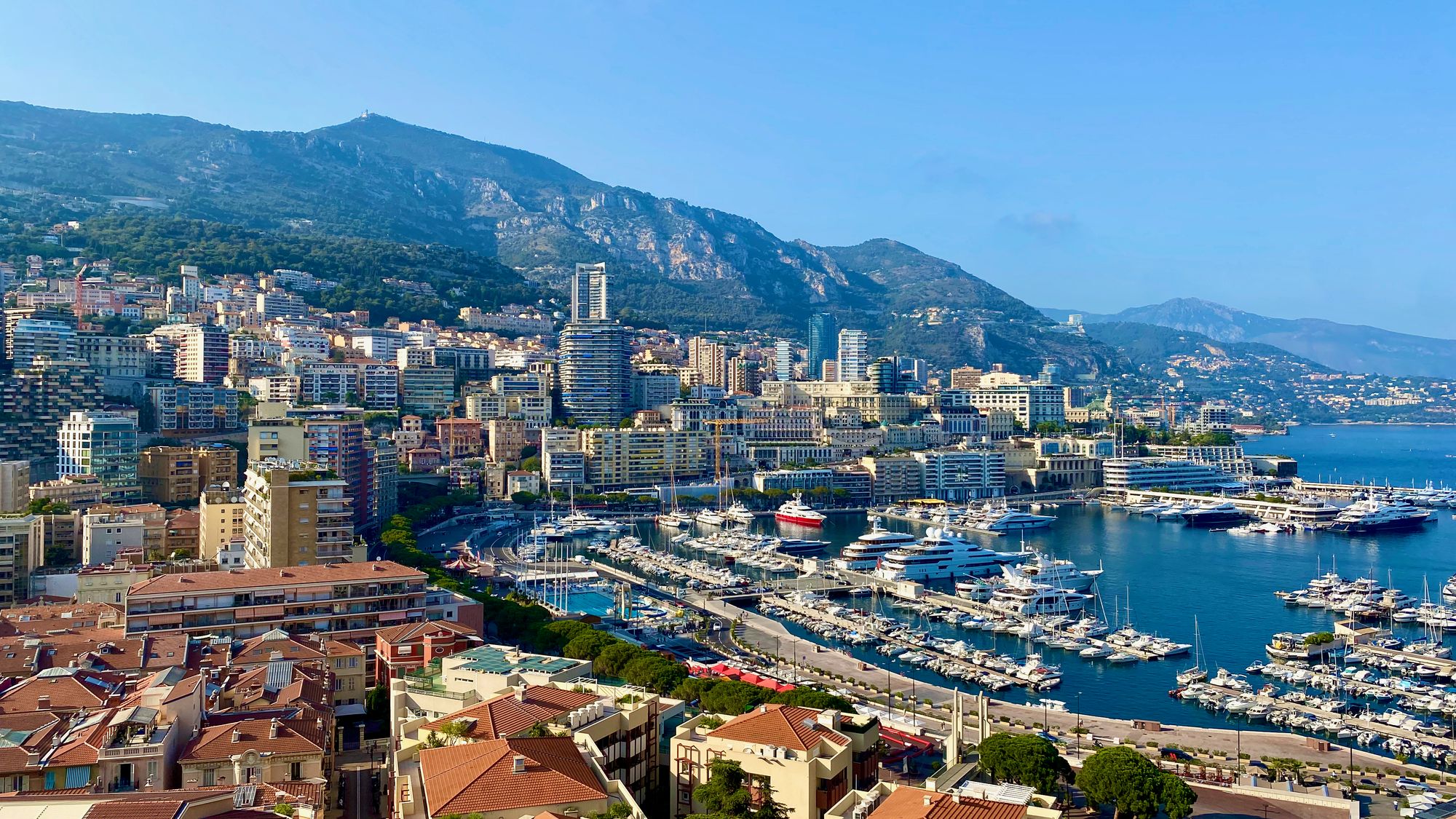 Clean, green, well maintained and dotted with beautiful architecture, Monaco reminded us of Singapore - another city state that holds a special place in our hearts.
It was a breath of fresh air compared to the crowded cities of Cannes and Nice and we ended up spending 2 of the 4 days in Monaco. It had a nice blend of old and new, well to be honest mostly new, but the combination works.
No question that Monaco is pricier than the other places that surrounds it but at least you feel like it's worth the money.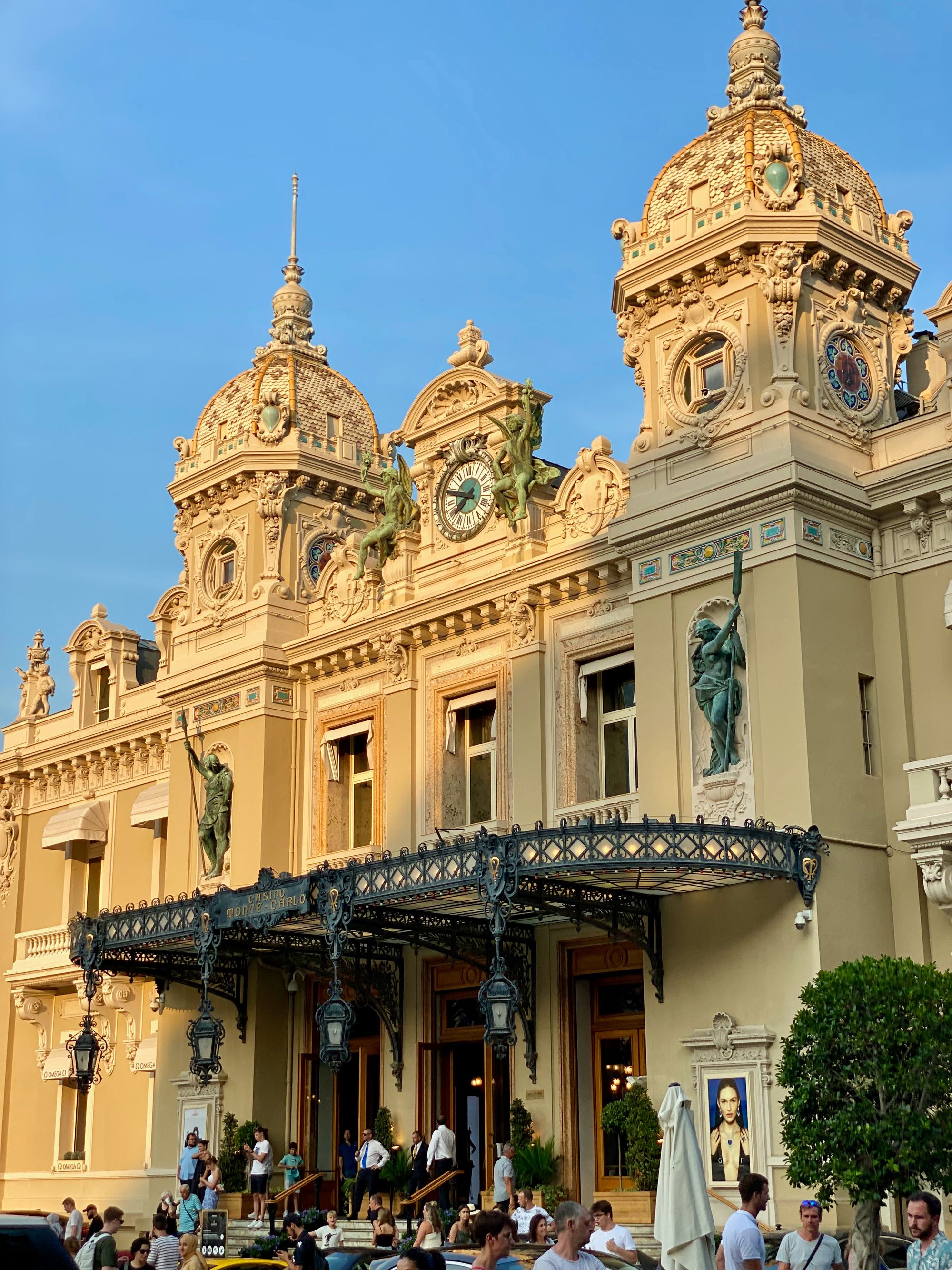 It also has a certain energy, a certain vibe.
I don't know how to call it best, maybe aspirational is a good word. Or maybe inspirational, I'm not sure.
It is something I felt in a few other places as well, the aforementioned Singapore for one. New York and Dubai. Parts of Switzerland as well, Montreux or Lucerne for example.
It lights something inside, it starts a drive of sorts. It is a nice invigorating feeling that I often miss in my adoptive country of Denmark. There's more I can write about the subject but I'll leave that for another time.
So yes, we dearly enjoyed Monaco and I could see us spending some more time there in the future but similar to Luberon area, we will be avoiding the summer.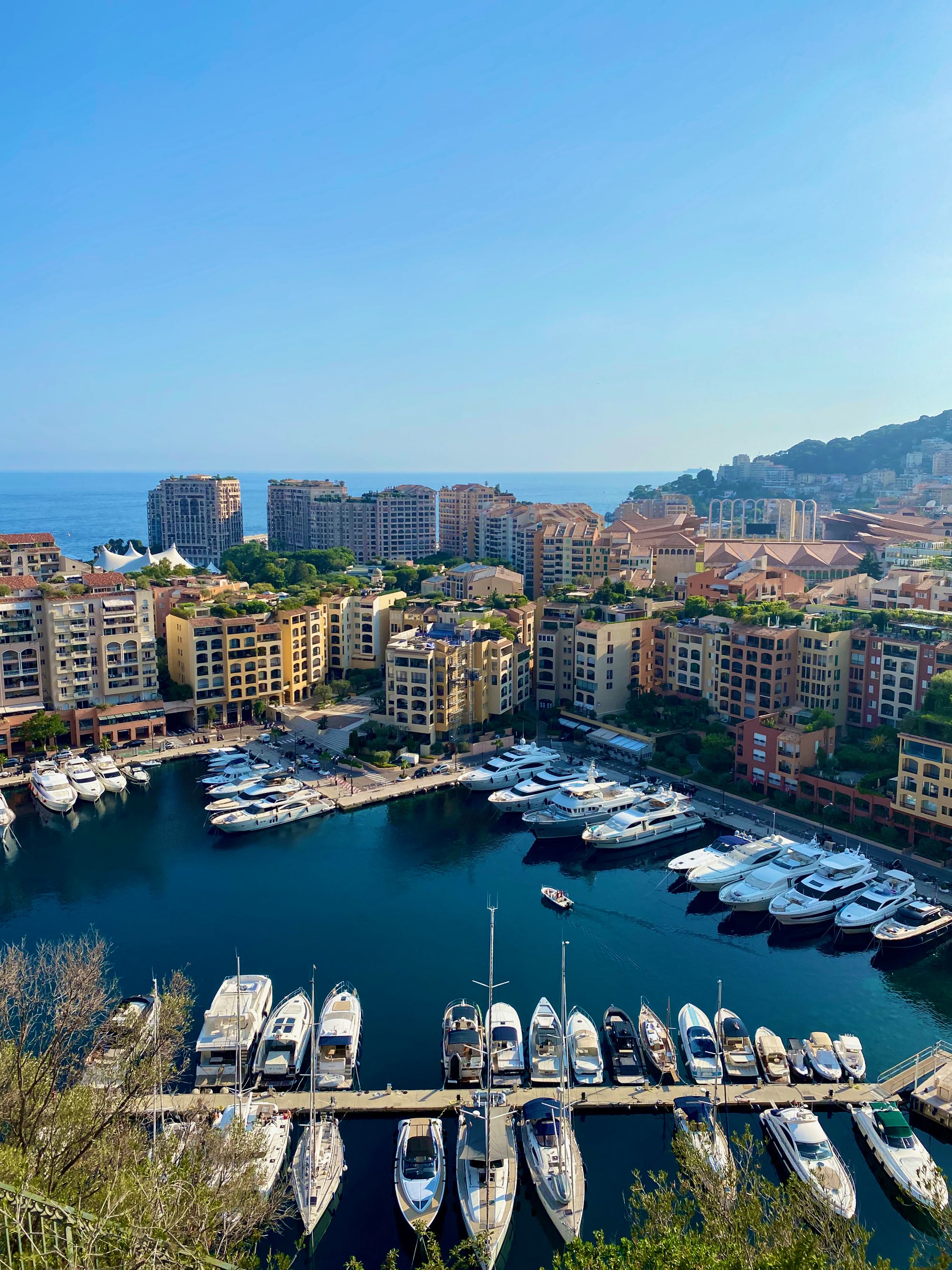 ---
Returning to Denmark
As I mentioned at the end of our first road trip, we're trying to make the most of our return journeys.
Rather than rushing to cover the biggest distance possible we instead drive fewer hours leaving some quality time to relax at the end of the day.
We still need to get home in a decent time so highways are unavoidable but at least we're looking for some peaceful accommodations rather than the road side hotels.
---
Return day 01: Brunnen, Switzerland
For the first return day we picked again Brunnen. About 7h drive from Cannes, it's the 3rd time we're staying overnight here and that's because it's located in such a convenient location when traveling from southern europe towards the north.
It also has some gorgeous views over Lake Lucerne, even during a storm.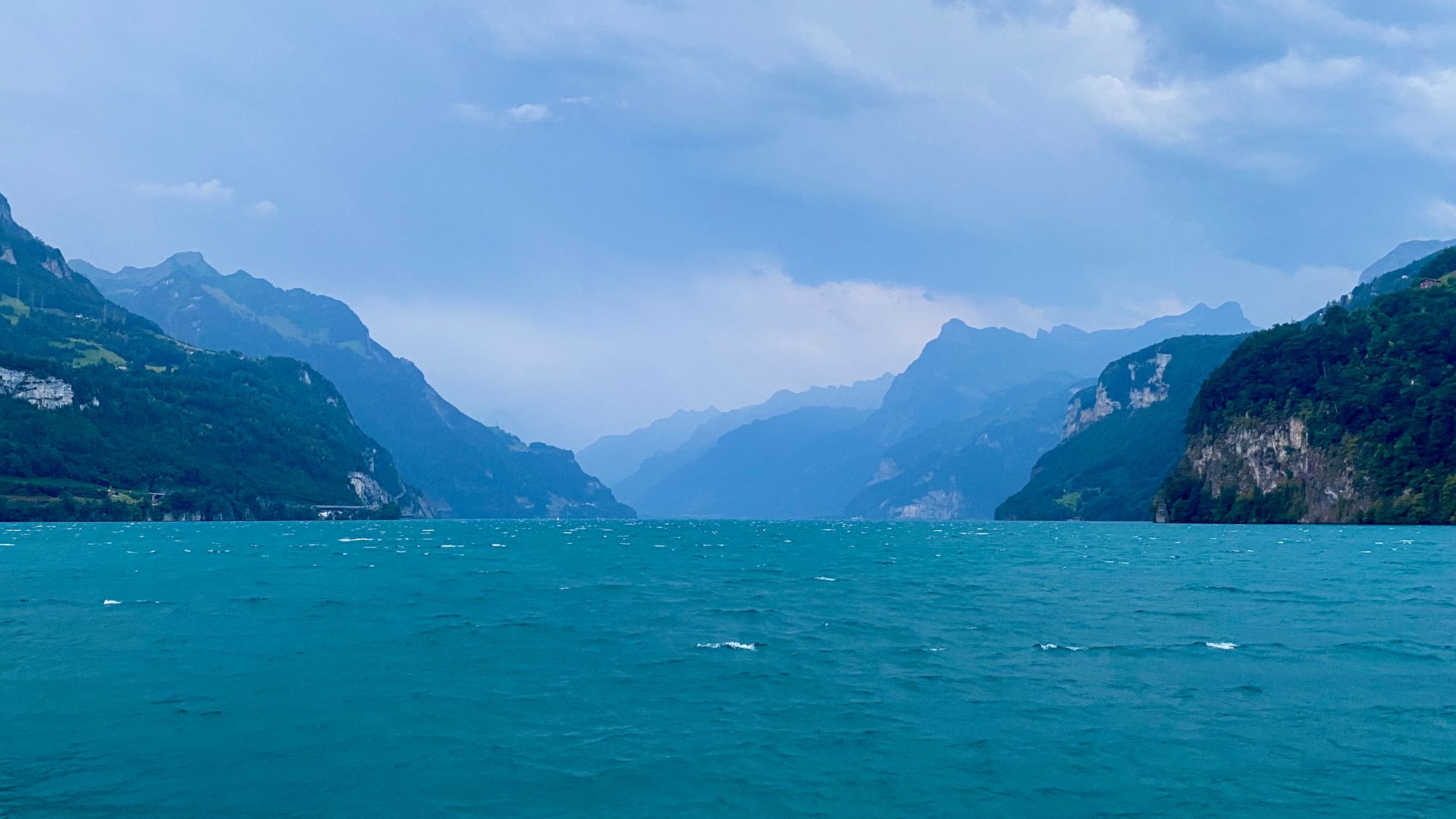 I talked before about Brunnen both in the first part and in the last part of our road trip to Tuscany. It's not the most picturesque city Switzerland has to offer, far from it actually, but we like it and as I mentioned before, it's convenient.
We chose again to stay at the City Hotel - a bit outdated in design but it gets its job done. For only a few hours spent there I don't think something more exciting is worth the extra price.
For dinner we had some good burgers at a place called Elite Burgers overlooking the lake. While there, the weather turned from sunny to stormy with heavy rainfall so we had to finish our meal inside.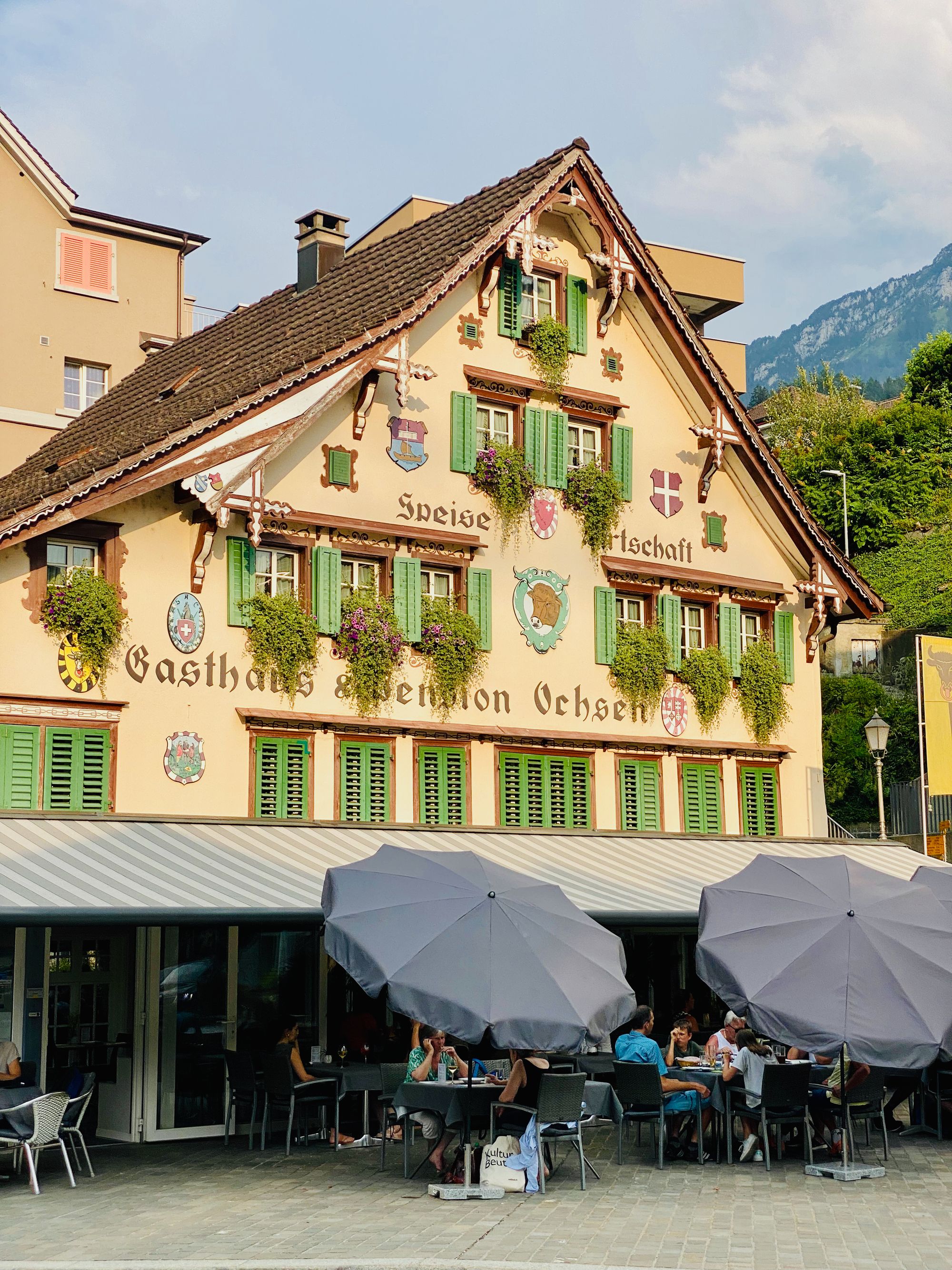 By the time we finished the rain was done as well so we went for a quick stroll along the promenade.
The wind was still blowing strong making high waves that some were clearly enjoying 😄
As we were walking along the shore we realized that the day marked our 13 year of being married.
It's not the first time we forget about this and it probably won't be the last either. We usually don't make a big deal of our wedding anniversary because well... I know this sounds extremely cheesy... but we enjoy each day we get to spend together (yes, even after 13 years) that we don't feel the need to have a special day about this.
Still, we took a selfie to celebrate the moment.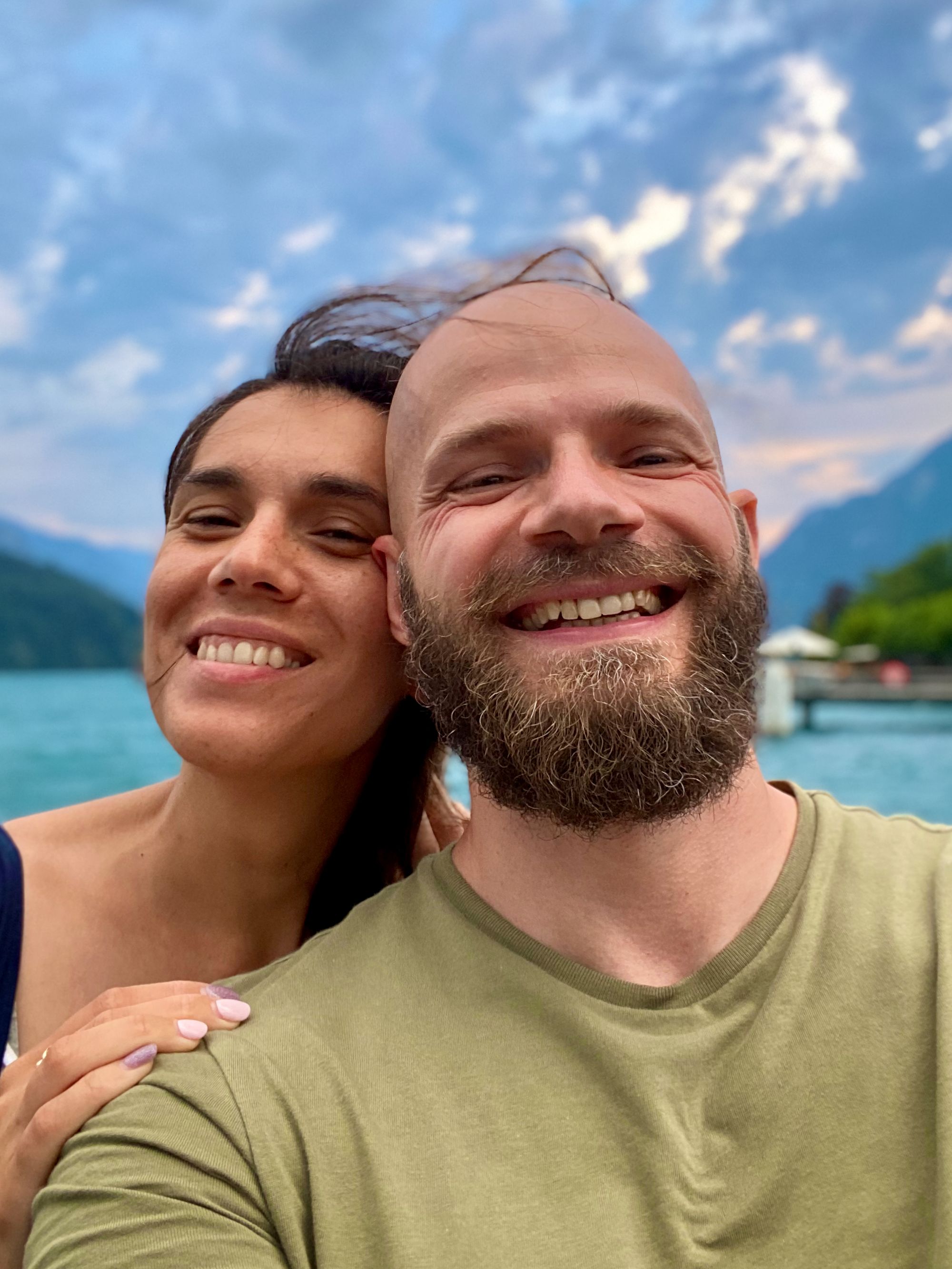 On the way to the hotel we noticed a shop that had these adorable chairs in the shape of sheep. It was already closed but we decided to leave a bit later the next day in order to get one for home.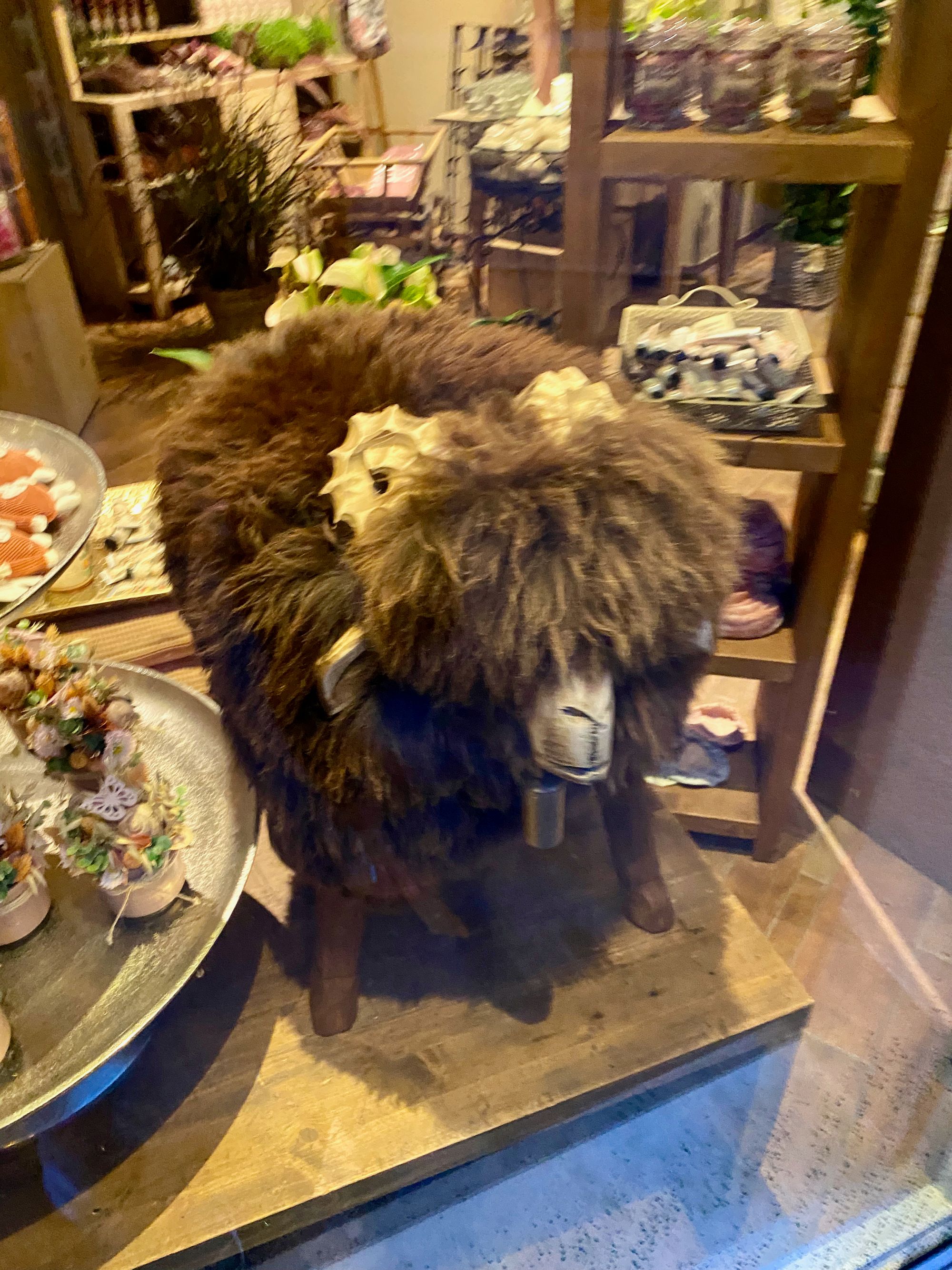 ---
Return day 02: Kassel, Germany
Six hours after leaving Brunnen we arrived in another familiar location, Sport- und Golf-Resort Gut Wissmannshof somewhere near Kassel, Germany.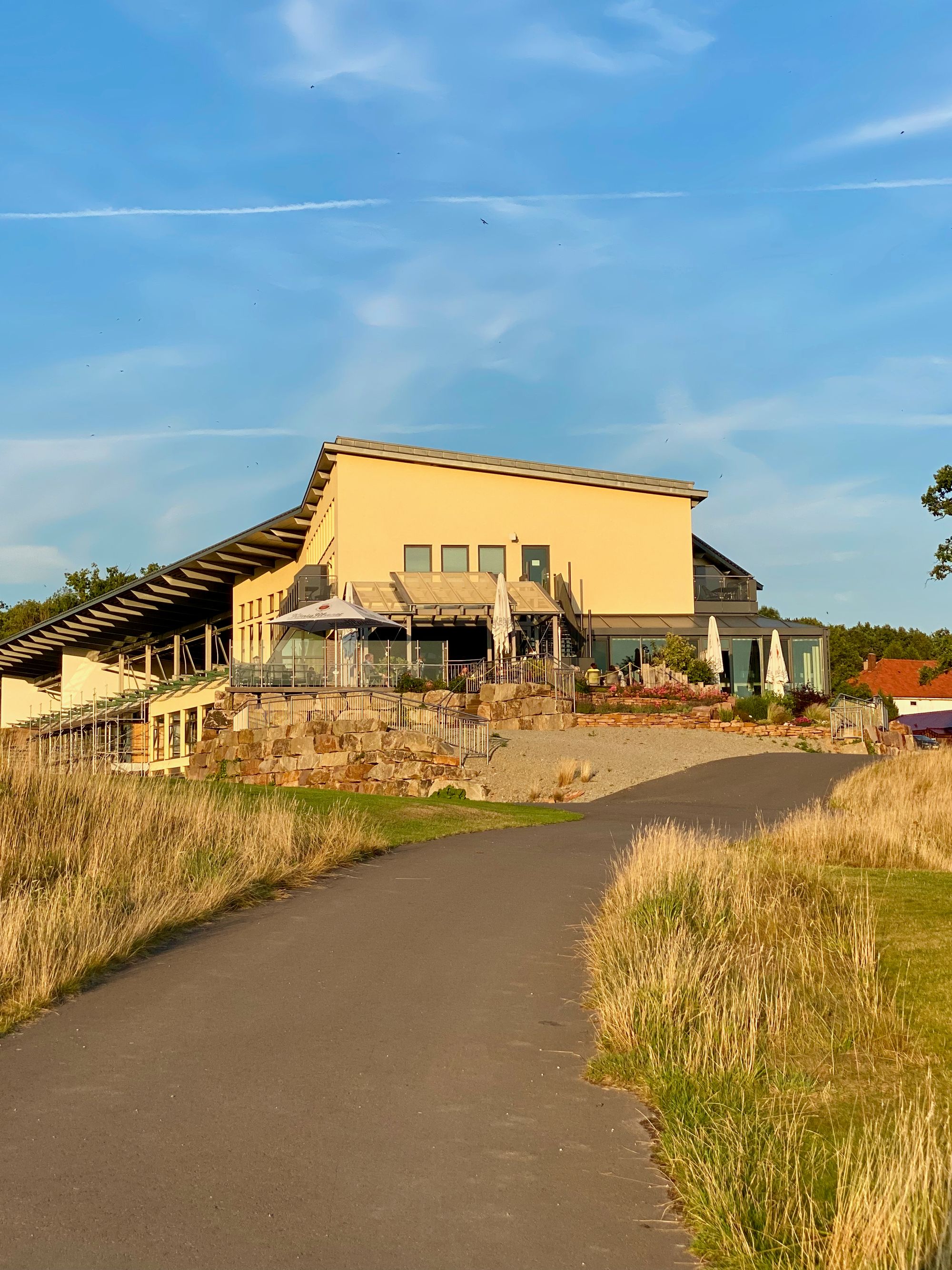 As the name suggests, it's a golf resort far(ish) from the highway in the tranquil germany countryside. We stayed here before when we went to Italy and back in the spring and we also used it recently when we came back from Switzerland in the spring of 2023.
Surrounded by greenery, it's a great location to relax after a day on the autobahn with plenty of space to stretch your legs.
Next day we finished the last leg of the return trip, driving about 8h from Kassel, Germany to Copenhagen, Denmark. It's a long drive that I on purpose left it for last so that I can rest the following day.
---
Conclusion
The French part of our Summer vacation is now over. We saw many things that we liked and many that weren't up our alley. I'm grateful for both.
👍 What was good: Luberon surprised us with its authenticity. Although at first sight the cities we visited appear similar, in reality they each have their own vibe.
👎 What was not so good: Visiting in the height of Summer and heaving to deal with the worst heatwave in recent history.
🤩 Most memorable moment: cooling off in the evening at the La Louvière des Bruyères, our accommodation in Luberon.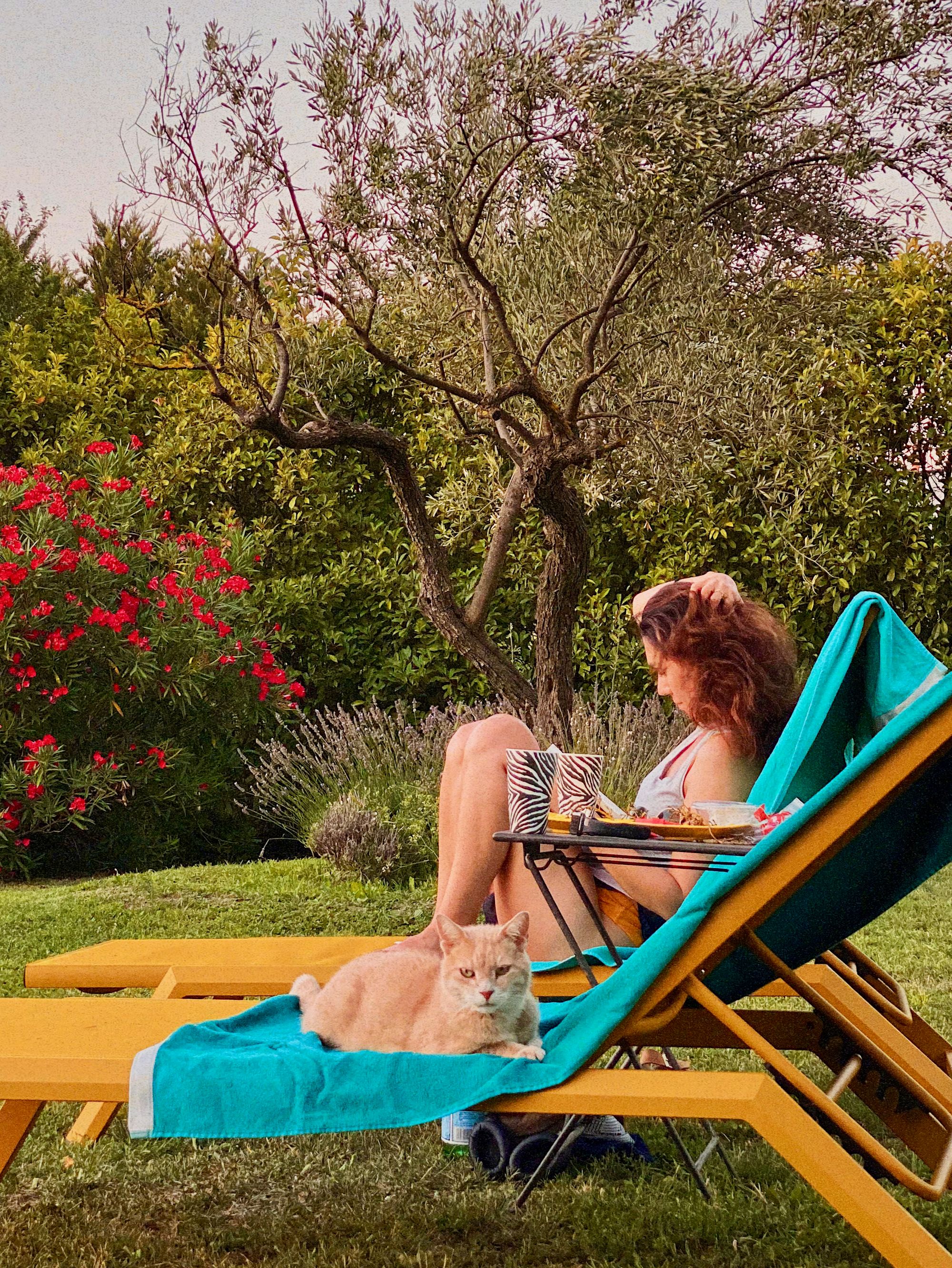 ---
Second Road Trip: The End
Almost 6000 Km / 3700 Mi over 18 days and we are back home in Copenhagen.
This road trip came less than two months after the first one and it made us realise that long road trips are something we really enjoy - discovering new things to enjoy is a big part of what makes life beautiful.
Overall we had a great time - I wrote about the first part in Switzerland here if you're interested, it was a blast and we can't wait to explore it more!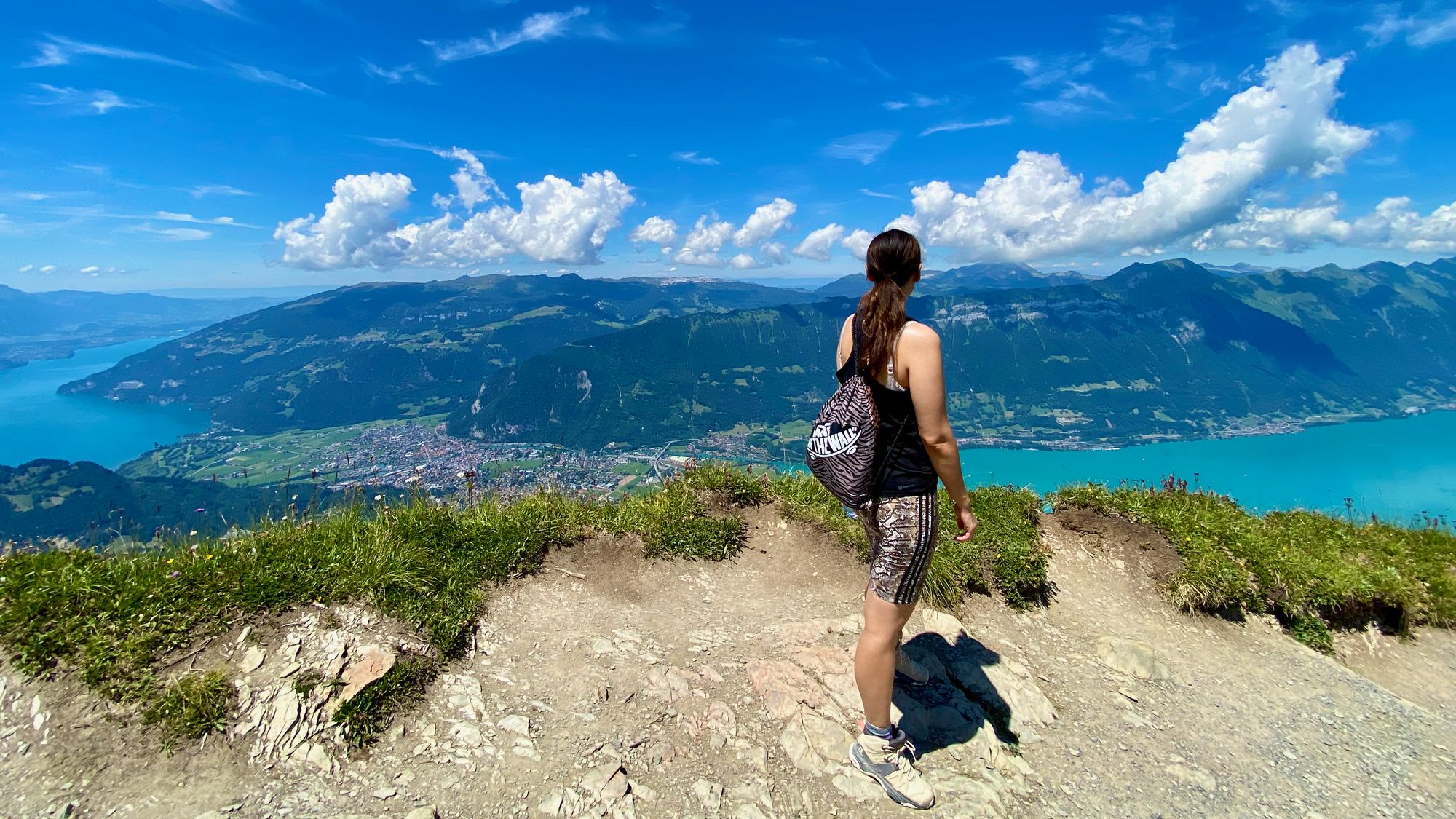 As for the second part that we spent in France, well... it was a mixed bag.
Luberon was a pleasure to visit, interesting, great food, great sights, very French and we will most likely return.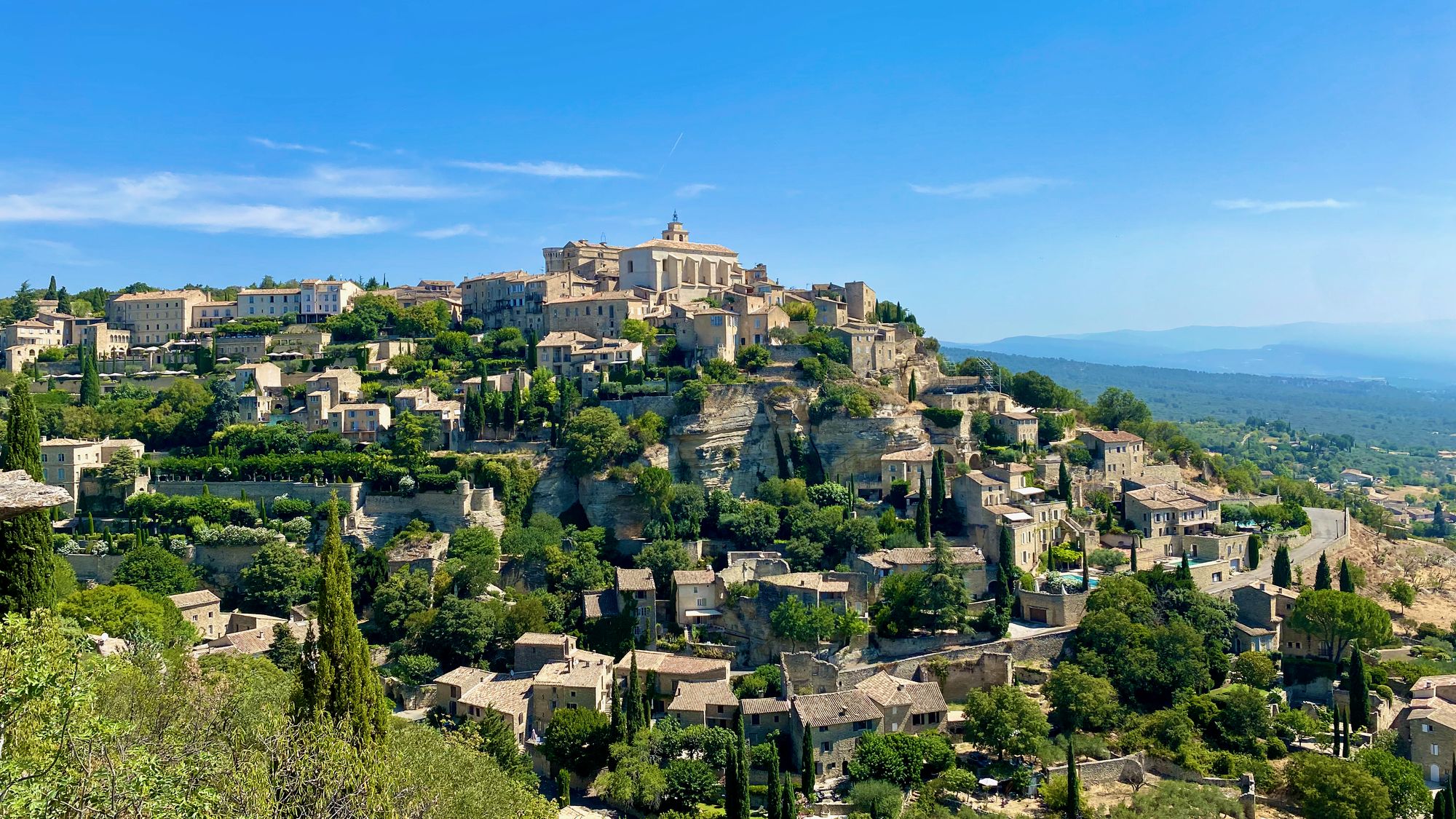 The French Riviera was the opposite, overrated, crowded, questionable people and worse, lacking any soul or personality, basically the worst case of mass tourism - never again.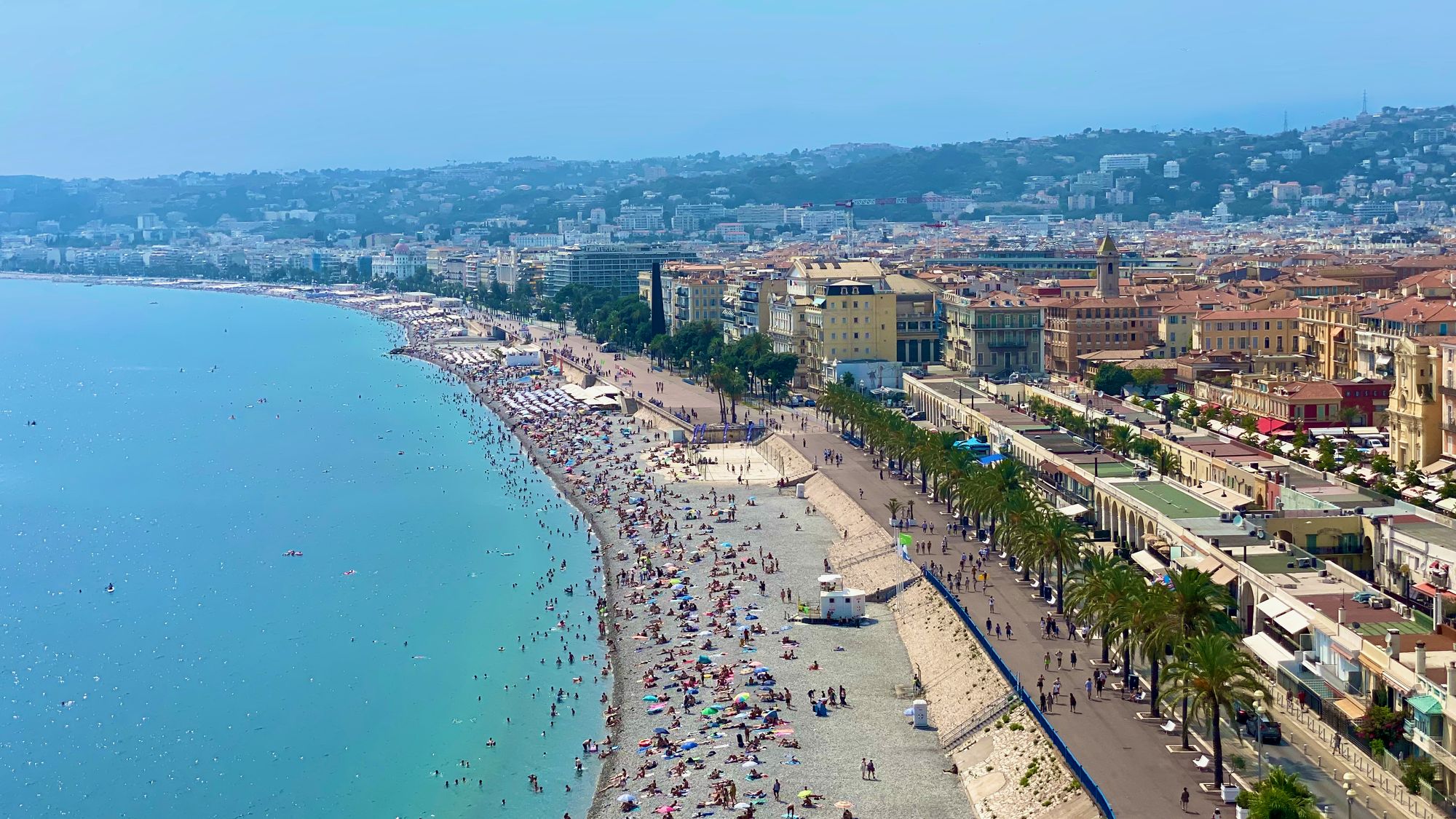 Monaco was the exception, providing a break from the saddening French Riviera, but it's also small so there isn't that much to do over multiple days. Still, we would like to spend a few more days there in the future.
The intense heat didn't helped the experience either so we'll aim for autumn next time.
In the next road trip we'll be exploring Austria during autumn.
One regret of this trip is that I didn't had a camera to capture the beauty of the Alps and of Luberon. For the austrian road trip I purchased one, just in the time for the beautiful autumn colors and I can't wait to share more.
Thanks for reading,
-Adrian
💖
If you enjoyed reading this consider
subscribing
to my blog so you get notified when I write new articles.
---
Entire Trip Summary
From Denmark to Switzerland and France (+ return), 06 - 24 July 2022.
🚗 Distance driven:
5825 Km / 3620 Mi
🌍 Countries crossed:
Denmark, Germany, Switzerland & France.
🍹 Standout cities visited: ‌‌
🌄 Standout areas visited:
Furka Pass & Susten Pass for some amazing mountain roads. The drive from Interlaken to Gstaad was also very pretty.
🏨 Hotels we stayed: ‌‌
---
Itinerary Map
🌍 Below you will find an interactive map with the directions taken, the places we stayed and the ones we visited for the entire trip.